April is a month filled with environmentally-friendly celebrations and events! Not only is it Earth Month, but we also celebrate trees with Arbor Day activities before the month ends. But what can one do for Arbor Day between the four walls of a classroom? The teachers at Teach Starter have done some digging to bring you a list of activities for all ages and subject areas.
Read on for a look at the history of Arbor Day and why it was created, plus fun Arbor Day activity ideas for your students and some great books about trees to read with your students. You'll go to class having a solid background of this important holiday that's been around since 1872!
What Is Arbor Day?
Looking to explain this holiday to your elementary students? Here's a kid-friendly definition of sorts!
Arbor Day is a special day set aside to celebrate trees.
On this day each year, people around the world plant trees and learn about the importance of these living things. Celebrating the holiday is a great way to show appreciation for all the wonderful things trees do for us, like providing oxygen, shade and a home for animals. Arbor Day is also a chance to learn more about how we can protect our trees and keep our planet healthy for generations to come.
When Is Arbor Day 2023?
If the Lorax had his way, every day would be Arbor Day, but this holiday comes just once a year. For those of us celebrating in the real world, the official Arbor Day is celebrated nationwide on April 28, only a few days after Earth Day (April 22). In 2023, that means this tree-focused holiday will be marked on a Friday.
Of course, we can all be as enthusiastic as the Lorax and celebrate trees throughout Earth Month (April) and year-round.

What Is the History of Arbor Day?
While Arbor Day is celebrated nationwide and internationally today, the origin of Arbor Day has its humble beginnings in 1870s Nebraska.
A journalist named Julius Sterling Morton moved to the state and purchased 160 acres of land with his wife, Caroline. The couple planted a wide variety of trees on what used to be a flat stretch of bare land, and J. Sterling served on the Nebraska State Board of Agriculture and became a member of the state's Horticultural Society. He is known for his promotion of conservation programs and tree planting.
Morton spread his knowledge of trees in the state's first newspaper, Nebraska City News, where he was the editor. His message of the tree's ecological importance to the state of Nebraska resonated with readers, and by 1872, "Arbor Day" was born to encourage all Nebraskans to plant trees in their community. The first Arbor Day was held on April 10, 1872 and resulted in the planting of 1 million trees.
Arbor Day was eventually nationwide in 1970 under the presidency of Richard Nixon.
Teach Starter Teacher Tip: If you're planning to talk about the history of Arbor Day with your students, take the time to get educated about its founder. Morton may be celebrated for his connection to the trees, but he was also a blatant supporter of slavery and advocated against the Emancipation Proclamation.
Fun Activities for Arbor Day
Here are some fun activities to incorporate trees into your lesson plans for fun and engaging Arbor Day learning!
Science Class
Hold a tree scavenger hunt to learn more about the parts of a tree. Create a list of tree parts such as leaves, branches, trunk, roots and bark — along with a brief description of each part — and hand them out to each student. Take your class out to the playground, and have students work in small groups or pairs to search for different trees and identify the different parts. As they find each part, they can take a photo or make a sketch of the tree and its parts.
Take a tree identification walk. Teach your students to identify the different types of trees in your community with an identification walk on school grounds or to a local park. Share a list of common tree species found in the community, along with a brief description of each tree's characteristics such as leaf shape, bark texture and tree shape, before you go!
Discuss the difference between deciduous and evergreen trees. You can even go a step further if you have older students and discuss why tree leaves change colors during different seasons.
See how many tree species your students can list from memory.
Study the life cycle of a tree.
Create dichotomous keys. Sixth graders who are learning about dichotomous keys can put that learning in action this Arbor Day by creating one for the trees using leaves. Teach the concept inside the classroom with buttons first. Then have students collect leaves and make a key with a partner.
Social Studies Class
Discuss cultural importance. Did you know the Ghaf tree is the national tree of the UAE? It is seen as a symbol of stability and peace. Studying the cultural importance of trees in different countries around the world can create a new level of appreciation and understanding.
Go on a field trip. Is your school near a local park, forest, or nature trail? Anywhere with trees works! Encourage students to observe their characteristics, use their five senses to describe the trees, and collect samples (found on the ground!) to bring back to school.
Take a virtual field trip. Field trips can be time-consuming (and expensive), but a virtual field trip can take you across the globe in seconds! Want to visit the Redwood Forest? The Amazon? No problem. You can also check out these educational videos from The Nature Conservancy.
Art Class
Create seasonal trees. Our four seasons tree craft is a fun way to explore the seasons while also creating something tangible. Students will color and cut their trees before gluing them together to create their own mini tree representing the way the changing temperatures affect the appearance of a deciduous tree.
Use actual tree samples to create art. Head out on the school grounds, and have your students collect fallen leaves, pine needles, and bark samples they can find on the ground. These will come in handy during craft time in the classroom! Kids can use leaves as stamps using paint and construction paper or create bark rubbings using crayons and white paper. Challenge students to determine the different tree species after creating their prints.
Create a tree-themed bulletin board. There are endless options to create beautiful artistic trees, but using primary grade students' handprints is an easy way to create some cute branches! Have each child press their hand onto a paper plate with paint and stamp their palm onto individual pieces of paper or onto one large piece the whole class will share. Tree trunks can be drawn in after the paint dries. For a less messy option, use our Mindful Coloring Trees for a bright display of shapes and colors: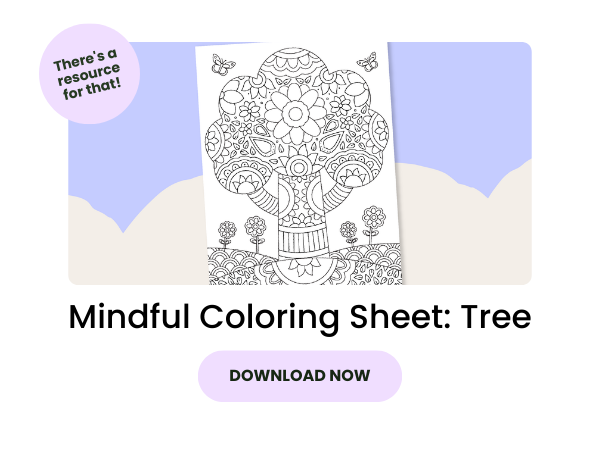 English Language Arts Class
Describe your favorite tree. After observing photos and discussing varying tree types, have students describe their favorite tree in written form. Kids can answer some of the following questions as they practice describing things in their writing:

What does the bark feel like?
How tall is it?
Which animals live in or around it?
What are the colors of the leaves?

Write Poe-Tree. April isn't just the time when we celebrate Arbor Day. It's also National Poetry Month. Celebrate the two together with original poems highlighting the benefits trees provide. Students can create an acrostic poem using a tree name (willow, maple, oak, pine, etc.).
Read Aloud
Read a book about trees to your students, or add these titles to your classroom library!
Use our Mini Book Report template to encourage your students to reflect further on their favorite tree story!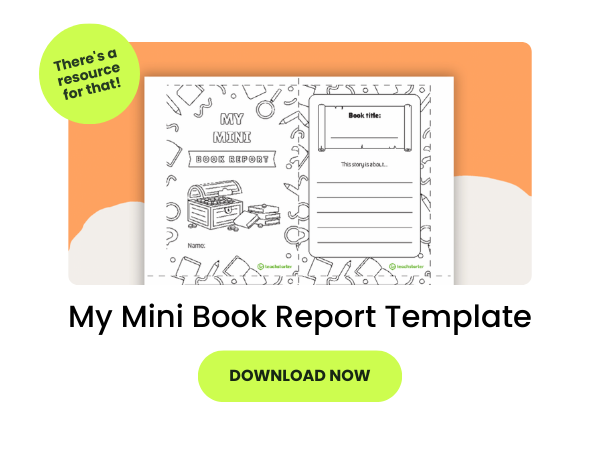 Math Class
Count tree rings. Use a photo or a real tree stump to teach children about determining a tree's age. Want to really impress your class? Show them a photo of the Great Basin Bristlecone Pine, nicknamed "Methuselah," which is almost 5,000 years old!
Find the prime factor of numbers with factor trees.
How to Get Free Trees for Your School or Students
Get the entire school involved in Arbor Day! Want to organize a school-wide tree planting? It may be easier to convince your school's admin with free trees. Here are some organizations you can look into as well as include in your next parent newsletter:
Explore our Earth Day collection for more resources appropriate for Arbor Day, including an environmental awareness flip book, ecological footprint reference sheet, and backyard bingo.