Do you have a classroom library? Maybe you call it a book nook or a library corner, but the place you set aside books for your students to grab when there is free time can play a major role in your students' literacy.
There is evidence that teachers who set up classroom libraries provide equitable access to books, which in turn promotes reading achievement and motivation. Just having those books there will increase reading frequency and that will snowball into greater reading achievement. If you're still building your classroom library or looking to take things up a notch, we're here to help. We've taken a look at what makes a good classroom library, plus pulled together tips from teachers like you on how to organize your classroom library and even find books to fill it!
What Makes a Good Classroom Library
Building a classroom library may seem as simple as grabbing a few books from your local Target and making them accessible to your students, but you want to be a little more thoughtful than that, right? A lot more thoughtful?
A good classroom library is one that is built with all students in mind — from struggling learners to gifted students — and includes diverse stories and characters that represent not just your classroom make-up but the world at large. An effective classroom library is also one that promotes reading at school and at home, so creating a system for students to "check out" or "borrow" books is a must.
The National Council of Teachers of English suggests you consider these three criteria when you're setting up a classroom library:
Offer a wide range of materials to appeal to and support the needs of students with different interests and abilities
Provide access to multiple resources that reflect diverse perspectives and social identities
Open up opportunities for students, teachers, and school librarians to collaborate on the selections available for student choice and reading.
Where to Find Cheap Books for Your Classroom Library
We get it, books can get expensive, especially when you're trying to create a good collection that will hit all the different needs of the children in your classroom. Fortunately, the teachers on the Teach Starter team have been there. We asked them where they found inexpensive books for their classroom libraries, and here's what they said!
Yard sales and garage sales — Parents cleaning out their kids' old books may be your very best resource for good books for VERY little money. Speaking of …
Parents you know whose kids are getting older — If they've passed the grade you're teaching years ago, they may be looking to offload some!
Local Mom Facebook groups — Once again, parents!
Ollie's Bargain Outlet — This store is a goldmine when it comes to brand-new children's books sold at a deep discount! If you have one in your area, you're going to need to plan some time to look through everything that's there!
Ask other teachers, especially teachers who used to teach different grades — When a teacher goes from second to sixth, often they're housing books in a garage somewhere "just in case" they get moved back. But they may be willing to share some of the hidden treasure!
Check with your local library — Are they doing a book sale to raise money? Are they looking to get rid of books that aren't checked out?
The dollar store — While you're stocking up on new bins and those make-up scrubbers that make amazing whiteboard erasers (you know what we're talking about, right?!) swing by the books section. It can be hit or miss, but it's worth a shot.
Teacher Tip: Stock your classroom library with plenty of books for reluctant readers!
Classroom Library Organization
The methods you use for organizing your classroom library are really going to come down to the number of books, the size of your space, and the age range of your students. We certainly don't expect every teacher to break out the Dewey Decimal System (although it is certainly instructive if you can!), but some of these organization tricks may work for you:
Use Alphabetical Order: Whether you're organizing by the first letter of the book title or first letter of the author's last name, adding the letter to the front of your book bin makes it easier for your students to know where to return books and reduces the time you have to spend cleaning up. Well … hopefully, anyway!
Organize by Genre: This is a great idea for books in the upper elementary years, especially as you try to hook reluctant readers on similar books to those they've enjoyed reading. These classroom library labels are perfect for organizing a classroom library by genre!
Color Code Your Books: Use colored dots to help your students find the books they need — affixed to the spine, this can be used with matching dots on your book bins. But it is also useful if you line your books up on bookshelves, rather than opting for the popular book bin option. (Check out more color coding strategies for the classroom!)
Organize in Rainbow Order: Take a page from the Home Edit, and line your books up in rainbow order. Not only will this create a bright and beautiful book nook, it also helps your students know where to put their books when they return them.
Teacher Tip: Don't forget to label each book so your students know where they got their new favorite and remember to return it! This will help instill responsibility. Emily Roca (@emilyinelementary_ on Instagram) shared these fun classroom library labels with us, but you can make your own with our label creator!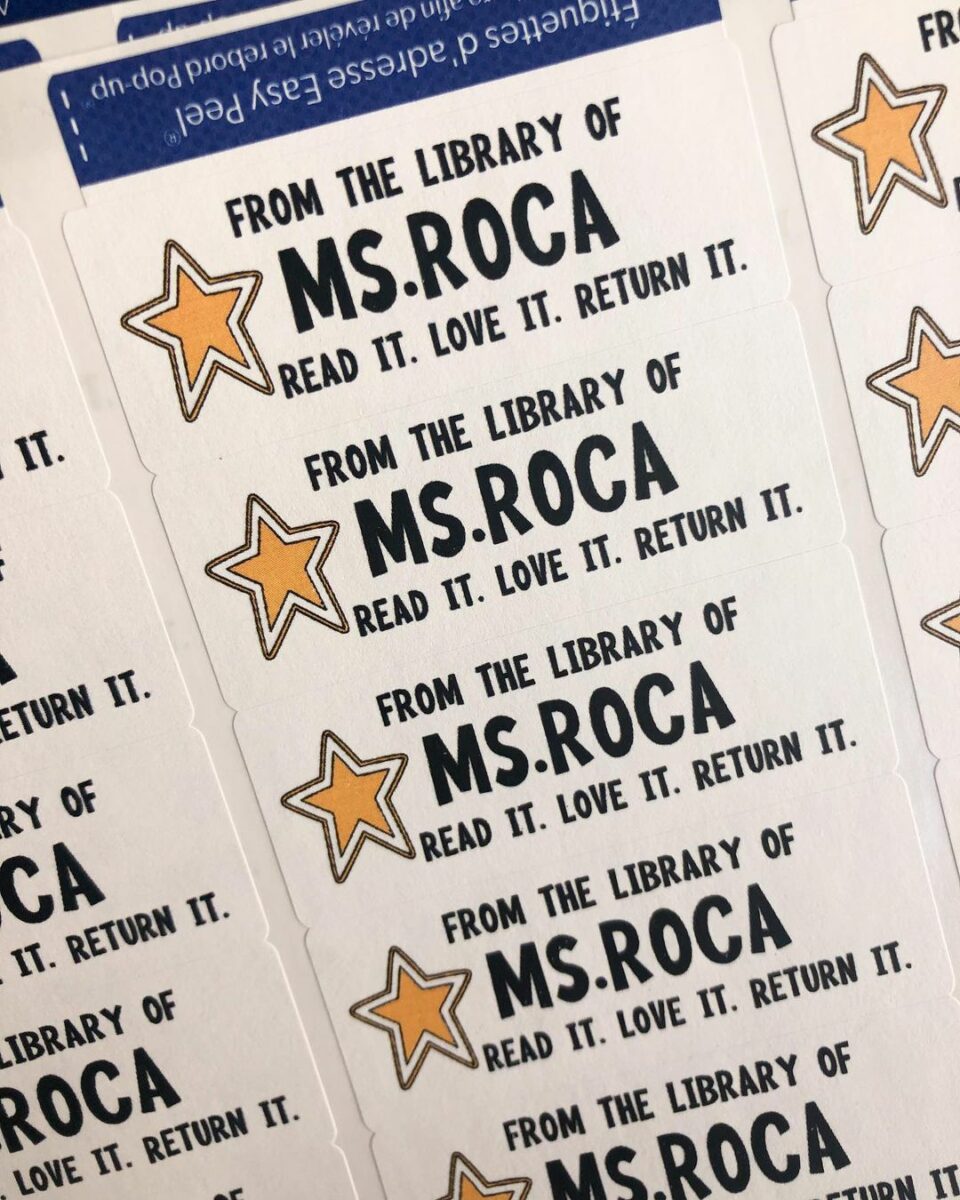 ---
Decorating Your Classroom Library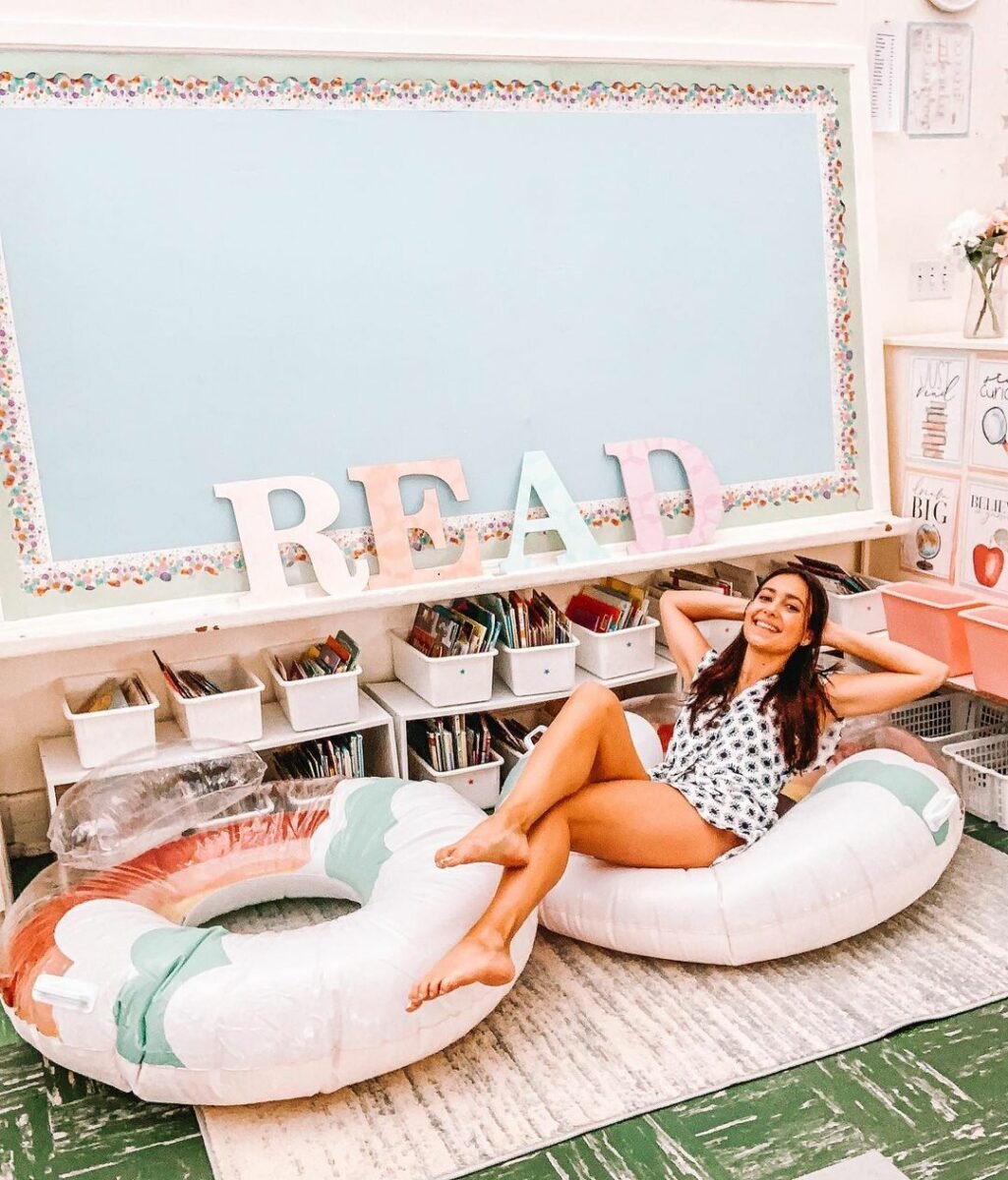 Set Up Seating — First grade teacher Laura White (@lovegrowsteaching on Instagram) shared this brilliant idea for "chairs" with us. Blow up a few inner tubes, and you've got instant seating for your classroom library corner!
Add Posters — This "parts of a book" poster is a fun one to help them get to know and understand the book better.
Make a Bookmark Station — Encourage your students to save their spot in their books by printing bookmarks and making sure there's always a steady supply. We print ours on cardstock so they're sturdy enough to be used again and again. Check out some of our free printable versions: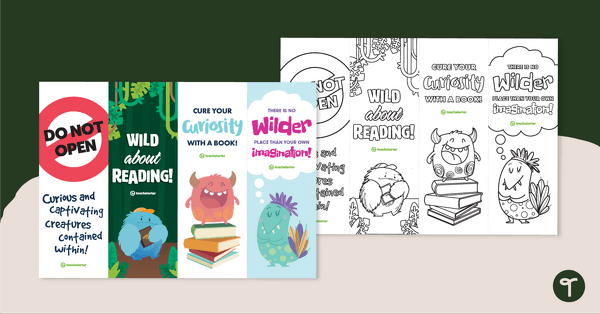 teaching resource
A set of 4 reading inspired bookmarks.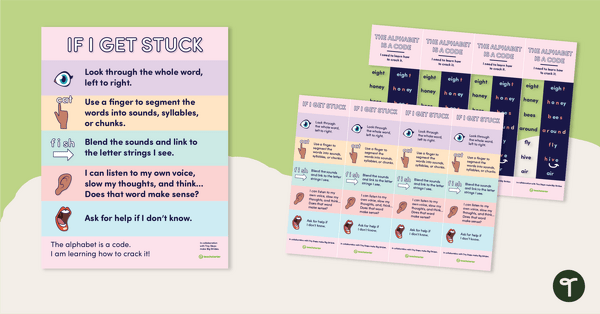 teaching resource
Help students succeed in reading fluency with this bookmark and poster set of strategies for decoding unknown words.
teaching resource
Ensure your students start off on the right foot with this morning routine checklist bookmark!
---
Opening Your Classroom Library Up to the Class
Let's face it, this is absolutely the MOST FUN part of building a classroom library — allowing your students to start using it! Here are some of our favorite ways to help your students get the most out of this awesome resource in the classroom!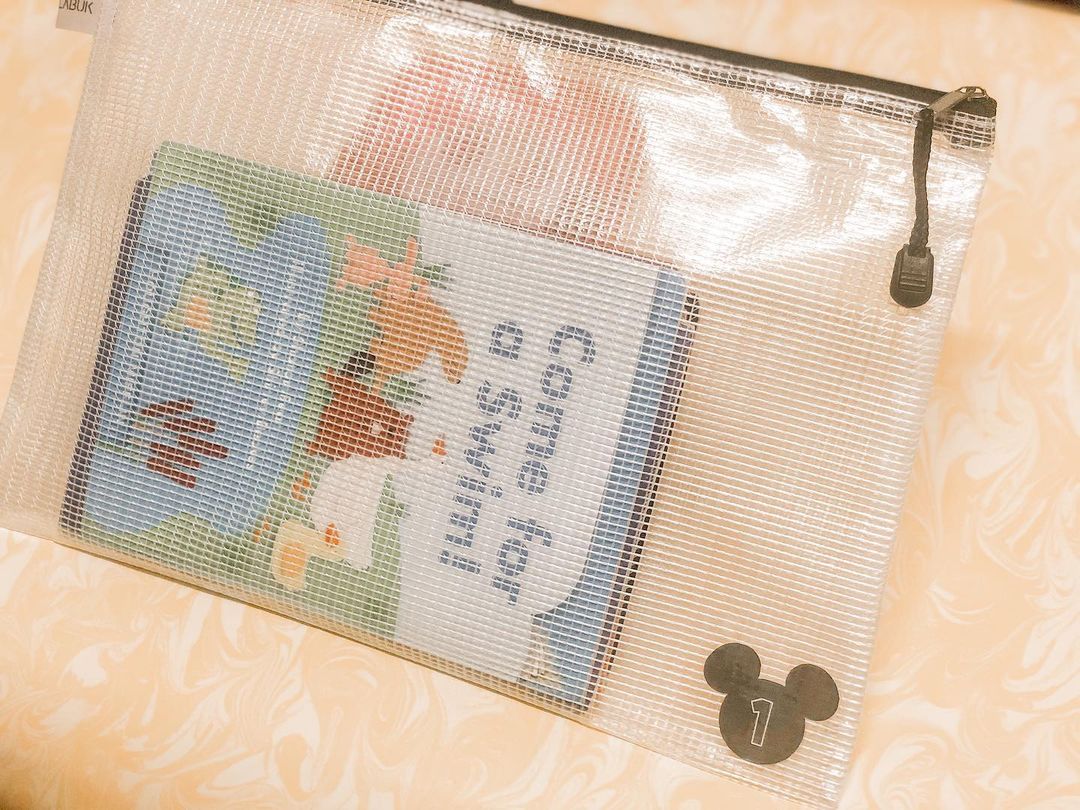 Allow fast finishers to choose a book for silent reading while their classmates complete a task.
Open the library up for book 'shopping" every Monday. Kindergarten teacher Taylor (@thatteachertaylor on Instagram) gives each student a small book bag (see above) with their name on it so they can safely bring books home and back to school!
Make choosing a new book into a game. One of our favorite tricks for encouraging students who are reluctant to read is to send them "fishing" for book ideas! This book fishing template has everything you need to create your own classroom library display!
Do you have a classroom library that you love? Tag us on Instagram — @teachstarter_US — for a feature on our feed!
Banner image: shutterstock/wee dezign