How do you promote inclusion in the classroom? Do you have students in your class who are on the Autism Spectrum?
When I stumbled upon and read the picture book Fergus and Delilah, written by Erin Knutt and illustrated by Ma Alexander, my heart sang. I feel like I need to share it with everyone! If you haven't already read this book to your class, please put it high on your list of things to do.
Fergus and Delilah
Written by Erin Knutt and illustrated by Ma Alexander
The picture book Fergus and Delilah follows a little girl through her first day at a new park. The story shows children that everyone is wired a little bit differently and that everyone needs a friend to play with at the park or in the school playground.
Who is Fergus Ray Franklin?
Fergus is a fictional character who is six and a half years old and is on the Autism Spectrum. He is 'wired' differently. Fergus loves to flap his arms and spin when he is really excited. Flapping and spinning helps him to understand the world. He doesn't like loud noises. Humming makes loud noises seem quieter. Fergus is working on his understanding of personal space, looking people in the eye and saying 'hello'. His favorite thing is playing with all of the kids at the park.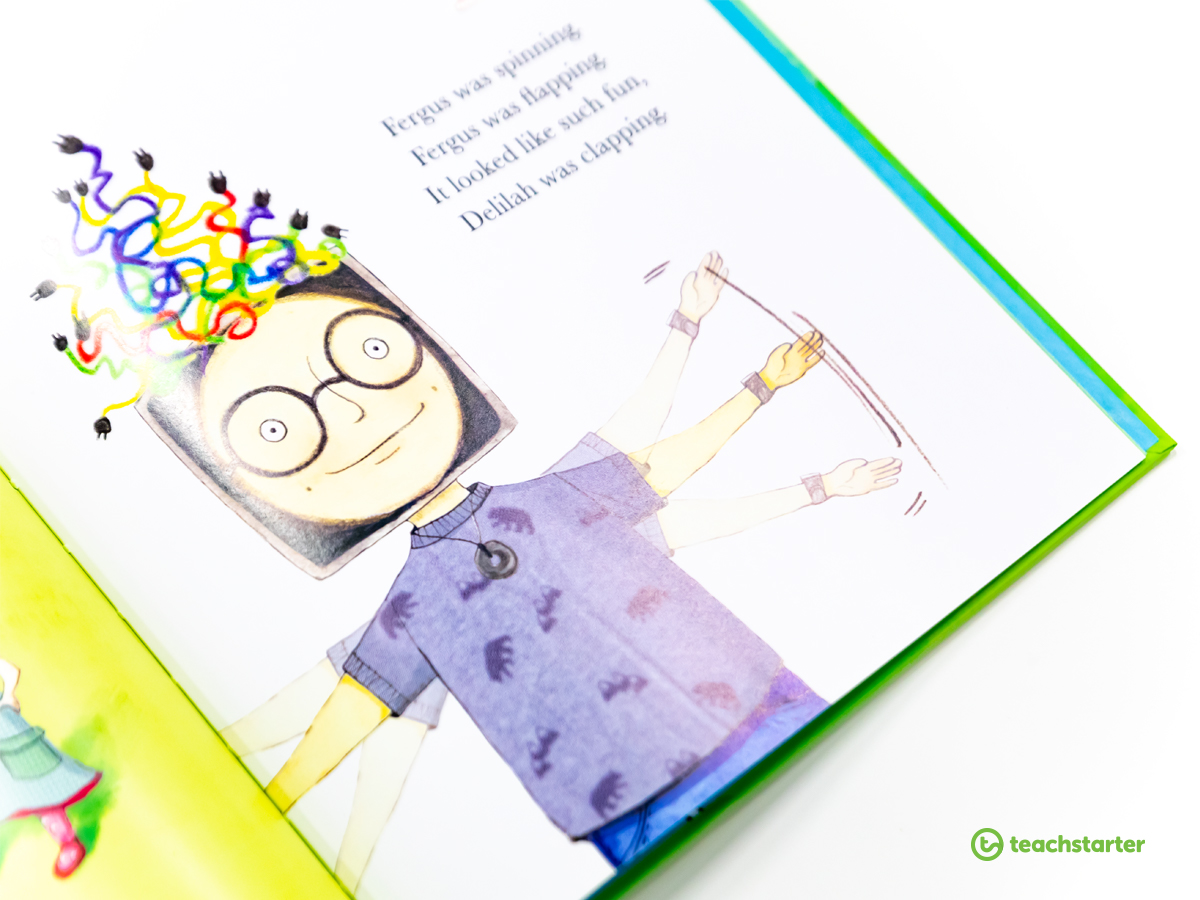 The real-life inspiration for this story is Hugo, the seven-year-old son of Ma Alexander, the illustrator of this magical children's book.
It all began when Hugo, who is on the Autism Spectrum, started preschool. Ma, made a flyer for the other parents so that they had a better understanding of Hugo and why he didn't speak and flapped his hands. Parents shared the information with their children who, in the magical way that children do, accepted Hugo's uniqueness without hesitation. Hugo felt the sense of belonging at preschool that Ma had hoped for. Seeing the positive impact and response to her flyer, Ma started thinking…
But my flier was only helping one child. A picture book that captures the hearts of mainstream children with a humorous story, whimsical illustrations and a lesson of compassion and understanding will help the lives of children with disabilities wherever it is read.
The very personal story of how this wonderful book evolved is sure to touch your heart. After placing a call-out in the local paper, Ma found special needs educator Erin Knutt. Together with the help of an ING grant and money donated via a crowd-funding appeal, they created the picture book Fergus and Delilah.
For more information on the huge impact of this book, how it has inspired others and transformed perceptions of the Autism Spectrum, visit the Fergus and Delilah website.
What is Inclusion?
Fergus & Delilah is dedicated to educating, informing and inspiring society so all children can belong.
Inclusion is for ALL children, it is NOT just a disability issue.
Inclusion is about children learning to live together.
Inclusion is about recognizing each others' strengths and celebrating them.
Inclusion in the classroom will create a future of adults who can work cohesively together to better society as a whole.
As educators, we appreciate the importance of inclusion and have learned how to put it into practice as part of our professional development. But in order to foster an inclusive classroom we need to create opportunities for our students to see, explore and experience inclusion.
Reading Fergus and Delilah to your class is a perfect place to start. This picture book is a great way to open up discussion about inclusion and the Autism Spectrum.
Inclusion Poster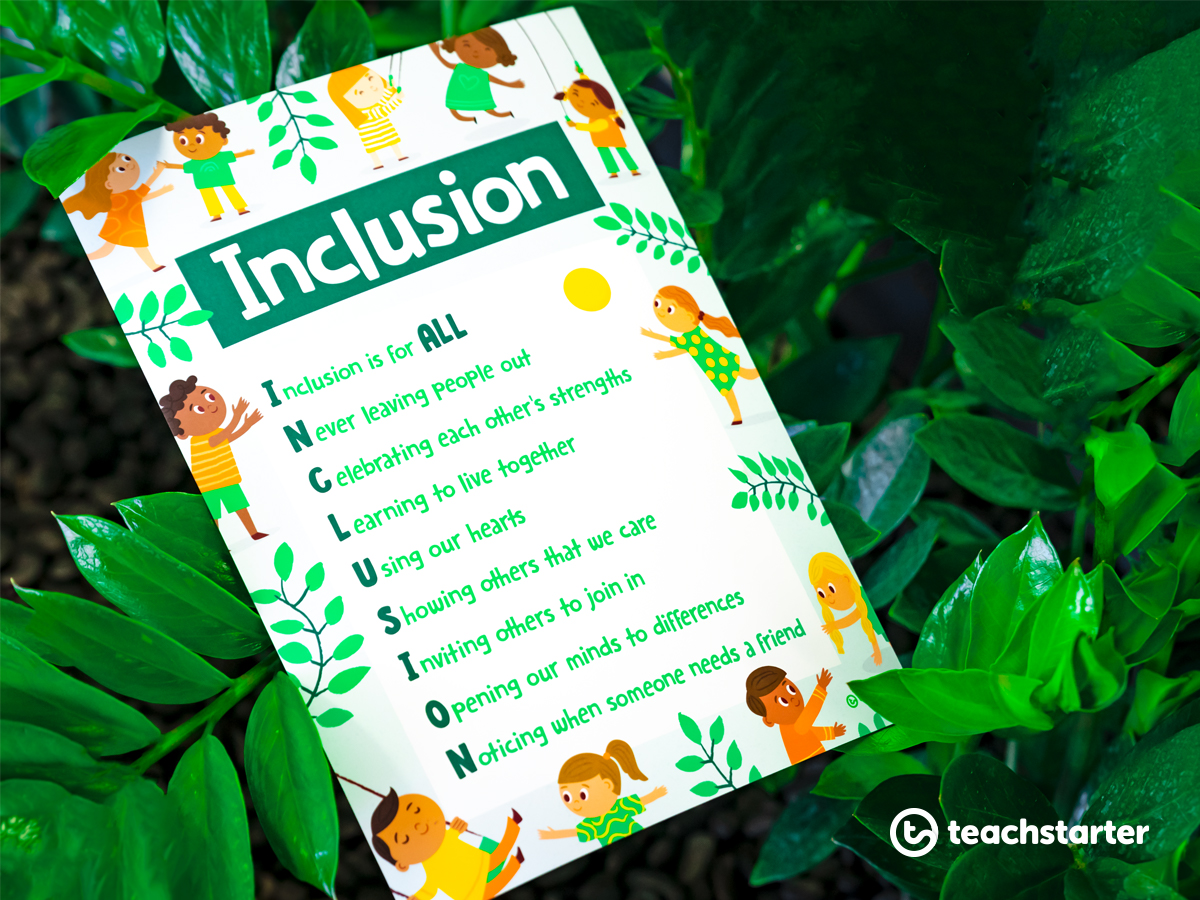 Don't miss out on our new Inclusion Poster. We have written an acrostic poem to help your class to unpack what inclusion looks and feels like.
Why not use this poster as inspiration to write your own class inclusion acrostics poems? The Teach Starter team would be delighted to read your poems!! Share them on Instagram #teachstarter.
Activities to Foster Inclusion
Dancing Dice Game
Fergus & Delilah are developing an exciting School Toolkit of resources for educators to use with the Fergus and Delilah book to teach children about inclusion, having compassion and understanding.
I love the Dancing Dice Game! All you need to do is print out and construct the dice. Then, roll the dice and ask your students to try out some of Fergus and Delilah's favorite moves.
Friendship Flower!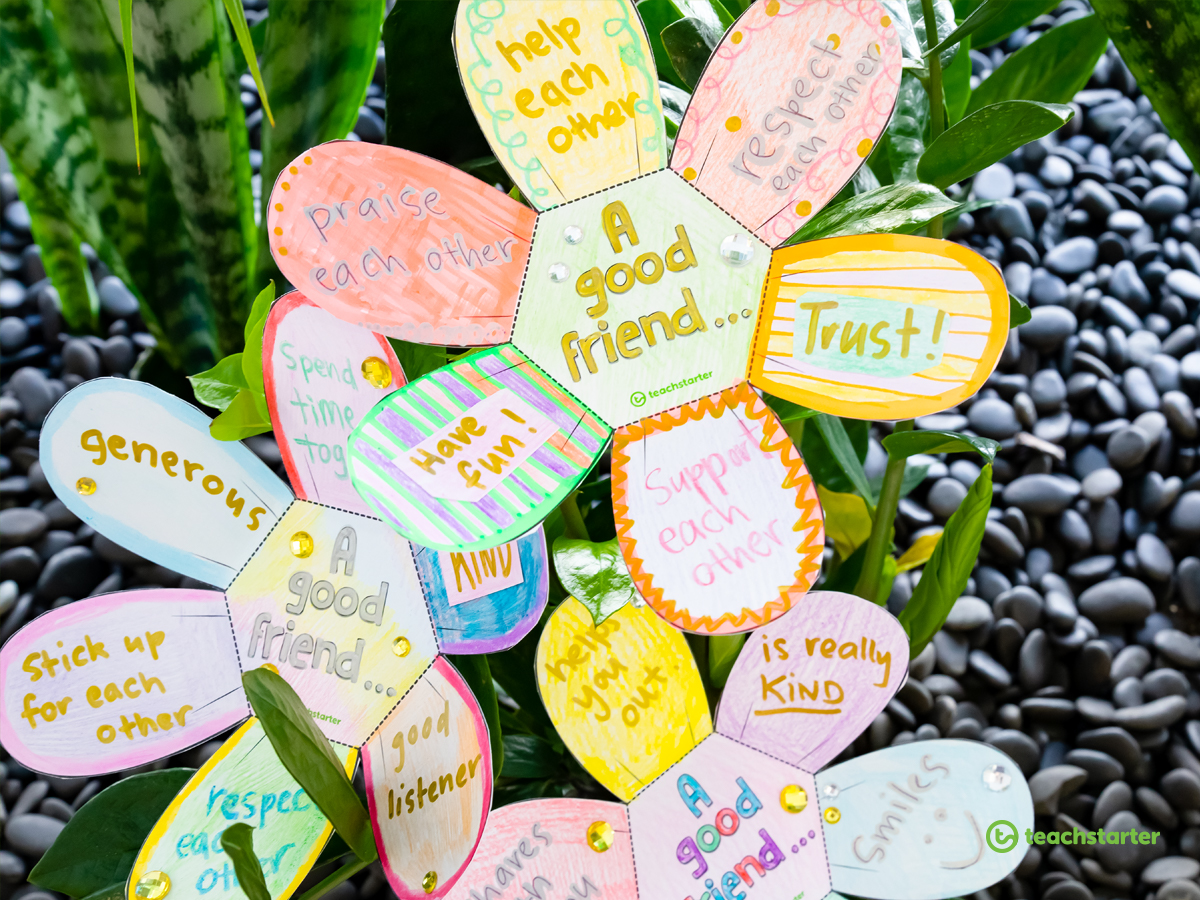 Why not use our [FREE] download Friendship Flower Template to foster inclusion and friendship in your classroom. Use this simple flower template to talk about the characteristics of a good friend.
Students cut out the flower and write different good friend characteristics on each petal of the flower.
Then, they color their flower and fold down each of the petals.
When finished, they have a gorgeous blooming friendship flower to help them understand how a good friend acts.
All About Me Journal
Our All About Me Journal is a great teaching resource to use when encouraging your class to think about their own identity, as well as similarities and differences between each other.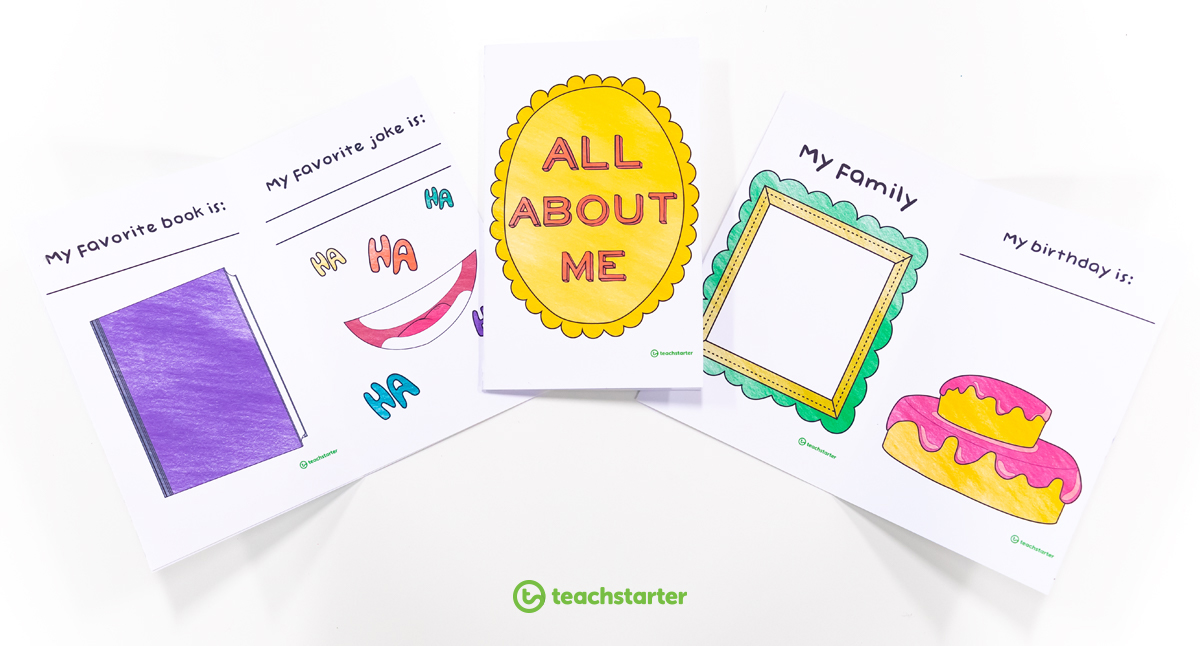 To print in booklet form:
Open in Adobe Acrobat
In the print menu, select booklet
Booklet subset: Both sides
Binding: Left
(Ensure the paper size is set to A4).
Encourage students to share their completed All About Me Workbooks with each other and to build new friendships based on shared interests and interesting differences.
For more friendship activity ideas read our blog International Day of Friendship Activities.
Breaking Down Barriers
Recent research undertaken by Autism Spectrum Australia, reports that an estimated 1 in 70 people in Australia is on the autism spectrum. It's important to note that autism is not necessarily on the rise, but we are getting much better at recognizing it. This is really great news!
Early diagnosis and intervention changes lives for children with autism and their families.
Help break down barriers between the students in your class and help to change the way in which the world understands the autism spectrum. Read Fergus and Delilah to your class as soon as you can get your hands on a copy! To find out more or purchase a copy, visit the Fergus and Delilah website. You can also follow them on Instagram and Facebook.
Keep your eyes peeled for our up-and-coming Teach Starter competition to win a signed copy of Fergus and Delilah and a Teaching Resource Kit!
How are you making a difference? Share your wonderful photos on Instagram #teachstarter