If you're anything like us, you love a good anchor chart. These giant references for students are a staple for the teachers on the Teach Starter team, and we are always on the hunt for fresh ideas. That's why we've pulled together our favorite character trait anchor chart ideas to make teaching this vital part of reading and writing easier for you — and your students!
From smart ways to lay out your anchor chart to inventive ideas for teaching character trait lessons, let's dive right in!
Download a free character traits list for your classroom!
Character Traits Anchor Chart Ideas
Build Out the Concept
Whether you're introducing character traits to primary learners or reminding older elementary students of what they are so they can begin to use them in writing, an anchor chart that lays out the basics of the concept can be a big help. Third-grade teacher Allie A. (@third_gradethrills on Instagram) shared this well-laid-out anchor chart for doing just that!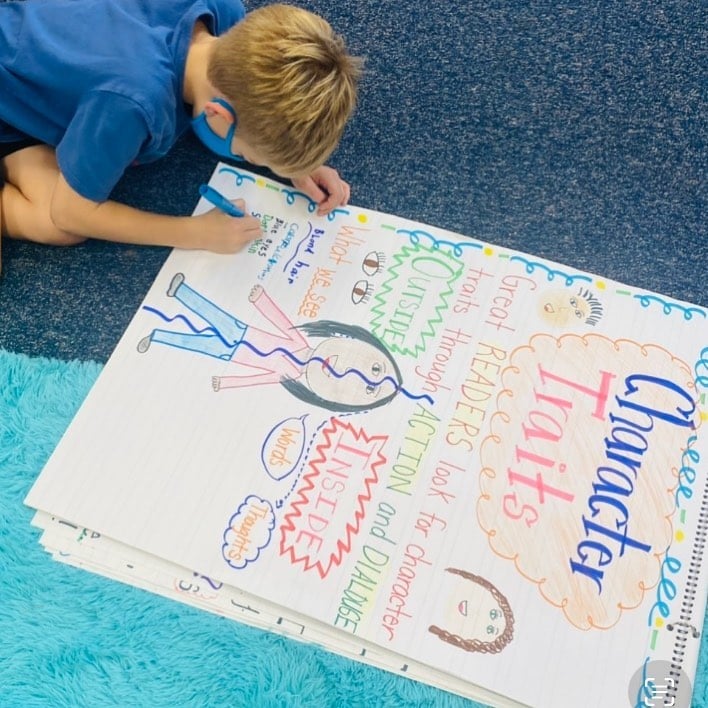 Inside vs. Outside
Expanding on the basics above, we love this breakdown of The Bad Seed from a first-grade teacher who goes by @firstgradelife on Instagram. Talking about the difference between the traits that are on the inside versus those on the outside can help make this rather intangible concept more concrete for younger learners.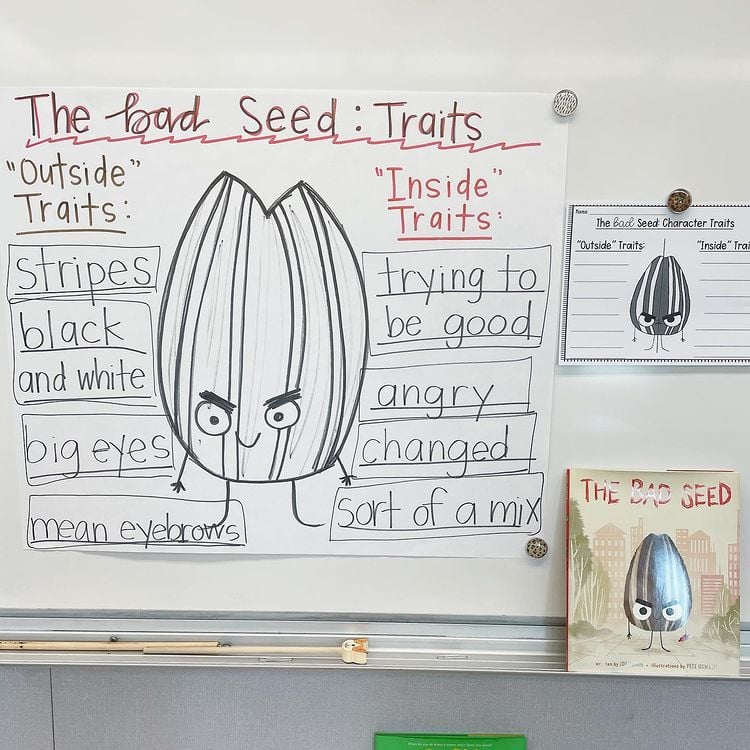 Break Down the Whole List of Characters
Because of Winn Dixie introduces kids to a colorful cast of characters from animal-loving Opal Buloni to her father, The Preacher. And of course, there's Winn Dixie, the eponymous character who has made Kate DiCamillo's popular book equally popular when it comes to providing mentor texts for young writers working on character traits. Fourth-grade dual immersion teacher Rebecca Acosta (@maestra.acosta on Instagram) shared this great anchor chart format for breaking down a book that's got a whole lot of characters — and in Spanish to boot!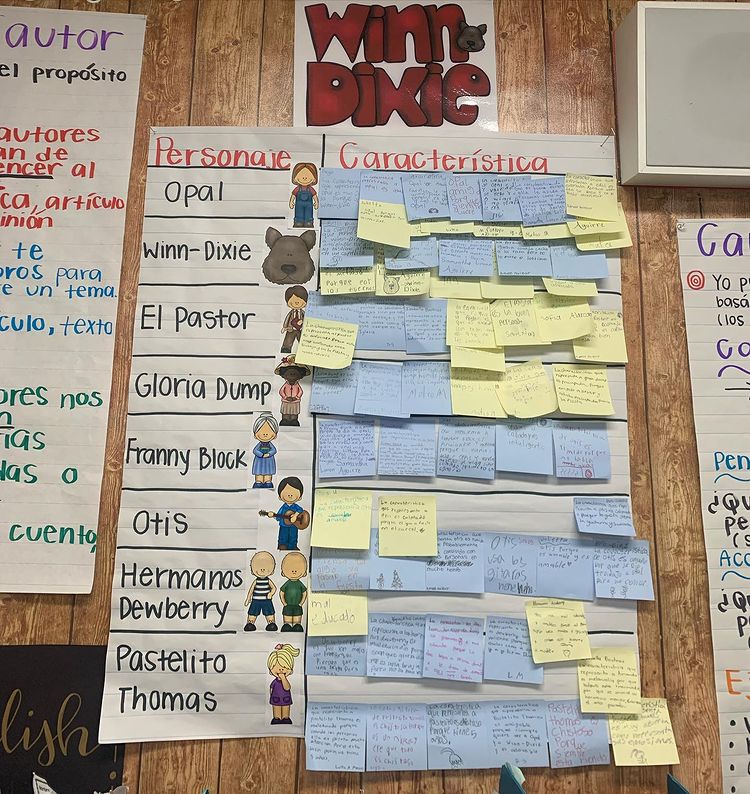 Draw the Character
Not everyone is an artist, and we sympathize fully. But if you're in a drawing mood (or heck, a tracing mood), adding an image of the character to your anchor chart can serve as a good visual reminder for your students. Who wouldn't remember the concept when checking out this Grinch character traits anchor chart from third-grade teacher Grace Jenkins (@teaching_with_grace on Instagram)?
You may also want to borrow this fun idea from Jenkins: She told her students all about her grandmother, who absolutely loves Christmas, then had the students compare and contrast the traits of the Grinch and her grandma, forming a Venn Diagram.
Want to try this with your class? Grab our Venn Diagram graphic organizer template as a scaffold!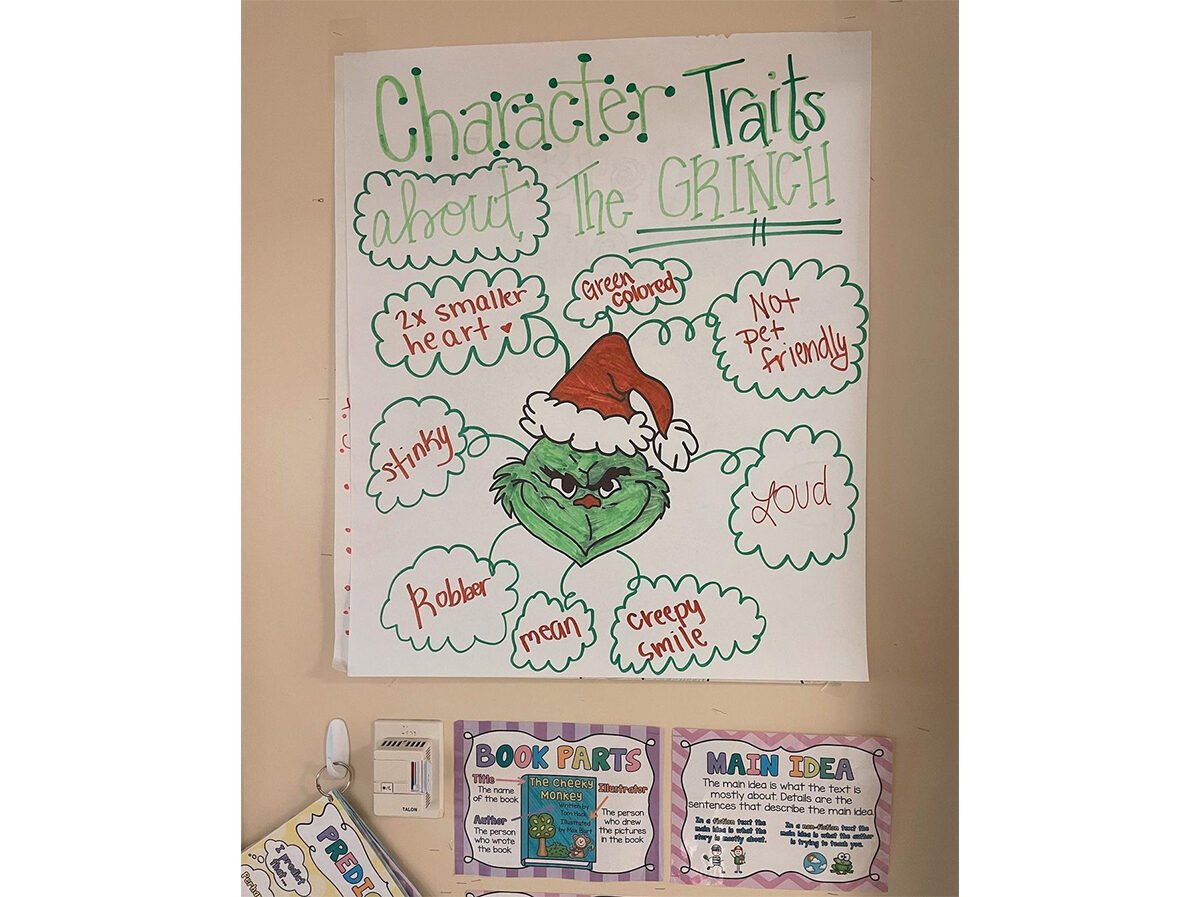 Provide Character Words
Give your young writers the language to create rich descriptions of their characters with a good old-fashioned brainstorm! Teacher Heather MacLean (@msmacleanch on Instagram) shared this example of an anchor chart she created with her class as they worked to enhance word choice by identifying specific and advanced character traits. You could build an anchor chart like the one below, or if you are lacking wall space, you can provide your students with a Character Traits List to keep in a folder or notebook to use as a reference tool.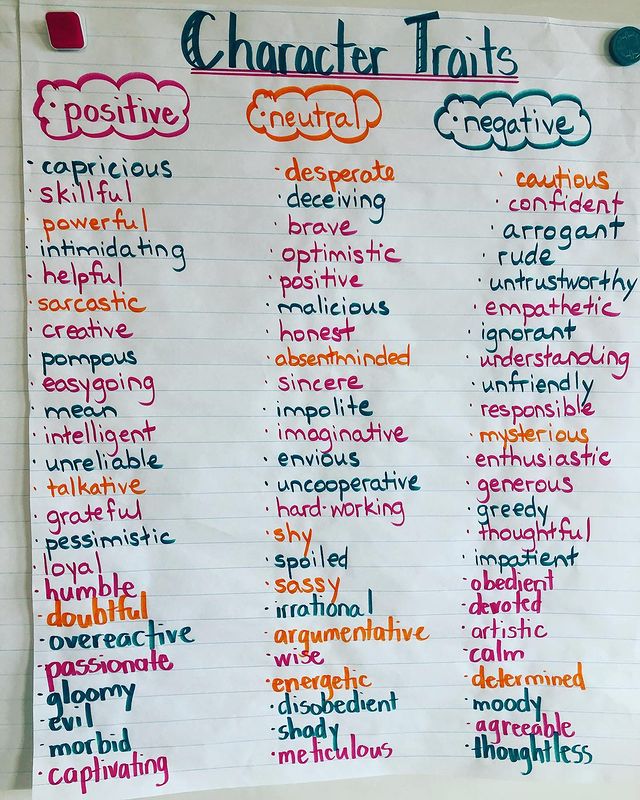 Feelings vs. Traits
Trying to help students understand the difference between a character trait and something a character is feeling? Try this idea from third-grade teachers Kiley and Emily (@colormekindteachers on Instagram): Set up your anchor chart with a table that has two columns — one for feelings and one for traits.
Provide each student with two different colored Post It Notes, and let them know that during your read-aloud, they should write down words they think describe the character's feelings on the note of one color (let's say blue), and they should write down words that describe the character's traits on the other colored sticky note. At the end of the read-aloud, allow students to come up one by one to post their notes on the correct side of the table. Finally, review as a class — moving the sticky notes to the right place during the ensuing discussion!
Looking for a book for your character traits lesson? Check out our favorite books for teaching about character traits!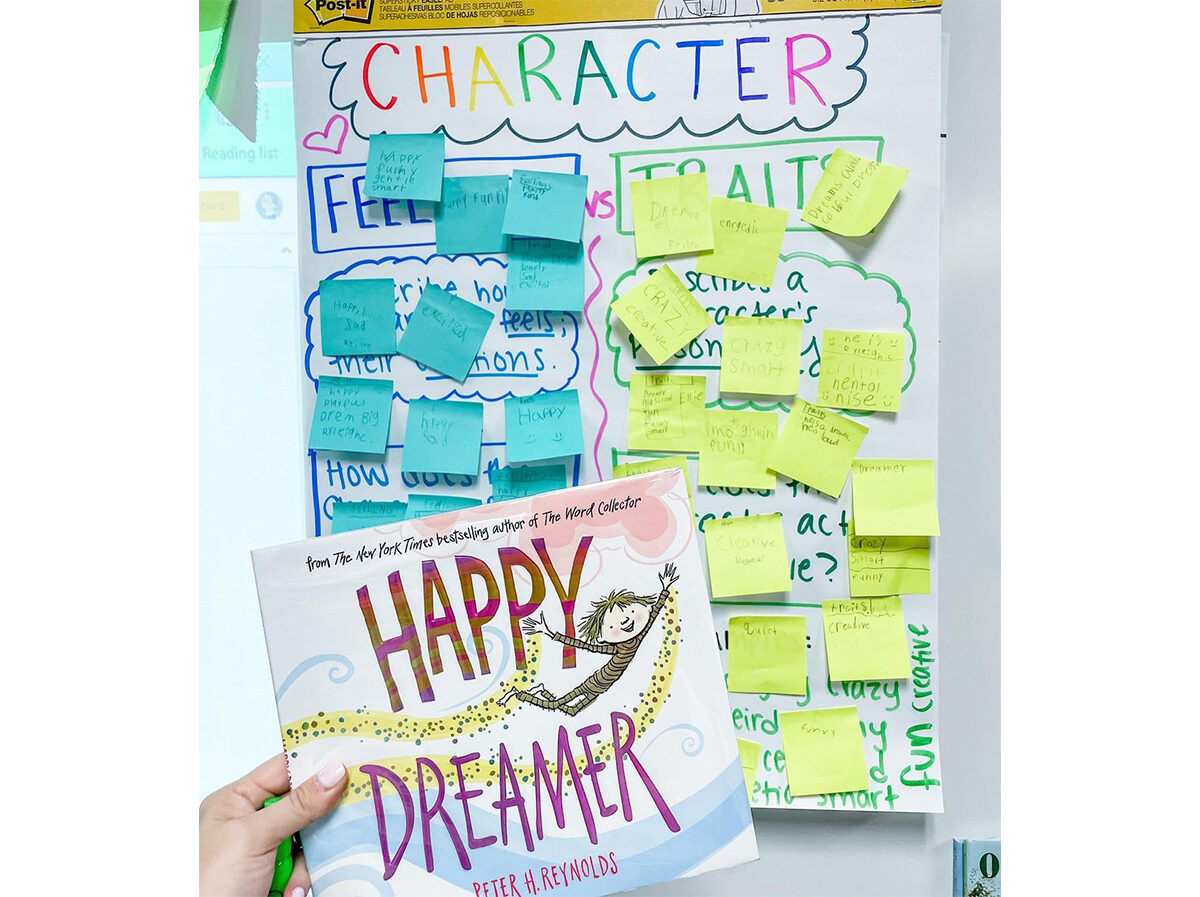 Free Character Traits Anchor Charts
Need a few more ideas, or an easy printable? These three posters cover character traits, character feelings, and character appearance. Each can work as an anchor chart on the classroom wall or as easy handouts for students to review! Print your own now.
Are you teaching about characters? See our teacher-designed character teaching resources ready for your next lesson!