Do you use puppets in the classroom? Not only are they a great way to impart information that younger kids will retain, but making simple paper bag puppets can help students to develop:
motor skills
increased levels of independence
critical thinking
the ability to follow a design process and instructions
pride in their achievements
resilience.
With the holidays upon us, we've been making puppets out of paper bags with a holiday twist! Here's how we do it!
How to Make a Puppet Out of a Paper Bag
Meet our latest Teach Starter members Santa, Rudolph, Snowman, and Elf.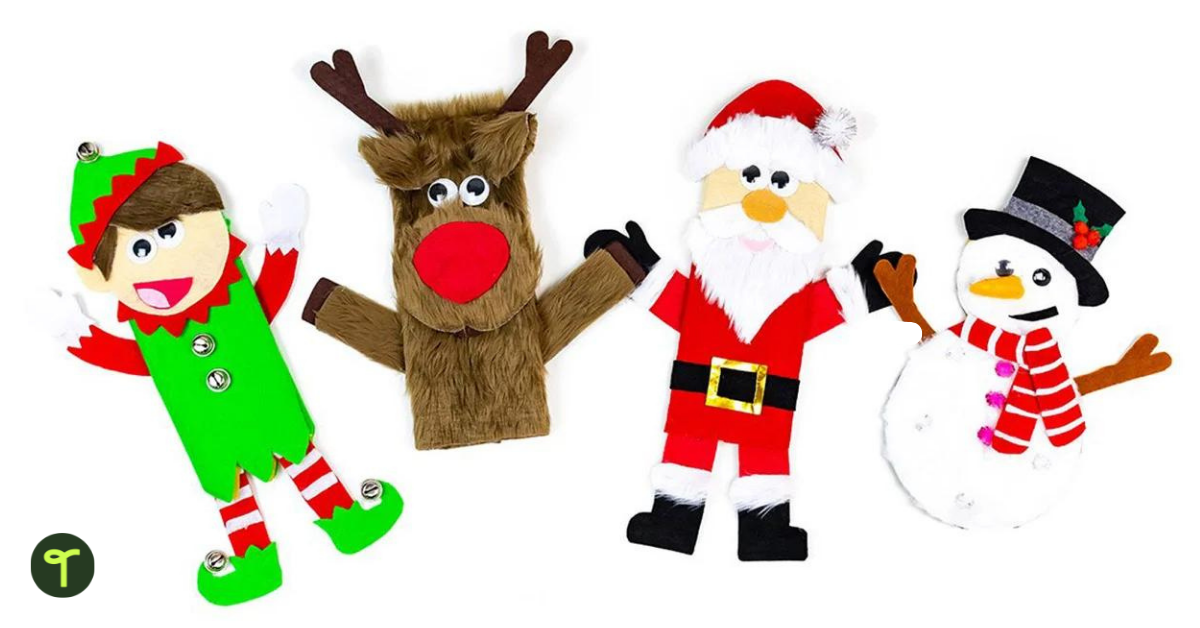 This friendly Christmas puppet crew is easy to make.
Fold a regular-sized, brown paper lunch bag in half vertically and glue the two sides together.
This forms a long, rectangular shape with a hole at the bottom for students to use as a puppet.
Color the cutouts on the template.
Design your puppet's outfit using a variety of craft materials.
Cut out all of the pieces you need.
Glue the template pieces and clothing pieces onto the paper bag!
Want to make the holiday crew above? Download our Paper Bag Christmas – Puppet Making Activity, to set yourself (and your class) up with a slew of holiday characters.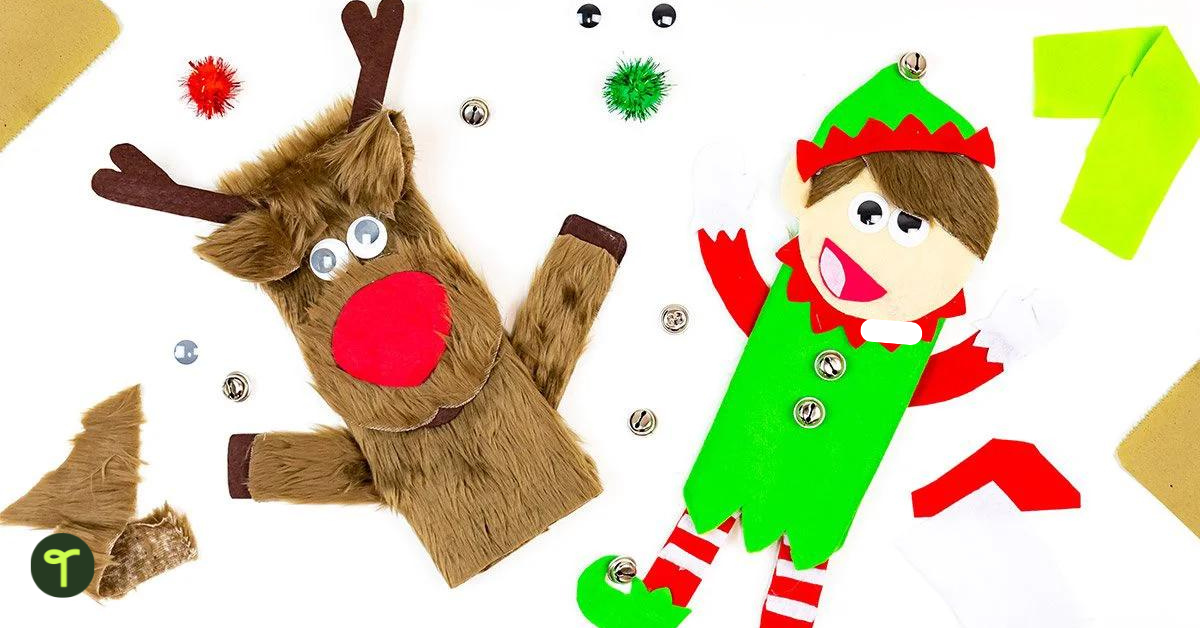 How to Use Paper Bag Puppets
So now that you've made puppets out of a paper bag, what are you going to do with them? Never underestimate the power of puppets. Puppets provide a great opportunity for crafting, drama, imaginative play, narrative writing, and more. They encourage storytelling, oral language, creative expression and provide endless opportunities for role play!
Paper Bag Puppet Buddies
Does your class have a buddy class?  If they do, why not invite your buddy class over to your classroom to create Christmas Paper Bag Puppets.
If managing another 25+ buddy students feels too much like hard work, surprise your little buddies with a puppet as a lovable Christmas buddy gift.
I used a simple brown paper bag, a ribbon, and our customizable Desk Name Tags Red Bubble Pattern to make a gift tag!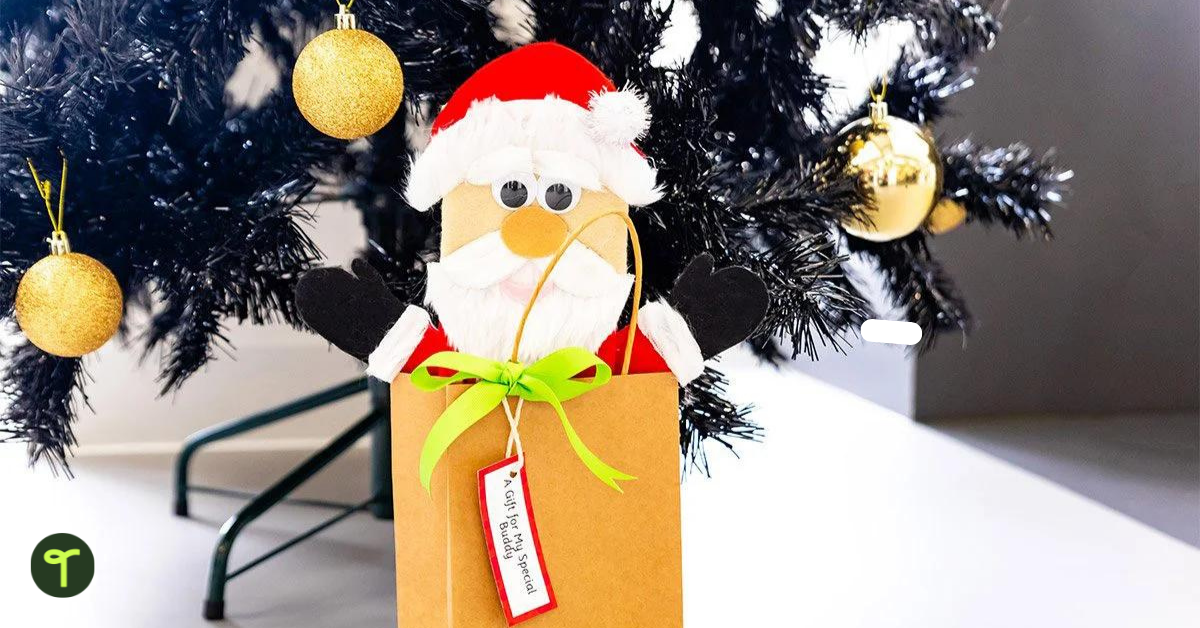 For more engaging activity ideas for buddy time, take a look at our Buddy Activities Teaching Collection.
Paper Bag Puppet Show
When you have your Paper Bag Puppets, why not extend your learning experience by planning, rehearsing, and performing a puppet show?
Puppet shows offer valuable learning experiences in many developmental areas. As well as being a huge amount of fun, playing with puppets can:
support oral language skills and communication
encourage social/emotional development
help children learn and understand the world around them through safe, imaginative play.
Do you have students in your class that shy away from drama activities and oral presentations? If you do, puppet shows could be a hit. Puppet theaters provide a safe place behind the curtain and most children find them less intimidating for performing plays.
It's easy to construct your own puppet theater. Cardboard boxes work really well!
Write a Christmas Puppet Narrative
Don't let the time you spent making puppets out of paper bags go to waste. Instead, use your new puppet characters to inspire a narrative.
Check out our collection of Narrative Writing Resources to help your students to plan a fun narrative.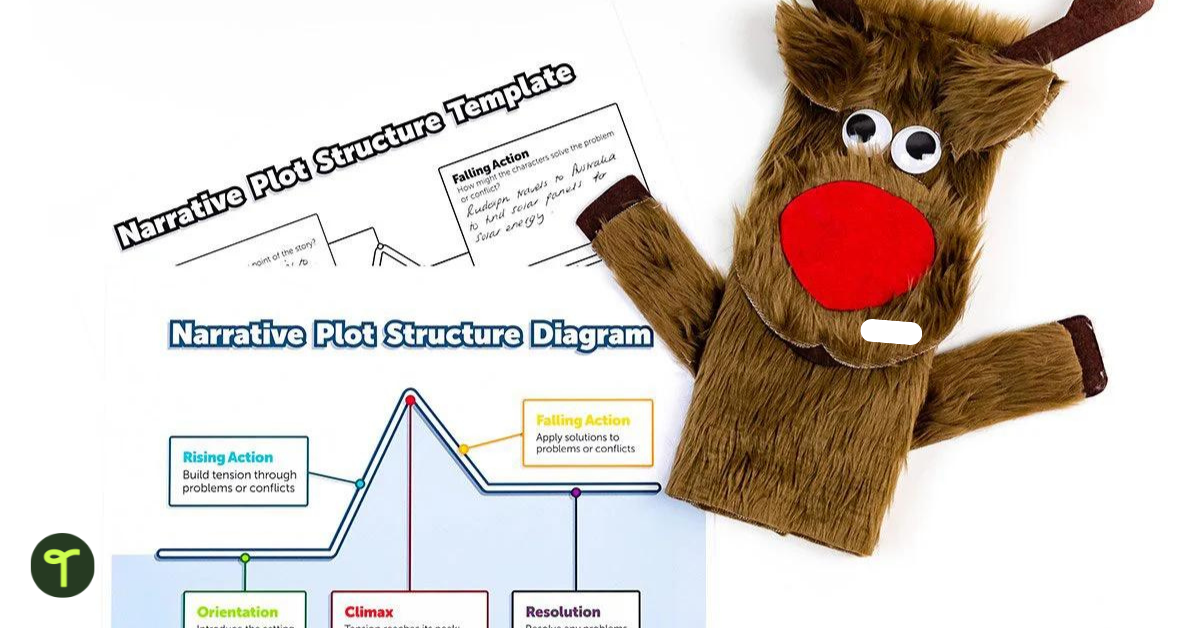 The Narrative Plot Structure Diagram provides your students with a clear, visual scaffold to write a narrative that includes the following structural features:
exposition
rising action
climax
falling action
resolution.
Write a Procedural Text
Use your paper bag puppets as a lesson hook when introducing a festive procedural text activity. For younger kids, try Procedure Sequencing Activity – Snowman. Students cut and paste the steps of How to Build a Snowman in the correct order.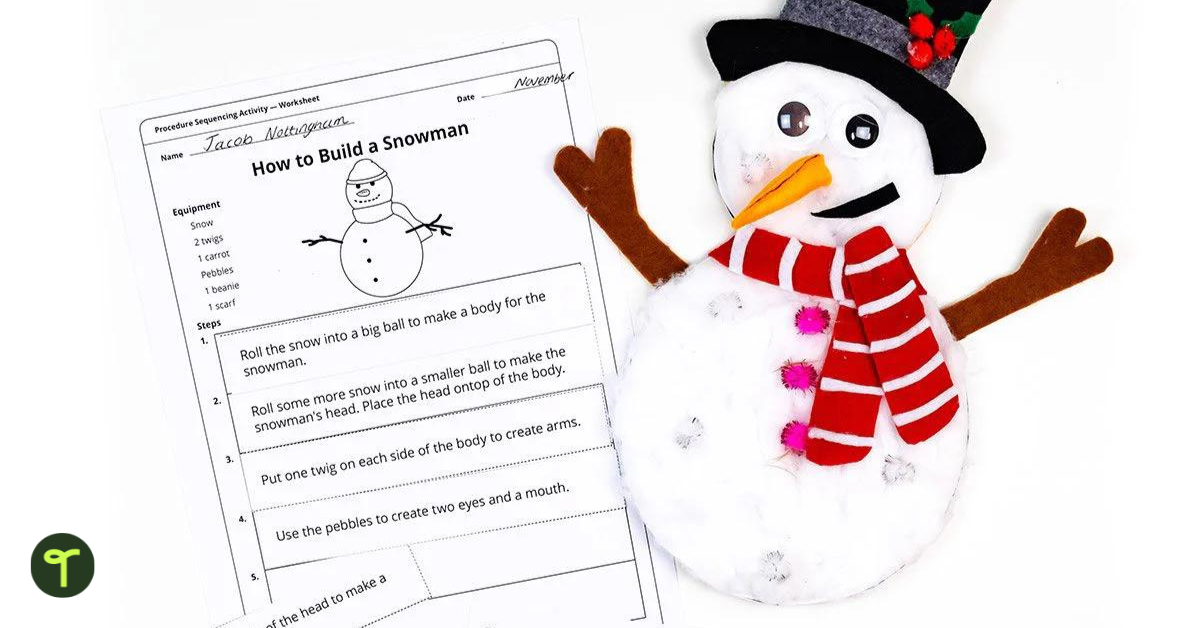 Check out our Informative Writing Teaching Resources for more brilliant procedural text activity ideas.
For more inspirational ideas on how to hook your students at the beginning of a lesson, at any time of the year, read our blog Lesson Hook Strategies to Launch Learning.
Character Description
Put the fun factor into the Christmas countdown and use the puppets you made with a paper bag to consolidate how to write a character profile. Whether your students choose to compose a character profile for Santa, Rudolph, Elf, or Snowman they are sure to have a whole lot of fun writing it.
Don't miss out on our Detailed Character Profile Worksheet.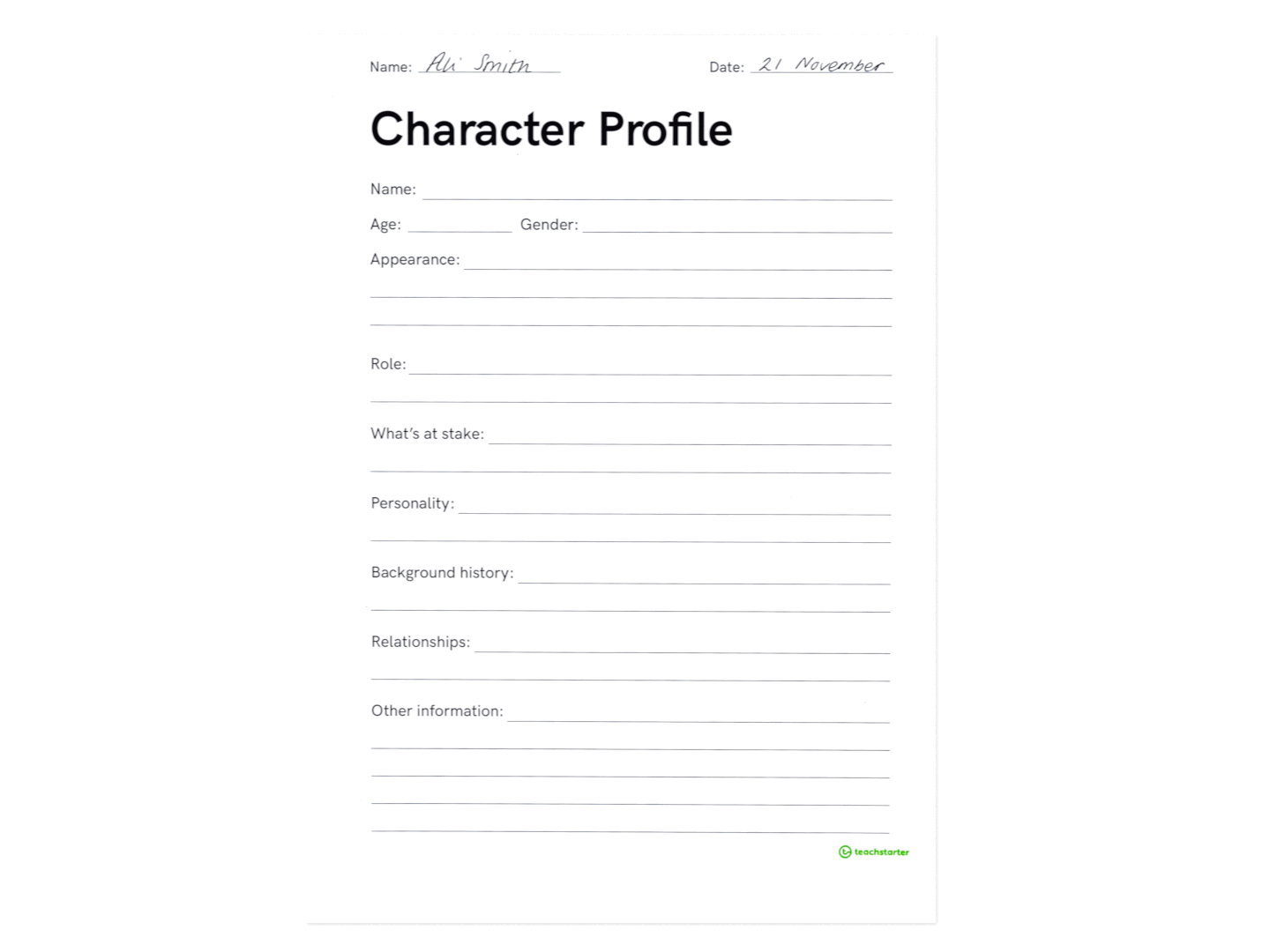 Informal Measurement
It's true, puppets and math can go together! Make your paper bag puppets feel useful and use them as an informal unit of measurement. We measured how many elves high our Christmas tree is! Turns out, it's not as tall as we estimated.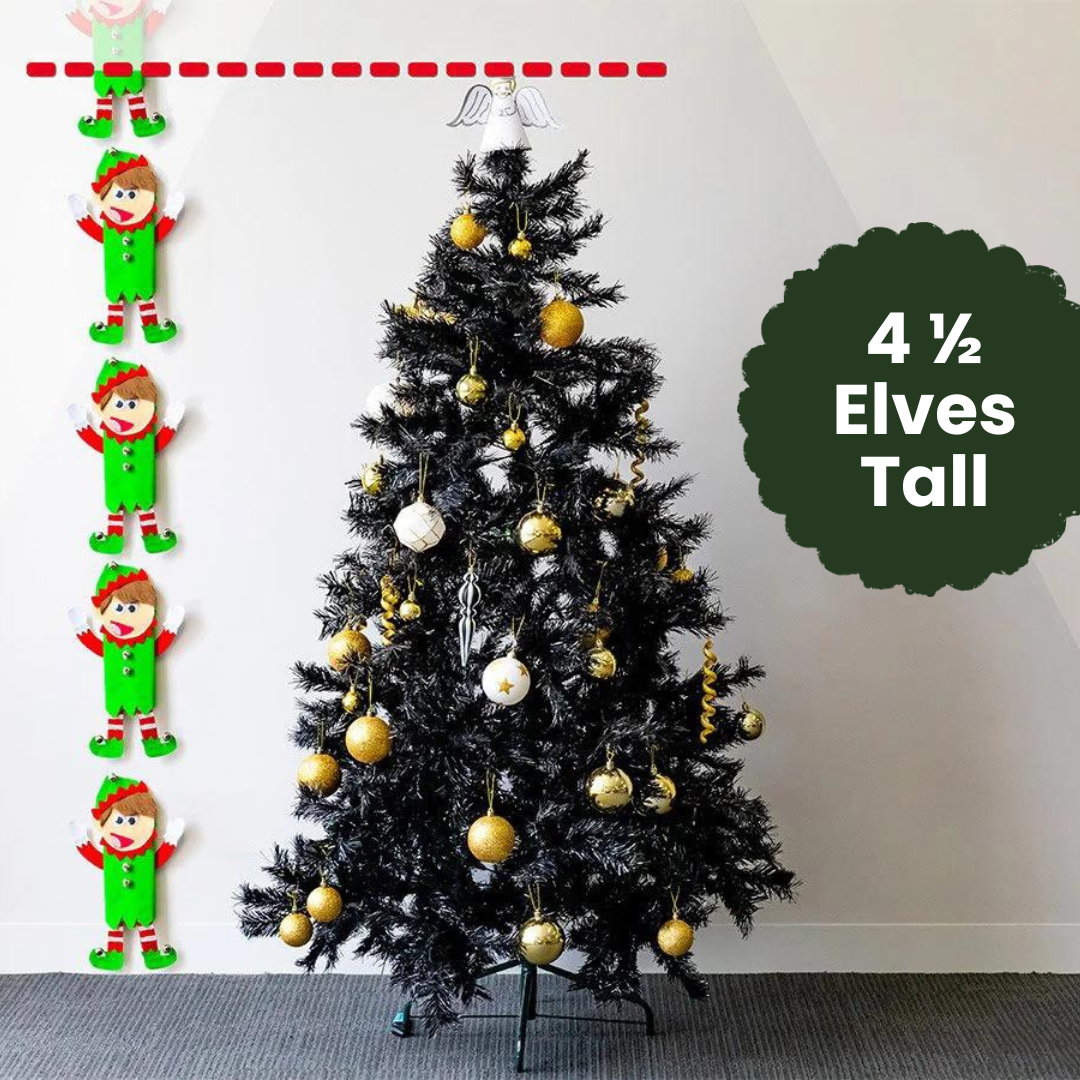 For more informal measurement activities, read our blog Teaching Measurement | The Best Informal Measurement Activities.
Festive Repeated Patterns
Make your paper bag puppets feel double the love by exploring repeated patterns!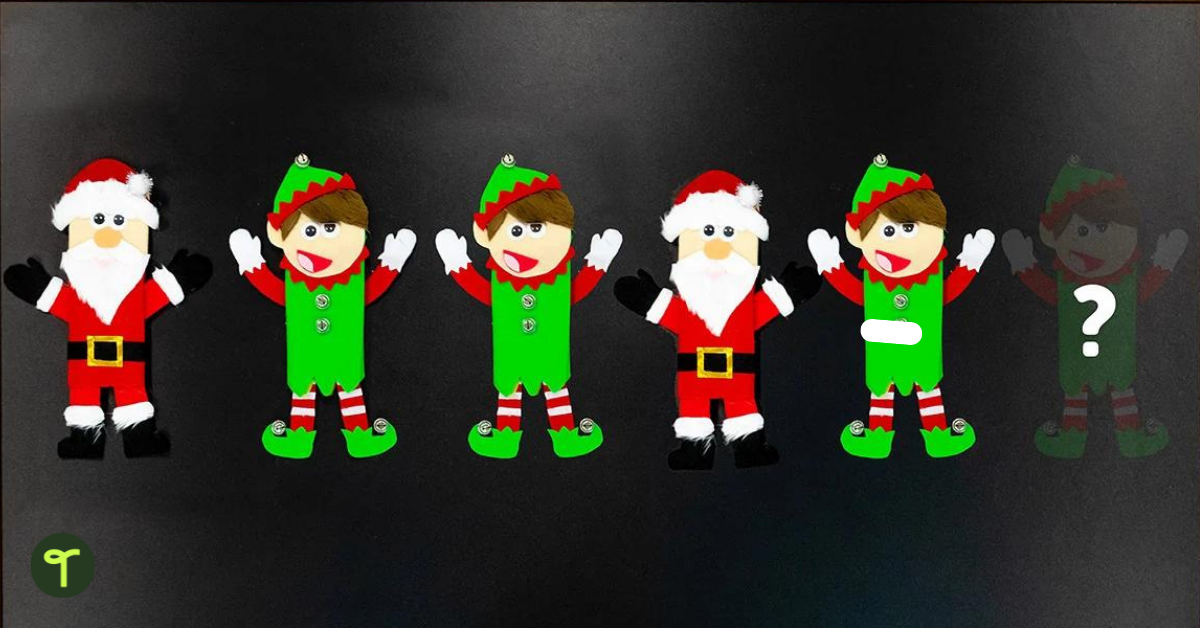 Christmas Craft – STEM
Why not challenge your class to plan, design, and make a puppet with a paper bag that has moving parts?  The STEM process is guided by the Engineering Design Process.
Ask What is the problem? Are there any challenges?
Imagine Brainstorm ideas and pick the best one!
Plan Make a list of materials and draw a labeled diagram.
Create Follow your plan. Create a model if possible. Test it! Does it meet the goal?
Improve Did it work? Can you make it better? What could be done differently?
Share Is the problem solved? What changes need to be made? What do others think?
Set your students up for success by making the most of our Download: STEM Planning and Reflection Sheet – Upper and Download: STEM Reflection Sheet – Lower. These STEM teaching resources will support your students through the process of designing a Christmas puppet with moving parts.