It's hard to believe the Elf on the Shelf book and poseable friend first came out in 2005. Now not only parents but teachers have taken the little elf and turned him into a holiday must-have, with creative new creations popping up on social media feeds … and in classrooms … every day throughout the holidays!
Looking for Elf on the Shelf activities for your classroom Elf? The teachers on the Teach Starter team talked to teachers around the US and found out some of their favorite ways to use their Elf on the Shelf in their classrooms. Read on for tips from our teacher team on how to use the Elf on the Shelf, plus some things to consider if you're adding the popular toy to your behavior management strategies this holiday season.
Get students excited about the Elf — and flexing their critical thinking skills — with an Elf Escape Room for the whole class! 
How Do You Use Elf on the Shelf in the Classroom?
Before we get into the specific ideas, let's talk logistics. The Elf on the Shelf originated as a book written by Carol Aebersold and Chanda Bell and has since blown up to pretty epic proportions with movies, a Macy's Thanksgiving Day Parade balloon, and countless supplies sold by the Elf on the Shelf company. The concept is simple — the Elf is a scout sent by Santa from the North Pole to watch over kids and report back on whether they're naughty or nice. It's a hit with parents who often use the Elf to keep their kids on their toes in December.
It's also gone wild in the classroom, with some teachers spending hours setting up daily shenanigans for their elves. If you're on the fence about whether or not to add this little guy to your lesson plans, here are a few things to keep in mind:
The Elf on the Shelf has its roots in Christmas tradition — which may not be inclusive if you have children who do not celebrate the holiday in your classroom. If you're looking to use the concept, you may want to substitute a snowman or similar non-holiday creature.
Many families use the Elf on the Shelf at home, and they have their own very specific rules that relate to their own holiday magic. Make sure your own rules don't counteract those the parents have!
The Elf on the Shelf basic rules dictate that the little Santa scout is not to be touched by human hands, lest his magic rub off. Especially with the youngest children, this is a very big deal and something to keep in mind if you're setting up fun Elf on the Shelf antics. Be aware you and your students will have to maneuver around whatever you've set up for a full day before he can be moved again.
There are a LOT of fun Elf on the Shelf ideas (and we're about to share them!), but some require a time commitment and sometimes a financial one too. Consider how much you want to dedicate to this project, and choose wisely. We've made sure to include some very low-key ideas in here to help you keep your holiday season sanity!
Elf on the Shelf Classroom Ideas
Never done Elf on the Shelf with your students? You can order a book and Elf kit together or just get a stand-alone Elf. Meanwhile, check out these fun ideas for making your classroom magical this Christmas with a little help from a special visitor … your very own Elf on the Shelf!
Elf Arrival
The Elf on the Shelf tradition has grown so huge that many kids may already have their own special holiday friend at home. But for those who aren't familiar, a reading of The Elf on the Shelf  – A Christmas Tradition can help acquaint them with the story.
Choose a Name for Your Classroom Elf on the Shelf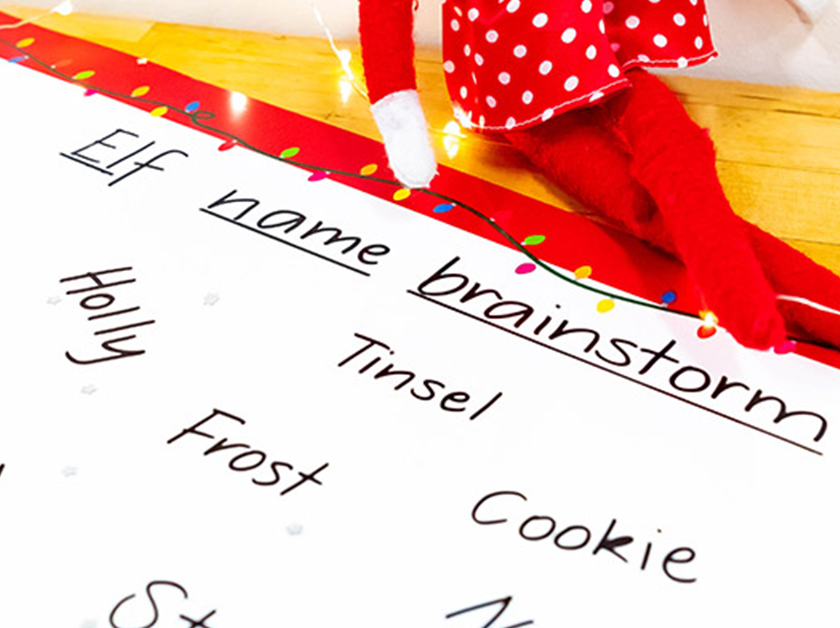 When your elf arrives from the North Pole, he or she won't have a name! Your class can decide on a name together — this is a great chance to brainstorm together. (One teacher used our Landscape Christmas Page Border, printed on cardstock, to brainstorm ideas!)
Reinforce Your Classroom Rules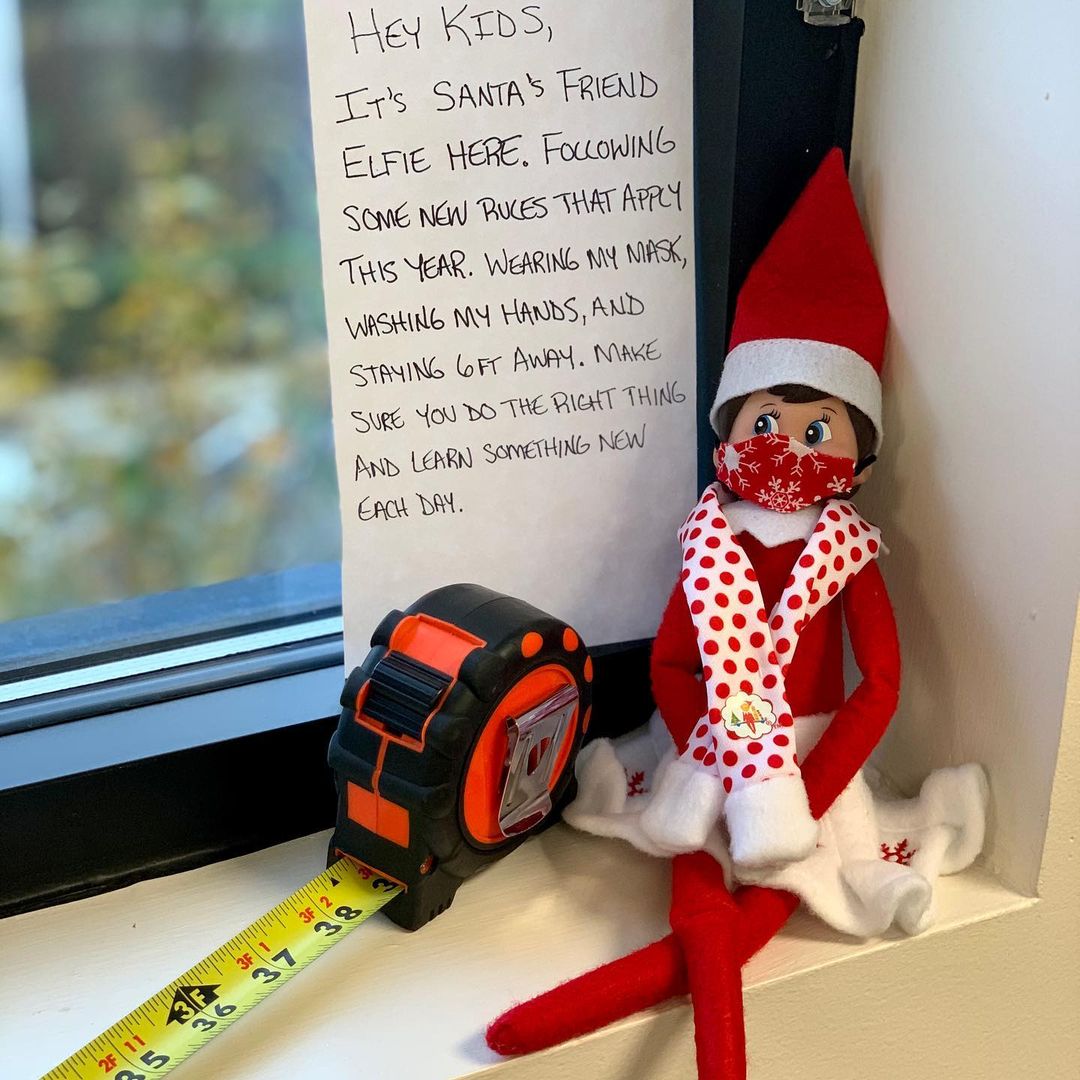 By December students have been in school for anywhere from three to four months, and they've had that Thanksgiving break. Those classroom rules you practiced at the beginning of the school year may have begun to slide. Don't worry — we've got a teacher trick for you. Kids love their elves, and we love how teacher Tiffany Hicks of North Carolina (@tiffteachessecond on Instagram) uses her classroom Elf on the Shelf to gently remind her students of classroom rules. It's like having a friend at your side to help the students remember!
Joking Around With Your Elf on the Shelf

One of the simplest ways to celebrate with your elf is to share a new elf joke every day — you don't have to move your elf at all. Just add a new joke to his repertoire each day, and you've got the magic managed.
Teach Starter Teacher Tip: These printable Holiday Joke Cards make it easy to supply a new funny each day for your students. These are elf-approved, kid-safe jokes your students are going to love, and this idea is incredibly easy to implement.
Catch Kindness
Some teachers (and parents) use the Elf on the Shelf to monitor for bad behavior, but a positive behavior focus allows you to integrate an Elf on the Shelf or other classroom visitor into your PBIS or similar program. Try setting your visitor up in a spot in the classroom where they can "catch kindness" during the holiday season. Rather than moving them around each night, the kindness-focused elf can add points to a classroom reward chart or leave surprises on individual students' desks.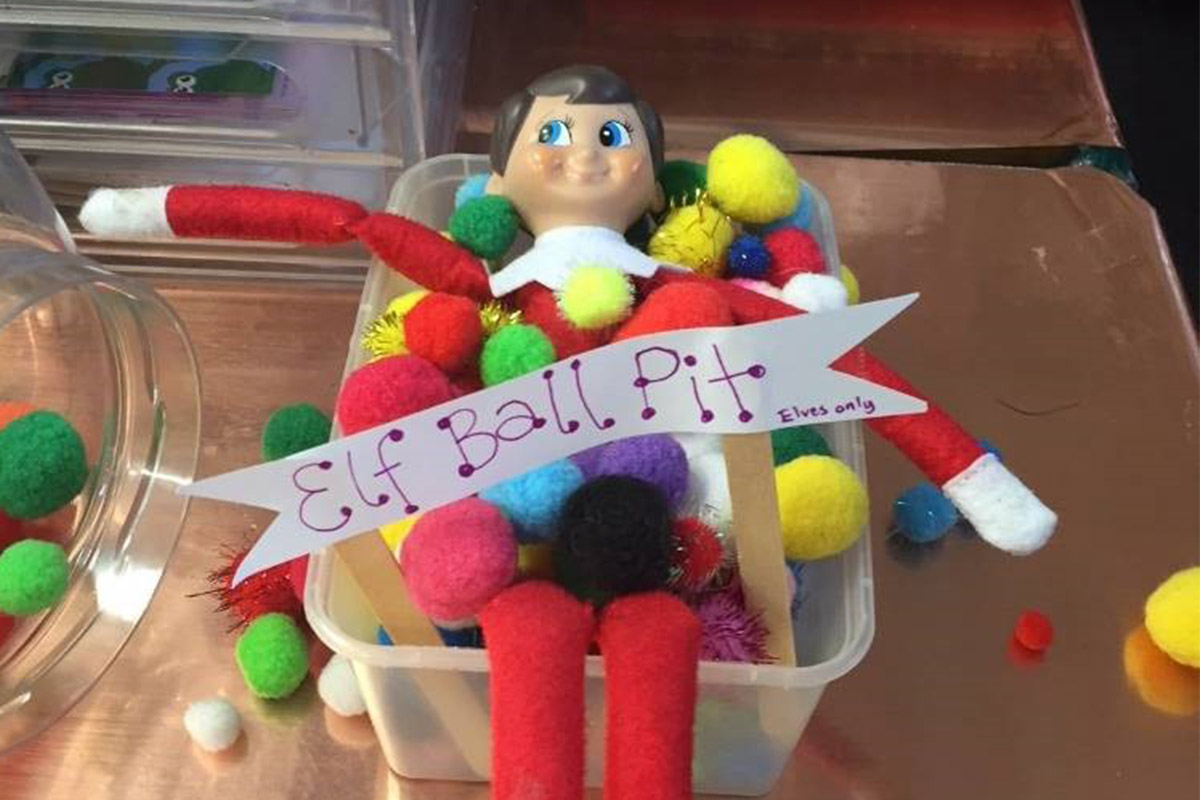 Just make sure your elf can be trusted with the prize box!
Teach Starter Teacher Tip: Print classroom reward coupons that make it easy to award those kind kids. 
Official Letterhead of the North Pole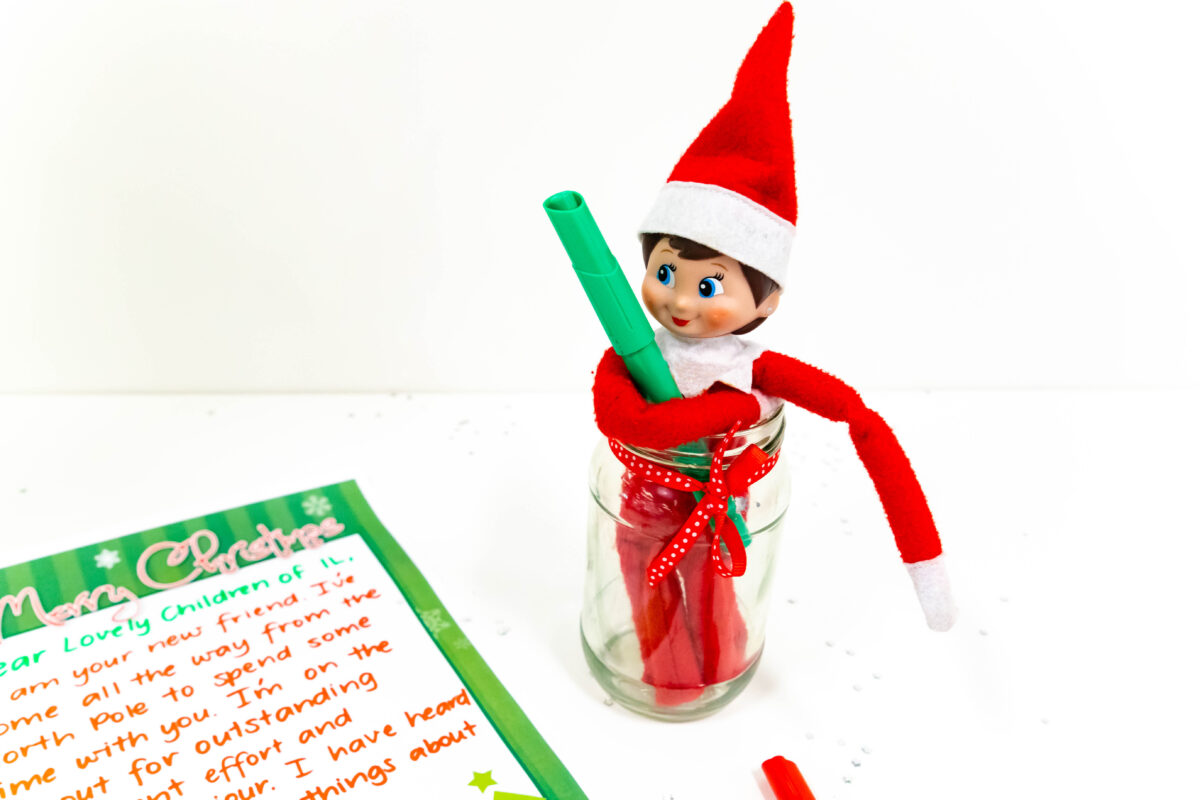 Letters from your Elf on the Shelf — or rules — are extra fun on "official" North Pole stationery! One teacher used Christmas-themed page borders to write special notes from the Teach Starter elf to kids!
In the Tree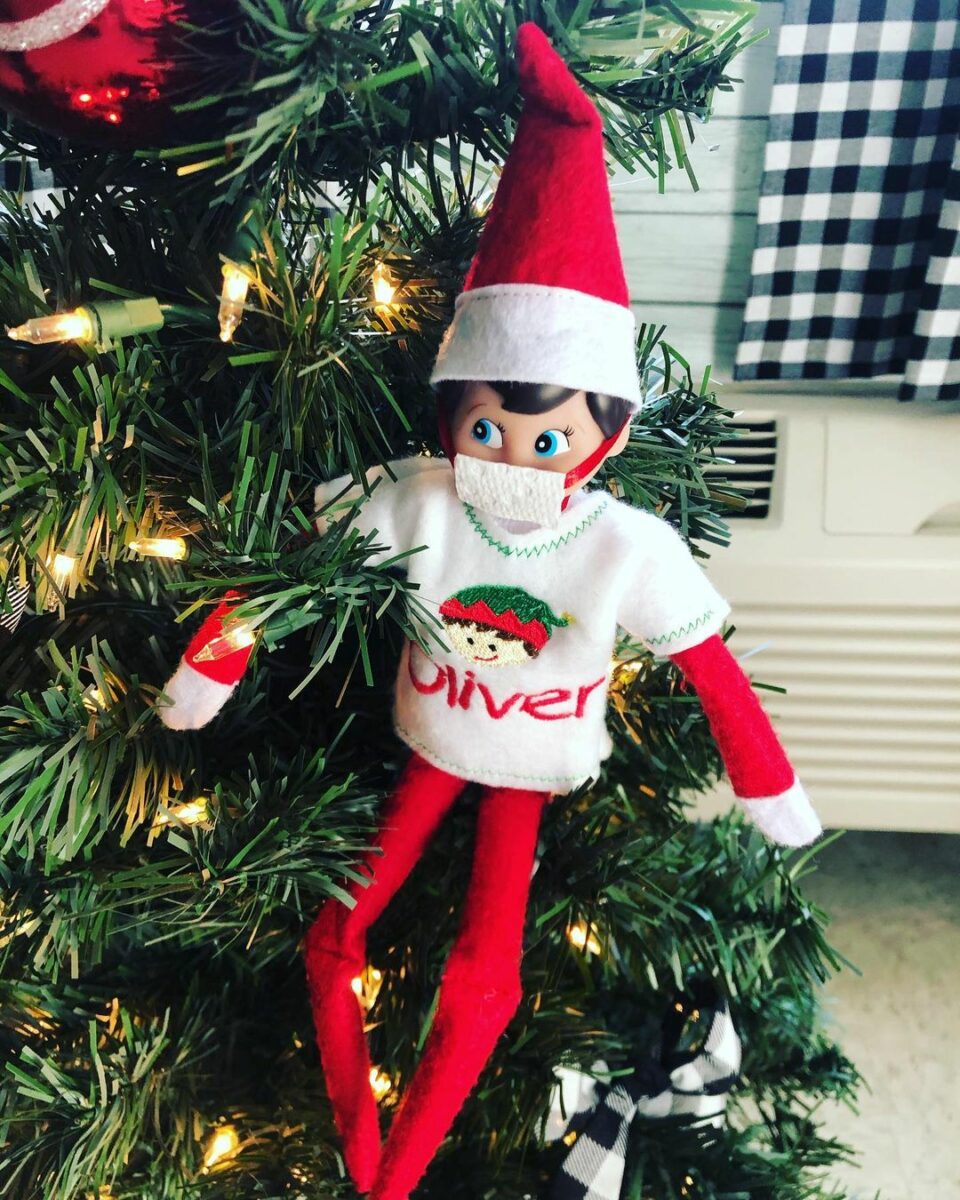 There are plenty of places your Elf can hang out appearance, but if you've got a holiday tree in your classroom, this is an easy option. Third-grade teacher Stephanie Rhea (@thirdgradefarmhouse on Instagram) shares that her classroom elf has "special moving gloves" so she could place him in her tree … to the delight of her class. This solves that golden rule of the Elf on the Shelf that humans aren't allowed to touch them.
No Touching!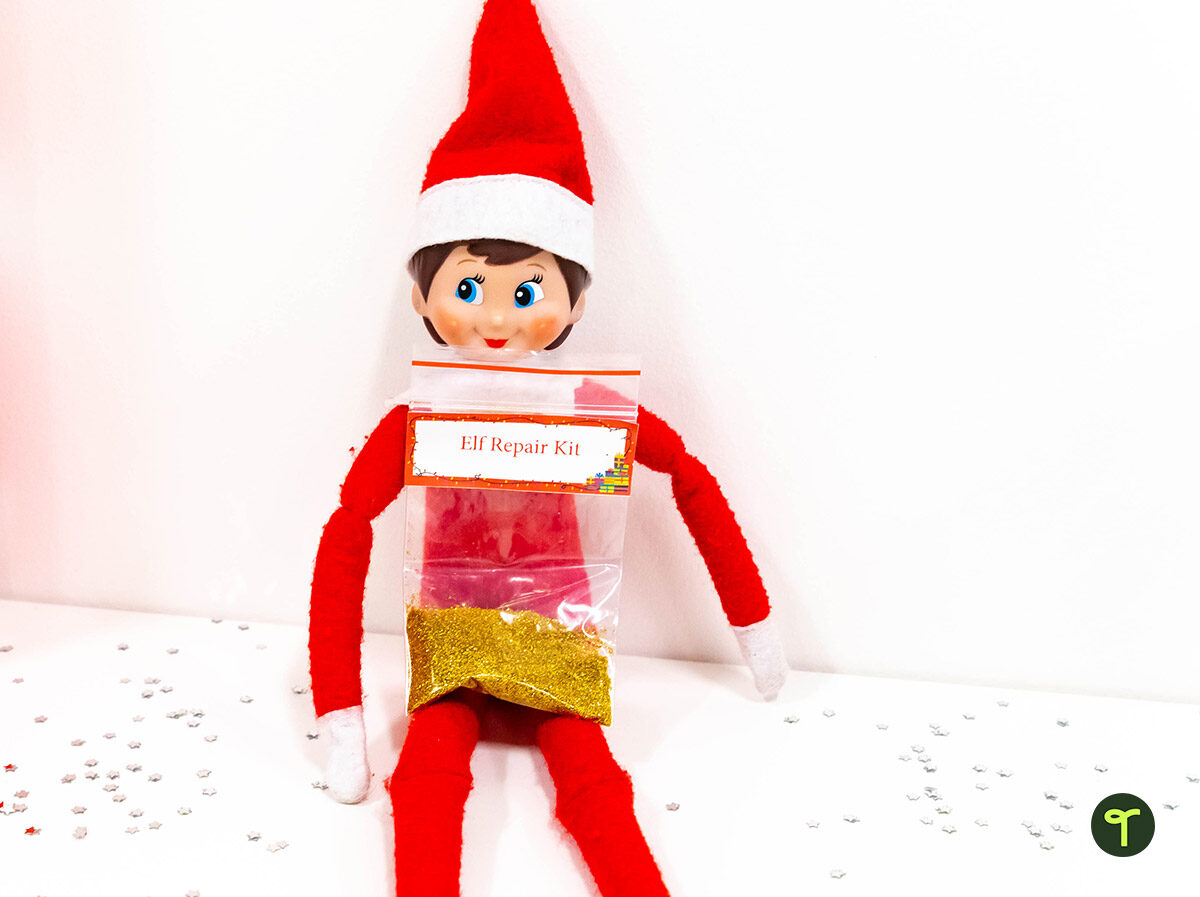 Speaking of no touching … we all know that sometimes students just can't help themselves. That's where an Elf Repair Kit— a small packet of glitter to restore Elf on the Shelf magic in case the elf is accidentally touched — comes in handy for teachers!
(Check out customizable Holiday-Themed Desk Name Tags!)
Elf Hot Cocoa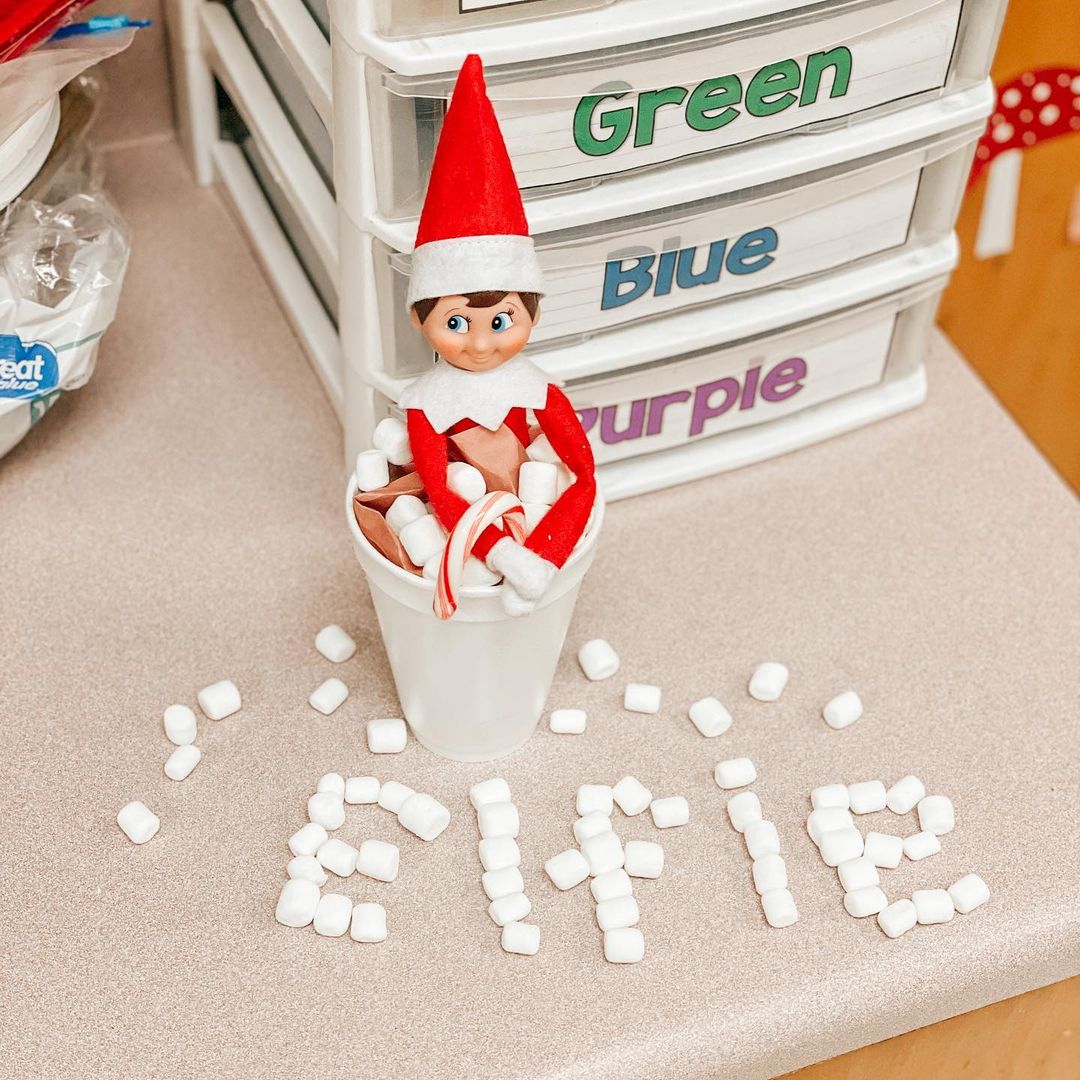 Grab the mini marshmallows for this fun Elf on the Shelf classroom idea from Georgia teacher Courtney Streeter (@kindergarten.with.courtney on Instagram). Her kindergarten class watches The Polar Express and enjoys hot cocoa — and so does their Elf on the Shelf. Elfie of course gets a little creative with his marshmallows!
Enlist Santa's Helpers
Teachers are always busy, but particularly so at the end of the year!
Don't be afraid to get some help with your Elf on the Shelf activities, whether it's to lighten your load or to add to the magic for your students. Some teachers have a member of the administration team deliver the package containing the elf on the first day. Others have a neighboring teacher move their Elf on the Shelf after school to add an element of surprise (for you, too!) or well, because we have all had that moment when you leave for the day and then remember "I FORGOT TO MOVE MY ELF!"
 #Elfie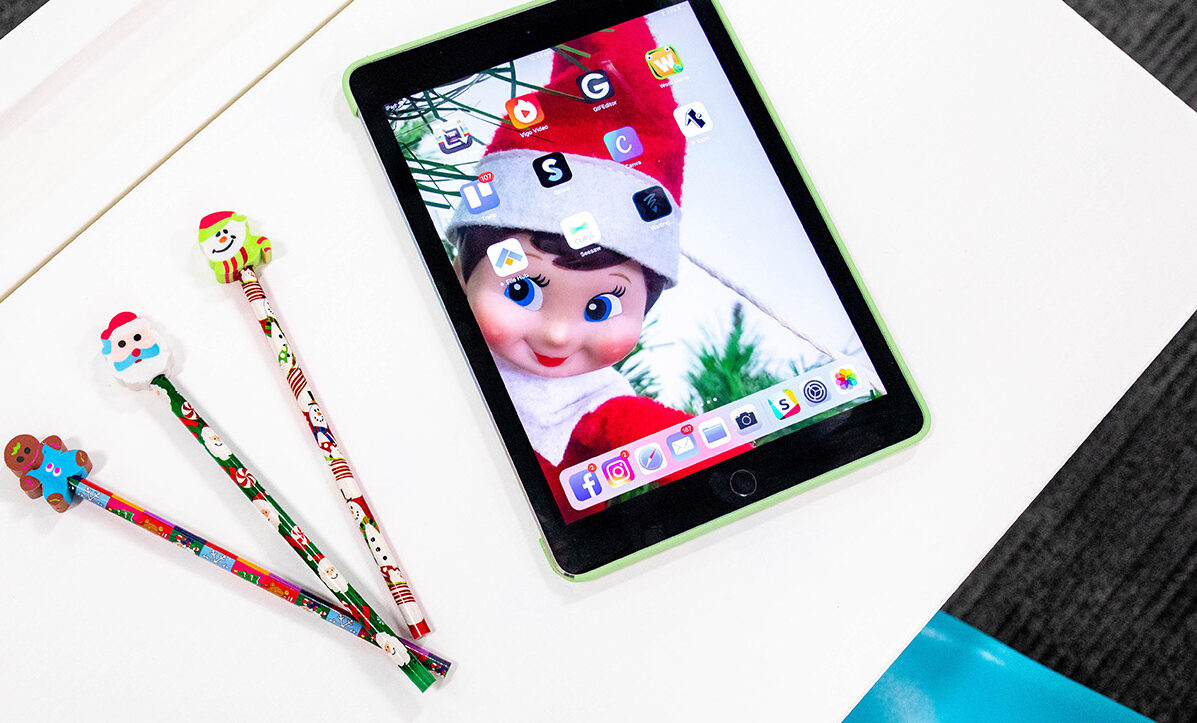 Leave a little "elfie" for your students to find on any screens you have in your room — iPads, laptops, and interactive whiteboards are all great places for cheeky elves to hide!
Toasty Elf on the Shelf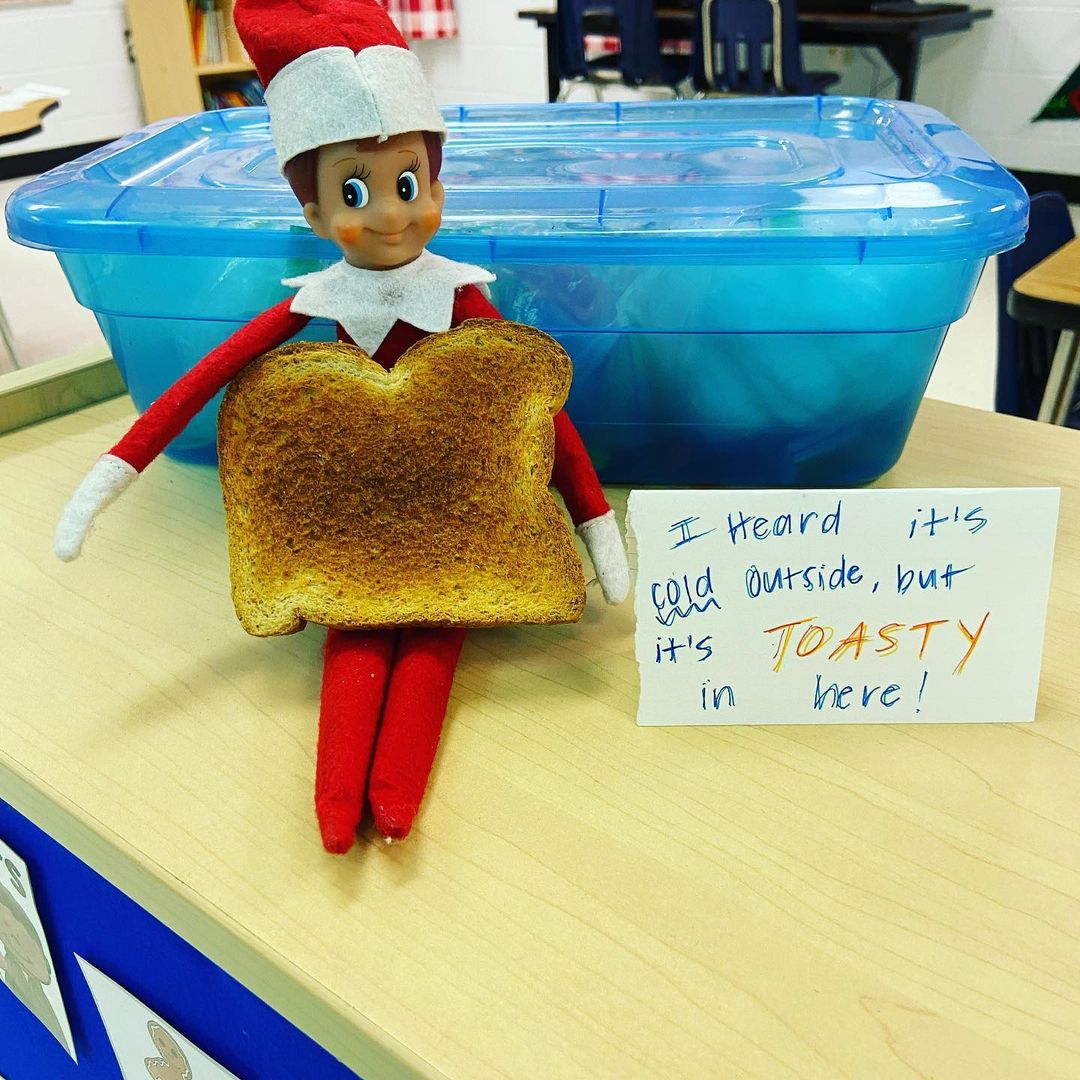 South Carolina teacher Madison Hines (@spedventuresinkindergarten on Instagram) has one of the easiest ideas we've seen for an Elf on the Shelf in the classroom: Grab a piece of toast before you leave the house, and write a little note from your Elf on the Shelf about the weather!
Playing Twister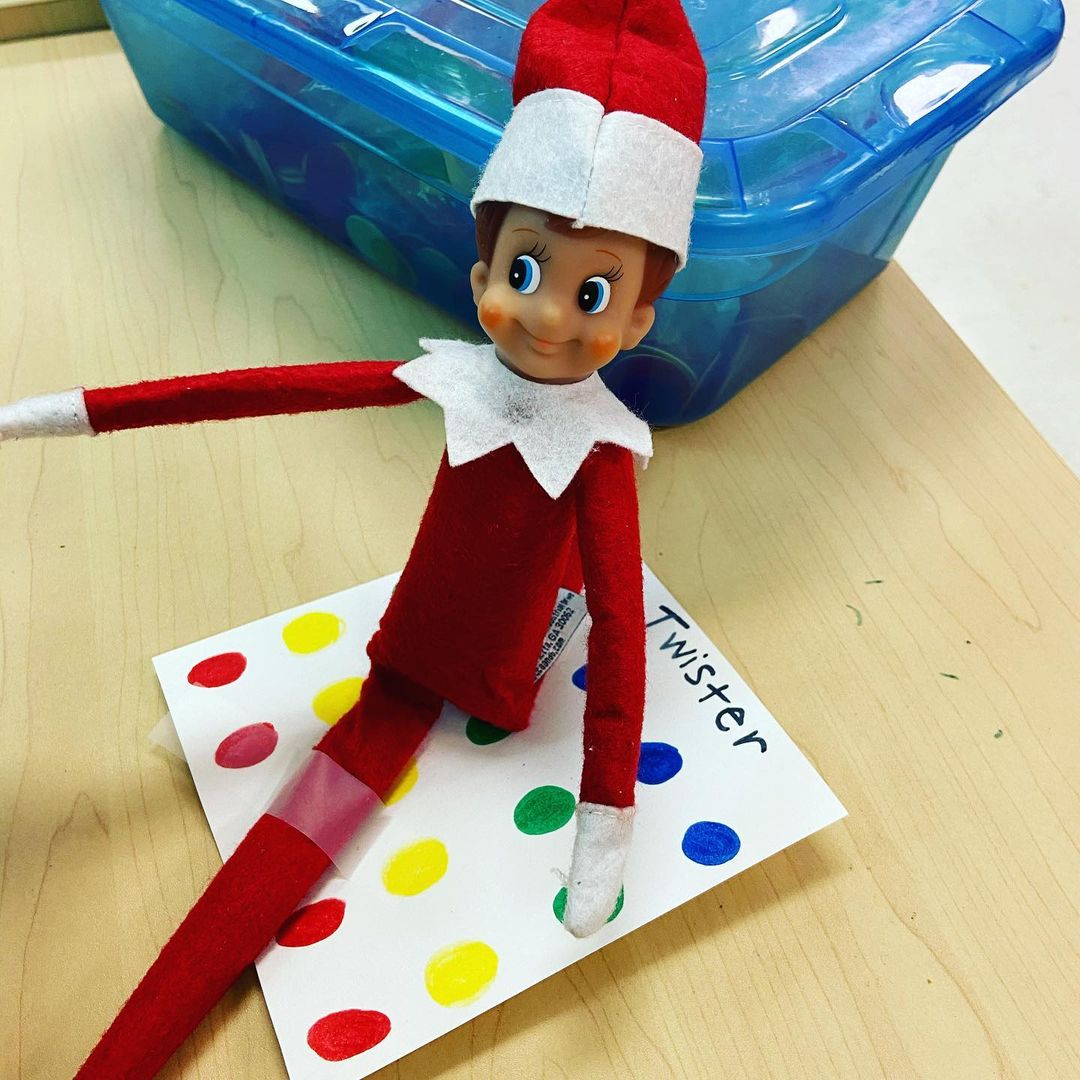 This is another fun one from Madison Hines! Set your Elf up to play Twister! Madison made her own Twister card (so creative), but if you want to make this Elf on the Shelf idea even easier, print a fun twist up game board.
Don't Let the Elf Drive the Bus!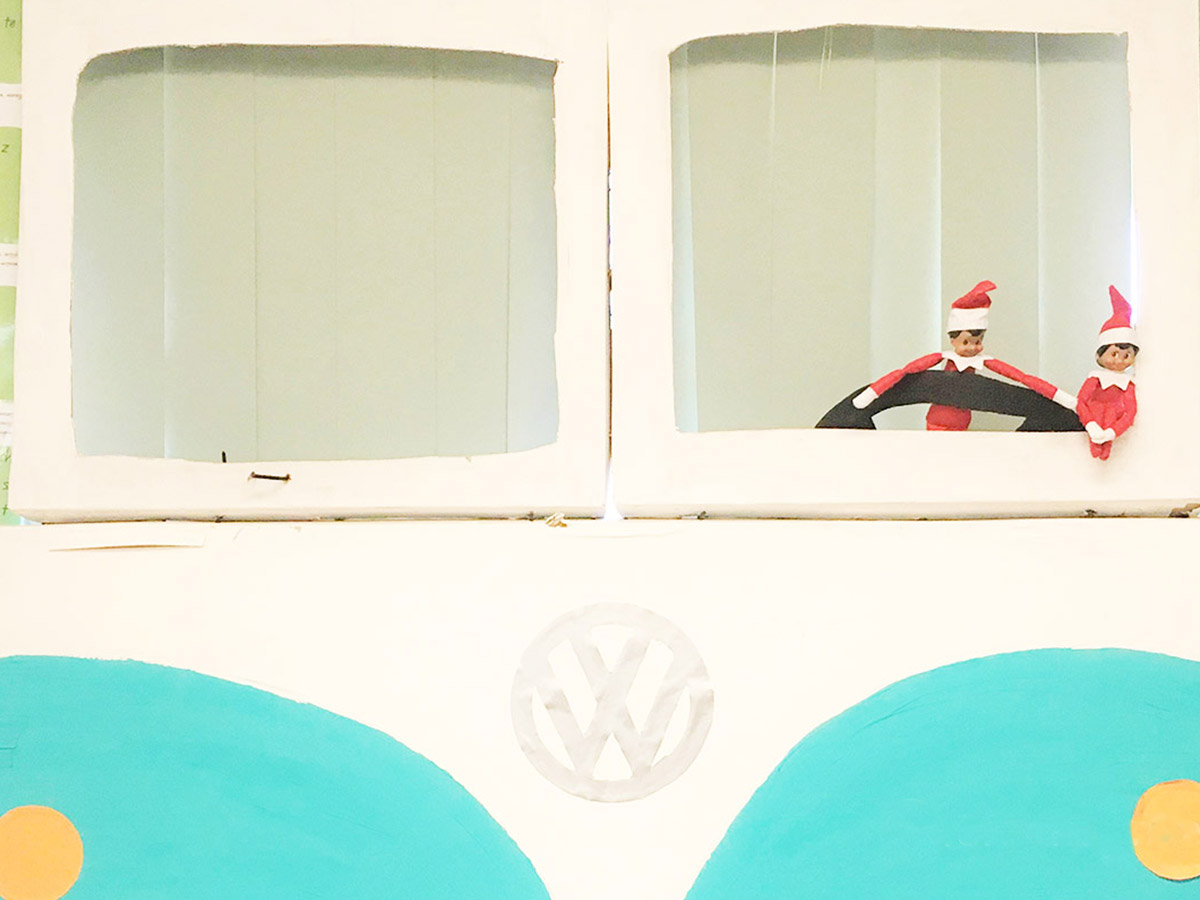 If you look around your classroom you'll probably find several instant Elf on the Shelf set-ups. We love this amazing VW bus that teacher Andrea made for her students' fundraising lap-a-thon earlier in the year! It's a perfect hideout for their elves!
Elf Stocking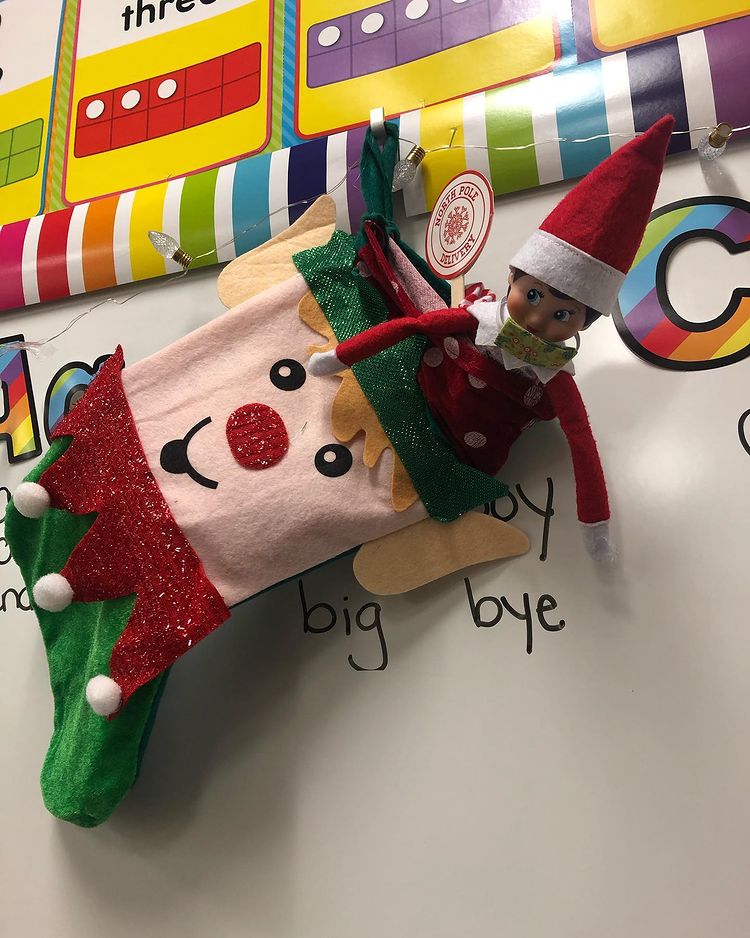 This is another super simple Elf on the Shelf classroom idea: If you've got classroom stockings, borrow this quick idea from teacher Maggie (@maggietheteacher83 on Instagram). Just stick the elf inside to hang out for a day!