Whether you love the Elf on the Shelf or hate him, there's no doubt teachers all around the US (and the world) have taken to the poseable holiday character. Each year, more classroom Elf on the Shelf ideas pop up on our social feeds, and teachers add their Christmas elf to more and more in-class activities.
If you're on team Elf on the Shelf but need some fresh elf ideas and activities, we've got you covered!
The teachers on the Teach Starter team talked to teachers around the US and found out some of their favorite ways to use their Elf on the Shelf in their classrooms, including how they incorporate the elf into their core subject instruction, adding writing activities about the elf to ELA, elf engineering activities for STEAM and more.
Read on for tips from our teacher team on how to use the Elf on the Shelf, plus some things to consider if you're adding the popular toy to your behavior management strategies this holiday season.
How Do You Use Elf on the Shelf in the Classroom?
Before we get into the specific ideas, let's cover some of the big topics that come up surrounding this holiday toy.
You may (or may not!) know that the Elf on the Shelf originated as a book written by Carol Aebersold and Chanda Bell and has since blown up to pretty epic proportions with movies, a Macy's Thanksgiving Day Parade balloon, and countless supplies sold by the Elf on the Shelf company. The concept is simple — the Elf is a scout sent by Santa from the North Pole to watch over kids and report back on whether they're naughty or nice. It's a hit with parents who often use the Elf to keep their kids on their toes in December.
It's also gone wild in the classroom, with some teachers spending hours setting up daily shenanigans for their elves. If you're on the fence about whether or not to add this little guy to your lesson plans, here are a few things to keep in mind:
The Elf on the Shelf has its roots in Christmas tradition — which may not be inclusive if you have children who do not celebrate the holiday in your classroom. If you plan to borrow the elf concept, you may want to substitute a snowman or similar non-holiday creature.
Many families use the Elf on the Shelf at home, and they have their own very specific rules that relate to their own holiday magic. Make sure your own rules don't counteract those the parents have! As Teach Starter Resource Producer Brittany Collins points out, "

It is already hard enough when the kids compare the elves they have at home. Some bring presents. Some do not. Some are able to touch them with special gloves. Some are not."

The Elf on the Shelf basic rules dictate that the little Santa scout is not to be touched by human hands, lest his magic rub off. Especially with the youngest children, this is a very big deal and something to keep in mind if you're setting up fun Elf on the Shelf antics. Be aware you and your students will have to maneuver around whatever you've set up for a full day before he can be moved again.
There are a LOT of fun Elf on the Shelf ideas (and we're about to share them!), but some require a time commitment and sometimes a financial one too. Consider how much you want to dedicate to this project, and choose wisely. We've made sure to include some very low-key ideas in here to help you keep your holiday season sanity!
Elf on the Shelf Classroom Ideas
If you've never used Elf on the Shelf with your students, you can order a book and elf kit together or just get a stand-alone elf.
Meanwhile, check out these fun ideas for making your classroom magical this Christmas with a little help from a special visitor … your very own Elf on the Shelf! As we mentioned, you can also borrow plenty of these ideas to use with other characters and toys.
Plan Your Elf Arrival
The Elf on the Shelf tradition has grown so huge that many kids may already have their own special holiday friend at home. But for those who aren't familiar, a reading of The Elf on the Shelf:  A Christmas Tradition can help acquaint them with the story.
Choose a Name for Your Classroom Elf on the Shelf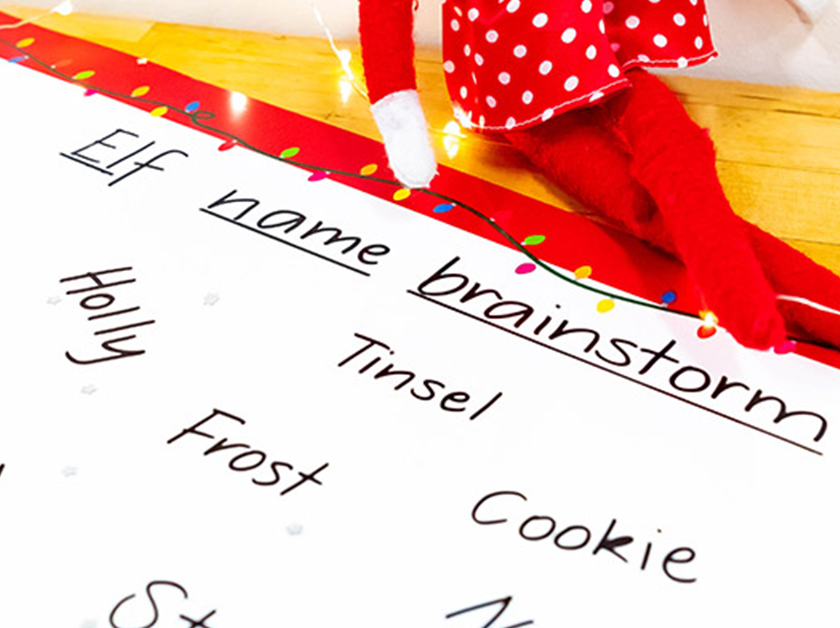 When your elf arrives from the North Pole, he or she won't have a name! Your class can decide on a name together — this is a great chance to brainstorm together. One teacher used our Landscape Christmas Page Border, printed on cardstock, to brainstorm ideas.
Reinforce Your Classroom Rules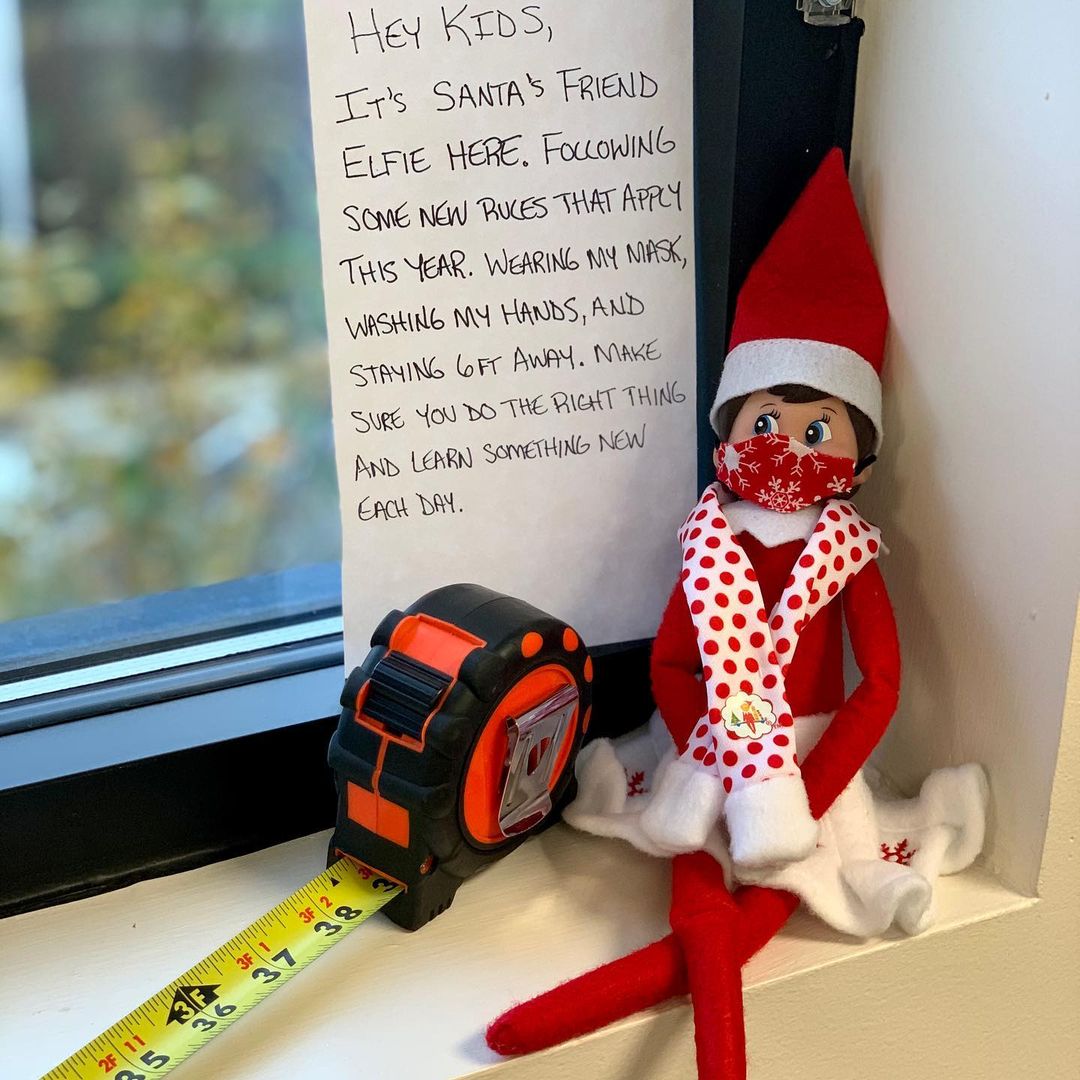 By December, we know most students have been in school for anywhere from three to four months, and they've had that Thanksgiving break. Those classroom rules you practiced at the beginning of the school year may have begun to slide. Don't worry — we've got a teacher trick for you.
Kids love their elves, and we love how teacher Tiffany Hicks of North Carolina (@tiffteachessecond on Instagram) uses her classroom Elf on the Shelf to gently remind her students of classroom rules. It's like having a friend at your side to help the students remember!
Deliver Your Bell Ringers
Speaking of the rules, your classroom Elf on the Shelf can help reinforce your morning routines too. Remind students they need to be completing their bell ringer work each morning by setting up an elf delivery! Students can seek out the elf to find their morning work. Don't forget to add a sign on your elf that details the proper procedures.
Set Up ELA Elf Activities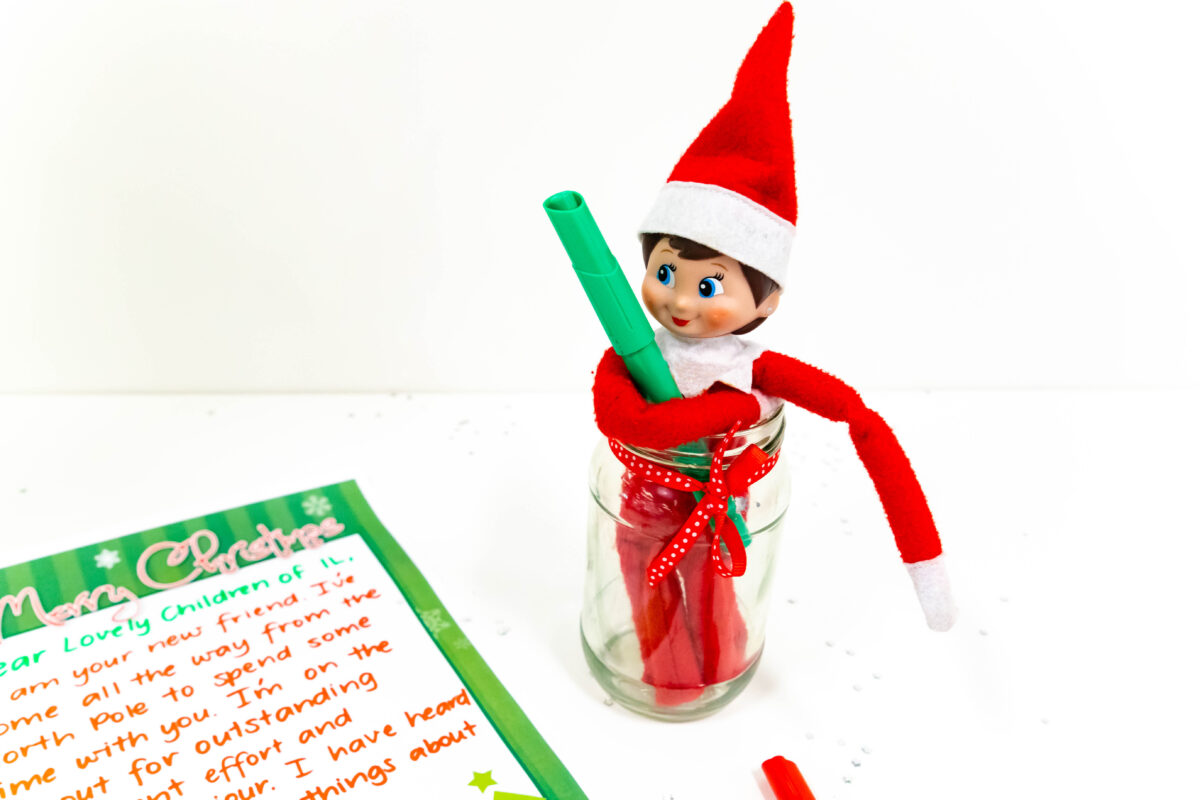 Do you want to incorporate your Elf on the Shelf into your ELA lessons in December? Here are a few fun ideas teachers have shared with us, covering a variety of grade levels:
Work with kindergarten or first grade students to write letters to Santa that your classroom elf can deliver to the North Pole for your class.
Brainstorm character traits with your firsties, using words that describe the character from the book.
Challenge your second graders to write a narrative that explains what THEY think the elf does at night after you have turned off the lights and left the classroom.
Use your classroom elf to inspire opinion or persuasive writing exercises for your third graders. For example, if the elf sees a student do something naughty, but the student apologizes, should the elf report it back to Santa? Students can write their take on the topic.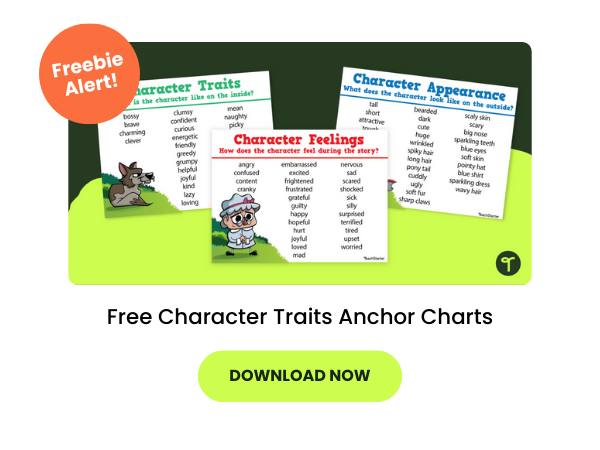 Catch Kindness With Your Christmas Elf
Some teachers (and parents) use the Elf on the Shelf to monitor for bad behavior, but a positive behavior focus allows you to integrate an Elf on the Shelf or other classroom visitor into your PBIS or similar program. Try setting your daily visitor up in a spot in the classroom where they can "catch kindness" during the holiday season.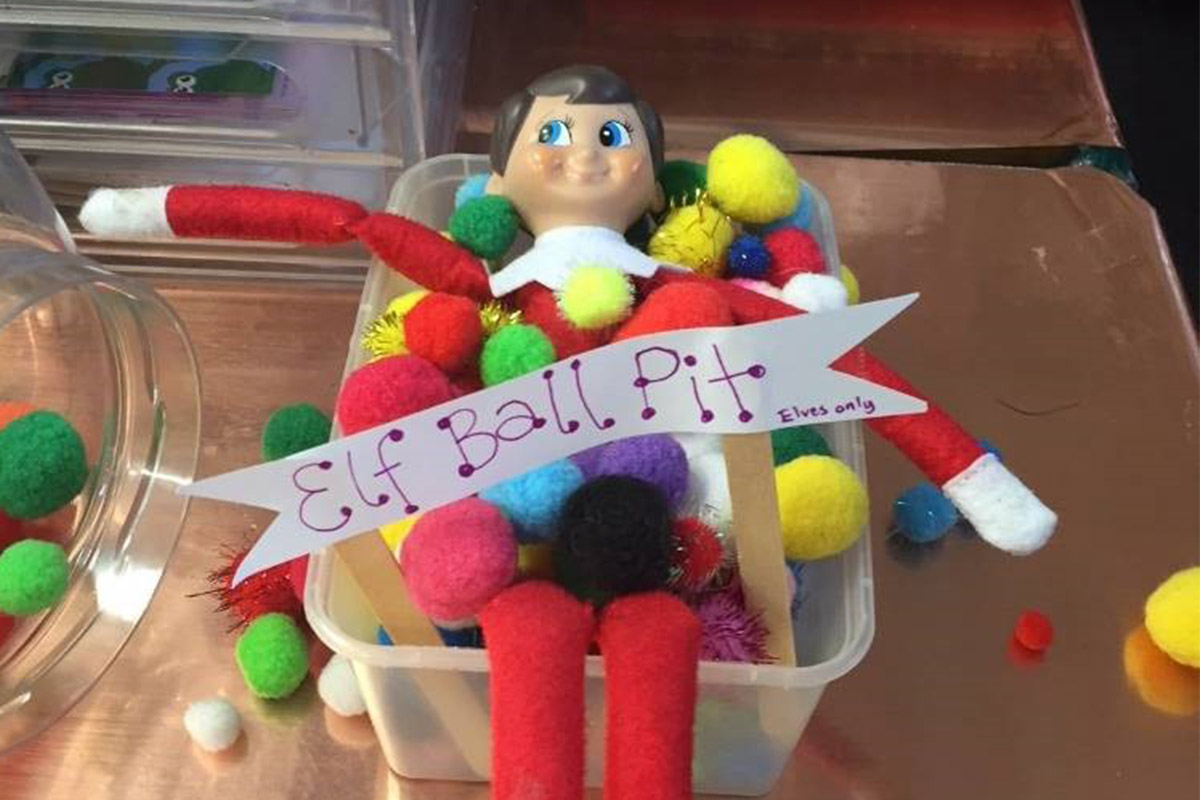 Rather than moving them around each night, the kindness-focused elf can add points to a classroom reward chart or leave surprises on individual students' desks. Just make sure your elf can be trusted with the prize box!

Reward Tables With an Elf Visit
If you've set up your classroom seating in a table format this school year, you can reward well-behaved tables with a visit from the elf! Each day, the elf will keep an eye out to see which table practices listening and other key behaviors that you identify.
The next day, he will magically appear in the center of that table and stay there for the entire day.
Joke Around With Your Elf on the Shelf
One of the simplest ways to celebrate the joy of the season with your elf (and your students) is to share a new elf joke every day — you don't have to move your elf at all. Add a new joke to his repertoire each day, and you've got the magic managed.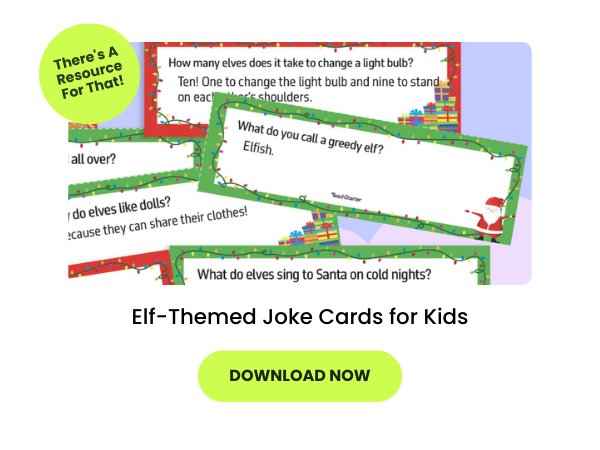 Create Counter Angels
This is a fun idea from @ready.set.teach.syd — make a mess of your counters with an elf that's making "snow" angels. Her kids actually came up with this idea, but it's super simple and you could almost then organize your activities around the use of these counters for the whole day too!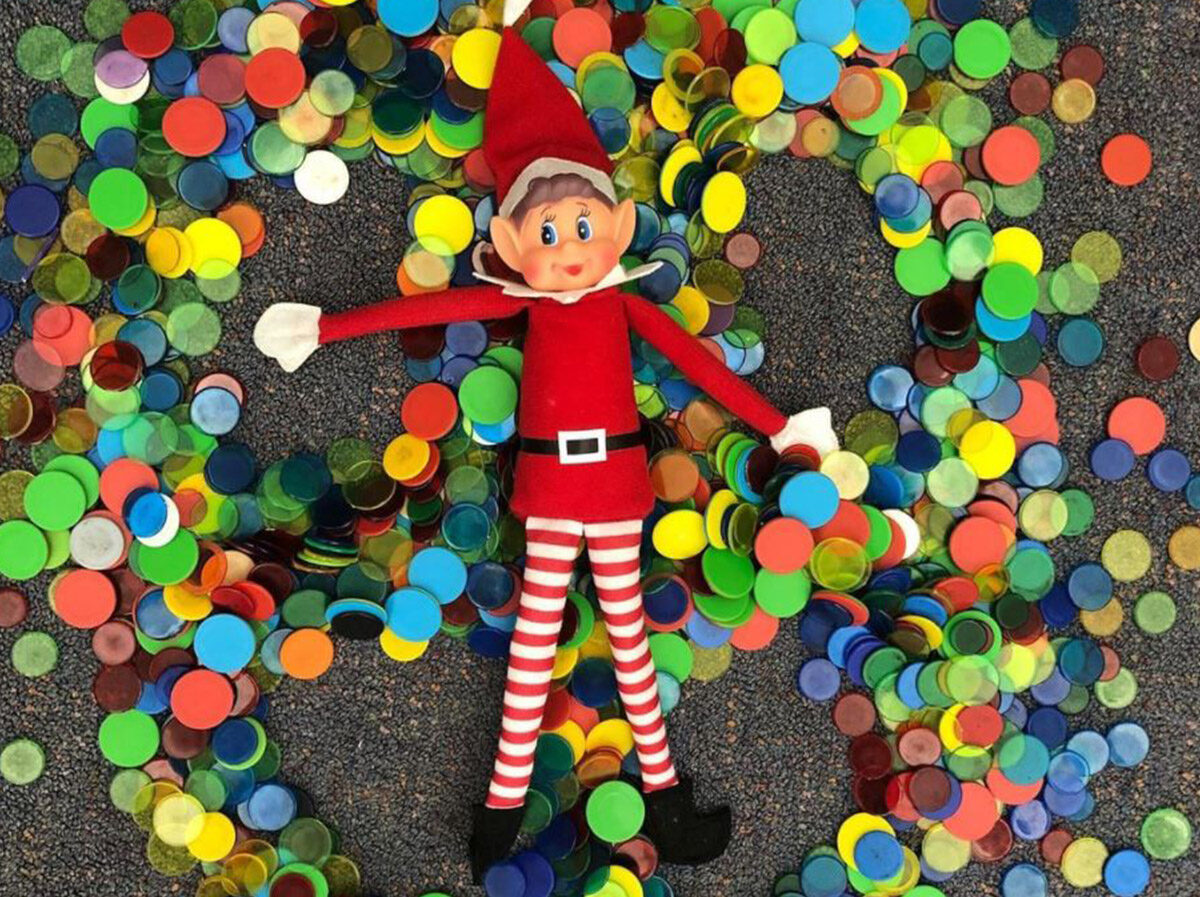 Set Your Elf Up in a Tree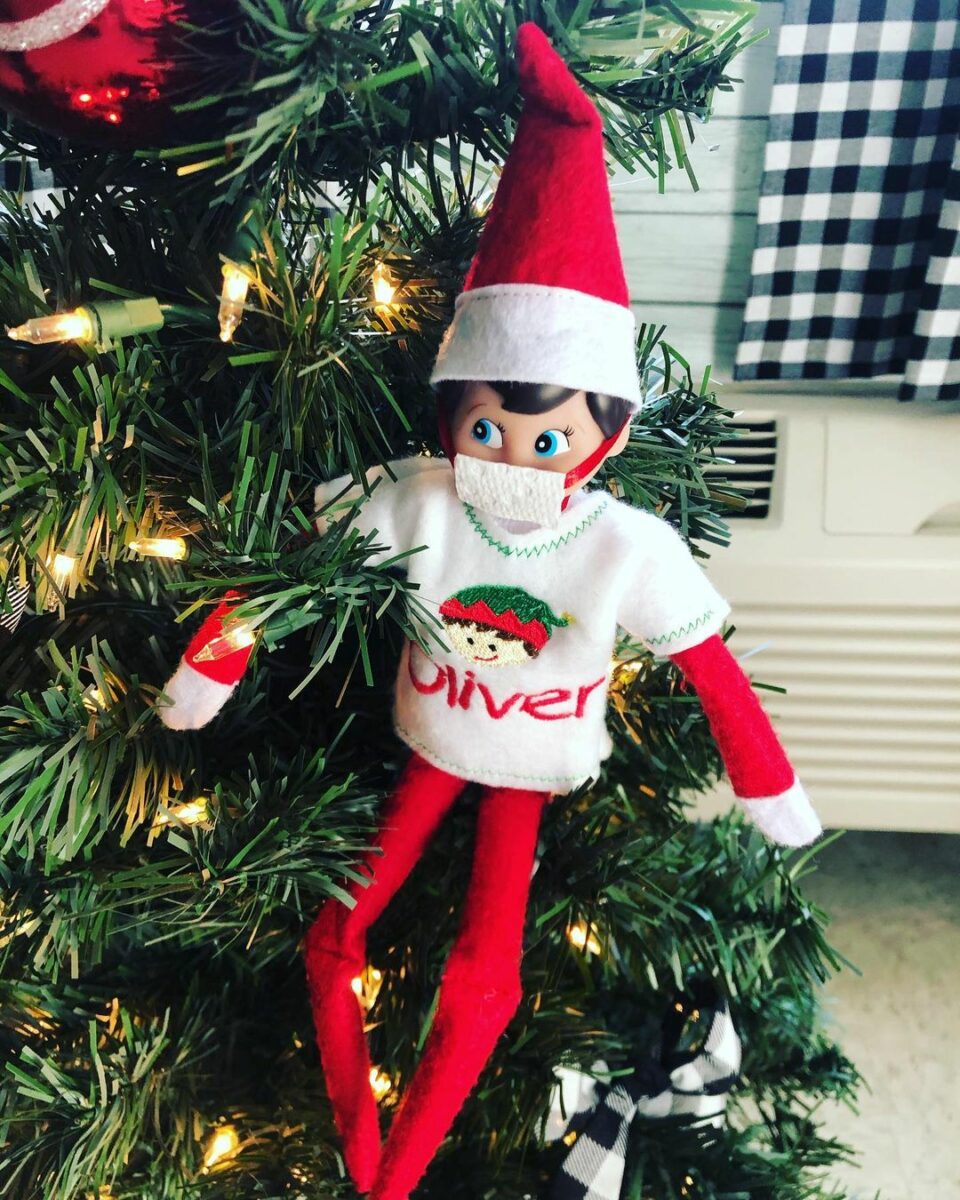 There are plenty of places your Elf can hang out appearance, but if you've got a holiday tree in your classroom, this is an easy option. Third-grade teacher Stephanie Rhea (@thirdgradefarmhouse on Instagram) shares that her classroom elf has "special moving gloves" so she could place him in her tree … to the delight of her class. This solves that golden rule of the Elf on the Shelf that humans aren't allowed to touch them.
Prep a Repair Kit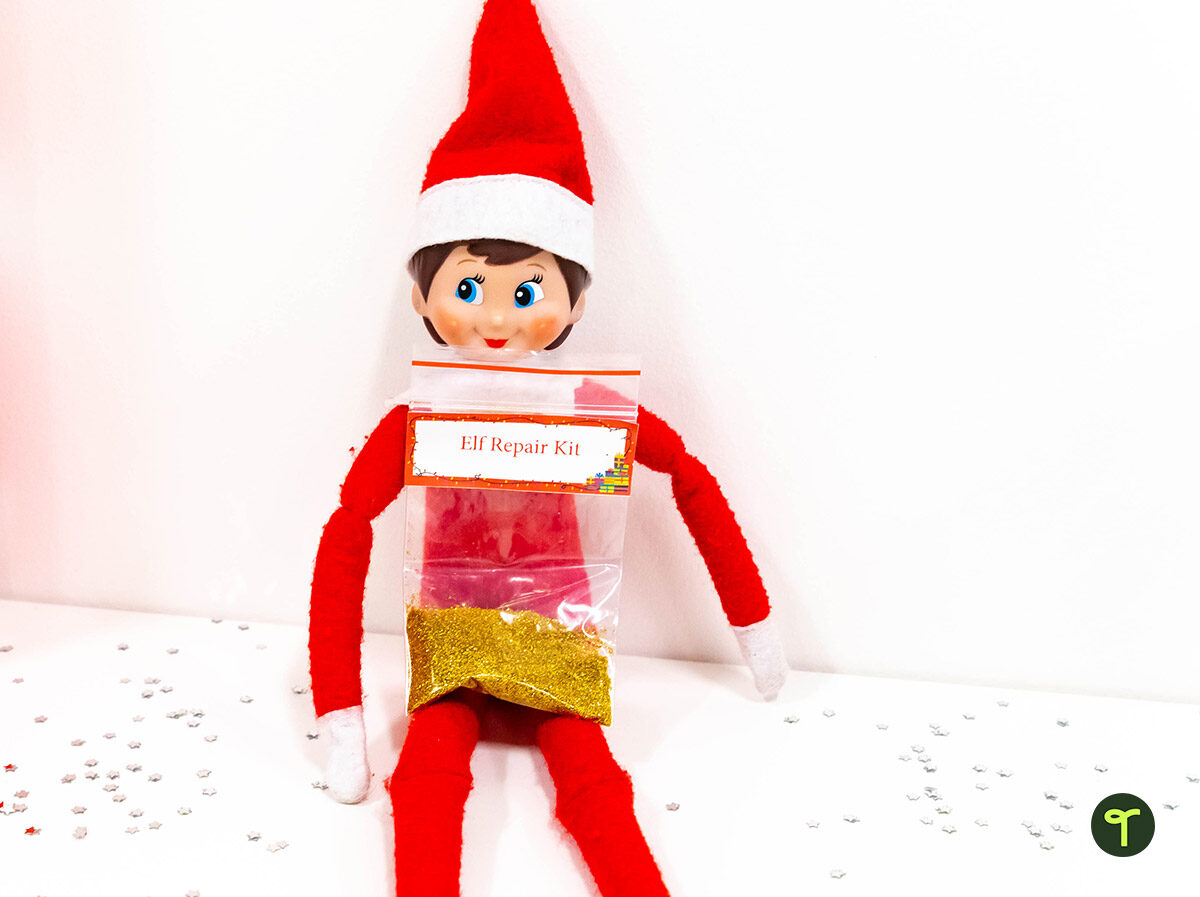 Speaking of no touching … we all know that sometimes students just can't help themselves. That's where an Elf Repair Kit— a small packet of glitter to restore Elf on the Shelf magic in case the elf is accidentally touched — comes in handy for teachers!
Create Elf Hot Cocoa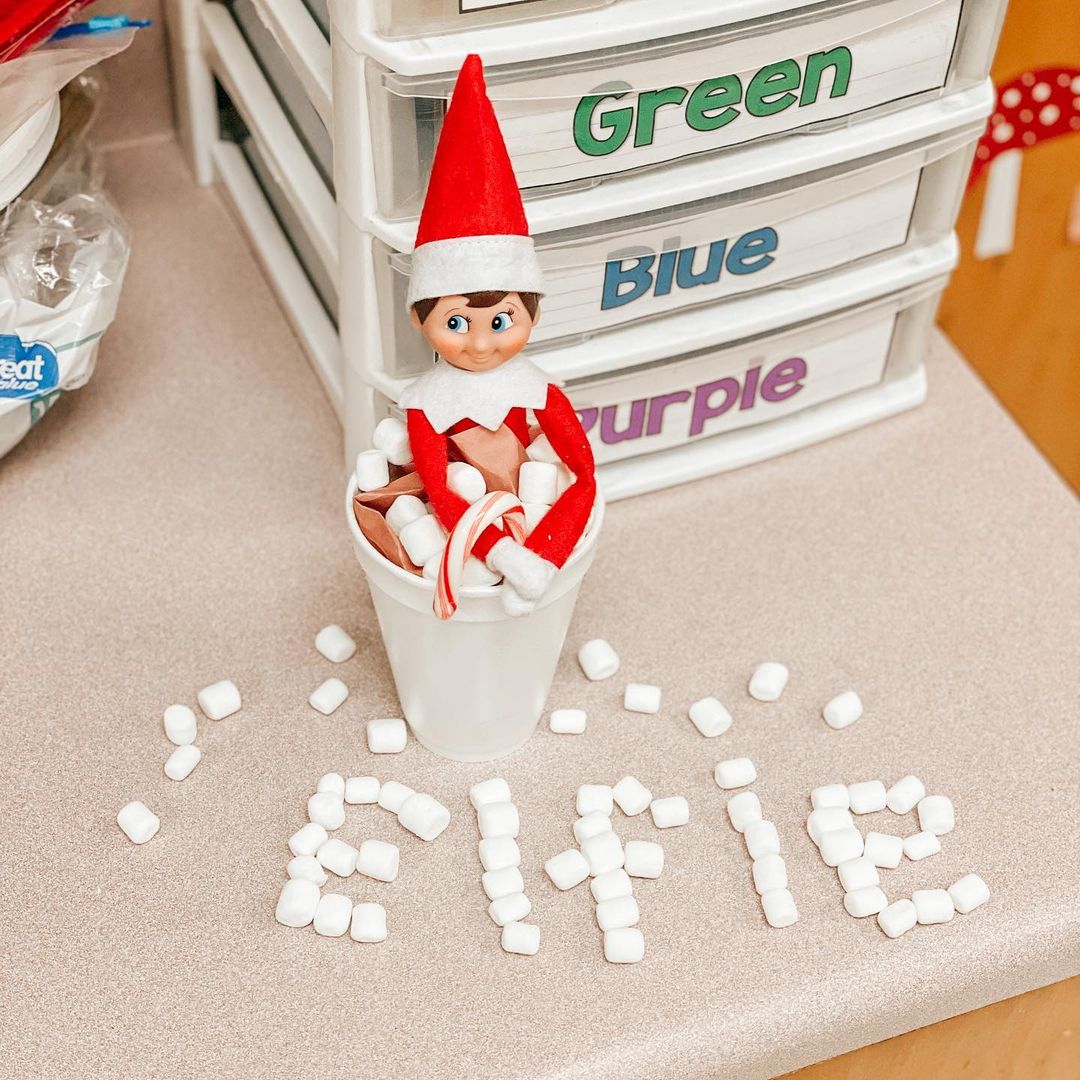 Grab the mini marshmallows for this fun Elf on the Shelf classroom idea from Georgia teacher Courtney Streeter (@kindergarten.with.courtney on Instagram). Her kindergarten class watches The Polar Express and enjoys hot cocoa — and so does their Elf on the Shelf. Elfie, of course, gets a little creative with his marshmallows!
 Add an Elfie Selfie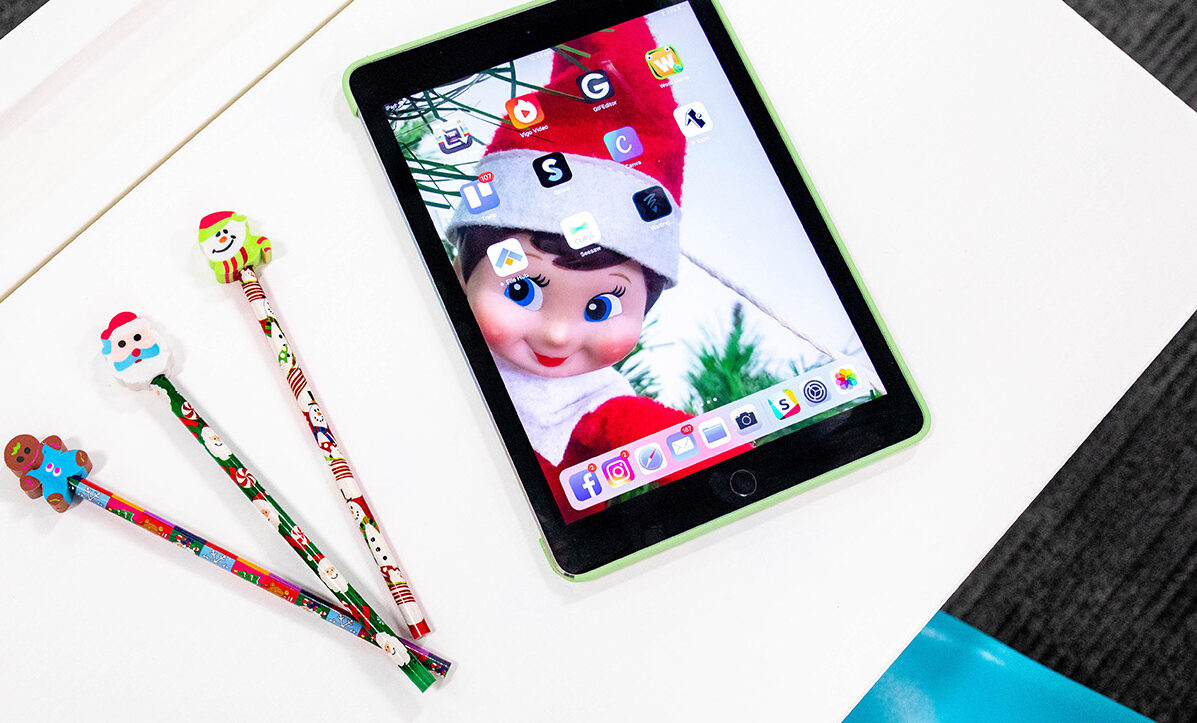 You can leave a little "elfie" for your students to find on any screens you have in your room. Classroom tablets, laptops and interactive whiteboards are all great places for cheeky elves to hide!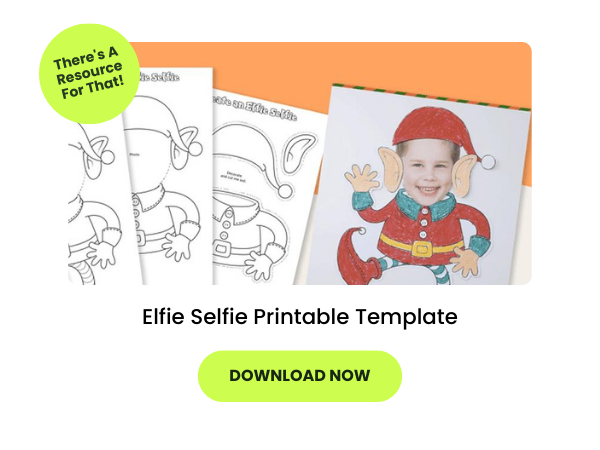 Get Toasty With Elf on the Shelf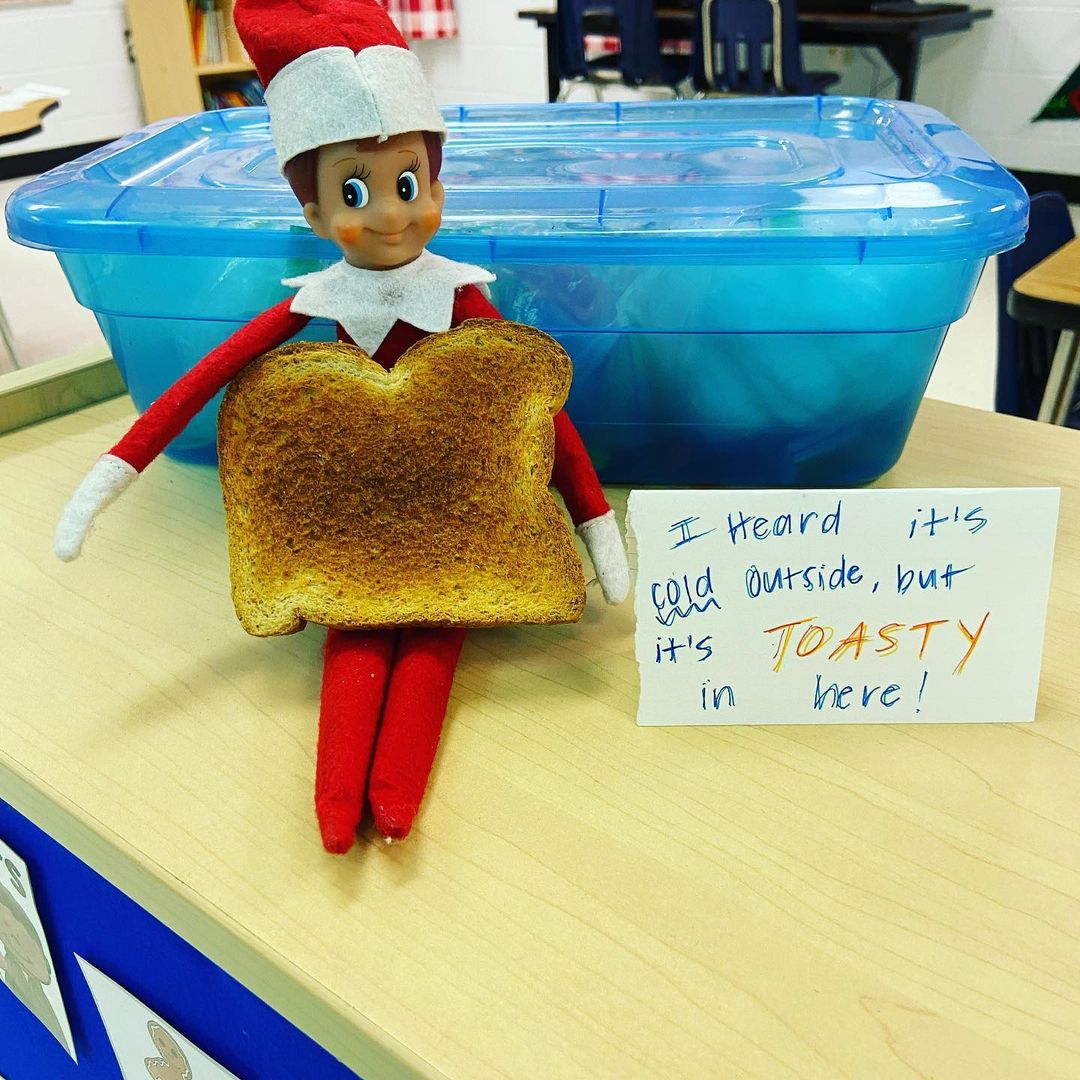 South Carolina teacher Madison Hines (@spedventuresinkindergarten on Instagram) has one of the easiest ideas we've seen for an Elf on the Shelf in the classroom: Grab a piece of toast before you leave the house, and write a little note from your Elf on the Shelf about the weather!
Deliver Fresh Activities
Another simple way to prevent yourself from having to move your Elf on the Shelf day after day is to set the toy up in one convenient spot, but trade out the activity he "delivers" each day. One day he might bring the book for your read-aloud. Another day he may bring in a craft for the entire class to complete.
Play Twister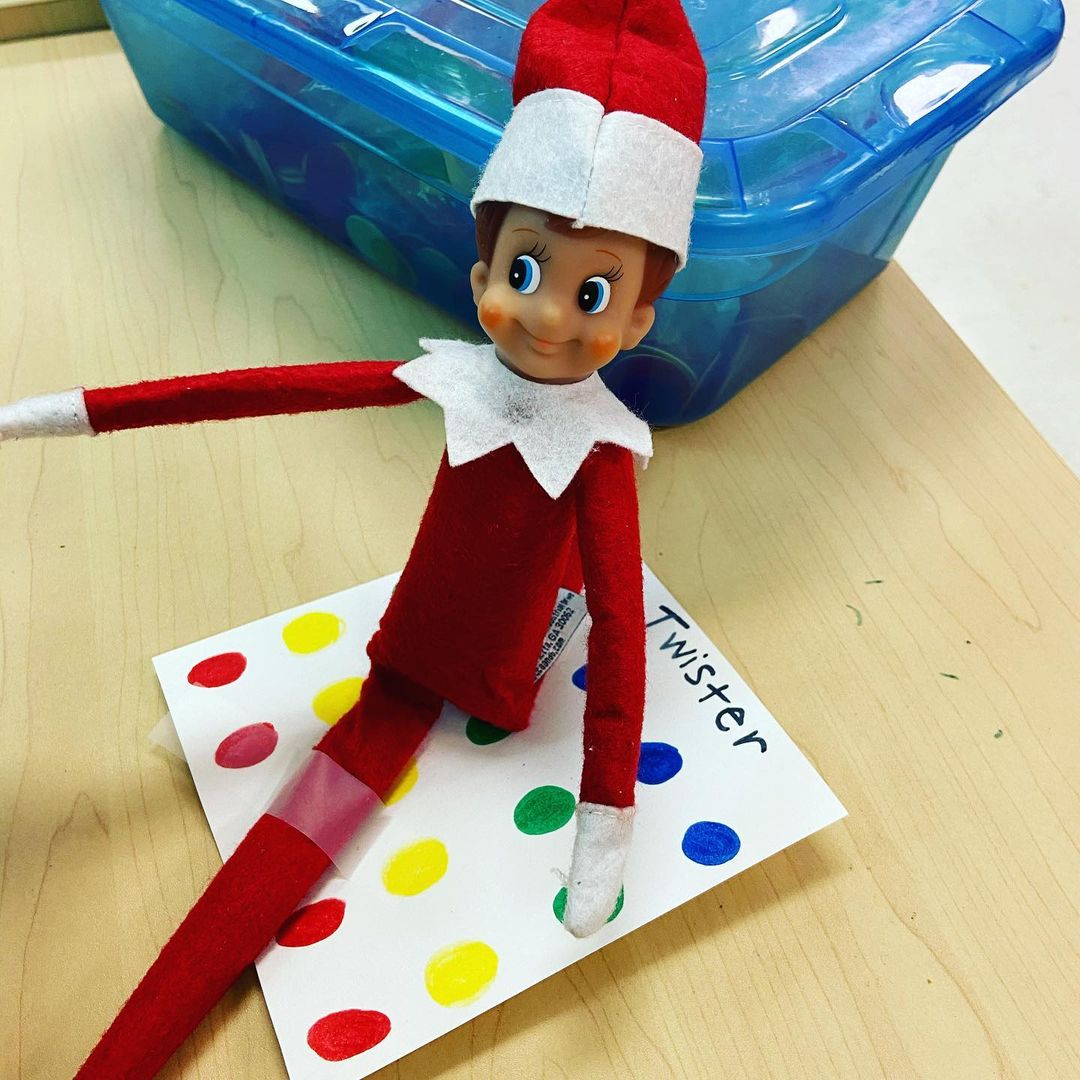 This is another fun one from Madison Hines! Set your Elf up to play Twister! Madison made her own Twister card (so creative), but if you want to make this Elf on the Shelf idea even easier, print a fun twist up game board.
Don't Let the Elf Drive the Bus!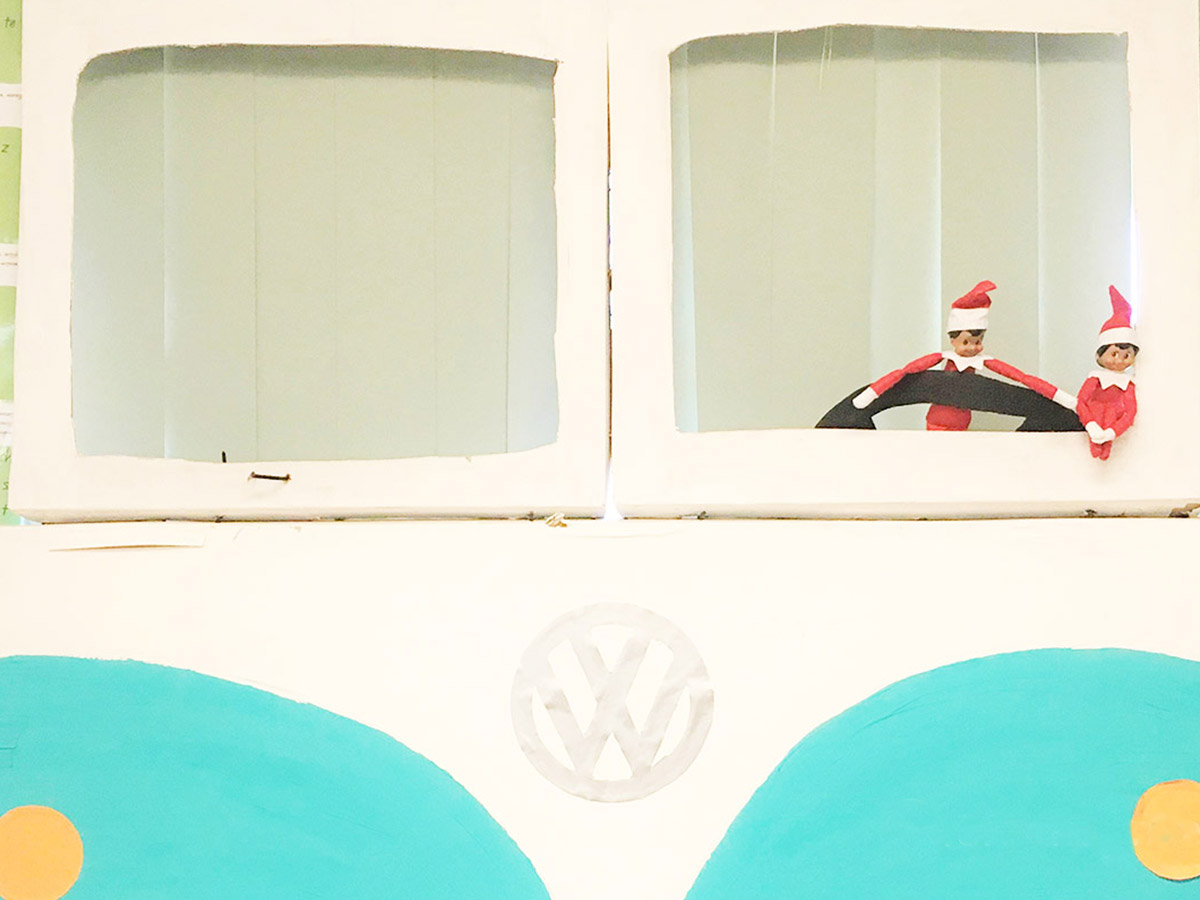 If you look around your classroom you'll probably find several instant Elf on the Shelf set-ups. We love this amazing VW bus that teacher Andrea made for her students' fundraising lap-a-thon earlier in the year! It's a perfect hideout for their elves!
Add Stockings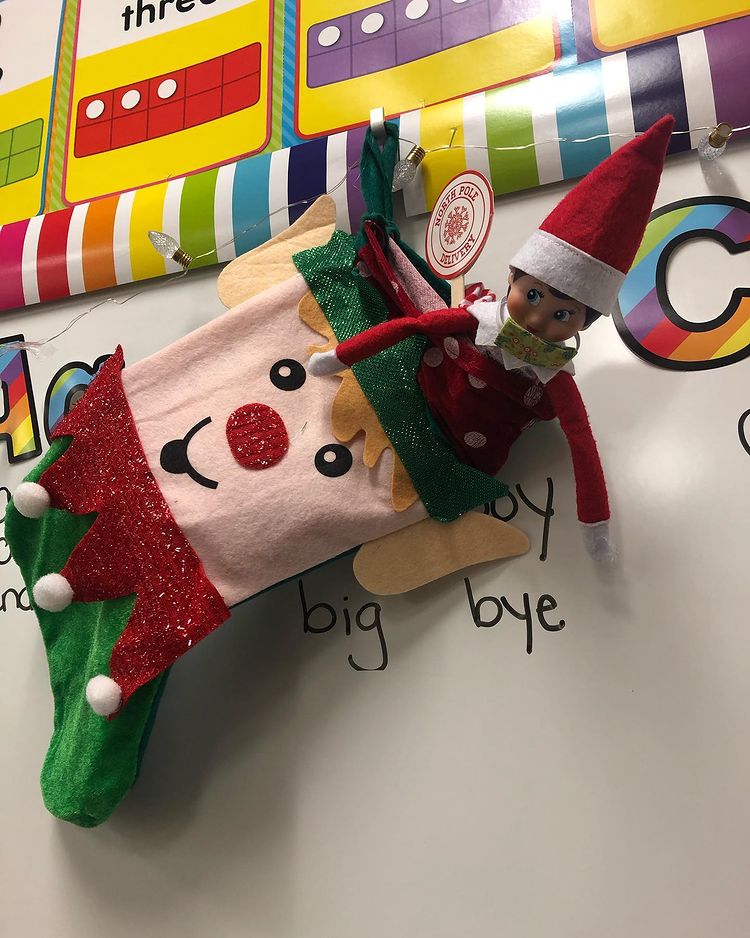 This is another super simple Elf on the Shelf classroom idea: If you've got classroom stockings, borrow this quick idea from teacher Maggie (@maggietheteacher83 on Instagram). Just stick the elf inside to hang out for a day!
Build Elf Traps in Small Groups
This idea comes straight from our teacher team! The Elf on the Shelf may be known for silly pranks that the adults can't handle, but there's no reason your students can't use their creative thinking skills to outsmart this little imp.
Challenge your students to put their heads together to create elf traps in your classroom as part of your STEAM instruction.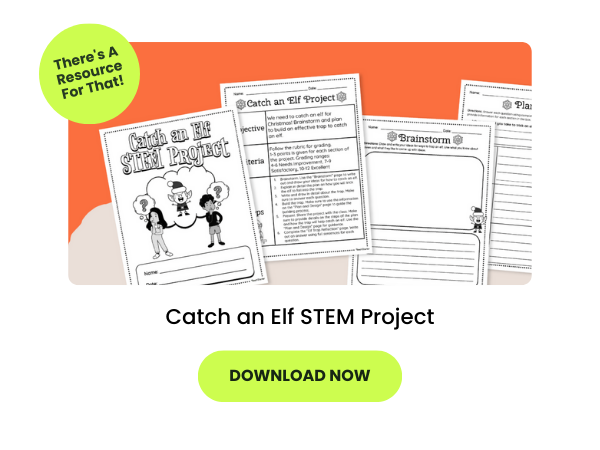 Enlist Santa's Helpers
Teachers are always busy, but particularly so at the end of the year!
Don't be afraid to get some help with your Elf on the Shelf activities, whether it's to lighten your load or to add to the magic for your students. Some teachers have a member of the administration team deliver the package containing the elf on the first day. Others have a neighboring teacher move their Elf on the Shelf after school to add an element of surprise (for you, too!) or well, because we have all had that moment when you leave for the day and then remember, "I FORGOT TO MOVE MY ELF!"