'Tis the season when all that most kids can think about is winter break … and hey, we teachers are feeling it too. It's also the season when easy holiday crafts for kids can quickly save the day.
Whether you're looking for some Christmas crafts for your class to make gifts to take home for parents or guardians or just something fun for the classroom holiday party, the teachers on the Teach Starter team have got you covered. And did we mention that plenty of these are EASY holiday crafts? Yup, we've really got you. So grab a glue stick and some hot cocoa. Let's do this.
Easy Holiday Crafts for Kids
Before we get started, let's talk about the criteria that our teacher team used to qualify these as "easy" holiday crafts for your classroom. Many of these holiday crafts can be done with simple materials from around the classroom, and there are printables assigned to many to make your planning simpler.
One final note: Some crafts are strictly winter-based while others are completely Christmas-themed activities, so you can celebrate the holidays or just the season with your students.
---
Christmas Tree Circularama
This papercraft is serious fun when you're talking about 3D shapes in math class. Assign as an individual project, or set up groups for kids to work together to build their own Christmas tree circularama. Bonus: We've added a simple triangle for classrooms that aren't celebrating Christmas!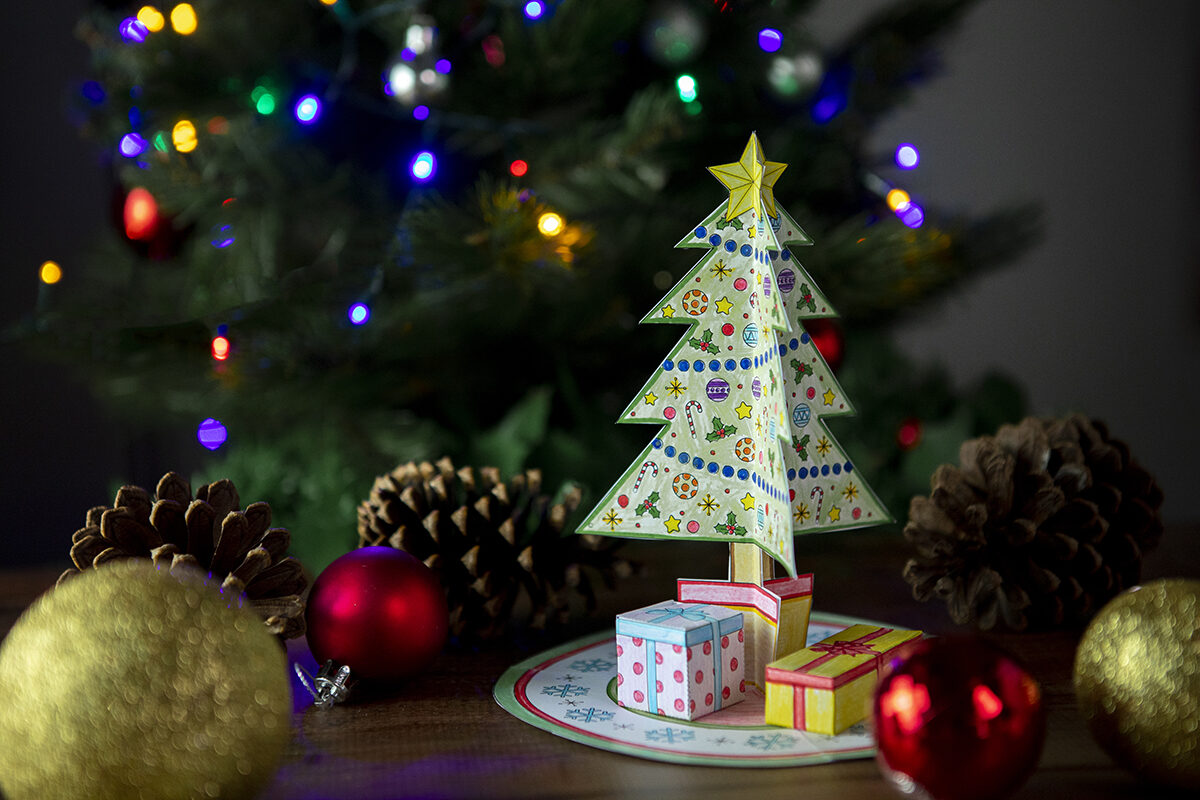 ---
Frosty the Snowman Toilet Paper Roll Craft
Frosty the Snowman was a very jolly, happy soul, and making this little Frosty craft will make your students very happy indeed!
Supplies:
Toilet paper roll
White paint
Googly eyes
Orange and black felt
Pipe cleaners
Pompoms
Small buttons
Hot glue gun (your students will likely need help with this part!)
Glue stick
Marker or pen
Instructions:
Coat the entire roll in white paint.
While the white paint is drying on an empty toilet paper roll, gather three small buttons, two googly eyes, some felt for the scarf and the carrot nose, a pipe cleaner, and two little pompoms.
Prep your earmuffs by cutting two pipe cleaners into equal lengths — about 3 inches each — and twisting them together. Form a "U" shape out of the twisted pipe cleaners, and hot glue each end at the top of your white toilet paper roll.
Add a pompom on each side where the pipe cleaners meet the toilet paper roll — once again hot glue works best.
Add two googly eyes and draw on a mouth.
Cut a small piece of orange felt into a carrot shape, and glue on as a nose.
Cut a strip of red felt and drape around the paper roll, just below the face, to form a scarf. Glue in place.
Add buttons below!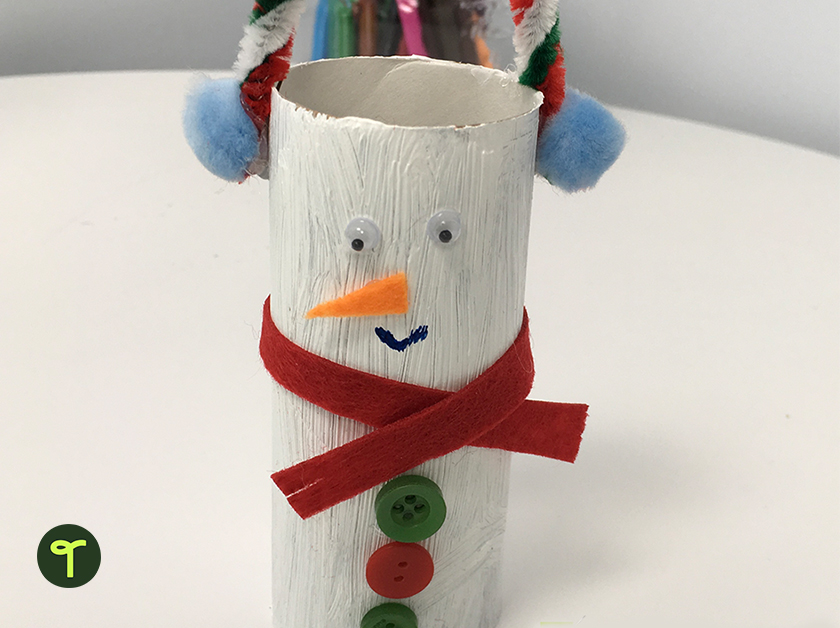 Want more snowman fun? Give these holiday snowman activities a try:
---
3D Holiday Ornaments
Extend the 3D lesson — and fun — with a holiday craft that they can bring home to decorate the house … or add to your own classroom decor! There's a Santa for classrooms celebrating Christmas, plus presents and a candle for classrooms that are opting for the "holidays" instead! Get the printable templates here, and grab the crayons!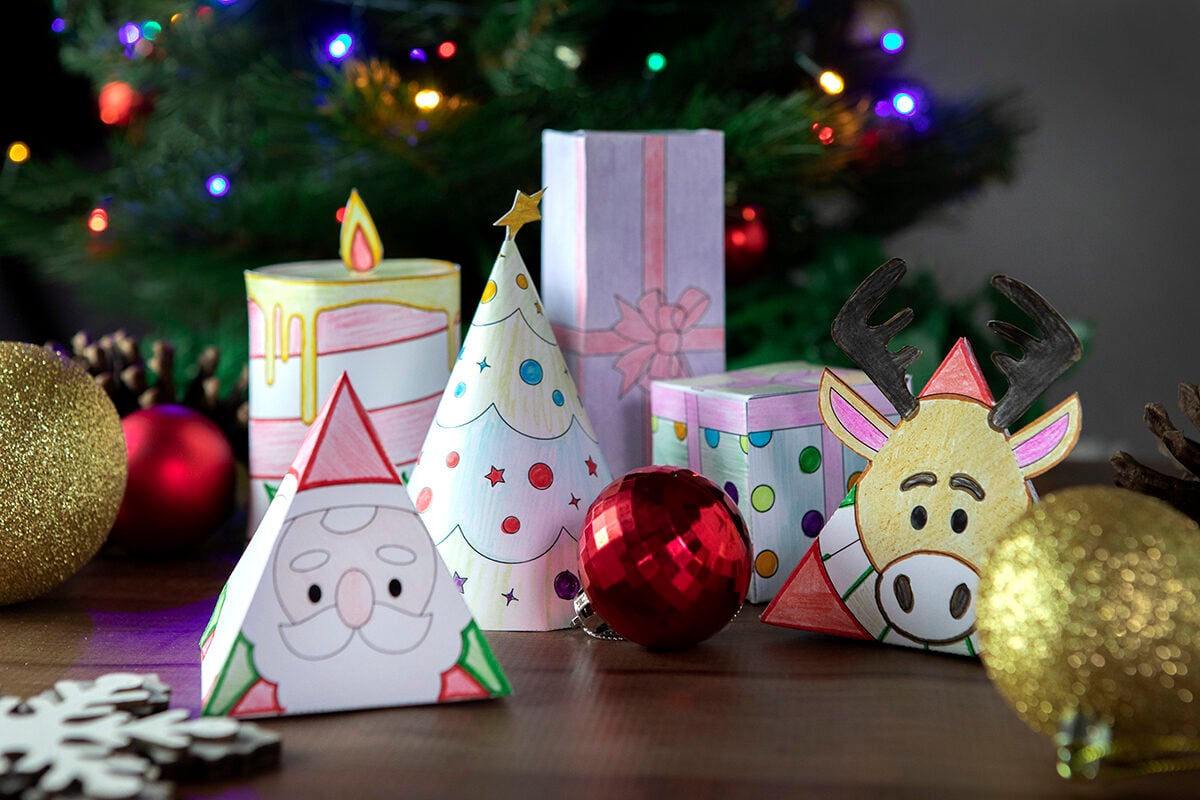 Rudolph the Red-Nosed Reindeer
Everyone's favorite trusty red-nosed reindeer is another great holiday craft kids can make that will make them smile. This easy holiday craft can be done by fairly small children, although they will need some help with the antlers. Paint or color in an empty toilet paper roll gold. Stick some antlers and ears on it. I used round white stickers for the eyes, a red pompom for the nose, and a black felt pen for the mouth.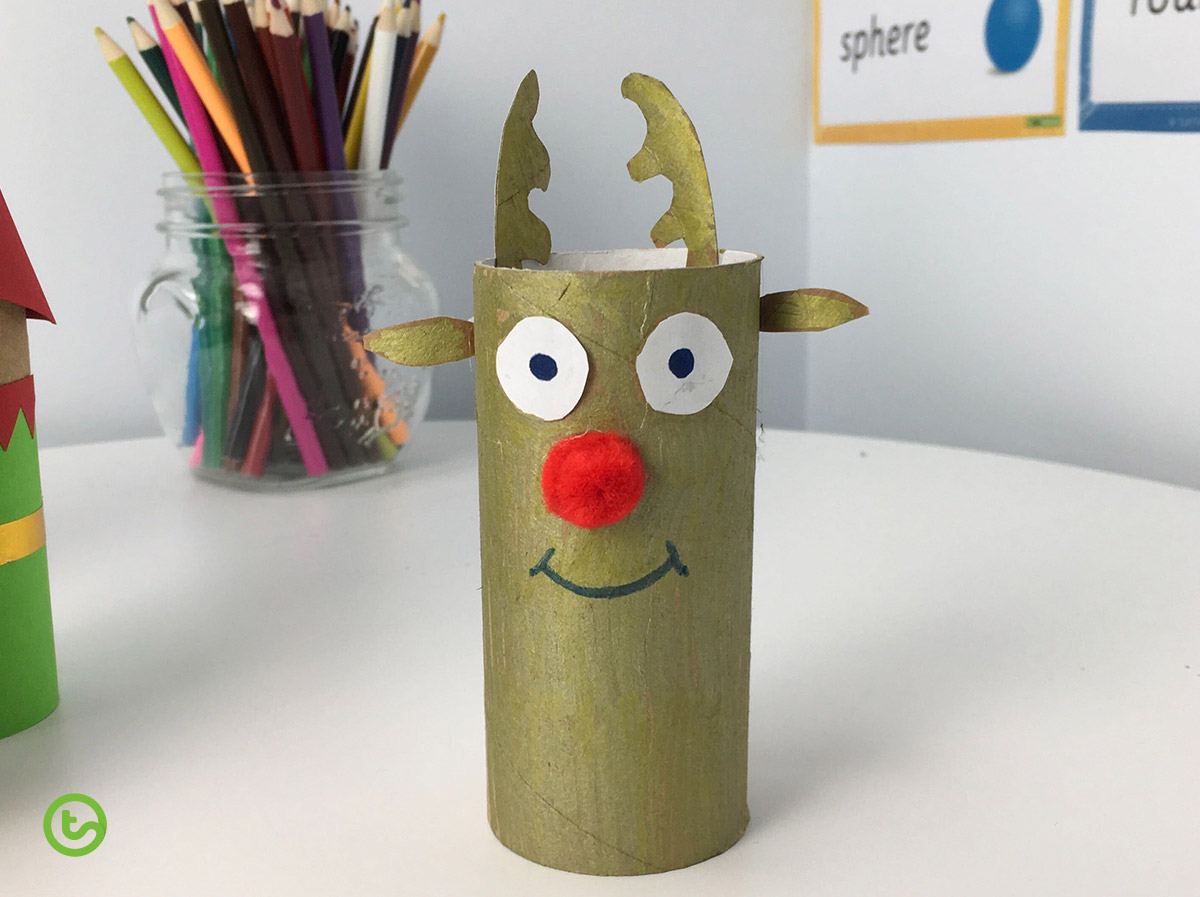 Want something a little less time-intensive? Try these reindeer activities for kids!
---
Winter Cabin
Your students can develop their spatial awareness while putting together these fun winter cabins. All you need is cardstock, scissors, glue, cotton, and some small electric candles (we hit the dollar store for ours).
Oh, and we've got the printable templates for each little cabin!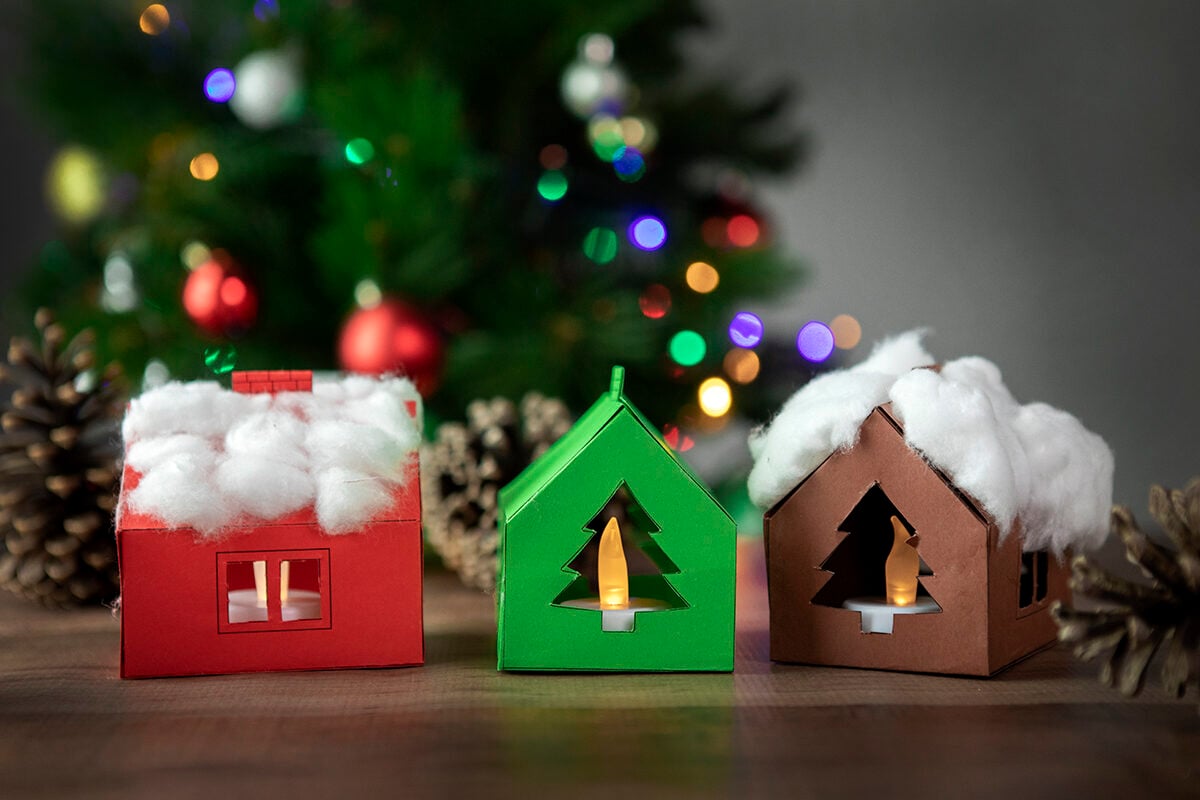 ---
Toilet Paper Roll Elf
We'd have to be a bunch of cotton-headed ninny muggins to ignore the allure of elf crafts this time of year. These little creatures are just your students' size, and they are a lot of fun to create!
Bonus: You get to do a little upcycling. Salvage those empty toilet paper rolls — or paper towel rolls (just cut them in half), and get ready for elf crafts!
Supplies:
Empty toilet paper roll
Green, yellow, and red colored paper
Pompoms
Googly eyes
Glue stick
Marker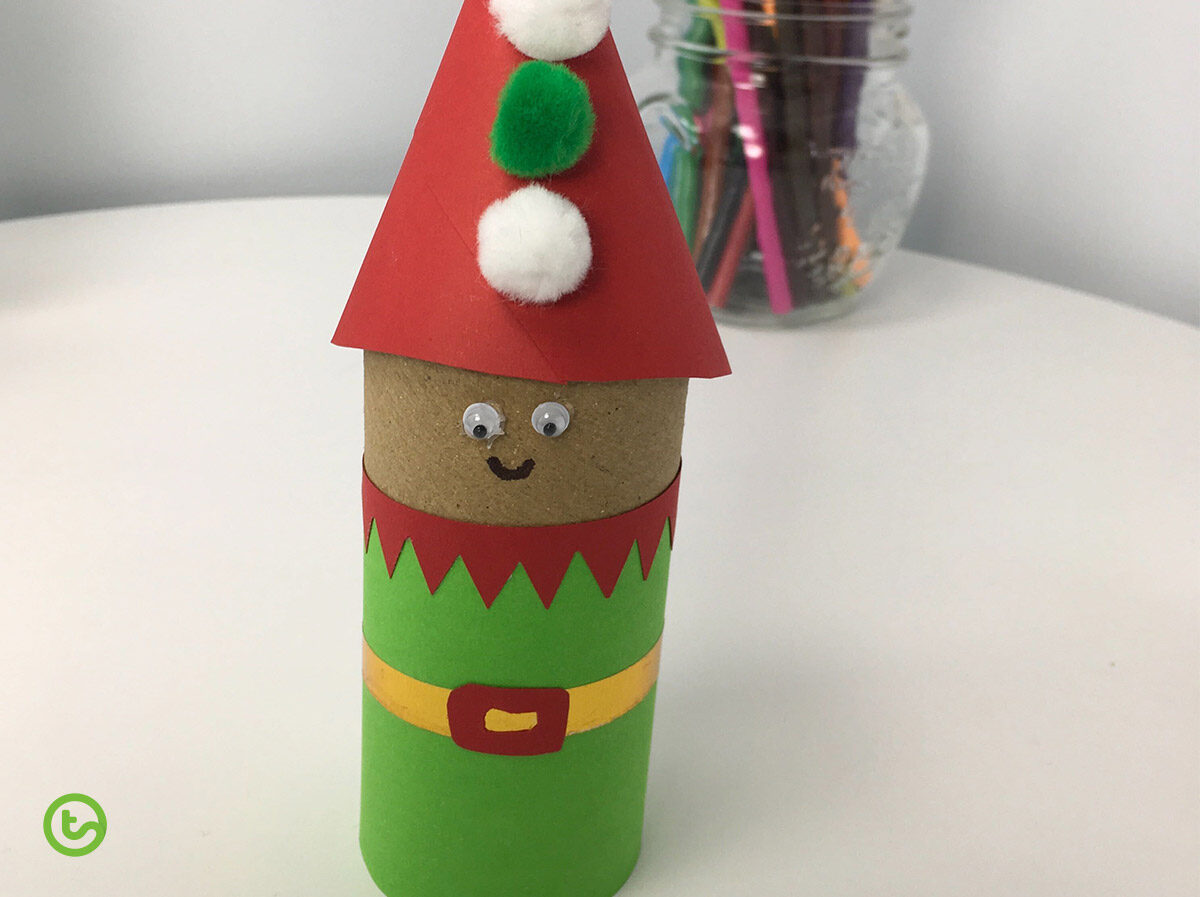 Make Santa's workshop buzz with more elf fun!
---
Santa Claus Toilet Roll Craft
What's an elf without Santa Claus? We promise this craft is a lot easier than it looks when you follow the directions!
Supplies:
Toilet paper roll (or paper towel roll cut in half)
Cotton balls
Small red plastic cup
Googly eyes
Red and pink felt
Black construction paper
Yellow button
Glue
Marker
Instructions:
Cover the top third of your toilet paper roll with pink felt and glue in place.
Cover the remainder of the toilet paper roll with a piece of red felt, and glue in place.
Cut a small strip of black construction paper and place about mid-way on the red section. Glue in place.
Pull apart 2 cotton balls so they form 4 longer strips that can be glued in a square shape on the pink felt, leaving an opening in the center.
Add on Santa's face in the center of the cotton balls, using your marker and googly eyes.
Glue your yellow button to the black strip, centered below Santa's face.
Turn your small red up upside down and glue to the top of your toilet paper roll.
Puff out another cotton ball (or two) and glue to the top of the cup.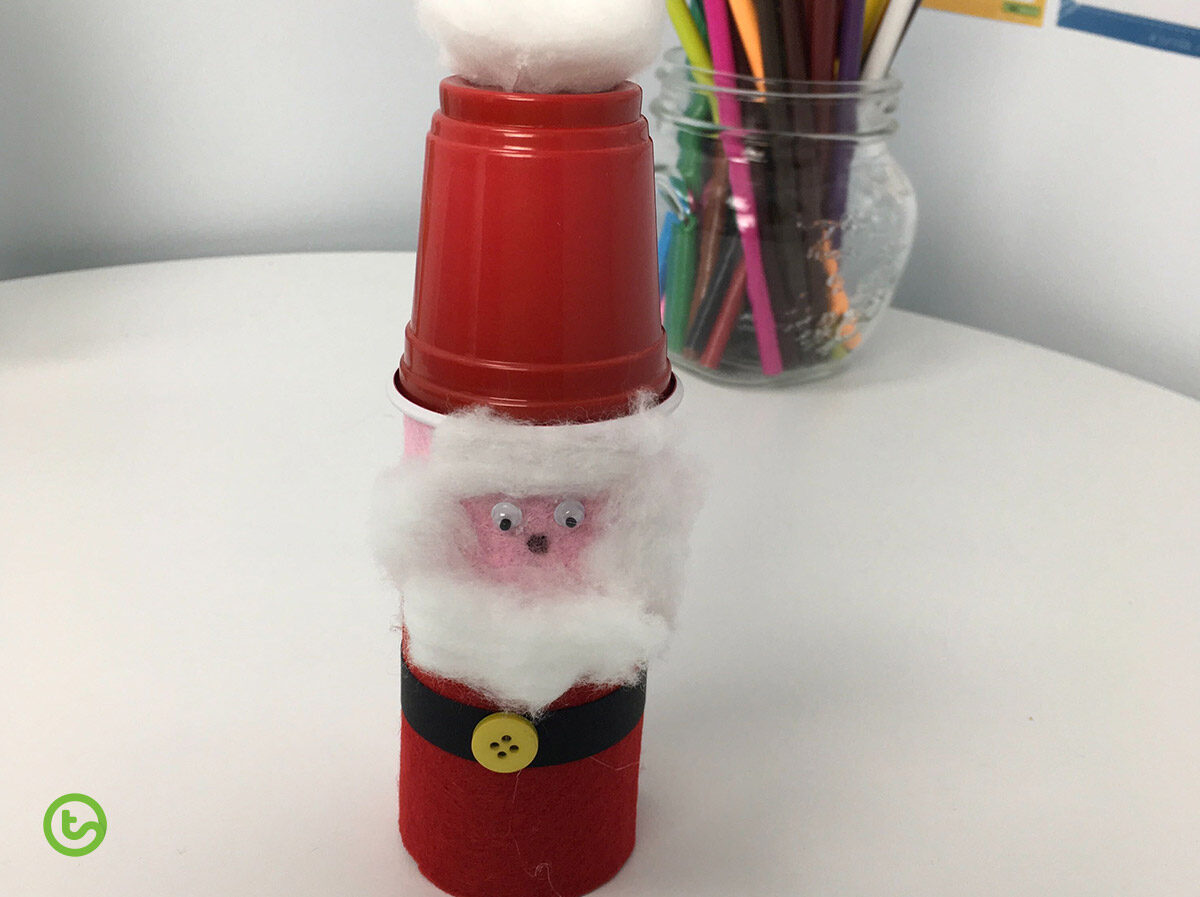 Want more Santa fun? Give these a try!
---
Holiday Magic Pictures
Without a doubt, the best part of this time of year is the magic in the air, and the pure joy on kids' faces. This easy Christmas craft brings that holiday magic into the classroom with pictures that "magically" look like they've been colored in. But wait, we promised easy crafts for kids … Good news! The downloadable template makes it extra easy for the kids to make this Christmas surprise picture! Now that's some holiday magic we can get behind!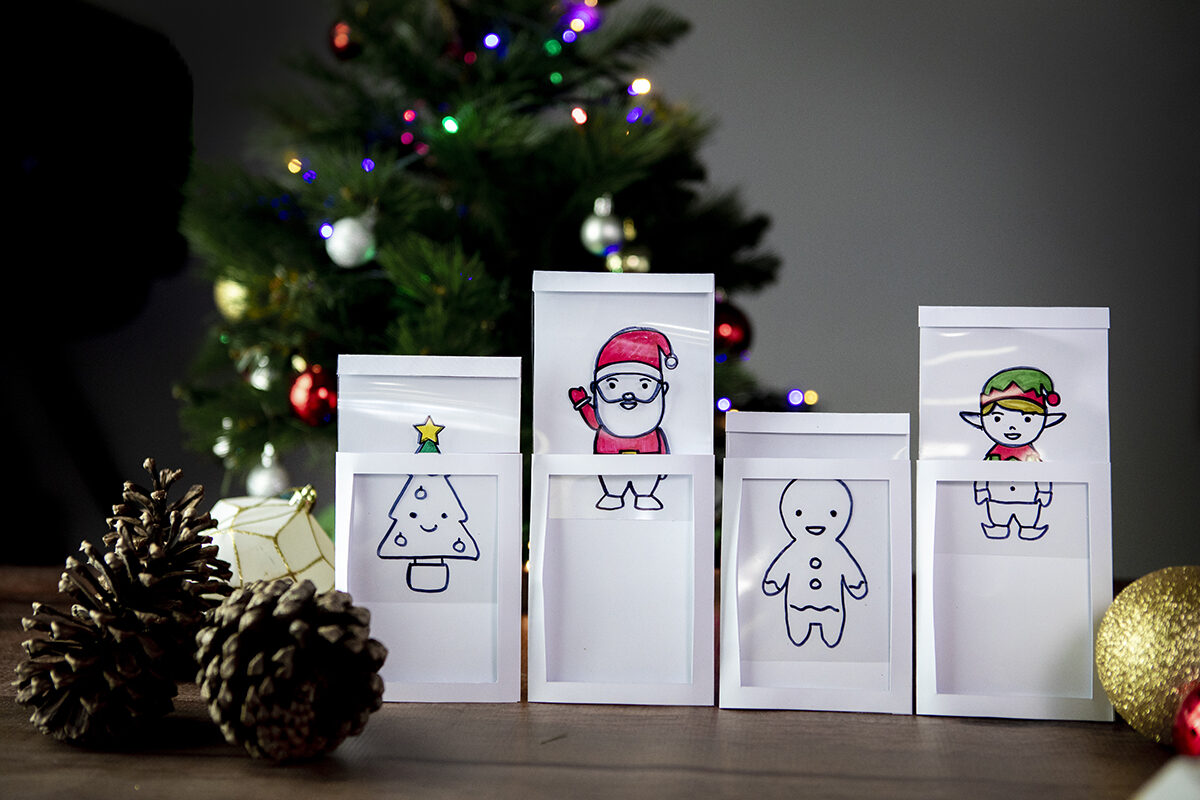 ---
Oh, Christmas Tree…
Did you know that toilet paper rolls make excellent tree stumps for holiday crafts? We tried it, and it works!
For this tree craft, we printed out our Christmas Picture Templates resource on green cardstock. Once we cut out the Christmas tree, we cut two small slits in an empty toilet paper roll to hold the tree and become the tree stump.
Let your students' imaginations run wild when decorating their trees. Provide craft resources such as buttons, pompoms, felt, glitter, etc.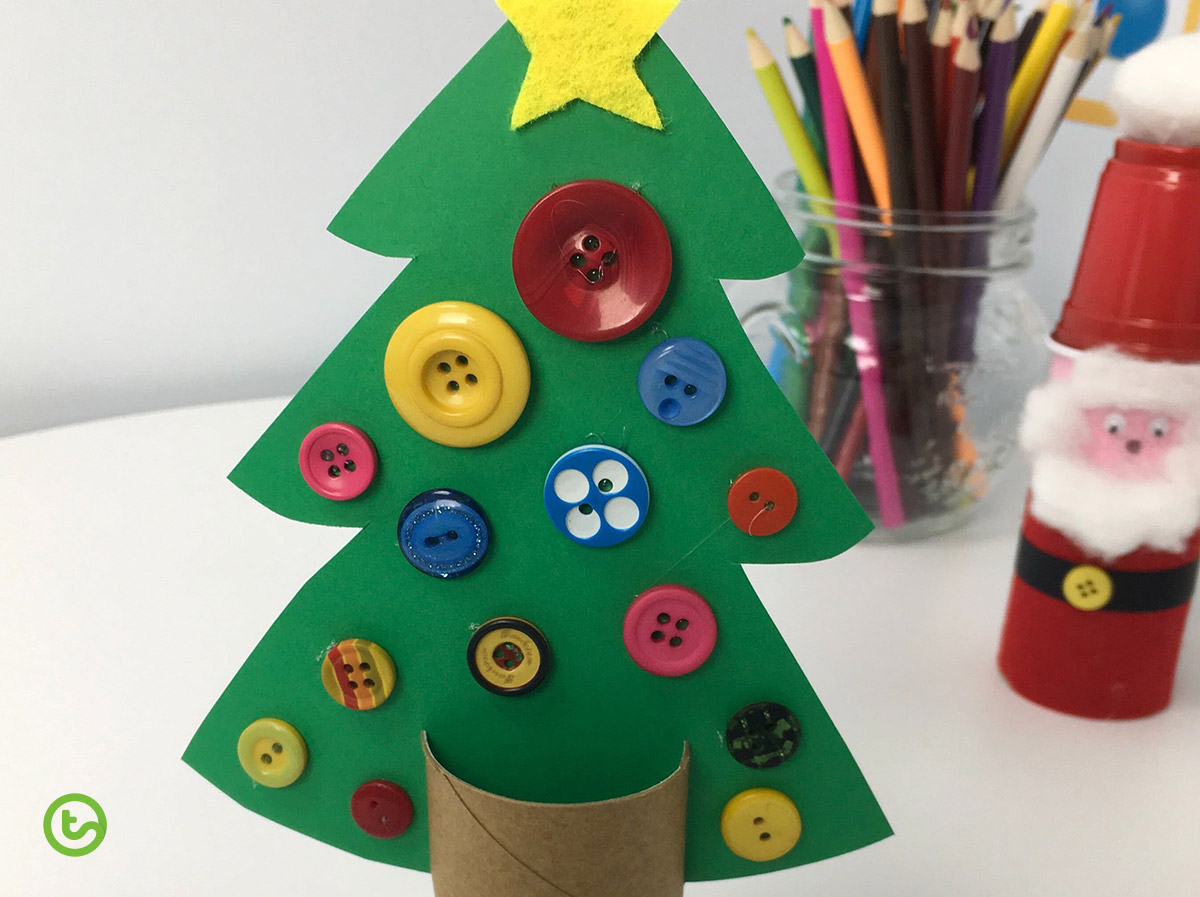 ---
Snowflake Craft
This is one of our favorites and so easy to do.
Divide an empty toilet paper roll into four equal sections (approx. 1 inch) and cut. We cut up three toilet paper rolls; however, you can do as many as you want to make the snowflake as big or as small as you wish. Arrange the smaller toilet roll sections into a star shape like the photo below. We used a hot glue gun to glue it all together.
We painted ours white, sprinkled silver glitter on the wet paint, and set it aside to dry. However, you can also turn it into a holly bush by painting it green and adding red pompoms.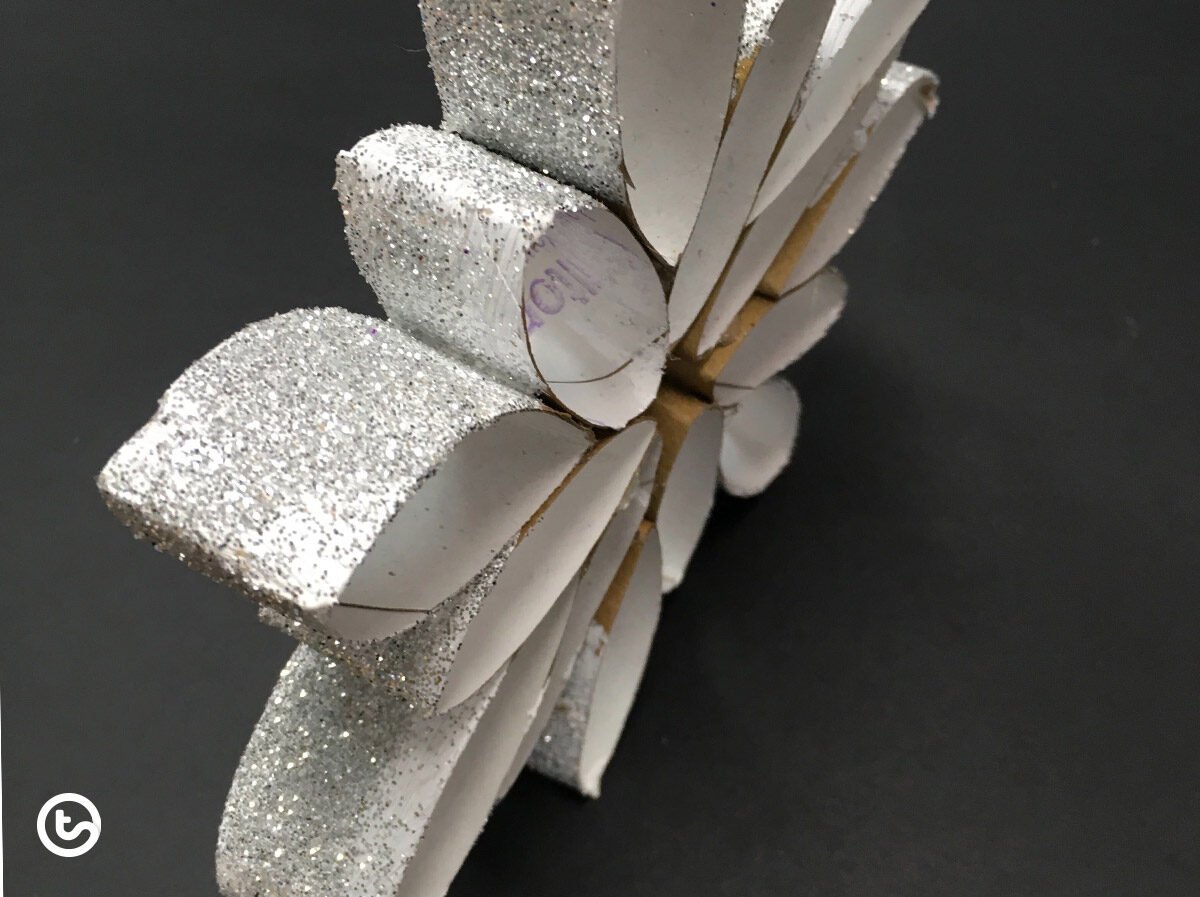 ---
More Holiday Activities and Resources
We have a huge range of winter holiday classroom activities and resources! And don't forget our paper plate crafts for the holidays, plus fun Christmas and holiday games!
We would love to hear what you do in your classroom during the holiday season… leave us a comment below.