Are you mad for March? You will be after seeing these creative March Madness-themed activities for your students!
Spring is in the air this month, which brings newfound energy to the classroom. Turn that energy into positively mad fun using some educational games, lessons, and displays to celebrate March Madness. The teacher team at Teach Starter has been chatting with elementary teachers across the country to see what has worked well for them and their students.
In 2018, 14.4 million US students between the ages of 6-14 played basketball, giving this sport a slam dunk for popularity! While playing in the school gym may be reserved for recess or P.E., there are numerous ways you can dribble that (metaphorical) basketball into the classroom through group work, class games, and other fun activities that will exercise those young brain cells and engage your class with a topic that's near and dear to their hearts.
What Is March Madness?
Are teachers in your district talking about brackets and balls, and you're still trying to figure out what March Madness even is? Don't worry, we've got you covered! Since 1939, March Madness, or the NCAA Division I Men's Basketball Tournament, has gotten college b-ball fans pumped.
This is a single-elimination competition where 68 college teams from around the country will compete over a series of rounds in a bracket-style tournament, vying to be the NCAA champs. Teams are chosen through a combination of automatic bids and at-large selections, and they're ranked or "seeded" by the NCAA, breaking teams out into rankings from 1 to 16. That "seed" corresponds to a particular team's performance throughout the regular season and conference tournaments. It also determines their playing schedule, with the competition starting off with all 16 seeds playing a 1 seed, 15 seeds playing a 2 seed, and so on.
Freebie Alert! Score a free basketball-themed word search.
In order to keep track of which teams are playing one another, and how play will continue through the various rounds of the tournament, the NCAA releases what's known as a bracket, essentially a graphic organizer for basketball fans that lists all the match-ups for the first game with spaces to write in predictions of who will advance from round to round. These brackets aren't just popular with fans — they provide a host of options for teachers to inspire their students to get excited about probability, reading, and more (more on that soon!).
The term "March Madness" didn't find its way to this tournament until CBS broadcaster Brent Musburger used it during the 1982 game coverage, but the name has stuck around since and gives way for plenty of fun during the third month of the year. These days March Madness refers not just to the actual games, which are some of the most widely-watched sporting events of the entire year, but also to the wider cultural phenomenon with offices, individual communities, and classrooms all taking part in their own way.
When and Where is March Madness 2023?
Be prepared before the madness begins! March Madness will take place from Tuesday, March 14 until Monday, April 3 in 2023. The first four rounds will take place in Dayton, Ohio, and the Final Four will happen in Houston, Texas. You can celebrate with an activity per day during this mad time, or you can consolidate all your activities into one day of organized chaos.
How Do You Incorporate March Madness in the Classroom?
We all know that kids love games and learning through play. Combining review work, vocabulary words, and other lesson content in game form is a foolproof way to engage the entire group.
You can choose to have activities planned throughout the entire week that build into a Friday celebration, or you can plan one day dedicated to some March Madness fun. Here are some ideas if you're looking to fill a week with madness:
Monday Math Madness — math review or math games
Tuesday Tournament Day 1 — scavenger hunt, book tournament, or review competition against another classroom
Wednesday Word Day — word wall review day, impromptu classroom spelling bee or writing prompt activities
Thursday Tournament Day 2 — scavenger hunt, book tournament, or review competition against another classroom
Friday Fun Day — games, competitions, or basketball movie showing
Short on time? Browse our entire U.S. Sports Collection for quick resource ideas off the court.
March Madness Classroom Activities
So how do you put all this together? Our teacher team scouted the prospects, and we've found some real slam dunks (don't worry, we will leave the basketball puns to a minimum from here on out). Take the madness out of lesson planning, and use some of these clever game ideas, basketball-themed activities, and ready-to-print resources for March Madness this year. Browse the list for ideas for various grade levels, including options for early elementary and upper elementary, as well as ways to incorporate the event into math and ELA.
Tournament of Sums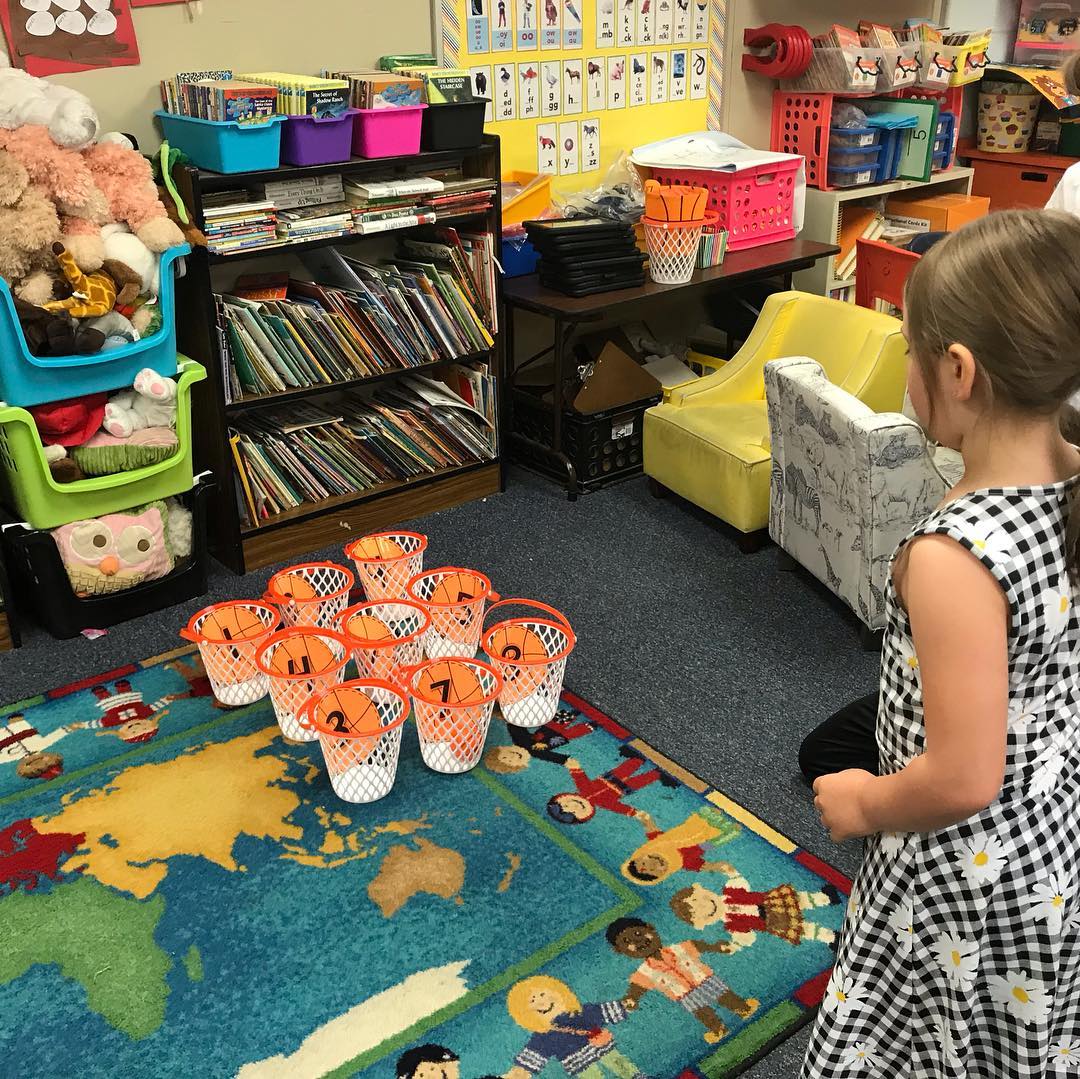 Photo courtesy of second-grade teacher Ms. Mack of Virginia
Teaching second grade? Let the tournament commence! Second-grade teacher Ms. Mack of Virginia hosted a Tournament of the Sums with her students for some interactive math fun. Her kids had to throw three balls into the baskets and then fill out the chart with the smallest number, the largest number, the numbers rounded, and the estimated sum.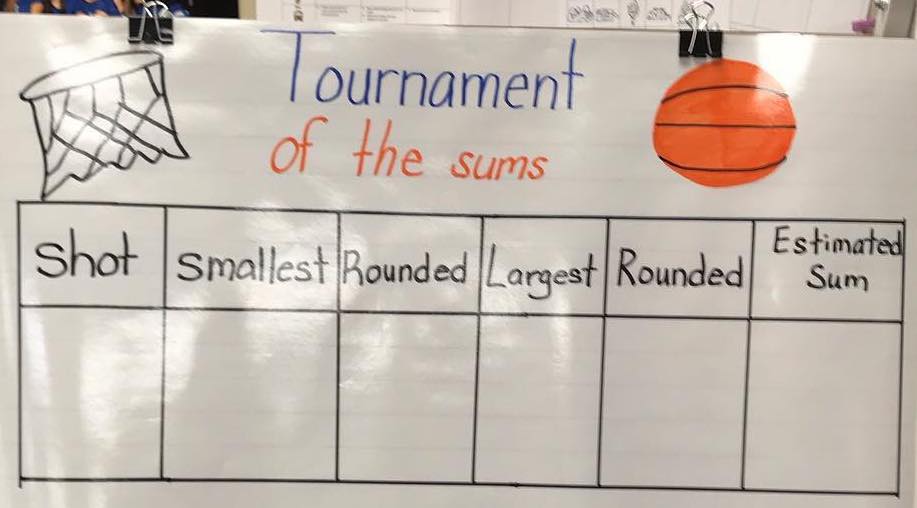 Photo courtesy of second-grade teacher Ms. Mack of Virginia
Ms. Mack collected her game materials from a dollar store and laminated her scoreboard for easy cleaning and ease of use from year to year! You can adopt this idea for math practice any time of year, but it's especially fun for March Madness.
Need more advanced math activities? This basketball-themed instructional slide deck is designed for 4th and 5th grade math!
March Mathness
Keep the math coming with a 2-3 addition "mathketball" game that comes with not one, not two, but three differentiated versions for addition practice!  Designed in the shape of a basketball, this math center activity allows kids to practice multi-digit addition with the fun of their favorite game.
Need a slam dunk for your next lesson plan? Grab the March Mathness printable here!
Math Madness Bracket Competition
Bring the fun of (friendly) competition into math fact practice with a bracket for a game of math madness! The concept is fairly simple — each student will start by answering a math fact question. If they answer the question correctly, they get to advance to the next round of the bracket. If they answer incorrectly, they are eliminated from the game.
Printing a bracket and mounting it on your whiteboard helps students track their progress, and you can put students' names, pictures, etc. on a magnet so they can easily be moved through the bracket. As the game progresses, the questions will get more difficult, challenging students to use their math skills to advance toward a prize.
This concept can be used for myriad other subjects to inject a bit of gameplay into your March lessons!
Slam Dunk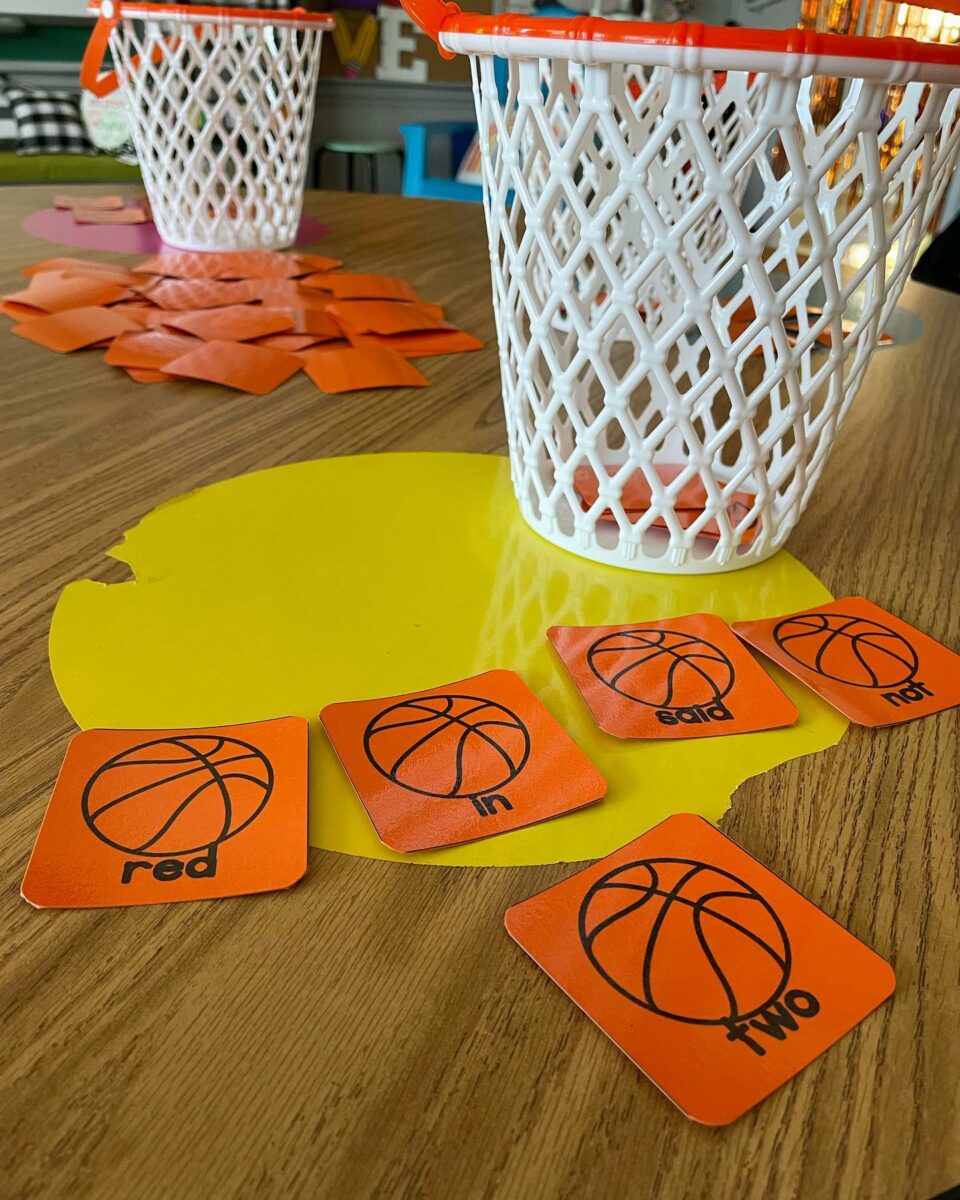 Photo courtesy of K-3 special education teacher Amy of Illinois
Here we have another game idea from K-3 special education teacher Amy of Illinois. Amy invented a "Ms. Amy Original" called Slam Dunk. A spinoff of Go Fish, this game is intended to practice sight words. If a student grabs a "Slam Dunk" card, they have to empty their basket and lose all their points.
This is a perfect game for small group stations, a tournament game if you and another teacher combine activities for a game day, or simply as a fun review session on a Friday!
Try using our Fry Sight Words Flash Cards for more practice throughout the school year!
March Book Madness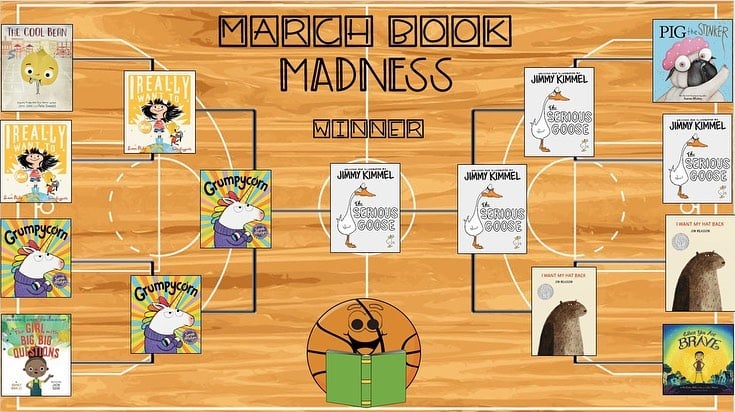 Photo courtesy of Pittsburgh Kindergarten teacher Chloe Stanczak. 
Like many teachers during March Madness, Pittsburgh kindergarten teacher Chloe held a March Book Madness tournament with her students. You can create your own book court with your class's favorite books, books from the school library, or books from your classroom's library.
Each day, students will rank or vote on their favorite book. The most popular books will advance to the next round before more voting and so on. Once there's a face-off between the two most popular books, a final round of voting will determine the winner.
The books on Chloe's tournament chart are as follows in case you'd like to introduce them to your students:
Teach Starter Teacher Tip: Use our Book Review Worksheets to ensure reading comprehension and reflection.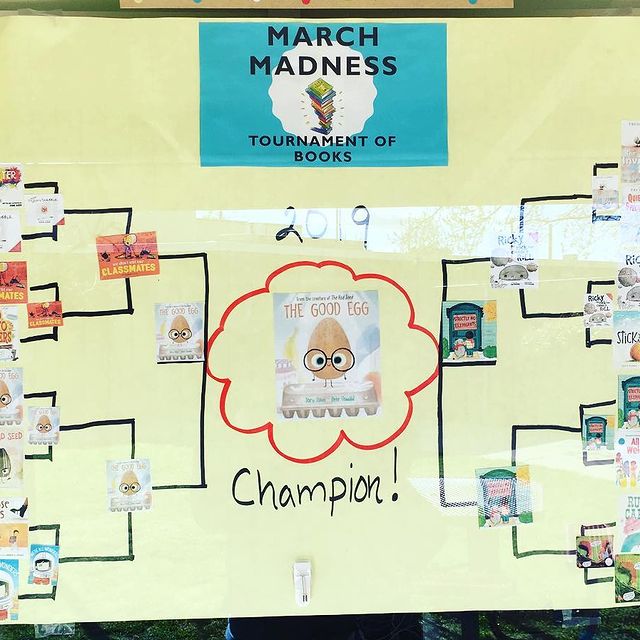 Photo courtesy of California second-grade teacher Claudia Wells
California second-grade teacher Claudia Wells is another Tournament of Books enthusiast. Her kids loved the event, and her book display inspired other classrooms to check out the chosen books. The winner was The Good Egg by Jory John.
Teach Starter Teacher Tip: Dedicate a Morning Meeting session to each book for a time of reading aloud and thoughtful discussion after.
Basketball Trivia
Morning Meetings can be a great time to warm up those brain cells with some fun basketball trivia. Here are some questions you can use with your students:
How tall is a basketball hoop? (10 ft)
What does NBA stand for? (National Basketball Association)
What is the shape of a basketball court? (rectangle)
How many players are in a basketball team? (5)
Where are the NBA headquarters? (New York City)
What is the Boston Celtic's mascot? Hint: Its name is 'Lucky' (a leprechaun)
Name 3 different basketball teams
Teach Starter Teacher Tip: Divide your class into teams, and have them write down their answers on a sheet of paper. The team with the most correct trivia points wins!
Pig or Horse Game
Turn the classic basketball game of Pig or Horse into a spelling review session. You can use a small dollar store basketball and basket or rubber balls with an empty bucket or trash can.
To play, have students form a line, and get the first player to toss their ball into the basket. If they make it, each consecutive player must try to make the basket from the same location. If someone misses, they get a P (if you're playing Pig) or H (if you're playing Horse).
Once each player has taken a shot, a new person must make a shot from a location of their choosing. Repeat these steps until the rest of the line has taken their shot and so on. The first person to spell the entire word is out of the game.
Athlete Quotes
Looking for inspirational quotes? Some of these sayings may encourage your students to try something new, be a good team player, or even have a new mantra. You can write one of these sayings on your whiteboard each day, or you can use them as writing prompts or discussion topics.
"Teamwork is the beauty of our sport, where you have five acting as one." — Mike Krzyzewski
"All the successful teams I've ever seen have three characteristics: They play unselfish, they play together, and they play hard." — Larry Brown
"Everyone is born with a certain potential. You may never achieve your full potential, but how close you come depends on how much you want to pay the price." — Red Auerbach
"Everything negative — pressure, challenges — are all an opportunity for me to rise." — Kobe Bryant
"I've got a theory that if you give 100 percent all the time, somehow things will work out in the end." — Larry Bird
"If it turns out that my best wasn't good enough, at least I won't look back and say that I was afraid to try." — Michael Jordan
"Not only is there more to life than basketball, there's a lot more to basketball than basketball." — Phil Jackson
History of Basketball Video
How much do you and your students know about the origins of basketball? Did you know that basketball is the only American sport with a known founder and a clear beginning to trace its origin back to? For an educational break during March Madness week, show this Kid Explorer video to your class, and learn some fun history!
March Madness Spirit Week
Does your entire school celebrate March Madness week? Perhaps your district has a planned spirit week (or month) for some extra fun but if not, here are some theme day ideas for students to look forward to:
Wear green day
Dress up as your favorite book character day
Wear your favorite sports jersey day
PJ day
Dress up as a historical figure day
Pattern day
Dress like a teacher day
Make sure you talk to your school's administration before planning a spirit week with your class or other teachers to avoid conflict with any dress code rules!
Probability Problems
Do you have some advanced students who need a math challenge? Probability typically won't come into the curriculum until seventh grade, but if you want to pull the concept in, now's a time to offer up a challenge for some students! Mathematicians have done the hard work on March Madness and determined the probability of picking a perfect March Madness bracket is 1 in 263, or about 1 in 9.2 quintillion. How's that for a real-world fact to wow your students, and hopefully get them a bit more excited about the lessons at hand?
While that sort of calculation is a wee bit complicated for kids, you can challenge students to fill out their own brackets (you can print a free copy on the NCAA website), then explain how to calculate the probability of each team winning by dividing the number of possible outcomes by the total number of outcomes. You'll want to demonstrate how to calculate the probability of two events occurring together by multiplying their probabilities.
There are four different sections of the first round on the bracket. Assign different sections to different students, and challenge them to determine the probability of each team in that round winning or losing. Students can work in pairs to check one another's calculations!
Find more March Madness inspiration in our U.S. Sports Collection of teaching resources!