The last month of the year is a lot. You've got winter break to prepare for, everyone is exhausted, and you're trying to maintain high behavioral expectations while the world is carrying on dropping snowflakes and candy canes around you. So let's talk Christmas printable craft templates for a second.
Incorporating holiday fun … that's simple … can be a good way to keep your December a bit more even-keeled. And hey, no one ever said that your holiday classroom activities couldn't be educational and incorporated into your regular routines. We've put together a huge mix of printable Christmas craft templates that are fun and educational too, plus some winter templates so kids who don't celebrate Christmas can have holiday fun too. So let's kick this off!
Printable Christmas Craft Templates for Kids
Roll to Create a Gingerbread House
What do you get when you take drawing and add in dice? Serious holiday fun for kids! Kids roll a die and follow the directions to draw their own gingerbread house. This free Christmas craft is all the more fun because every child's creation will look completely different!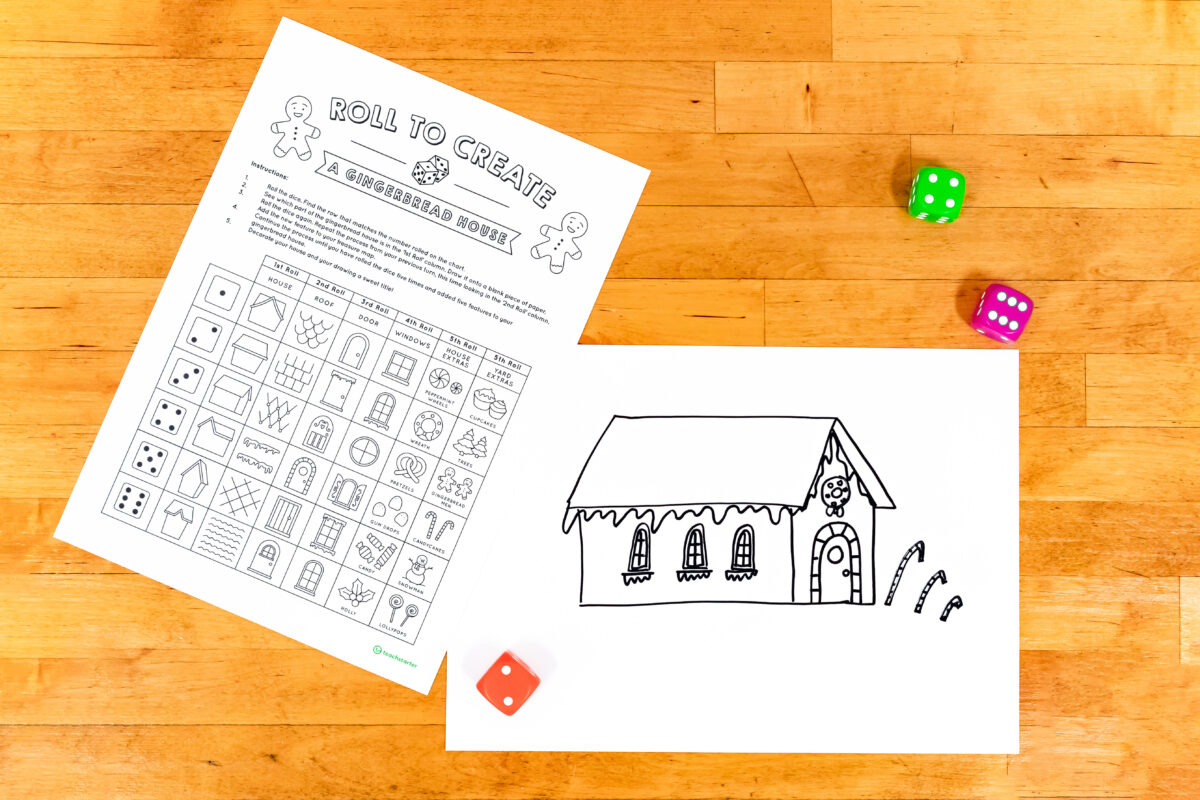 Funky Reindeer
This free printable Christmas craft template is one of our most popular year after year! Kids can decorate their reindeer any way they want, practicing patterns, making it colorful, and of course adding some of our accessories, from a Santa hat to glasses!
Mindful Holiday Coloring Sheets
Looking for a Christmas craft template that's a little more low-key? We hear you. This time of year everyone is a bit keyed up anticipating winter break. So the teacher team here at Teach Starter created mindful holiday coloring sheets you can use to provide time for your students to practice mindfulness in the weeks leading up to the school holidays and the new year.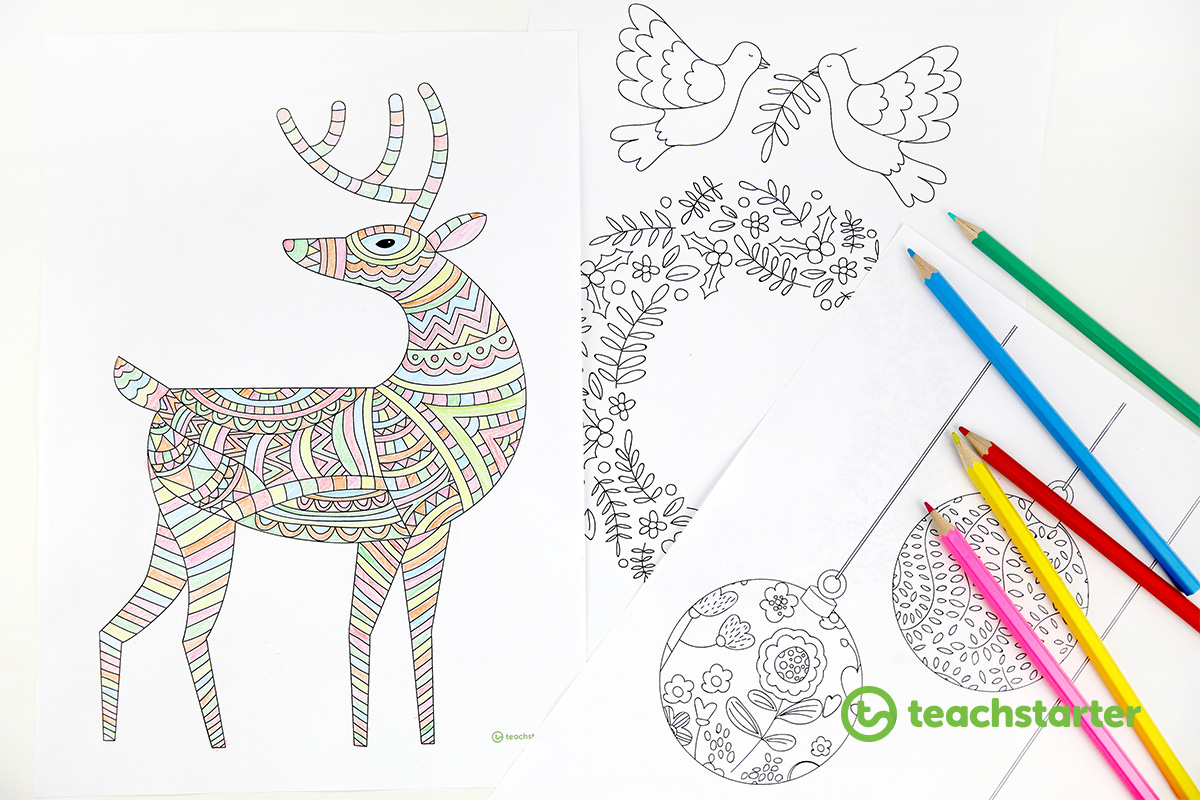 Besides these mindful holiday coloring sheets, we have other coloring activities that would be wonderful alternatives for the children in your class who do not celebrate Christmas.
Holiday Ornaments
Do you have a holiday tree in your classroom? Your students can help you decorate with these fun printable ornament templates! Print the free reindeer ornament or opt for a Santa printable template or a secular holiday ornament!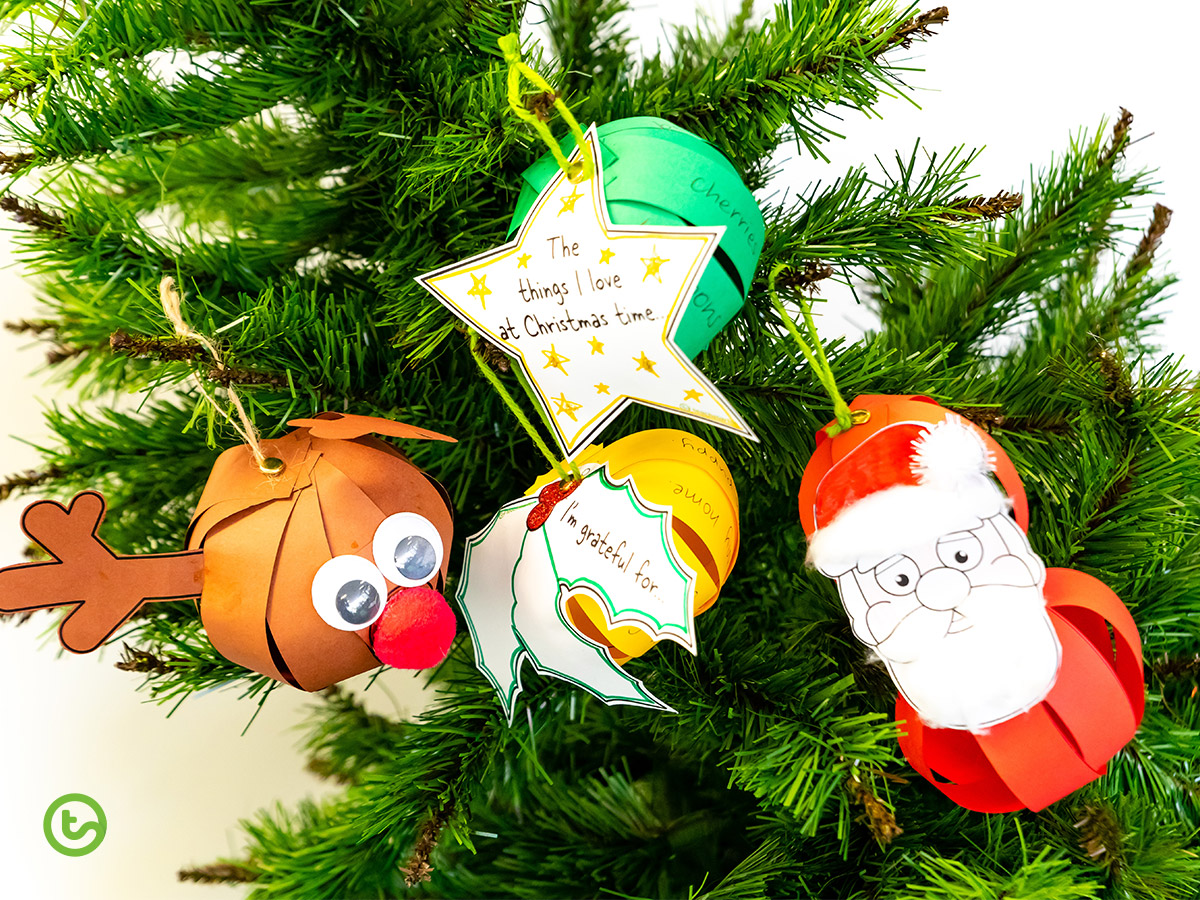 Create an Elfie Selfie
How about turning your students into elves to make a fun keepsake for them to take home?
Using our 'Elfie Selfie' Template, you can decide between several different templates to suit your students' capabilities.
One option is to have them decorate the full elf body and glue their photo in the spot provided. Alternatively, students use body parts to put their elf together. Let your students get creative with buttons, cotton balls, felt pieces, and more to create their elf! We used red paper and made springs for the legs: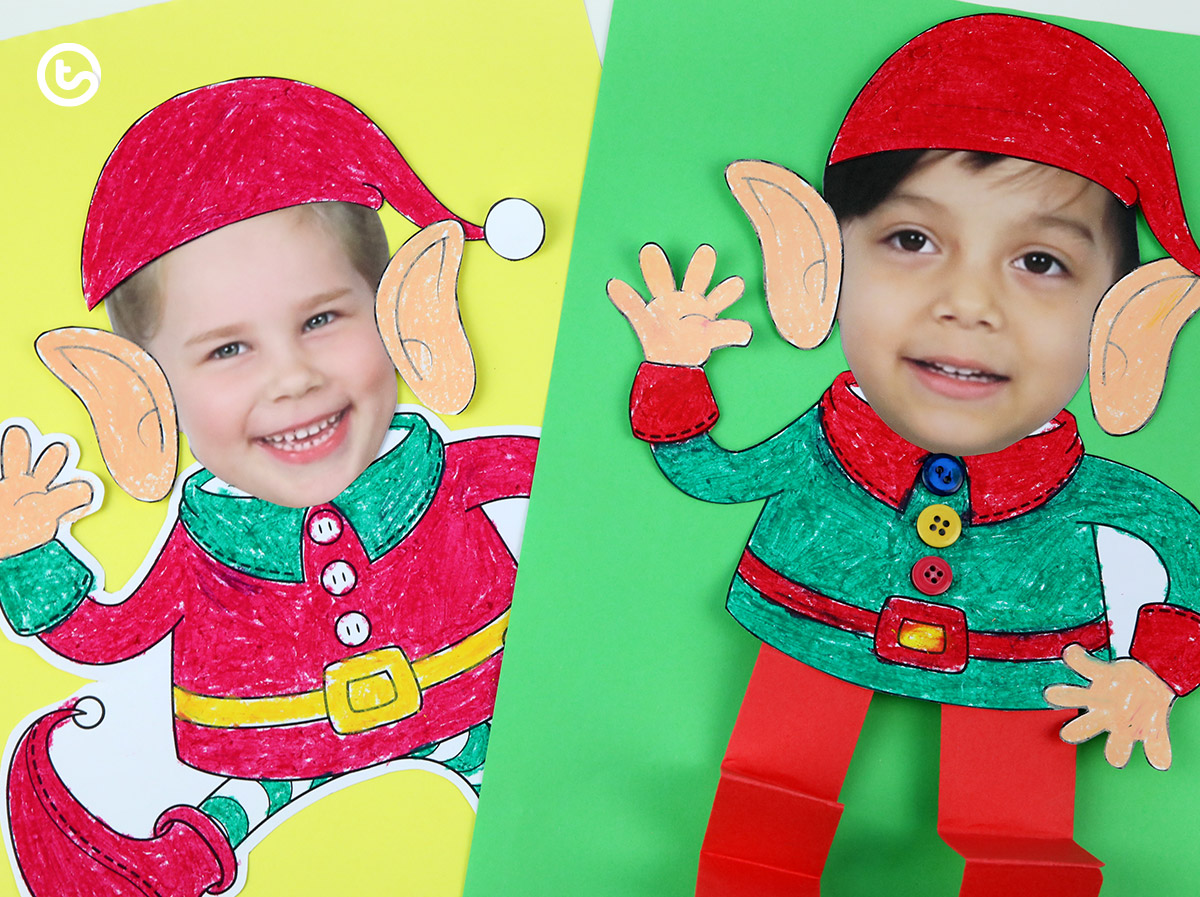 Holiday Photo Booth Props
Another fun way to make holiday crafts with your students' photos? Print our holiday photo booth templates, grab skewers or craft rods, and have your students pose with them for fun photos you can send home. Santa, his elf, and reindeer are all included, plus a snowman carrot nose, mustache, and bow tie for non-Christmas fun!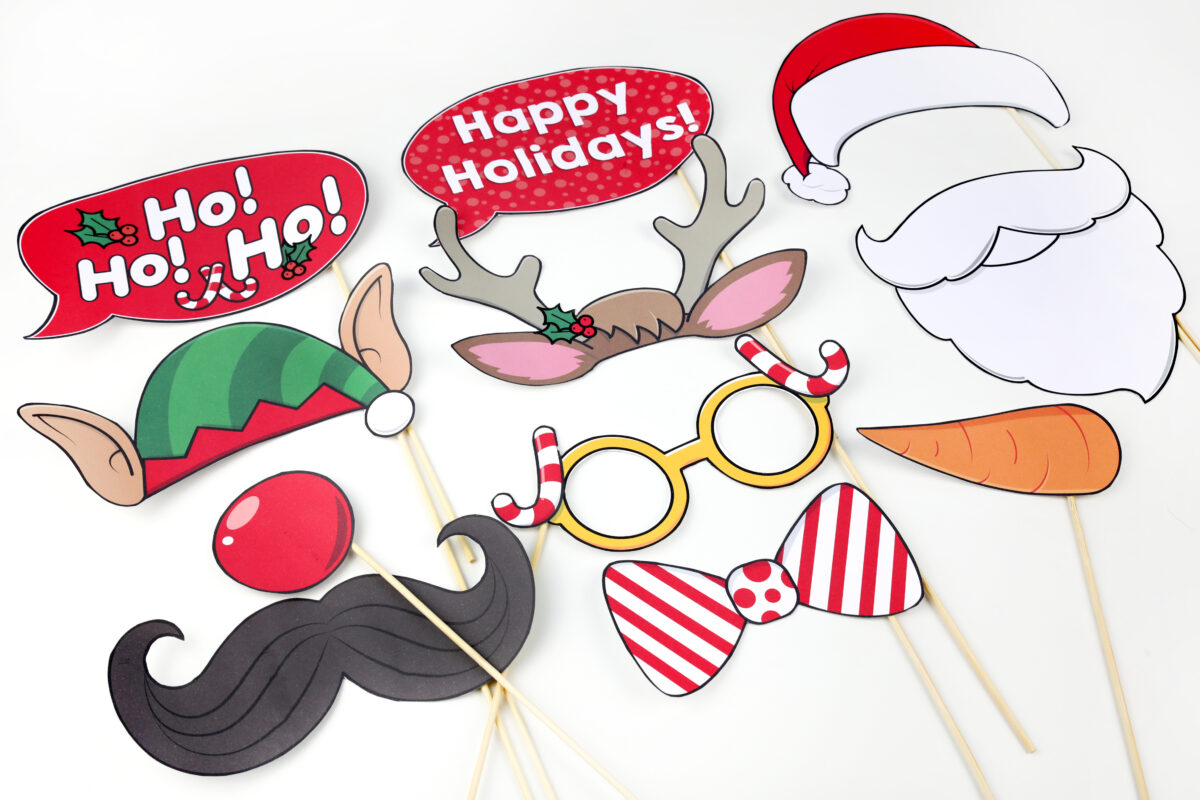 Printable Tree Topper Templates
Do you put up a holiday tree in your classroom? Make decorating easy with printable tree topper templates your students can decorate for the classroom tree or to take home!
Print the templates you like best:
Reindeer Headbands
This simple antlers template for reindeer is perfect for creating reindeer headbands for the whole class! Add a pompom, and you've got Rudolph!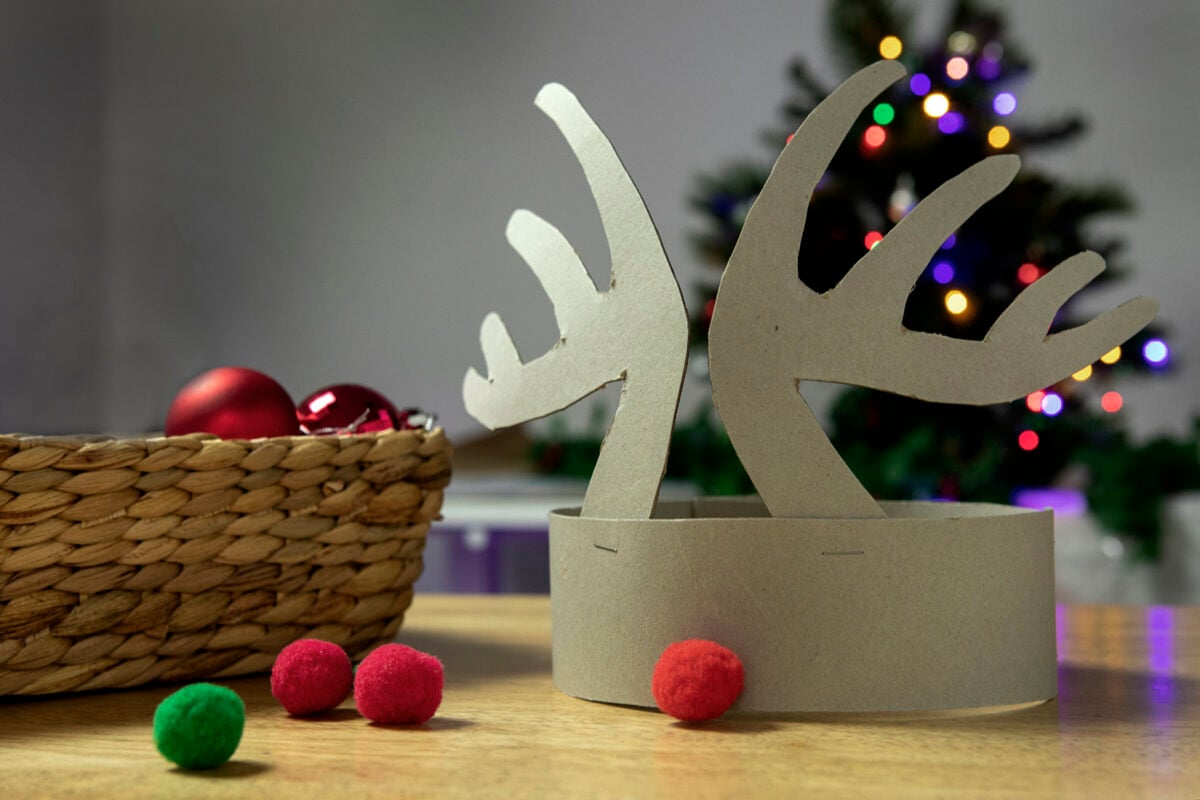 Christmas Wreath
This Holiday Wreath Template is a favorite among teachers on the Teach Starter team because it can be made as easy or as complicated as you want it. Want to go all out? Print the template on sturdy cardstock, and give your students scraps of wrapping paper to make a collage on their wreath. Want to keep it super simple? Just make it a coloring activity.
Or add your imagination! We used some items from outside for a nature-inspired wreath here: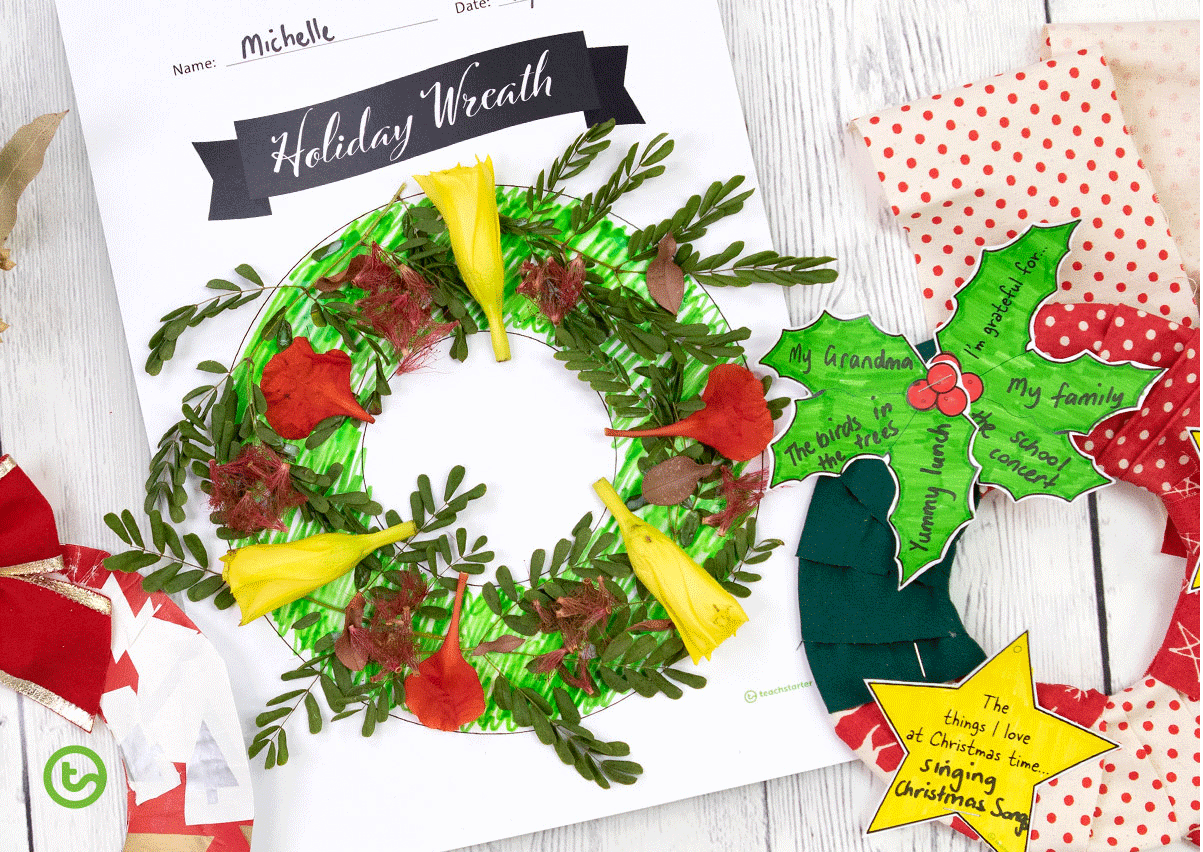 Holiday Pop Up Cards
Take your classroom holiday card-making to the next level with pop-up cards!
In addition to printable cards templates featuring Santa getting stuck in the chimney or Santa on the beach to make your students giggle, we've created a template with fun snowmen as an option for those who don't necessarily celebrate Christmas but still want to celebrate winter!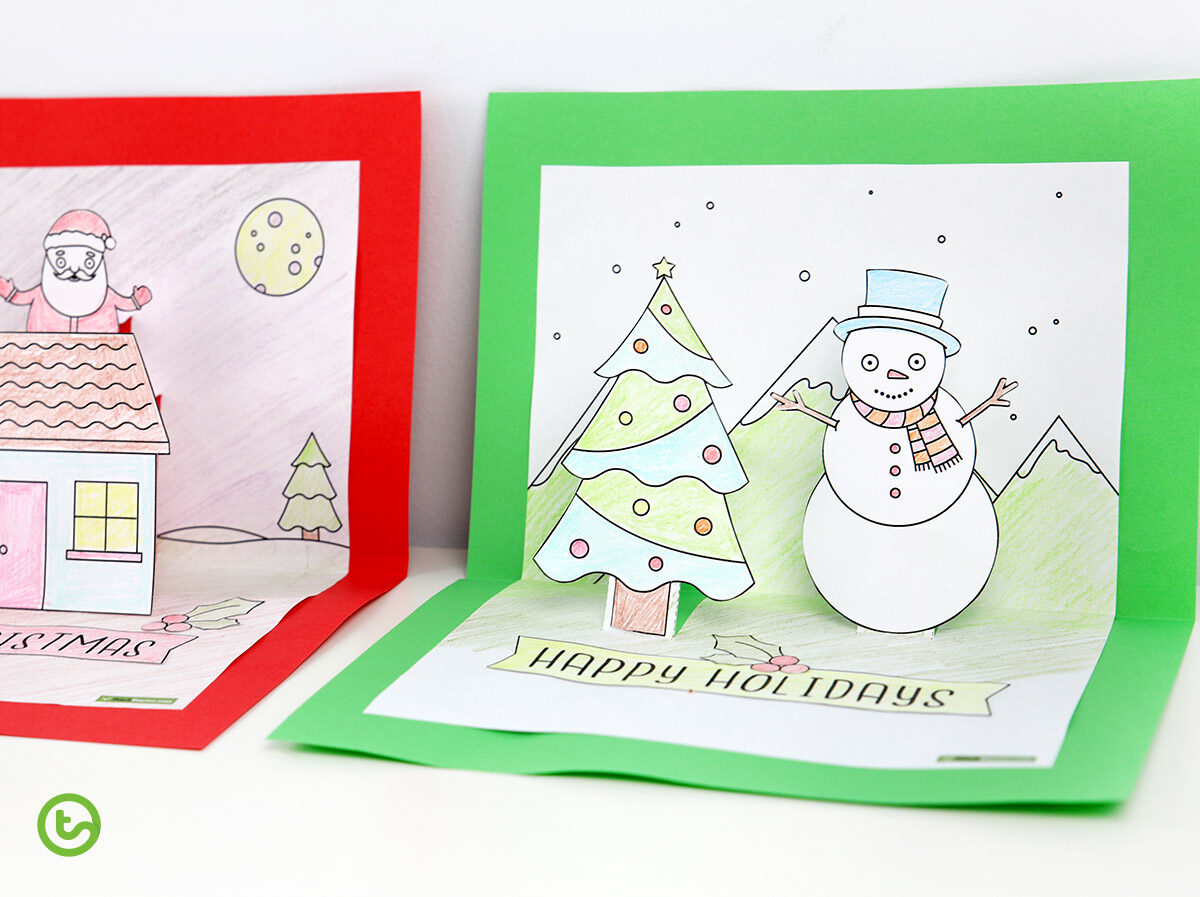 Download your favorite:
Santa stuck in the chimney template
Happy Holidays Envelopes
If you're making cards, you might want to make envelopes to put them in. Good thing there's a template for that!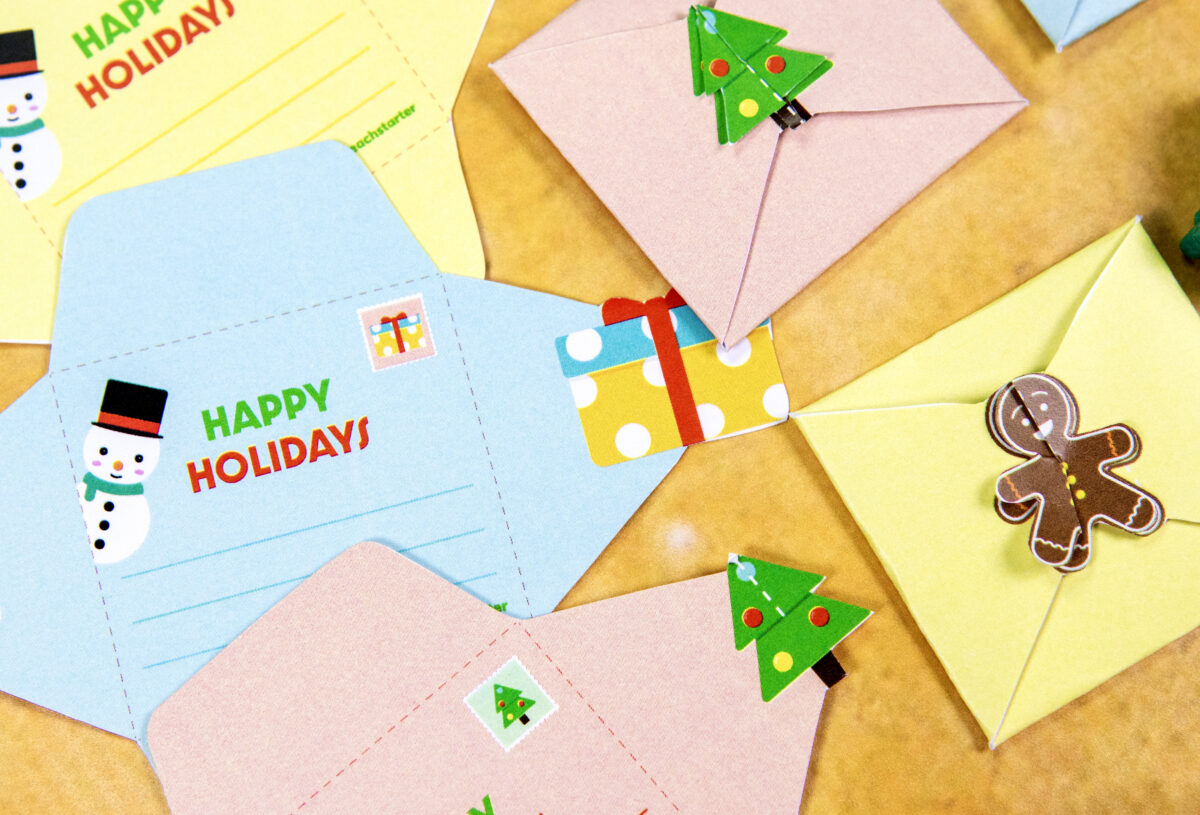 Print all four mini envelope templates.
Holiday Corner Bookmarks
Kick start your students' holiday reading with these bookmark printables that are perfect for Christmas or just winter! Made to fit on the corner of the page, they are also great handmade gifts for your students to share with a bookworm in their life!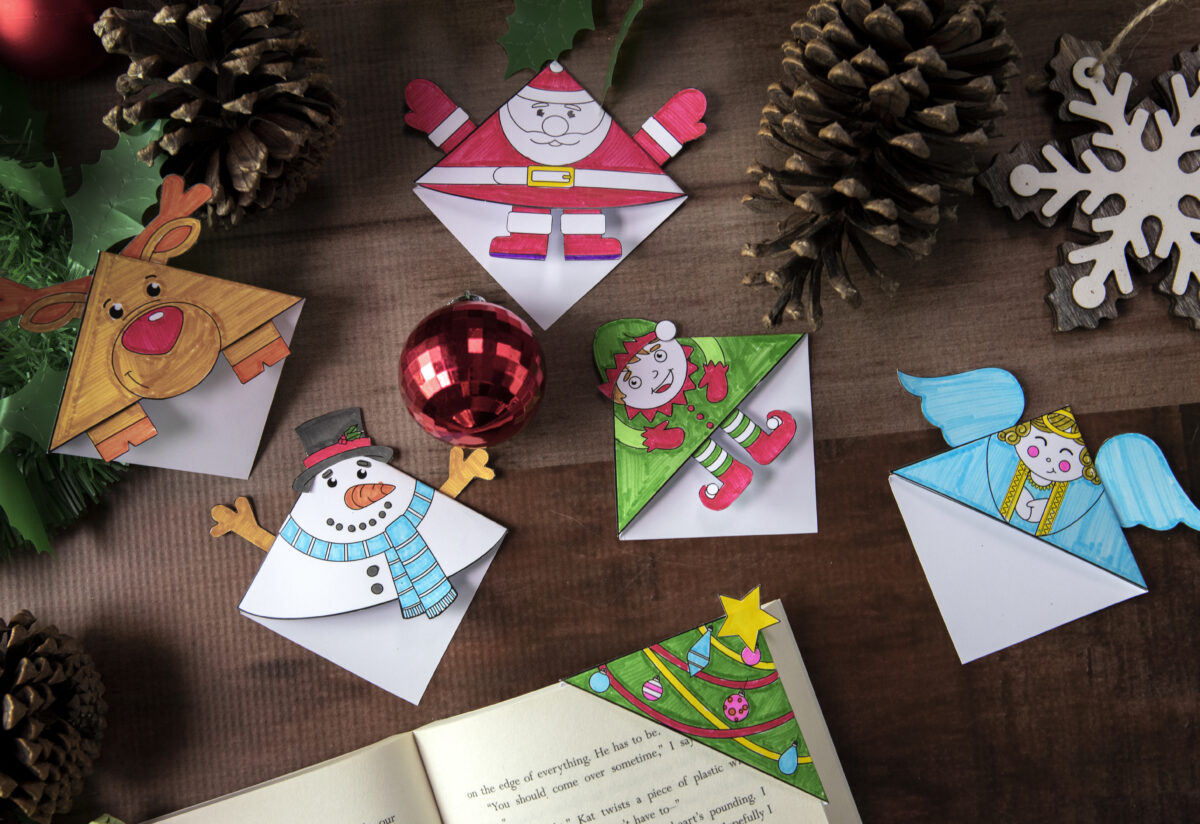 Holiday Finger Puppets
This is one part printable Christmas craft and one part holiday entertainment: holiday finger puppets! Print in color or black and white so your students can color in their new little friends!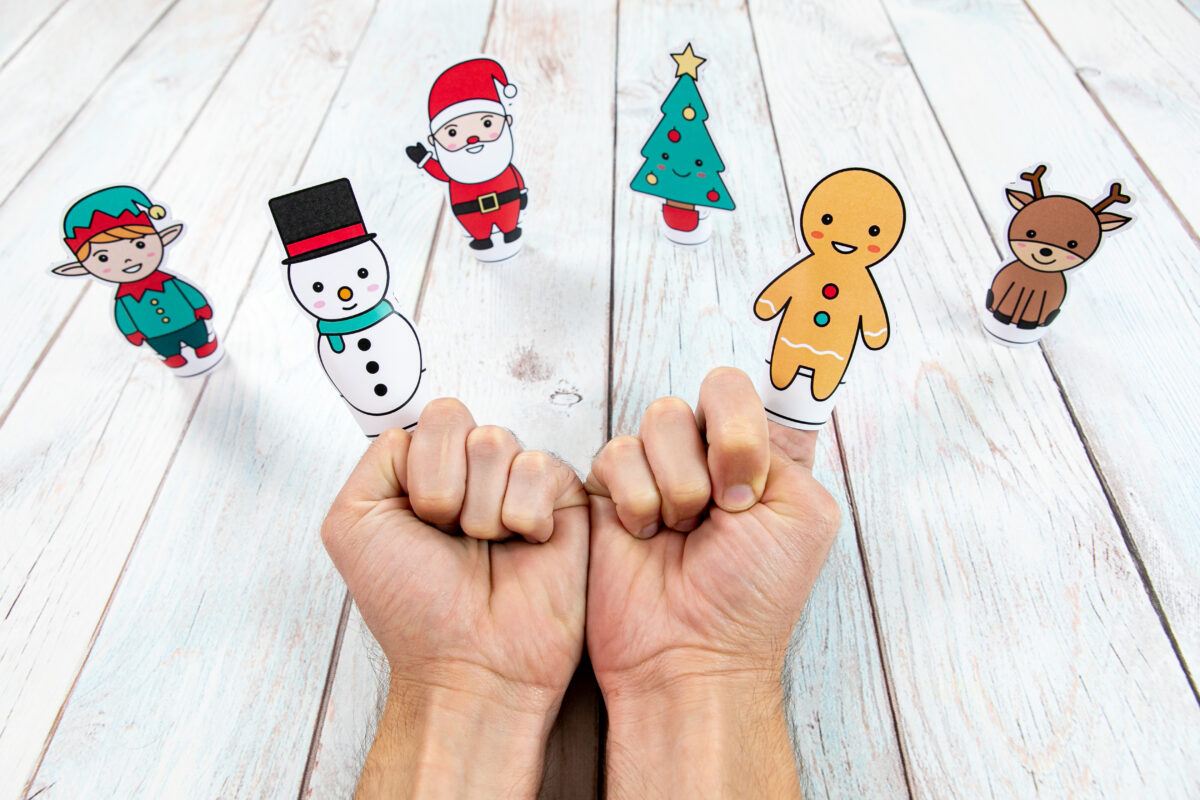 Holiday Kindness Ornaments
Make your holiday classroom decorations serve double duty this year with printable ornaments that are also a social-emotional lesson! Our holiday kindness ornaments all feature a different suggestion for random acts of kindness kids can easily do  — 12 in all.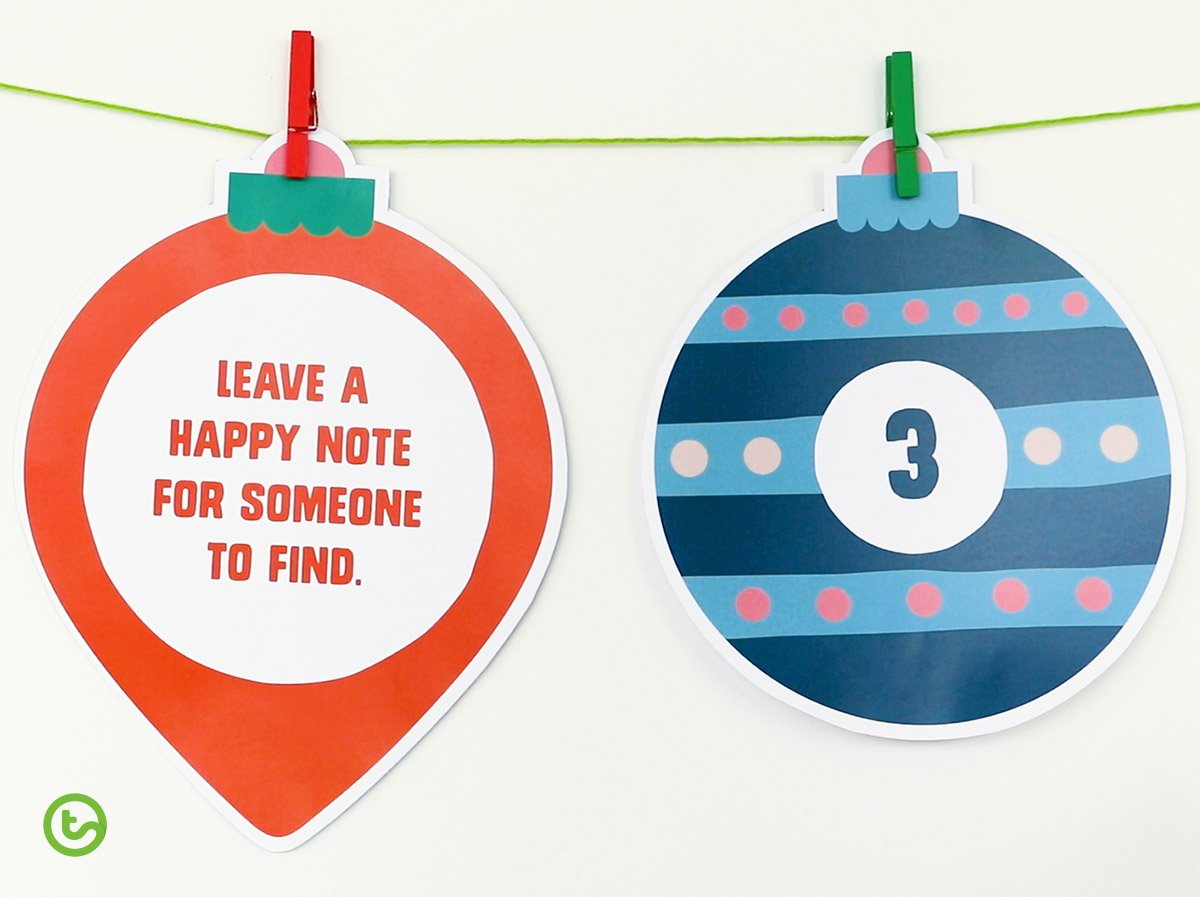 Want more holiday printables and Christmas resources? Check out our full array of teacher resources for the winter holidays!