Thanksgiving is almost here, and the students in your class are already buzzing about who is coming to visit and whether or not they'll see Santa in the parade, aren't they? With half the class out due to the flu and the other half distracted by the impending vacation, Thanksgiving classroom activities are on the agenda. But if you're tired of all the hand turkeys, the teachers of Teach Starter can help get your creative mojo back … or at least save you some lesson planning time.
We've put together a few of our favorite Thanksgiving projects for elementary students that are fun and can also fit right into the educational lessons you're working on right now!
Thanksgiving Classroom Activity Ideas
Don't get us wrong: Hand turkeys are a lot of fun, and we love a good craft activity for the classroom (see below for some of our favorites)!
But before we dig into turkeys and thankful trees, teaching the important history and traditions of Thanksgiving is also critical. It helps your students learn historical empathy, as well as developing their social and emotional learning around gratitude and thankfulness.
As a class, you might want to discuss:
Why do we celebrate Thanksgiving?
Which Thanksgiving traditions have been added and changed over time?
What other viewpoints might there be about Thanksgiving?
Get the conversation going in your classroom before diving into some fun Thanksgiving crafts, reading and writing center activities, and more ways to celebrate the November holiday at school.
Write a Class Cookbook
Are your students learning procedural writing this school year? Put a real-life spin on how-to writing with the creation of a class cookbook just in time for the holiday. Students can write how to make their favorite sandwich or snack and share the "how to" with their classmates!
Save Tom the Turkey!
Add some giggles to your turkey gobbles with these delightful writing activities about Tom the Turkey!
Students will get a chance to practice their persuasive writing skills and practice problem-solving as they help the turkey escape his fate as the center of a Thanksgiving dinner. Each student will write a letter convincing you why Tom Turkey should not be eaten on Thanksgiving day. Younger students can also color an accompanying disguise a turkey printable. Want to take things a step further? Combine this activity with a writing task about the presidential pardoning of the turkey.
Write Thankful Acrostic Poems
Take thankful Thanksgiving activities one step further and make them a chance to practice poetry!
Have your students make "Thankful" acrostics, writing out something they are thankful for that starts with each letter of the word.
For more Thanksgiving writing practice, your students can study our Thanksgiving Word Wall Vocabulary and complete one of the following in their writing centers:
A Thanksgiving poem
A story about a past Thanksgiving
An informative piece about the meaning and traditions of Thanksgiving.
Make Paper Roll Turkey Crafts
Grab those toilet paper tubes and construction paper. It's time to talk turkey! Turkey crafts, that is …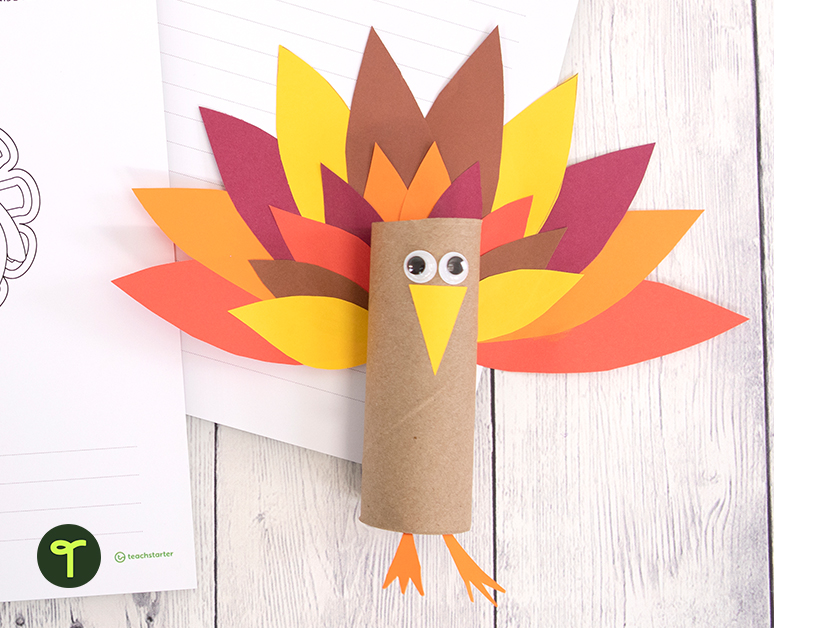 Materials:
A selection of Thanksgiving/fall colored construction paper or cardstock
Paper roll holder (we used a paper towel roll cut in half for our two turkeys, but you can also use toilet paper rolls!)
Stapler
Glue stick
Googly eyes
How to Make a Paper Roll Turkey
This one is super simple!
Draw the shape of two large double-pointed ovals and two small double-pointed ovals. You may like to pre-print these onto the paper for your class.
Cut out the shapes for each piece of colored paper.
Creating a pattern, overlap each shape, and paste them together in an arc shape to create tail feathers.
Staple your tail feathers to your paper roll.
Cut a tiny triangle for a beak and two little feet.
Paste your beak, feet, and eyes onto your paper roll. Fold the feet so that your turkey can stand up.
Why not staple these turkeys to your Thanksgiving bulletin boards for a cute Thanksgiving display?
Make Your Own Thanksgiving Day Parade
Teachers at Antioch Elementary School in Dalton, Georgia shared this fun classroom activity to get students ready for the big Thanksgiving Day Parade! After a classroom read-aloud of the book Balloons over Broadway: The True Story of the Puppeteer of Macy's Parade by Melissa Sweet, students designed their own balloons to be hung parade-style across the bulletin board!
You can make the parade concept work for your upper elementary classes too with a fun Thanksgiving activity — download everything you need here for students to plan their own Thanksgiving Day Parade!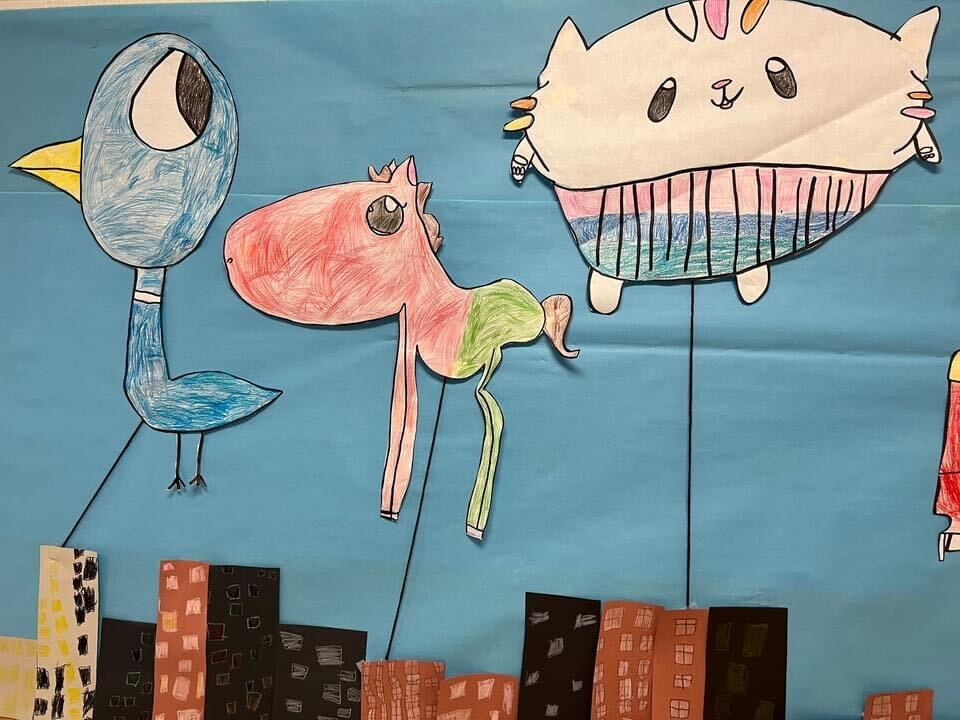 Zentangle Turkey
Another twist on the old turkey craft is this funky turkey printable! Not only is this a fun Thanksgiving classroom activity, but your students can practice drawing different patterns and do some mindful coloring to destress with our zentangle art template.
Cut out the template and paste it onto a colored piece of cardstock or construction paper. Choose your funky glasses, color, and attach!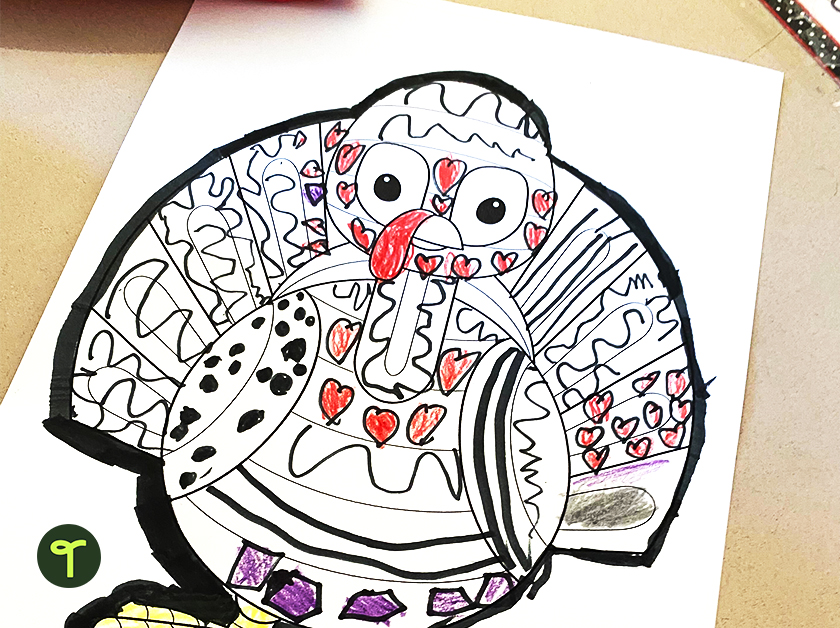 Create a Thankful Tree
To help your students appreciate all that they have to be thankful for, create a class Thankful Tree with all the things that the kids are thankful for this year.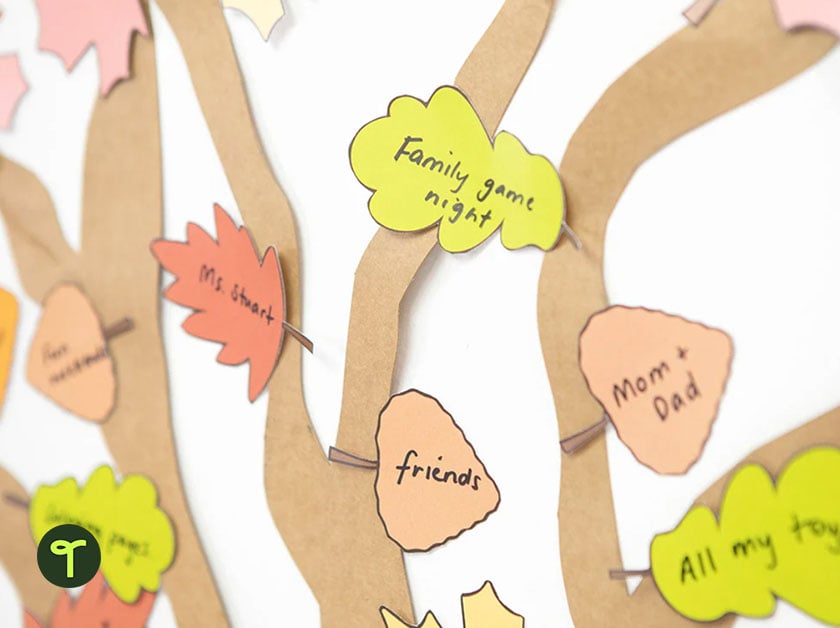 How to Create a Thankful Tree:
Create a tree trunk using paper on a display wall or bulletin board. Alternatively, you could use a real tree branch standing up in a pot.
Provide students with one or more of the leaves for them to write about something they are thankful for.
Stick the leaves onto the 'Thankful Tree' wall display, or hang them up on the real branches using a hole-punch and string.
Students may also like to add photographs and pictures to the Thankful Tree display.
To make things easy, we created a Thanksgiving Thankful Tree Leaves Template.
Serve Up Fruit Pie Fractions
We all have our Thanksgiving table favorites from the bird to the fixings. Celebrate the dessert part of the classic holiday meal while learning about fractions!
Thankful Turkeys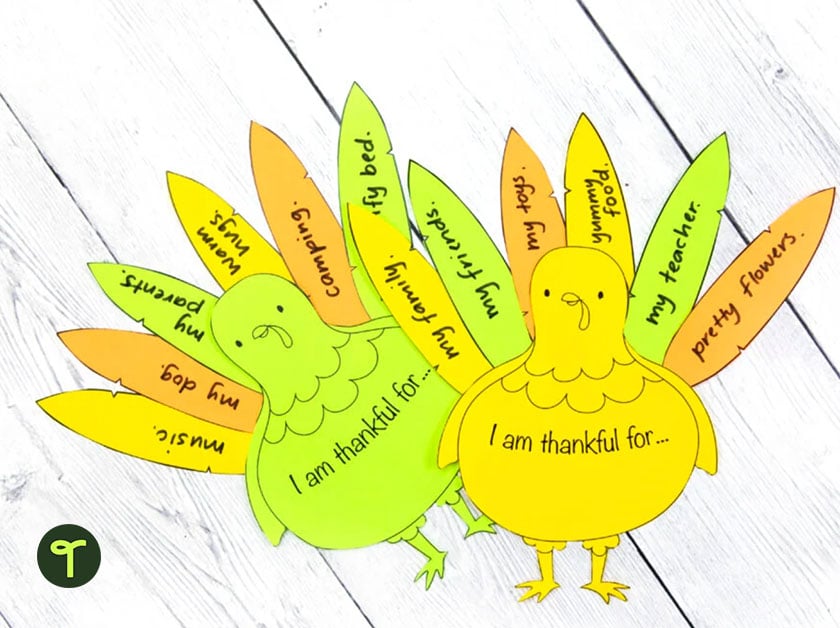 Instead of a thankful tree, you can stick with turkeys for this social-emotional lesson too. Have kids write out what they're thankful for this year on the feathers of their turkey!
Write Gratitude Cards
These bear hug gratitude cards are "beary" cute, and they're also a nice way for your students to say thank you to someone special in their lives — be it a classmate, a family member, or someone else who they are grateful for.
This is a great time to talk about signal words and cause and effect, putting together sentences that link someone else's actions to something that your students are grateful for.
For example, a child might write "I loved opening my lunch box this week because you hid a nice note in there."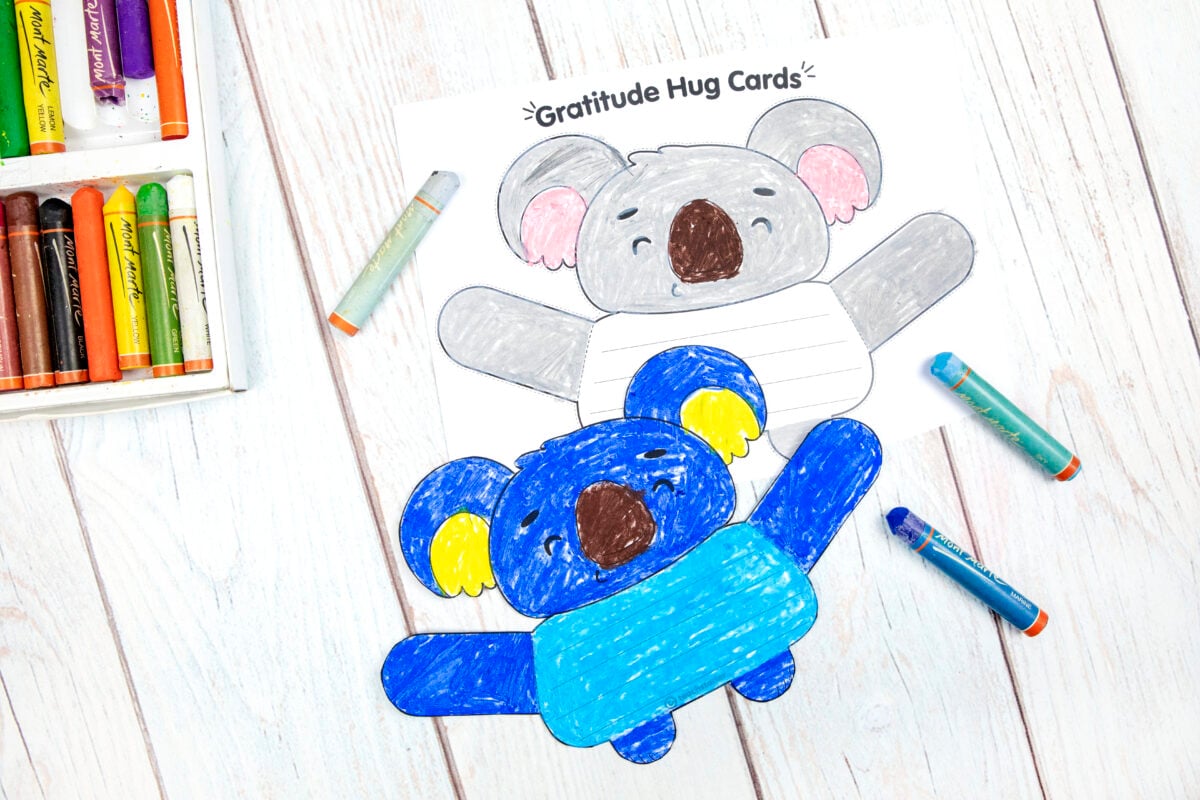 Pinecone Place Card Holders
This Thanksgiving project for elementary students isn't just fun for the classroom — it can be used at home too! Gather up pine cones or ask your students to bring some from home (you can also buy pine cones at a craft store if you don't have them in your neighborhood).
Provide your students with fall-colored paint to decorate their pine cones. Allow to dry on a piece of wax paper, and voila — you have pretty pine cones for the table to hold their place cards.
Want your students to practice penmanship? Cut out small squares of cardstock for your kiddos to create the place cards, carefully writing out the names of their family members. The cards can be stuck at the top of the pine cone and should be able to stay there, but if there isn't a natural slit in the cone for the card, you can add a dab of glue.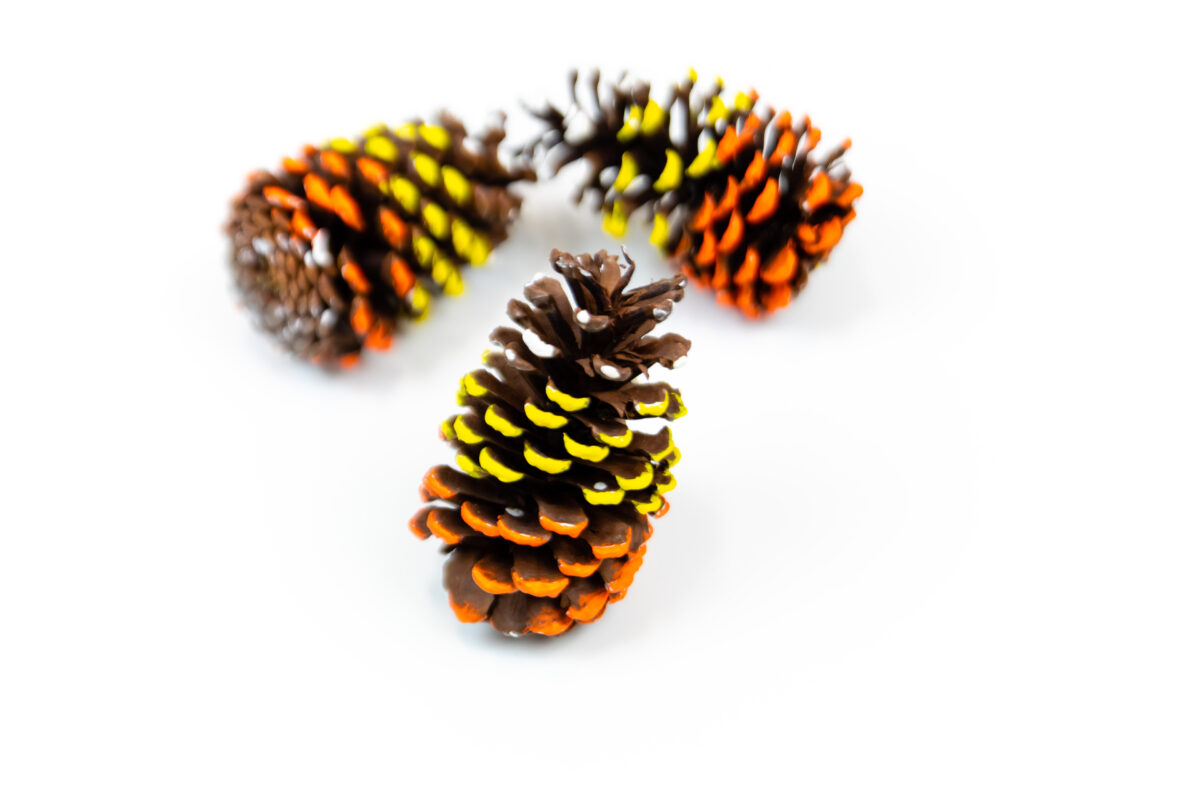 Thanksgiving Day Word Search
Give your fast finishers something fun to do and help them brush on their turkey day terminology with this Thanksgiving activity: Word search!
Use the Teach Starter Word Search widget to create a quick printable word search with our pre-populated Thanksgiving vocabulary list, or add your own words!
Looking for even more Thanksgiving activities and ideas? Check out our Thanksgiving collection that's been stuffed with curriculum-aligned activities, printables, and more!
Banner image via Shutterstock/phBodrova