Introduce your students to the origins of Black History Month with this 13-slide PowerPoint presentation.
What is Black History Month?
We designed this class presentation to introduce students to the notable Black Americans, advocates, contributions, and events that inspired February's month-long celebration of African American history. 
Inside, students will learn about:
Carter G. Woodson

Frederick Douglass

Abraham Lincoln

Civil rights movement

Rosa Parks

Ruby Bridges

Bessie Coleman

Katherine Johnson
And more! 
Discover Meaningful Black History Month Activities For Kids »
Implement Discussions to Honor Black History Month
Take this presentation even further with more ways to solidify learning about Black Americans who continue to shape our national identity. 
🗣️ Pre-Lesson Activity
Students can read this presentation independently, either at home or before starting the lesson as a group. Ask students to take notes about what they learned before beginning your lesson. 
🗣️ Turn & Talk
Ask students to write questions on a sticky note as the resource is presented, then put students into groups of 3 or 4 to help each other answer the questions on their sticky notes. 
🗣️ Be the Teacher
As a post-lesson activity, ask students what they would put on a quiz if they were the teacher. Ask students to write their own 5-question quiz using the information in the presentation. Then have them trade papers with another student to take the quiz.
Preparing This Resource for Your Students
Project this presentation on your smartboard or another projection device. 
Our printable Biography Brochure, 'All About…', and Biography Flipbook templates are linked in the presentation to use for additional learning. 
Before You Download
Use the drop-down icon on the Download button to choose between the PowerPoint or PDF version of this resource. 
---
Add these teaching tools and activities to your Black History Month lesson to create a meaningful learning experience for your students: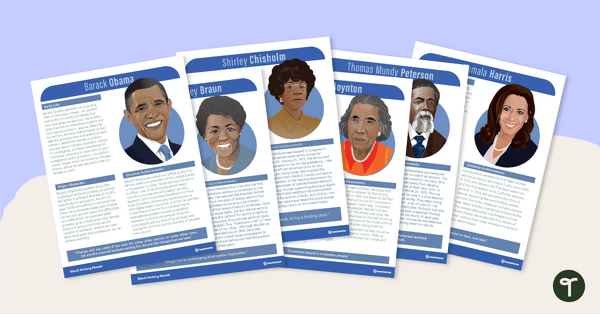 teaching resource
Introduce your students to revered Black icons and the impacts their contributions have made to American history.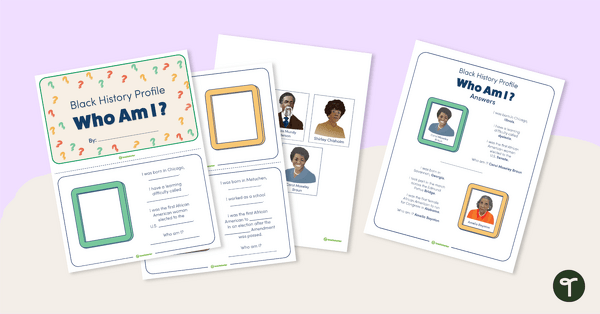 teaching resource
Review and complete the defining details of 6 revered Black icons and match their images with each completed biography.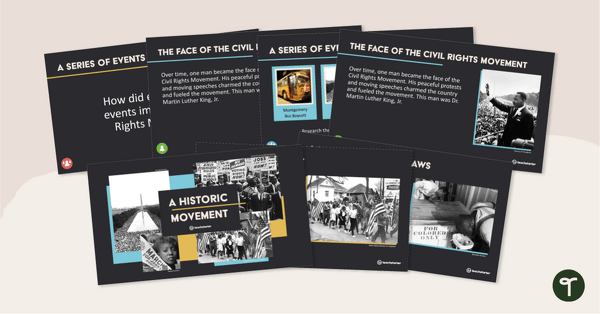 teaching resource
Introduce students to the people and events of the American civil rights movement with this 17-slide PowerPoint presentation.