Start the school year with a collaborative game to initiate student introductions.
🚌🎒🏫Back to School Fun and Games🏫🎒🚌
What are your plans for the first day of school? Do you have an idea ready for your students to get to know each other? Look no further! Teach Starter has created a fun and exciting game of Back to School Scatter! to get that first day moving!
Use this Scattegories-style icebreaker game with your students to initiate classroom introductions and promote team building at the beginning of the year.
Students will go through a series of prompts with a partner, listing ideas surrounding a particular topic. The pair of students with the most responses and the most original responses wins. Some examples of categories are Best Movies to See, Best Things About School, Most Annoying Things, Worst Cafeteria Lunches, and more!
Preparation and Game Play 
Provide students with a recording sheet and writing utensils. Students choose a partner and sit where neither can see the other's recording sheet.

Display the first topic slide and set a time limit of 60 seconds. Each student must record as many items as possible relating to the prompt during this time. 

When the timer sounds, have pairs share their lists and give themselves a point for each matching response. Declare a winner based on the pair with the most matches.

After each round, students must find a different partner and repeat the process. At the end of the game, have each student share one fun fact they learned about a partner in class.
Tips for Differentiation 
A team of dedicated, experienced educators created this resource to support your Back to School lessons. 
🆘 Support Struggling Students
Help students who need help understanding the concepts by pairing them with a partner to assist in the writing phase.
Easily Prepare This Resource for Your Students
Use the dropdown icon on the Download button to choose between the PDF or Google Slides version of this resource. A recording sheet is included with the download.
Print a copy of the recording sheet for each pair of students. Project the slides on your whiteboard or screen.
---
This resource was created by Lindsey Phillips, a teacher in Michigan and Teach Starter Collaborator.
Don't stop there! We've got more activities and resources that cut down on lesson planning time: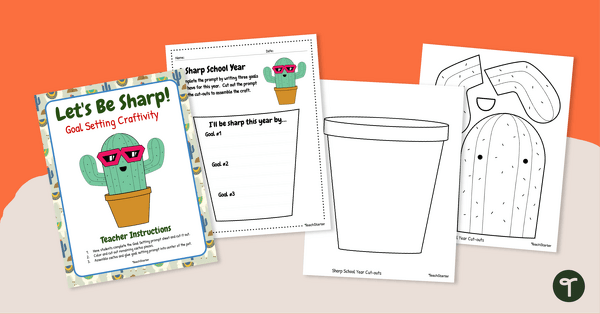 teaching resource
Set a positive tone and start the school year with a Let's Be Sharp! Goal Setting Craftivity.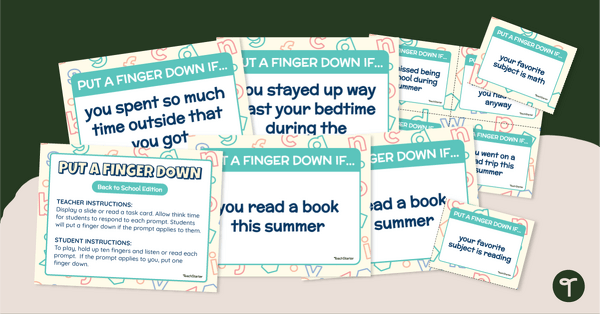 teaching resource
Kick off a new school year with a "Put a Finger Down" Getting to Know You classroom icebreaker.