Add hands-on literacy activities to your reading centers to help students identify, write, and learn the sound of the letter N.
Drop Those Beginning Sounds Worksheets!  Learn Letters with Interactive Slide Decks
Are you tired of those mundane letter sound worksheets? Are you looking for something more fun and engaging for your little learners? We've got you covered with our Digital Alphabet Interactive resources.
Students get to practice letter identification and letter-sound correspondence in an engaging way that will make learning fun. The seven digital learning activities in this Google Slides presentation can be completed at school or home, giving them just one more way to learn the alphabet.
Our Letter N Alphabet Interactive is a great way to integrate technology and engage learners with hands-on literacy activities.  Students will click, drag, and drop interactive pieces on the night-themed slides to identify and build letters, sort upper and lower case letters, and identify words with the initial sound of the letter N.
Students will show increased letter recognition skills and letter-sound correspondence through this activity.
Tips for Differentiation + Scaffolding 
A team of dedicated, experienced educators created this resource to support your phonics lessons. 
In addition to individual student work time, use this activity to enhance learning through guided reading groups, whole class lessons, or remote learning assignments. 
Suppose you have a mixture of above and below-level learners and ELL/ESL students. In that case, we have a few suggestions for keeping students on track with these concepts: 
🆘 Support Struggling Students
Complete the kindergarten activities in small groups or in one-to-one learning sessions.
➕ Challenge Fast Finishers
Engage your fast finishers to continue developing their letter recognition skills with a game of Alphabet Bingo or an Alphabet Worksheet.
🧑‍🏫 Group Learning
Project the slides onto a screen and work through them as a class.
Plan lessons for all ability levels with our 10 Best Scaffolding Strategies! 
Easily Prepare This Resource for Your Students
Use the Download button to download the Google Slides resource. 
Assign this digital kindergarten center to Google Classroom. Please be sure to open in Edit mode, not presentation mode. 
Students will drag and drop interactive pieces to identify letters, build letters, and sort objects by beginning sound through the interactive slides.
---
While you're here, check out more kindergarten center ideas that fill your lesson plans and students' brains: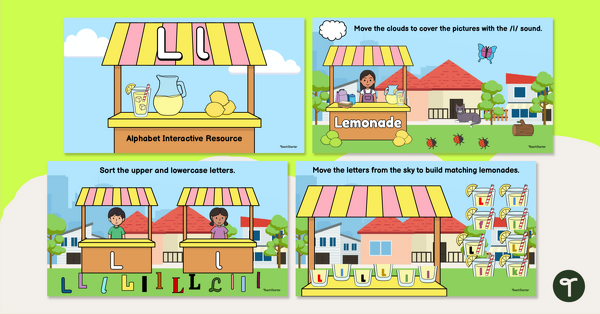 teaching resource
Bring technology into your guided reading lessons, and learn the sounds of L with a Google Interactive activity.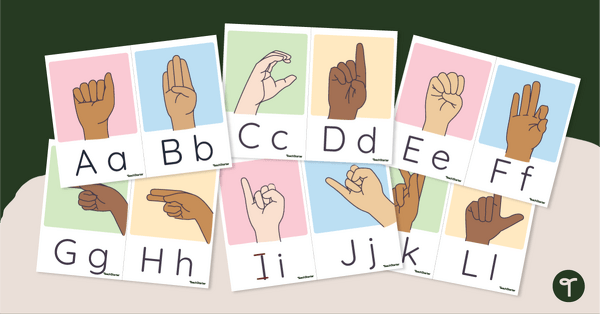 teaching resource
Print a set of 26 ASL alphabet posters for the classroom with cursive and print letters to help your students with letter formation and handwriting.
teaching resource
Print a complete Sound Wall designed to help you enhance your phonics program by displaying the phonemes your students are currently mastering.