Practice using vocabulary containing Greek roots and Latin roots with 24 weekly root word practice worksheets.
Looking for 5th and 6th Grade Root Words Worksheets?
You are in the right place! We've put together a grouping of 24 Greek and Latin root worksheets for 5th grade and up. There is enough material here to keep your root word study going for 24 weeks in a row.
Whether you have high readers, low readers, or ELL students, vocabulary instruction is a critical component in any balanced literacy program. This transitions into intensive word study and integration of Greek and Latin root words in higher grades. As students learn new words and begin to build their vocabularies, they need somewhere to turn for additional practice. These worksheets task the students with
Learning the meaning of Greek and Latin roots

Representing root words with images or pictures,

Completing sentences using words with Greek and Latin roots.

Illustrating examples of words that have Greek roots and Latin roots

Writing

sentences

using words containing Greek and Latin roots.
This set of 24 worksheets serves as an excellent display for studying roots. Each worksheet contains a minimum of ten ways for students to interact and use the designated root word. We've also included a clickable table of contents to help you find the root word of choice quickly and easily.
Greek and Latin Roots List
The following greek and Latin roots are in the worksheet selection:
| | | | | | | | |
| --- | --- | --- | --- | --- | --- | --- | --- |
| port | meter | phobia | geo | photo | spect | rupt | graph |
| ject | aqua | phon | therm | scope | scrib | man | chron |
| fract | opt | ped/pod | auto | tele | agri | cycle | aud |
These worksheets will prove useful as
With these worksheets, students will grow their vocabularies and increase their abilities to use word parts to gain meaning from text.
Before You Download
This resource prints as a PDF. Please use the dropdown menu to choose between the full-color or black and white version. We've also included an answer key in a separate file for your convenience.
Fill your classroom with more posters and interactive displays!
---
Spend more time lesson-doing and less time lesson-planning when you grab these activities and teaching tools!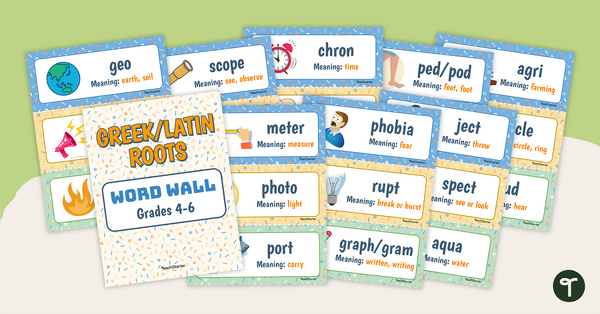 teaching resource
Build student vocabulary with daily exposure to Greek and Latin roots using word wall displays.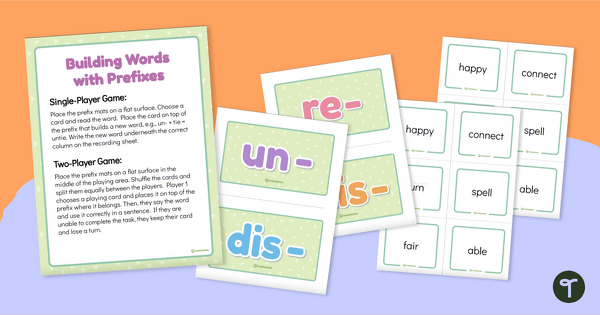 teaching resource
Build words by matching the root word to prefixes, recording the new words on the answer sheet.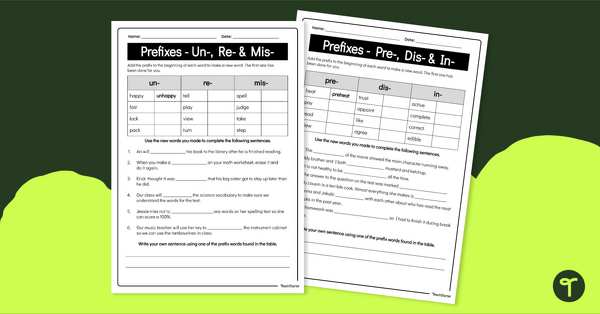 teaching resource
Practice using the prefixes Un-, Re-, Mis-, Pre-, Dis-, and In- with a pair of printable prefix worksheets.