Use this set of posters with your space unit when teaching the individual planets.
🪐Use Our Planet Poster Pack In Your Classroom
Our Planet Poster Pack is a colorful and educational collection of posters that show each planet, with fun facts about each one for your science classroom. This specially-designed set includes information about:
Mercury

Venus

Earth

Mars

Jupiter

Saturn

Uranus

Neptune

The Moon

The Sun
How to Make the Most of Your Planet Poster Pack
Print each poster on letter-size paper and display it in your classroom for students to reference when doing independent work.

Print the poster on letter-size paper, slip it into a clear sleeve, and use it in your guided groups as a reminder.

Print the poster on letter-size paper, slide it into a clear sleeve, and hang it on a ring as a reference tool for a learning center. 
We've also come up with bonus ways to turn posters into interactive tools that really make your lessons stick! 
🖍️ Turn this poster into a coloring page by printing it in black and white. 
📝 Create a fill-in-the-blank worksheet by removing selections of text.  
📂 Place copies in students' homework folders for reference. 
💻 Provide posters as digital resources for virtual students. 
🧠 Test students' memories by showing them the poster, then hiding it and having them tell you what they remember.
✅ Incorporate posters into your lesson wrap-up: students write on a sticky note what they learned from the lesson and place it on the poster. 
Before You Download
This resource prints as a color PDF. 
Fill your classroom with more posters and interactive displays!
---
Spend more time lesson-doing and less time lesson-planning when you grab these activities and teaching resources too!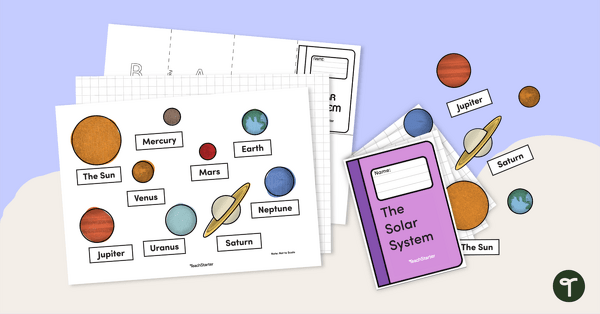 teaching resource
Use this cut-and-paste activity to make a mini solar system book.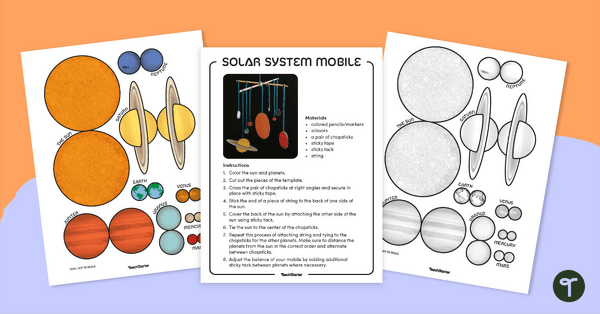 teaching resource
Use this printable solar system craft when learning about the planets and their position in relation to the Sun.
teaching resource
A set of solar system related vocabulary cards for a word wall.