Bring 5-minute mindfulness meditation into the classroom and your social and emotional learning with these 17 printable activity cards for kids.
5-Minute Mindfulness Meditation for Students
Bring the power of 5-minute mindfulness meditation into your classroom with simple mindfulness activities for kids. This set of activity task cards was created to provide bite-sized chunks of mindfulness that students can do during the school day, taking just 5 minutes to find focus and calm.
A 5-minute mindfulness meditation may be short, but that is what makes it perfect for kids who may be new to meditation, or for use in the classroom where you're short on time. This shortened period provides a simple and easy way to incorporate the practice into your daily classroom routine while providing a short and simple practice for your students to become more present and aware of their thoughts, emotions, and physical sensations.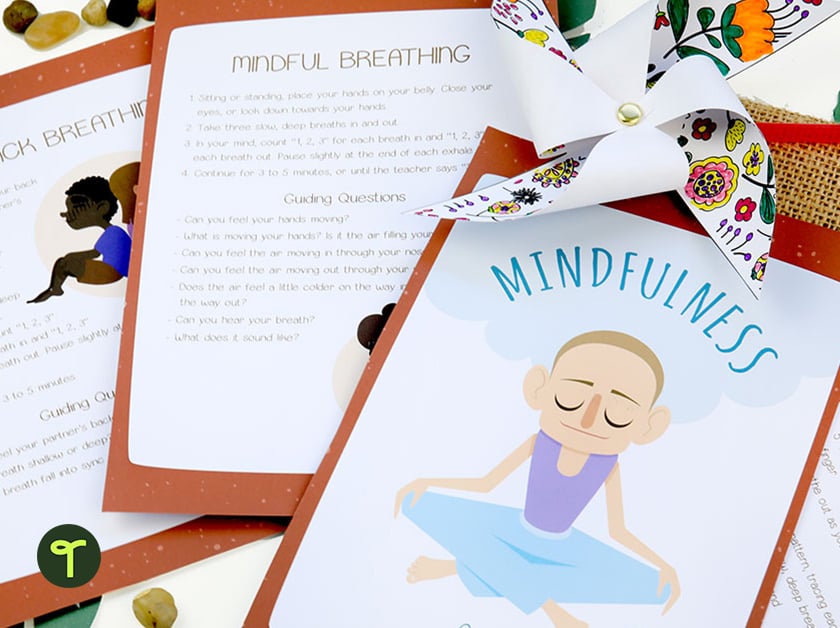 Mindfulness meditation is a form of meditation that encourages people to focus their attention on the present moment without judgment. By taking just five minutes to sit quietly and focus on their breath, students can bring their attention to the present moment and become more aware of their thoughts and feelings. This awareness can help them to become more calm and centered, and it can also help kids to reduce stress, manage student anxiety, and refocus students away from negative emotions.
A 5-minute mindfulness meditation is a great way to start or end the school day, as it can help you to clear your mind and set intentions for the day, or reflect on the day's events and let go of any stress before the final bell.
Using 5-Minute Mindfulness Meditation in the Classroom
This printable teaching resource contains everything you need to lead students in 5 minutes of mindfulness meditation each school day, or for students to do this as a self-guided activity. The collection of task cards contains 17 different mindfulness exercises for you to use in the classroom, so you can choose a different activity each day of the week or even the month.
Included in this collection, you'll find guidance for:
Mindful Breathing
Pinwheel Breathing (Print a mindfulness pinwheel activity to pair with this meditation!)
Belly Buddies
Shark Fin
Breathing Colors
Breath Star
Back-to-Back Breathing
Body Scan
Mindful Eats
Mindful Steps
Mindful Sounds
Super Senses
A Moment of Gratitude
Sensory Bottle
Mindful Explorers
Sense Countdown
Heartbeat
Want to track how students are doing? Download our teacher-created Daily Mindfulness Activity Trackers which are available as 9-week, 10-week, and 11-week charts!