Investigate water pollution and discover the effects of oil spills on wildlife with a hands-on science lab!
🌎How to Clean Up an Oil Spill — Investigation Booklet
Use this experiment booklet to support your science lesson. This resource can be used to guide your students through a fun experiment they can even try at home with their families. In this science experiment, students will create an oil spill and determine the best way to clean it up. They will also investigate the effects of crude oil on the environment and wildlife in the area.
This printable workbook guides students through the experiment, having them organise and record their observations and hypotheses throughout the activity. It includes a materials list, data recording sheets, and a reading passage to help students complete the experiment. Students will complete the following tasks.
Create and/or cause an oil spill. 

Identify materials and resources that will/will not prove effective in cleaning up oily products.

Observe and attempt to remove oil from the environment in different ways.

Observe the effect of water pollution and oil spills on wildlife.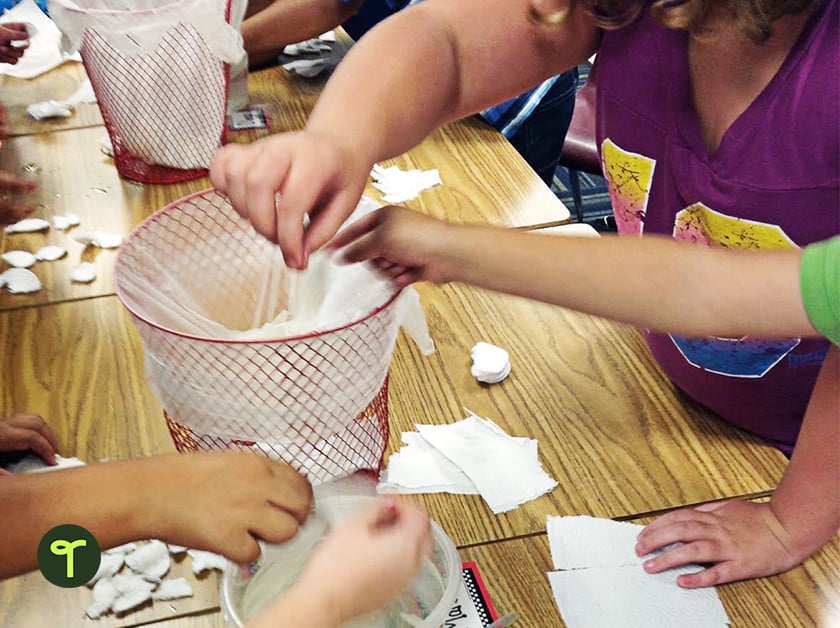 Through this activity, students will show how to analyse, evaluate, and critique scientific explanations using experimental and observational testing.
This is a great Earth Day science lesson!
Tips for Differentiation + Scaffolding 
A team of dedicated, experienced educators created this resource to support your science lessons. 
In addition to individual student work time, use this science experiment to enhance learning through guided science groups, whole class lessons, or remote learning assignments. 
If you have a mixture of above and below-level learners, check out these suggestions for keeping students on track with the concepts: 
🆘 Support Struggling Students
Help students who need help understanding the concepts by completing the activity with teacher guidance or encouraging collaboration with a partner. Additionally, provide access to previous assignments and posters and anchor charts for students to recall past lessons.
➕ Challenge Fast Finishers
Encourage students to predict what would happen if different materials were used to clean up the oil spill.
Easily Prepare This Resource for Your Students
Use the Download button to download the PDF or Google Slides file. Print, copy, and prep your experiment materials in advance! We recommend printing each student or group of students a workbook. This experiment works well in small groups of 3-4 students.