Explore natural resources, where they come from, and how we use them with an instructional slide deck.
What are Natural Resources? Teaching Materials for Kids
Are you ready to inspire your students to become stewards of our planet? Take them on a journey to explore the amazing world of natural resources and discover how we use them. In this instructional slide deck, they will discover the different types of natural resources, from minerals and fossil fuels to water and air. They will also learn about the concept of renewable and nonrenewable resources and how they differ. With engaging visuals and interactive activities, your students will be motivated to learn and take action to protect our precious natural resources.
Curriculum-Aligned Science Activities for Earth Day and Every Day
This resource is an excellent tool to add to your Earth Day lesson plans or as an instructional aid for any Earth Science unit of study. The following learning goals can be addressed with this instructional slideshow.
Understand the definition of natural resources and identify examples of different types of natural resources.
Differentiate between renewable and nonrenewable resources and provide examples of each.
Identify the causes and consequences of resource depletion.
Explore sustainable practices and technologies to conserve and manage natural resources for future generations.
Develop critical thinking and problem-solving skills to address real-world environmental challenges related to natural resource
Download and Teach Your Natural Resources Unit
You're just a click away from getting your new resources! Use the dropdown arrow on the Download button to select the Editable Google Slides resource file or the PowerPoint presentation.
Need More Earth Day teaching resources? Check these out!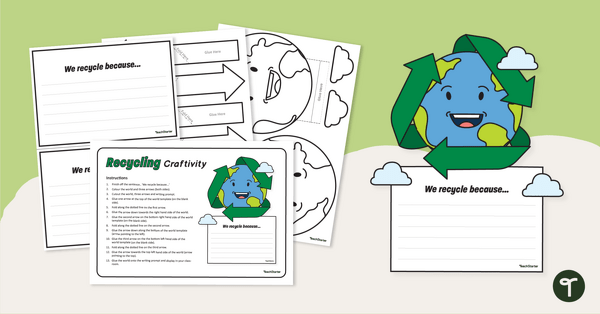 teaching resource
Write about why we recycle and create this recycling craft to display in the classroom.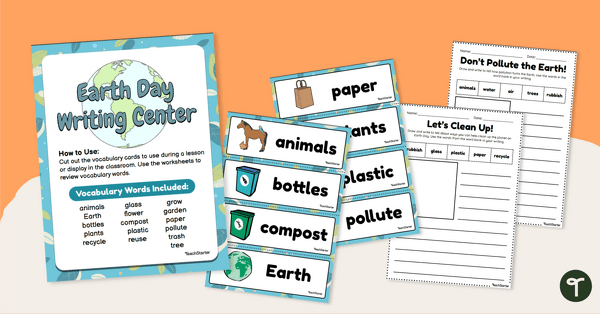 teaching resource
Help your young students learn and write about Earth Day with an illustrated word wall and writing prompts.