Teach inferencing with a Christmas activity and set of task cards featuring a student favorite: Santa!
Keep curriculum in focus this Christmas season with a Santa-themed inferencing activity and set of task cards for the classroom!
Christmas Inferencing Activities
It may be the end of the school year, and your students are likely very excited about Christmas. But that doesn't mean learning has to stop! Practise inferencing, drawing conclusions, and research skills with a Christmas-themed investigation activity featuring Santa sitting by a fireplace in a wintry room.
The printable image features a number of Christmas-related items that students can search for plus a set the matching task cards to use with your students.
Some of the fun Christmas questions included in the task cards are:
What time of year do you think this scene is set? Give reasons for your answer.
How many Christmas related items can you spot in the image? List them.
Why do you think Santa's sleigh is flying in the sky without him?
Did you know the toy soldier in this image is called a 'nutcracker'? Research its origins and explain why it is a symbol of Christmas.
Can you spot any items that link to a Christmas carol that you know?
Write a short story using the image as inspiration.
Can you spot the elves? Write a character description about one of them.
Santa seems to be enjoying some fruit mince pies. Research to find out the main ingredients needed to make fruit mince pies.
Are there some Christmas items in the image your students don't recognise? Why not get them to research where they are from and why they are associated with Christmas?
Each inferencing activity image includes a printable sheet that labels each of the Christmas items we included in the images. Plus, the images come in black and white as well – a perfect colouring in activity for the holiday!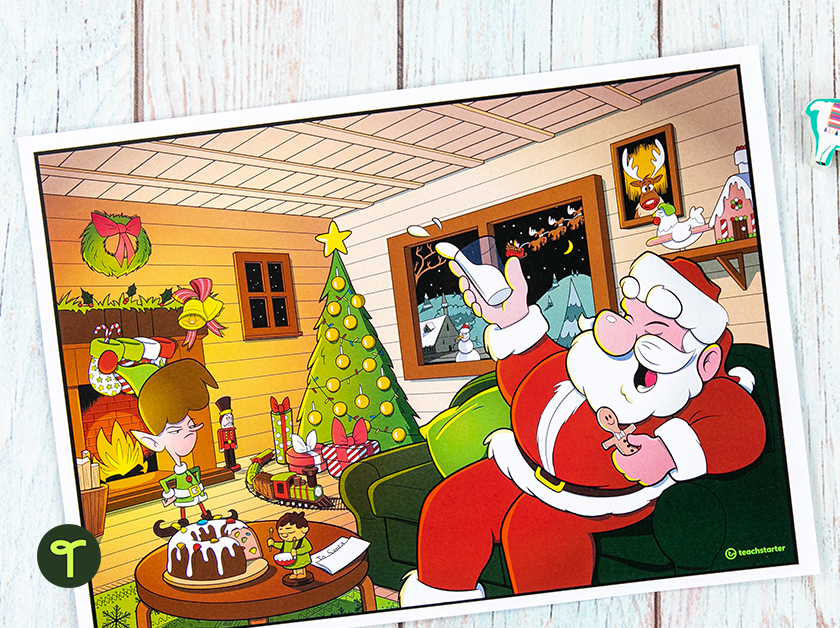 Christmas Writing Activity
Inferencing isn't the only activity students can do with this Santa scene! Why not use this teaching resource to build those writing muscles?
Here are some ideas:
Have your students practice writing dialogue by writing a conversation that Santa is having.
Have your students practise their descriptive language by writing sentences that describe the scene.
Have your students write a narrative text that tells the story of what is going on outside the house.
Have your students develop their imaginative writing skills — they can write about the events leading up to the scene in the picture.
Don't stop there! Explore more ways to introduce and practise inferencing!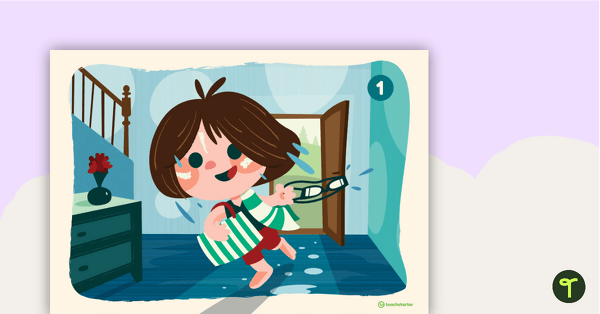 teaching resource
Six mini posters showing different scenarios that can be used when encouraging students to use inference.
teaching resource
Part of a series of inference scenario worksheets to use when teaching your students how to infer information from images.
resource pack
Five posters showing different scenarios for students and teachers to use while investigating inference and prediction.