Let's face it: QR codes are everywhere now, and they're popping up in elementary school classrooms right and left. These nifty little boxes got some serious mojo as the pandemic shook the world, and the result is QR code mania. So how do you harness the QR code trend in the classroom? How do you make a QR code for your classroom, and heck, what IS a QR code?
Our teacher team has put together a raft of cool QR code lessons and activities to use with kids in the classroom, and we've got all you need to know about using QR codes in the classroom to make lessons more interactive and just plain fun.
What Is a QR Code?
OK, let's just start with the basics (feel free to skip over this section if you already know the answer here, but some folks are still saying Q-what now, and we're here for y'all too!).
A QR code is a pattern of black and white squares that functions similarly to the barcode on that carton of milk you pick up at the grocery store. But unlike a barcode, a QR code is 2-D instead of one-dimensional, which makes it much, much more sophisticated. QR codes can be scanned with a device such as your smartphone or tablet to access apps or coupons, make payments, and more, and you can use them in the classroom to send your students to websites, unlock information on your bulletin boards, and well … a lot of other things.
The letters QR are short for Quick Response, and the code was created back in the 1990s by a man named Masahiro Hara, then an employee at the Japanese company Denso Wave. For about 20+ years, the QR code sort of languished in obscurity, but with the pandemic — and the need to reduce touching — QR codes are suddenly EVERYWHERE.
And yes, that includes education!
How to Make a QR Code for Students
Creating QR codes for students is pretty simple, we promise. There are plenty of free sites out there to create QR codes for your students, and you can just do a quick Google search. But if you're a bit wary of "just Googling" and using the first thing that comes up, we get it.
A few things you'll want to keep in mind — most free QR codes generators will allow you to make a static QR code that links to one website and cannot be changed. If you want to create what are called dynamic QR codes — meaning you'll be able to change what they link to in the future — you are likely to be charged. Make sure when you're creating a QR code for your students that you've stuck to the static kind or you're likely going to have to buy a subscription.
This free QR code generator is super simple to use — just enter the link you want the QR code to open or the text or file you want the QR code to show your students, and it will create the code for your kids in seconds. It will even allow you to add colorful frames and text to encourage your students to scan it. QR codes can also be re-sized, so you can make them large for bulletin boards or tiny for embedding in a quiz.
How Can Students Read QR Codes?
OK, so you've made a code that links to something, but how do your kids read the QR code? That is pretty easy too — you'll need a device with a camera on it, such as a tablet.
Many devices now read QR codes simply by pointing the device camera at them, and that may include the tablets in your classroom. Not working for your device? Search for a "free QR code reader" in the app store, or use the "Quick Scan" app. It is available for free through the App Store for iPads, and is also free to download for Android too!
Worried about your students getting lost on the Internet? Because you control the QR code when you make it, you get to decide exactly where it sends your students. There's also no worry that your students will accidentally mistype a web address and land on a shady page because, once again, you're controlling that trip to the web!
How Do You Use QR Codes in Education?
Some teachers were already using QR codes in the classroom before the pandemic (maybe that's you?). But now there are more than teachers ever using these little squares of code to do everything from making it easy for young students to log into services to creating links to videos and study guides.
And of course, there are fun QR code activities that enhance learning — which we'll get to in a second.
Some important things to keep in mind when you're using QR codes in your classroom:
Make sure your QR code isn't blurry. In order for your students' devices to "read" the code and take them to the right place on the Internet, they'll need a clear image.
Avoid lamination. We know, we know. Lamination reigns supreme in the classroom, but when light reflects too much off your QR code, it can distort the image and make it harder to scan.
Limit the number of codes. Younger kids with unsteady hands will struggle trying to hold a device precisely over just one code, and the device may pick up nearby codes if you have crowded too many together.
Test the code. We mentioned that QR codes will keep your students from stumbling into shady places on the internet, and it's true! But just do a quick check to make sure you typed that code correctly. This is also important if you're incorporating a QR code activity into homework as students won't have you there to make a quick adjustment.
QR Code Ideas for the Classroom
Now that we got all that out of the way, let's talk about the fun ways to use QR codes in the classroom to engage your students!
Getting to Know You
Back-to-school is a perfect time to introduce QR codes and prepare students to use them throughout the school year. And what better way to introduce them than with a QR code-style back-to-school activity?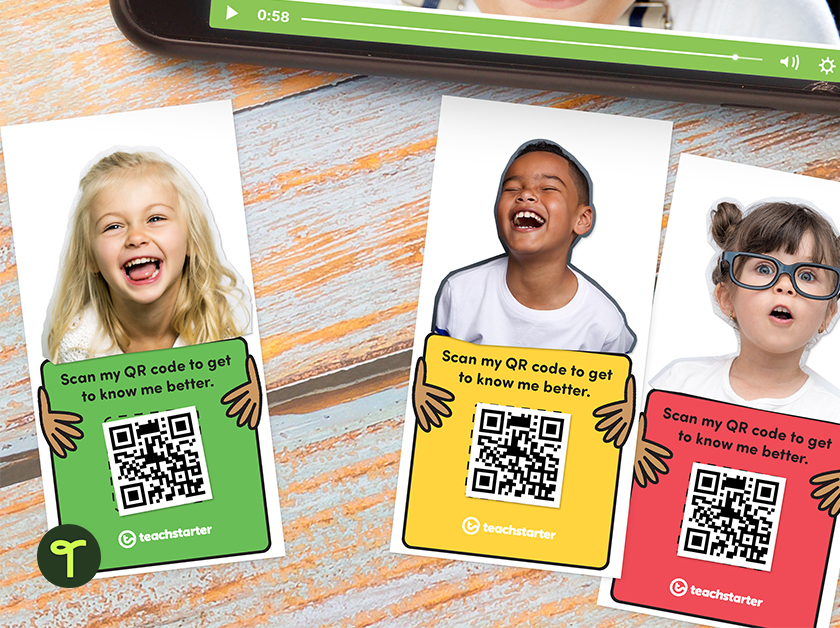 Extension Activities Corner
Create a fast-finishers' corner or a bulletin board where QR codes reveal an extension activity when a student scans it. Color-coordinate the activities for each subject area. Codes on green paper could reveal math activities, codes on blue paper reveal reading activities, etc!
Create a Store with QR Code Price Tags
Assign "prices" to items around the classroom for students, and give each of your students a budget so they can go "shopping." You can use the coin manipulatives from your math textbook or simply give them a number that they then have to keep in mind as they "shop."
Print out QR Code Price Tags, attach them to the items, and have your students scan the codes to reveal the price and calculate whether or not they have enough "money" in their budget to buy the item.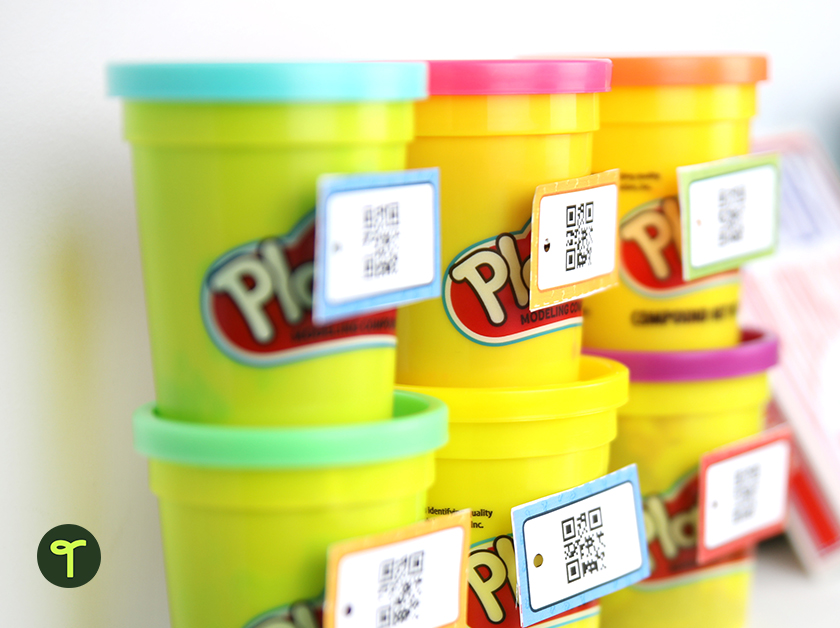 Extra Idea: Create a table for students to record their "purchases" and track their total spend.
---
QR Code Live Worksheets
Make your regular old worksheets come alive by adding QR codes that take students off the page and onto a relevant website, interactive game, or video.
---
Set Up Learning Pop-Up Spots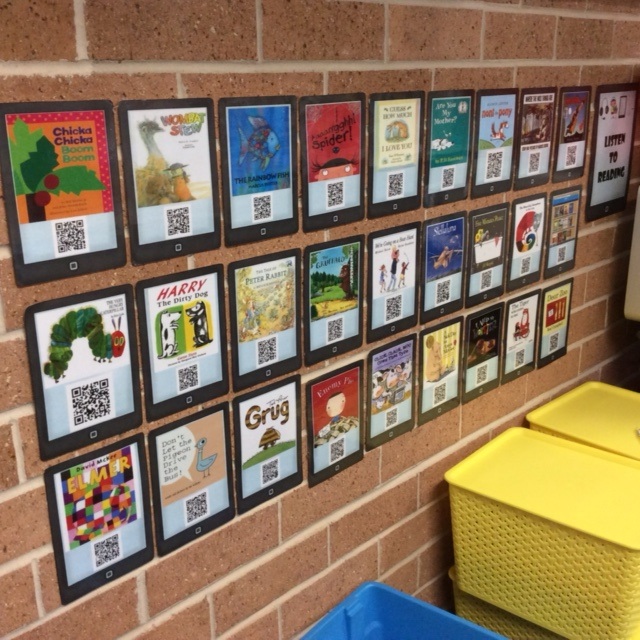 Teacher Theresa Pembroke of The Kinder Ninja shared this fun QR code idea with us — she set up poster-sized QR codes that students could scan to learn more about a book or topic.
She also created QR codes that are linked to voice recordings of the children in her class talking about 'farms'. These were then displayed around her room and the children were able to scan and listen to what their classmates had to say about farms!
---
Take a QR Code Trip Around the World
Take your students on an adventure with QR codes without ever even having to leave the classroom!
Generate QR codes that — when scanned — provide clues about a certain location from around the world.
Place these around your classroom.
Provide students with a map where they can plot their trip around the world as they work through each of the clues, finding the next location.
---
Make A QR Code Scavenger Hunt
QR code scavenger hunts are essentially a digital version of the old-fashioned scavenger hunt, and they're a lot of fun for the digital generation! To get started, download and print this 3-Digit Place Value QR Code Scavenger Hunt. Alternatively, create your own using these fun QR Code Scavenger Hunt templates.
---
Homework Helping Tips
You can't be there when students are doing their homework … but your QR codes can be! Create QR codes that link to the specific strategies or information needed to support student learning (for example, reading strategies, spelling strategies, or mathematics strategies).
Add the QR code to reading folders or homework sheets as an easy way for parents to access the information they can use to help their children with learning at home.
---
Anatomy of Anything
Teaching parts of the body, parts of a machine, or even parts of the world gets a lot more fun when you incorporate a QR code activity!
Place QR codes on the different parts of a model (e.g. a skeleton, a simple machine, or a globe).
Provide students with a variety of definitions on cards or on a worksheet.
Students scan the QR codes to reveal the name of that part and match the name to the definitions.
---
QR Code Cubes
Use a QR code generator and this blank 3D QR Code Activity Cube Template to create QR code cubes that kids can flip around for discovery. The key to this QR learning activity is that each code reveals a different question or activity.
Create cubes for reflection questions, journal questions, brain break activities, or fast-finisher tasks … there are countless applications!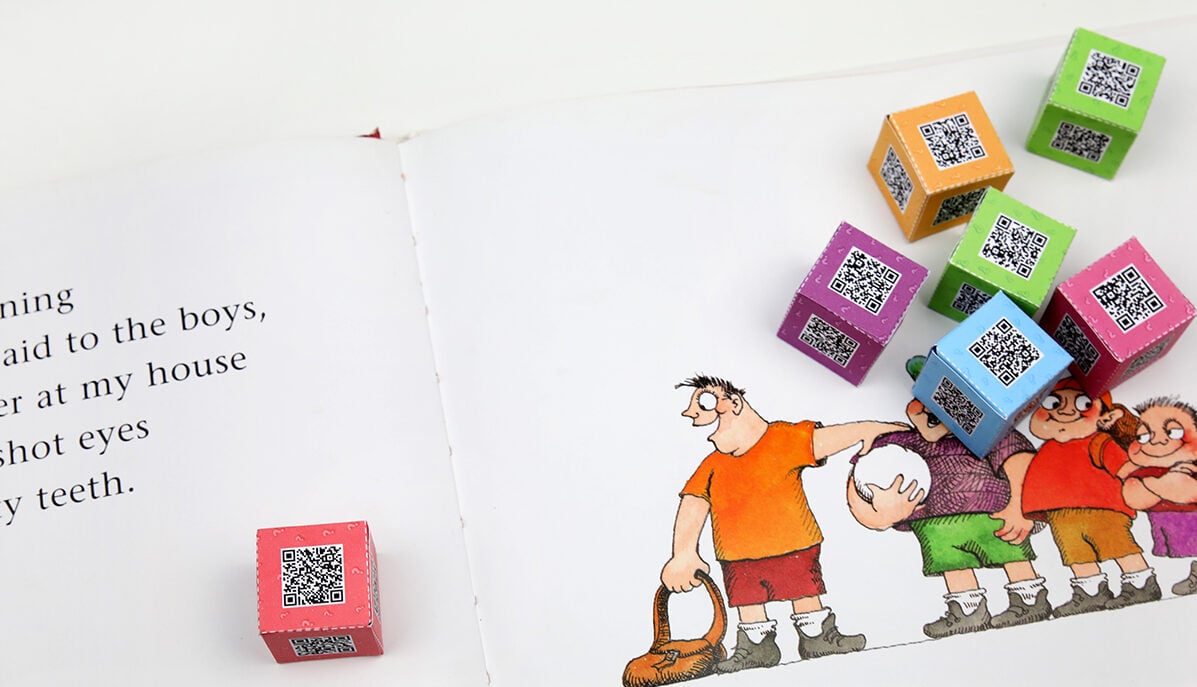 ---
Digital Student Work Presentations
Incorporate QR codes into student work presentations so that they can be accessed by their peers! For example, if you want to share book reviews, display a picture of the book cover with a QR code that links to the student's review online.
Use a shared space on your school intranet or website where students can upload their completed digital works.
Generate a QR code for each student's work.
Create a display incorporating the codes, where students scan to reveal and view each others' digital works.