Planning to spread a little bit of the luck of the Irish in your classroom this year? St. Patrick's Day is the day that every American is Irish — at least in spirit — and celebrating at school with St. Patrick's Day activities is more than a little fun for little ones … and us grown-ups too.
The teachers on the Teach Starter team went hunting for golden St. Patrick's Day activities for kids that are the perfect mix of fun and education, and we might have caught a few leprechauns along the way! Here are some favorites to try with your class!
How Do Schools Celebrate St. Patrick's Day?
Maybe you're new to teaching and wondering if St. Patrick's Day is OK to touch on in your classroom? Although it's named for a Catholic saint, celebrations of St. Patrick's Day are largely secular, and that includes public school celebrations. While there might be a special Mass that kids attend in Catholic schools, public school kids are probably just going to wear green, bust out some STEM skills building leprechaun traps, and maybe munch down on soda bread in the cafeteria. There are countless fun St. Patrick's Day activities for school that have absolutely nothing to do with religion!
Read on for kid-friendly ideas you can use. Our teacher team has combined curriculum-aligned options with some that are just for fun, and you'll find ideas for a variety of elementary grade levels.
Short on time? Head straight to the St. Patrick's Day printables!
Fun St. Patrick's Day Activities for Kids
Make Rainbow Soap Foam
We associate rainbows with St. Patrick's Day because leprechauns find pots of gold at the other end, but there's a lot more to this phenomenon that's worth exploring in the classroom from how it can be rainy and sunny at the same time to how the light spectrum works. Exploring the rainbow through the lens of St. Patrick's Day can make an already fun subject more fun, but making rainbow soap foam cranks up the excitement — and the learning.
There may not be a pot of gold at the end of this science experiment, but there is an investigation into how gas bubbles are trapped in liquids and solids!
Teaching younger students? Rainbow foam makes for a super sensory experience for St. Patrick's Day.
Find out how to make your own rainbow foam recipe with just three ingredients.
Start Clover Seeds
Do you like to do some spring planting with your class to teach them about all the things that seedlings need to grow? Skip the bean sprouts this year, and substitute clover seed! Not only is this activity perfectly themed to St. Patrick's Day — everyone wants to find that lucky 4-leafed clover — but clover opens up discussions about its use in feeding livestock, its release of nitrogen into the air to help other plants, and more.
Clover is also incredibly easy to grow from seed, meaning your class is almost guaranteed to see the fruits of their labor. Here are the (seriously simple) instructions.
Supplies:
Clover seeds
Potting soil
A container with drainage holes (why not make your own with newspaper?
How to Plant Clover
Have your students fill the container with soil and make little divots for the seeds to sown in.
Sprinkle the clover seeds into the soil, and gently press them down.
Remind your students to water the seeds regularly, but not to drown them. It's important to keep the soil moist, but not soaking wet. You might want to assign one of your classroom helpers this job.
Now comes the waiting game! The clover seeds should start to sprout within a week or two. Encourage your class to keep an eye on their new little sprouts and cheer them on as they grow taller and stronger.
Once the clover has grown a few inches tall, the kids can even have some fun trimming it down with scissors and watching it grow back even stronger. Who knew gardening could be such a cut-and-clover operation?
Sink Into St. Paddy's Synonyms
Speaking of clover, this fun St. Paddy's synonyms activity puts an ELA spin on the lucky plant with a craft template designed to help your students build their vocabulary skills. Notice the yellow discs on the green leaves? They're gold coins, of course. Let's hope the leprechaun doesn't realize they've gone missing …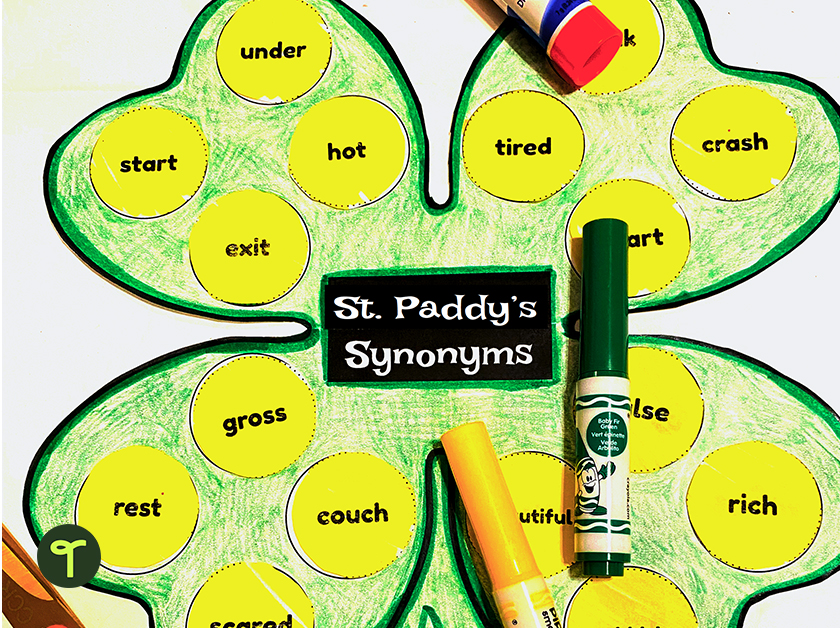 Build Leprechaun Traps
Build on the magic of the leprechaun to develop students' engineering skills by creating leprechaun traps designed to capture their own little leprechaun. This hands-on STEM activity can be accompanied by a reading of the fun book How to Catch a Leprechaun by Adam Wallace and extend to students practicing their procedural writing by writing "how to" tutorials on how their traps will work to ensure they return to the classroom to find a magical creature has been captured!
Decorate With Rainbow Names
Do you like to decorate your classroom door or hallway display board for holidays with your student names? These little rainbows are perfect for St. Patrick's Day and also extend into spring — so you get more life out of them!
Need a cloud template to make it easier? We've got you!
I am Lucky Because… Free Download
Add a social-emotional learning element to your writing centers with a chance to write about why they are lucky like a leprechaun. This worksheet is free right now for teachers.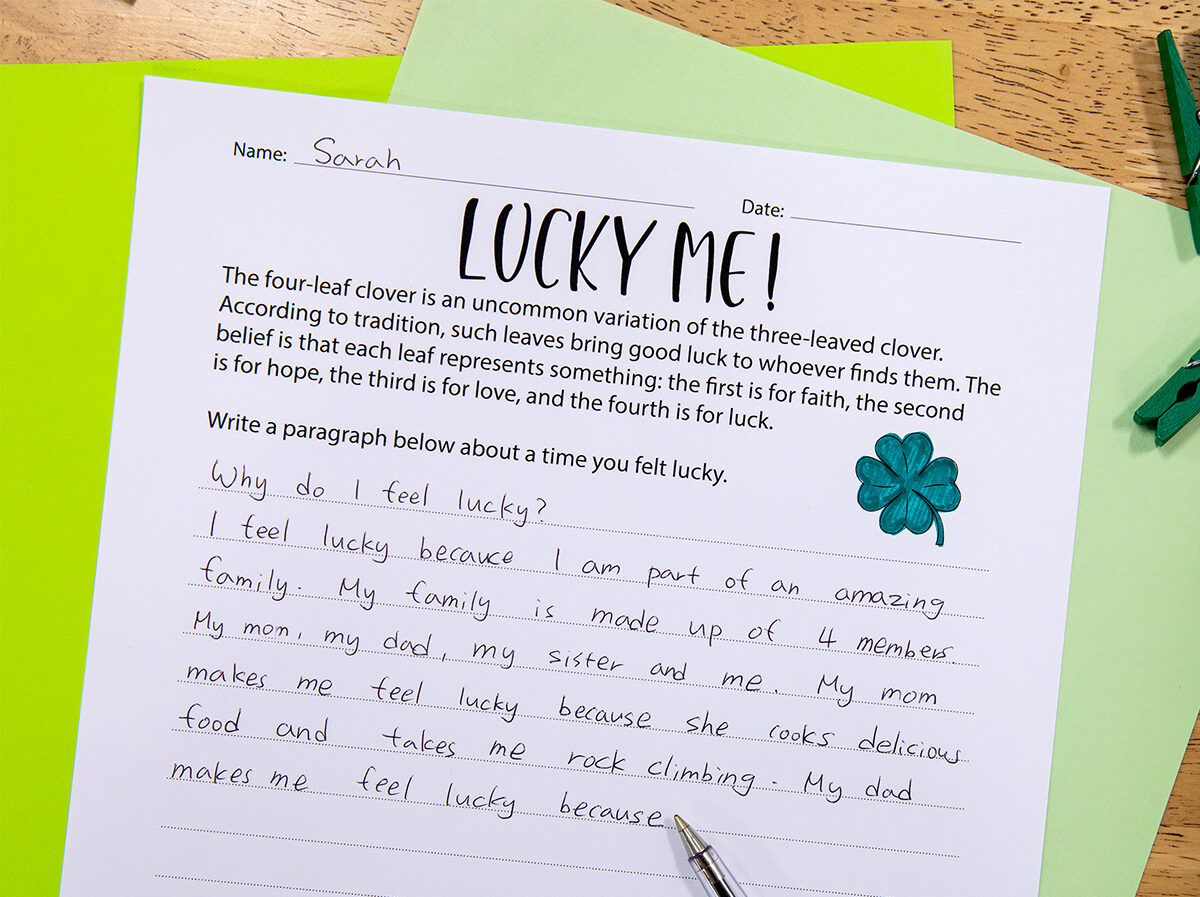 Learn About Water Movement With Rainbows
Yup, more rainbows. But we promised curriculum, and this offers up plenty of learning. Another fun STEM activity for St. Patrick's Day, the ever-popular walking water experiment introduces kids to the concept of capillary action but with a rainbow twist! Encourage your kids to make predictions about what they think will happen when you fill jars with water and food coloring, then drop in paper towels that link the jar together.
Get the full details on this experiment plus a video!
Design Rainbow Bridges
We've got just one more rainbow activity! Stock up on colorful straws from the dollar store, and your students can tackle bridge-making to learn about engineering for St. Patrick's Day. Using the straws, groups of students can make rainbow-colored bridges between desks that will hold up a book — or several!
Make Shamrock Mosaics
Work on patterns and help younger students build their shape recognition with a fun St. Patrick's Day mosaic activity featuring one of the holiday's best-known symbols: The shamrock. You can also use the Mosaic Clover Art Activity to complement your students' understanding of the symbolism behind St Patrick's Day.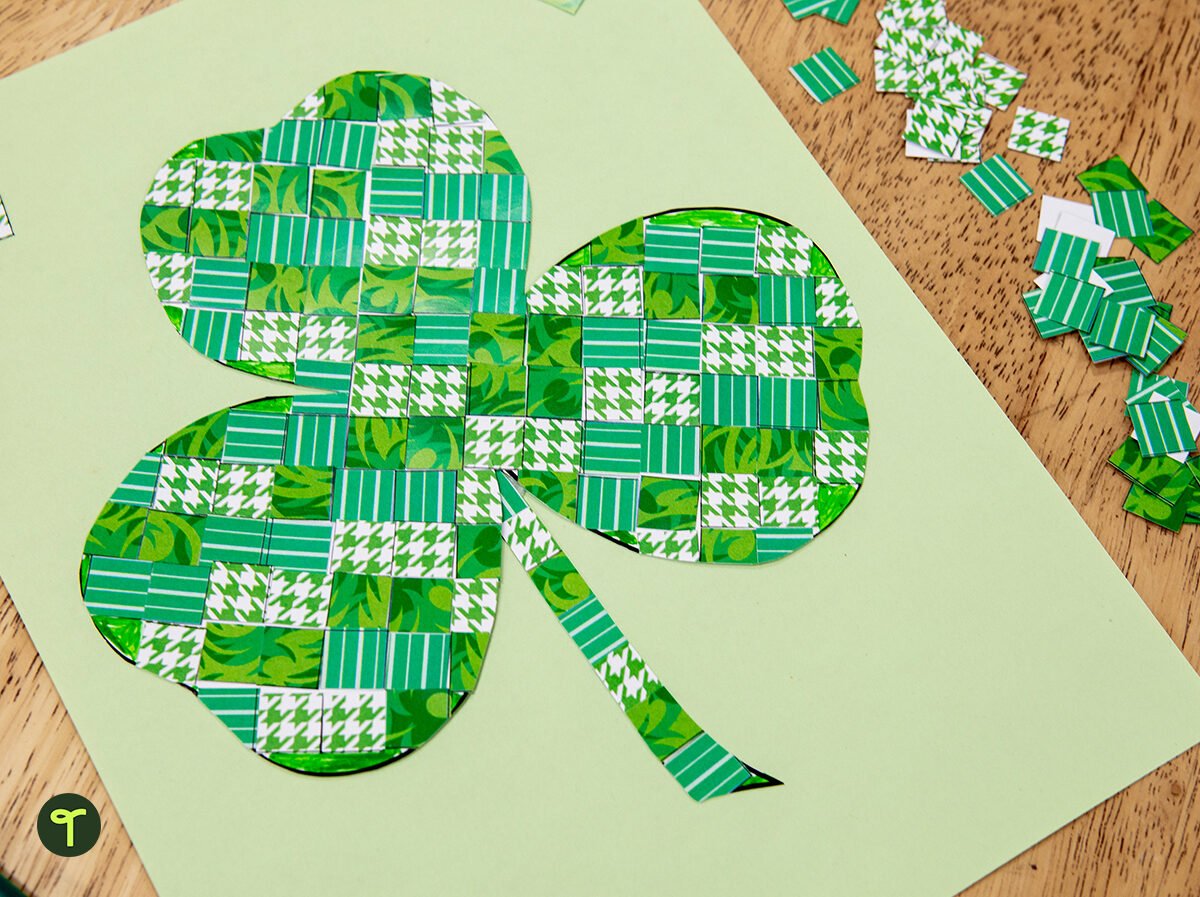 Create a St Patrick's Day Word Search
We've got a word search themed around all things St. Patrick and Ireland ready-made for your class, but if you haven't used our Create Your Own Word Search Widget, you're missing out! This is the perfect widget for putting a fun spin on learning St. Patrick's Day vocabulary.
Load your vocabulary words into the word search generator and you're ready to go! Since you're steering the ship, you can create a vocabulary search suitable for any age level.
Rainbow Watercolor Pot of Gold Art Activity
Your little 'leprechauns' will love creating their own pot of gold at the end of the rainbow with this easy art activity!
You will need:
watercolor painting equipment
black card for your pots
gold paper to make gold coins
glue and scissors
This watercolor rainbow will brighten any classroom, but watch out… the leprechauns may be back to make mischief if they find out their gold is on display!
Write Limericks
You can't study Irish tradition without a lesson on limericks! While the exact origins of this silly poetry form is unknown, most experts attribute it to an old Irish song, which makes it a perfectly Irish way to mark the holiday. Just five lines long with a simple rhyme scheme — AABBA (the first, second, and fifth lines rhyme with each other, and the third and fourth lines rhyme with each other) — these poems are a fun challenge for upper elementary students in your ELA class.
Didn't find the idea you needed? Luck is still with you! Get printable worksheets, crafts and more with our array of St. Patrick's Day teaching resources!