Are you teaching grammar this year? Whether this is new for you as a teacher, or you're just looking for some fresh and fun grammar activities to make this building block of writing resonate more with your students, we're here to get you started.
First off, let's take a look at the science of teaching English grammar — don't worry, we'll get to the fun grammar activities soon. We promise this part is worth it! If you recall diagramming sentences in school, and the idea of doing that with your students makes you cringe, you're in good company.
Study after study has shown that the monotony of "boring" grammar lessons just doesn't work. But letting kids play and discover? Yup, that works! So let's take a look at some truly fun ways to teach — and learn — English grammar!
Fun Grammar Activities for First Through Third Grade
Noun Scavenger Hunt
After your students have learned about nouns, set a timer, then challenge them to a classroom scavenger hunt for people, places, and things that start with each letter of the alphabet!
You can refer students to letters posted in your room or make things easy with an ABC template printed out for them to print each word and practice their handwriting.
Play Parts of Speech Uno
A fun twist on Uno, this parts of speech game challenges your students to remember which words are nouns, verbs, adjectives, and so on! There's also a version that has each labeled for classes that are still learning the difference.
Sorting Adjective, Verbs, and Nouns
We're always happy to find ways to incorporate interactive displays in the classroom, and we love the simplicity of this hands-on grammar activity. There are lots of ways that you could use this idea. Try one or two of these:
Sort the popsicle/craft sticks as a class.
Ask a small group to sort the craft sticks as a literacy rotation activity.
Encourage the students to add craft sticks to the cups when they come across an interesting verb, adjective, or noun during speaking, listening, and writing.
Extend knowledge by adding a cup and differentiating between common and proper nouns.
Play Capitalization Games
Learning to use capital letters is a crucial grammar skill for younger students. Splat, a capitalization game created by Lauren Piper, a teacher in Illinois and a Teach Starter collaborator, is a perfect writing small group or writing center activity to get kids thinking about those uppercase and lowercase letters and where they go!
To play, students draw a card and read the sentence to decide which word needs a capital letter. But be careful you don't get a Splat card!
You can also try playing Splat as a way to teach types of sentences — interrogative, declarative, exclamatory, and imperative.
Character Adjective Accordion
Expand your students' minds, and make this fun Character Adjective Accordion Template. 
Build a Sentence Card Game
Are you looking for a grammar game? Try a card game that focuses on building simple sentences that include a subject, verb, and object.
This card game is played in a similar way to Rummy.
Players take turns picking up and putting down cards until they can build a sentence that is grammatically correct and makes sense.
The winner of the game is the first person to build three sentences or one 'trump' card sentence.
The good news is, is that this grammar activity includes an instruction card and an answer card.
Nothing But Nouns
Love Scattergories but not quite sure how to translate it to your classroom? Try this grammar activity! Assign students a specific letter of the alphabet, and tell them they have to come up with a common noun, proper noun, and collective noun that begins with that letter.
Nothing but Nouns is a great writing center activity where you can challenge your students to work independently or in pairs.
Check out these grammar activities for more fun for your first through third graders!
teaching resource
A worksheet which includes an image prompt for students to make creative sentences about prepositions.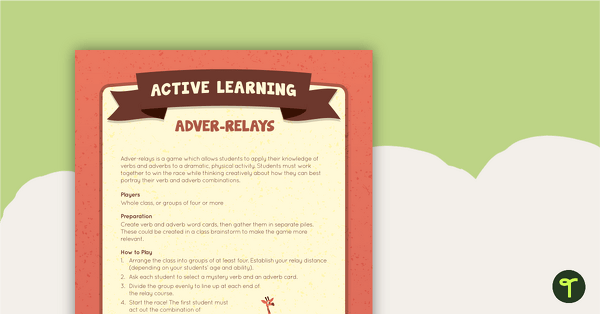 teaching resource
A whole class active game that encourages learning through a physical setting.
Grammar Activities for Fourth Grade and Fifth Grade
Get your fourth and fifth graders ready for writing essays and bigger projects with grammar activities that are hands-on and introduce clauses, conjunctions, and more.
Play "Search and Find" with a Page from Your Local Newspaper
Your local newspaper is an inexpensive tool for learning — and you might even be able to score copies for every child in your class if you give them a call.
Choose a page out of the paper, and challenge students to find as many of the following as they can:
Prepositional phrase
Adverbs that convey frequency
Conjunctions
Past tense of irregular verbs
At the end of the set time period, share the number of each on the page so students can see how close they came to the answer!
Paperclip Your Clauses and Conjunctions
When it comes to learning about how to write compound sentences, sometimes a simple idea can be the thing that makes the lightbulb go on in their little heads. We love this kinesthetic grammar activity for fourth graders as a hands-on way to learn about the function of conjunctions.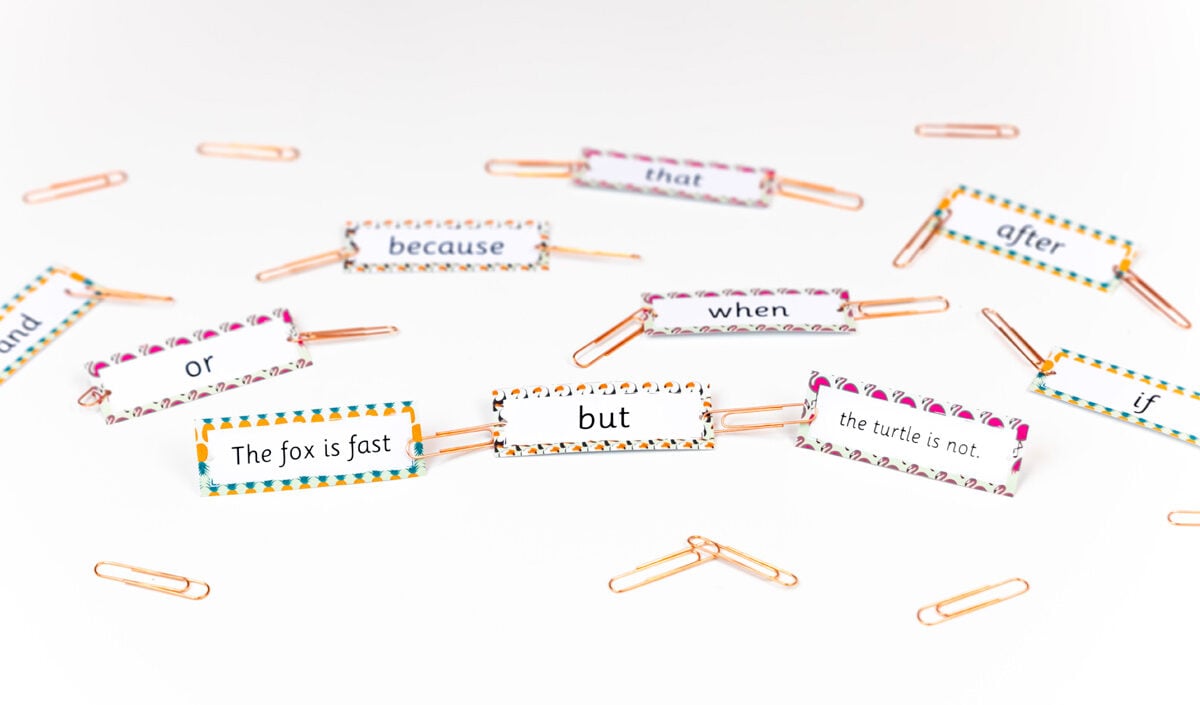 Color By Part of Speech
Did you know coloring is scientifically proven to help us feel more relaxed? And this cool chameleon coloring sheet also helps students practice identifying nouns, verbs, adjectives, adverbs, conjunctions, and pronouns. Don't let his color-changing ways fool you!
Roll and Write
Think of it like Mad Libs, only the dice make the decisions for your fourth and fifth graders in this fun grammar game!
Here's how it works:
1. Roll the die. Match the number rolled with the corresponding row on the Roll and Write chart.
2. Write a simple sentence about the topic you land on.
3. Continue the process by rolling the die, then writing the correct type of sentence for each roll about the topics you land on.
4. Read the six sentences as a completed, crazy paragraph!
Find the Wacky Professor's Treasure
This group grammar activity works for fourth graders (and some younger students too), sending them to a mini escape room — on paper anyway — to complete grammar tasks while working together to solve a riddle! Scrambled words, homophones, and verb tense challenges all lie between them and the answer!
Try these other great grammar activities for fourth and fifth graders:
teaching resource
A worksheet which includes an image prompt for students to make creative sentences about prepositions.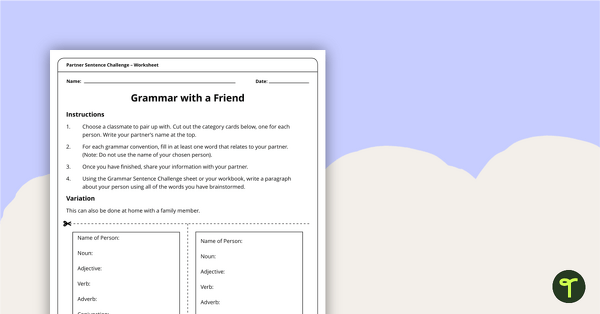 teaching resource
A resource to help students reinforce their knowledge of grammar and brainstorm vocabulary for writing.
teaching resource
Get students in the habit of researching with our dictionary activity that helps learners match a word to its definition and part of speech.
Grammar Activities for Middle School
Middle schoolers may be older than their elementary school pals, but that doesn't mean they can't still have hands-on grammar activities to help make things "click" in their brains. Activities with real-world applications work well for students in middle school as they can see their grammar lessons have an impact on their day-to-day life.
Write Their Own Restaurant Menu
If you're the sort of teacher who cringes at grammar errors on the restaurant menu (ahem, guilty), put that to good use in the classroom! Bring in take-out menus, and use them to talk about descriptive language and the use of adjectives with your class. You can also use the menus as an opportunity to talk about synonym usage. What could be said in place of delicious, for example?
As a writing assignment, your students can be challenged to write their own menu or re-write some of the items on one of the menus you've brought in for study to practice using adjectives and synonyms.
You can also use our pre-made Frida's Fiesta menu to get your students started!
Comical Chronicles
Make a Mad Lib-style game using these ad-lib worksheets for some seriously hilarious results that put your students' knowledge of their parts of speech to the test! These make a great activity for your writing centers or for fast finishers!
Flip It!
Give your students the opportunity to get competitive with our Adverb Grammar Card Game – Flip It!  You'll find different versions with a different grammar focus, perfect for literacy rotations.
Similar to the dice game Yahtzee, students must try to fill in adverbs next to every clue on their score sheet.
The player who has filled in the most words on their score sheet at the end of the game is the winner.
Here are some more recommended teaching resources…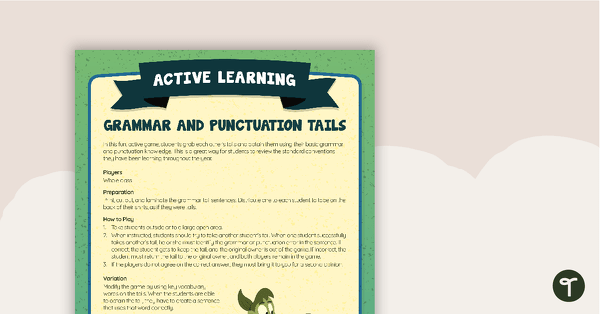 teaching resource
An active game that requires students to use their basic grammar and punctuation knowledge.
Go on, get inspired, spread some grammar love in your classroom! Punctuate it all with these 26 fun ways to teach punctuation!
Banner image via shutterstock/karynf