You're probably familiar enough with the concept of an advent calendar by now. It's a calendar used during the holiday season to count down. But did you realize you could borrow the fun of discovering something special every day during the holiday season for a classroom advent calendar?
While it's true that advent calendars have their roots in religion — a traditional advent calendar counts down the days of December until Christmas, after all — these days there are plenty of advent calendars that are anything BUT religious. From cheese advent calendars to sock advent calendars and everything in between, many don't even last 24 days!
You can use the advent concept of counting down in the classroom with a pure holiday focus, or you use the concept to help students stay on track until winter break begins. Love the idea but not quite sure where to get started? The teachers on the Teach Starter team have put on their elf caps and put together some ideas for December in the classroom — advent style!
How to Make an Advent Calendar for the Classroom
First thing's first. If you're looking for something quick and easy that doesn't require you to spend extra time making something for your classroom, you can head over to print a classroom advent coloring page. Boom! Done!
Not exactly what you were looking for? That's OK!
We came up with classroom advent calendar ideas that will help you manage all that excitement buzzing around your classroom as you lead up to winter break and add a little bit of magic to the days of December too! Oh, and since we know you can only do so much, we've kept it simple with just 10 days of fun … just enough for fun but not too much to add a burden to your plate.
OK, you're probably familiar with advent calendars that have little boxes with windows that can be opened each day during Advent to reveal a trinket or treat. If you're feeling especially crafty, go ahead and make it happen. But we know you've got a lot to get through in these last few weeks before the end of the year, so we came up with a classroom advent calendar display that won't take a day and a half to set up.
You will need the following:
Even though they're printable, these activities aren't just worksheets. We've selected a fantastic array of craft, STEM, literacy, math, and hands-on activities for your students to enjoy!
You can follow our suggested order of activities, or choose your own from our Winter Holidays Resource Collection.
Classroom Advent Calendar Activities
Day #10 – Elfie Selfie
Start your countdown by getting personal with the Create an 'Elfie Selfie' Template!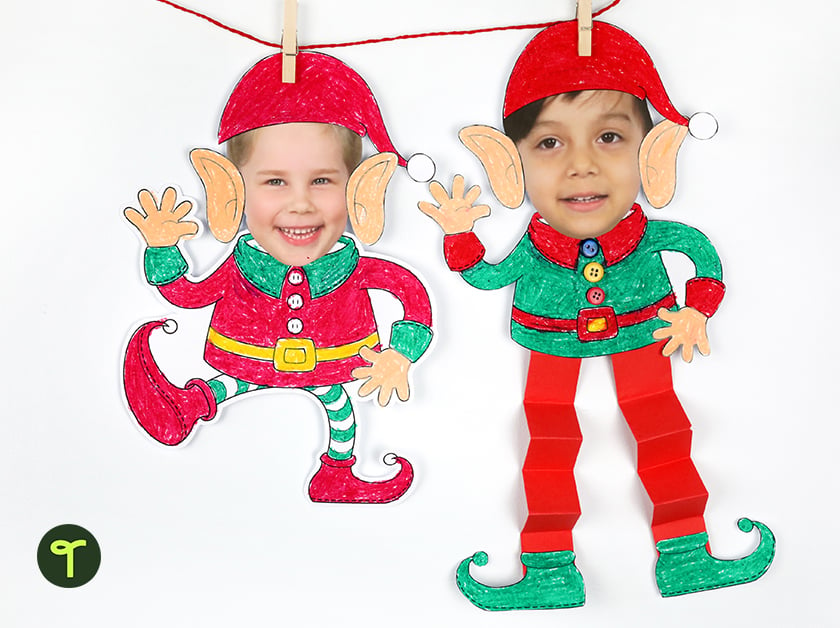 These adorable cuties aren't just for younger students. Take photos of your older students, and let them get creative with the rest! These are great to hang up on your bulletin board or classroom door for parents to peruse during holiday visits or to fill the space with a bit of cheer.
Day #9 – Winter Cabins
Take an adventure over the river and through the woods to a winter cabin with a fun craft template that students can take home to use as an ornament if they celebrate Christmas or simply use as a decoration.  Print the cabin template on cardstock, grab some cotton balls and glue, and add in small lights.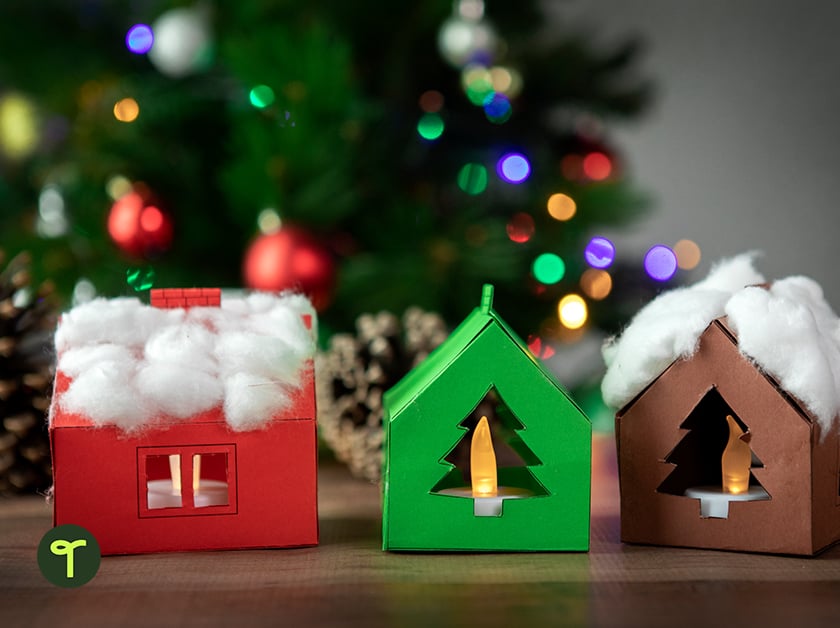 Day #8 – Escape Rooms
Challenge your class to problem solve with an Elf-themed digital escape room that encourages whole class collaboration and logical thinking
There are options for both younger students and upper elementary:
Would you rather avoid Christmas? Try these holiday code crackers instead:
[resource:3756206][resource:3756246][resource:3756226]
Day #7 – Sentence Starters
Practice writing the holiday way with silly holiday stories that build off of Holiday Sentence Starters! Why not ask your younger students to help you select one and then write a story as a class, or challenge them to write about Christmas with holiday writing prompts for young writers.
#6 – Winter Writing Activities
You can also skip the holidays and head right into winter writing! Are your students dreaming of a snowy winter break? Get ready, get set, and write about it with a complete winter sentence builder pack for kindergarten, aligned to the Common Core curriculum and easily editable to meet your state's standards.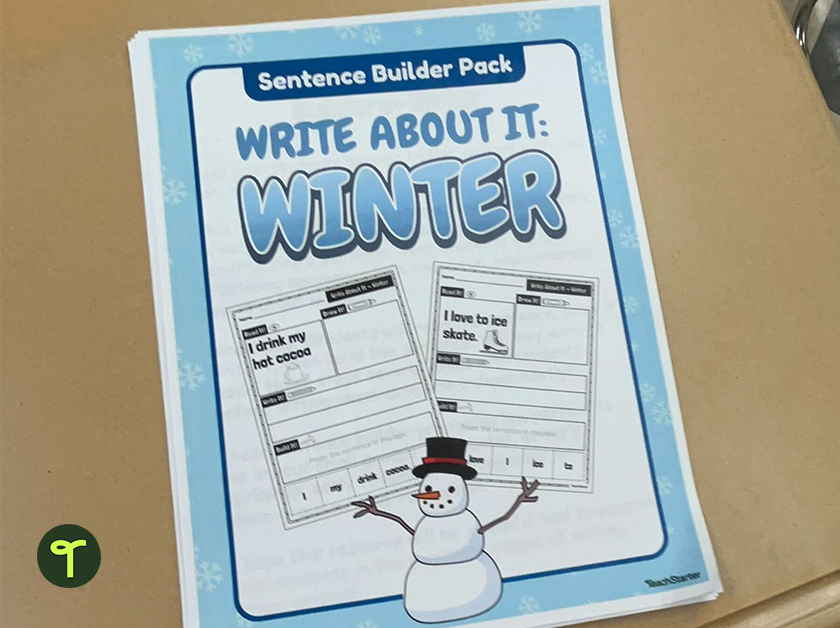 #5 – Mindful Holiday Coloring
It's the halfway mark! Only 5 days left of the countdown! Give your kids a well-deserved break with some mindful coloring.
The best part about these worksheets is that they make wonderful fast-finisher activities for the remainder of the week.
[resource:810310][resource:2081426][resource:785002][resource:2081406]
#4 – Pop-Up Holiday Cards
These quick and easy Pop-Up Holiday Card Templates make for a quick and easy activity as you near the holidays! Students can write one to a family member or to each other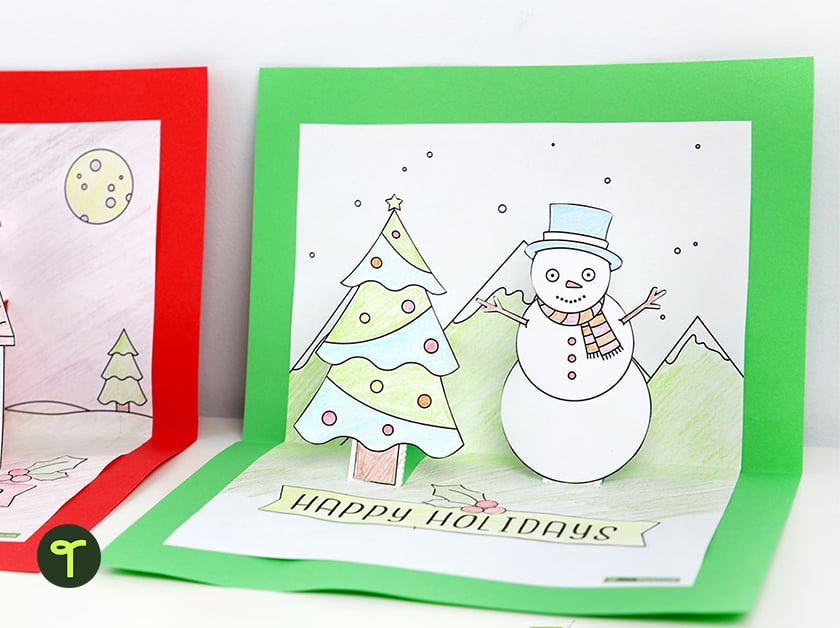 Planning to make holiday cards this season? For even more holiday card ideas, check out these crafty card printables for the classroom. 
#3 – Holiday Drawing
Give students a chance to get creative and practice their visual perception skills with a holiday drawing activity.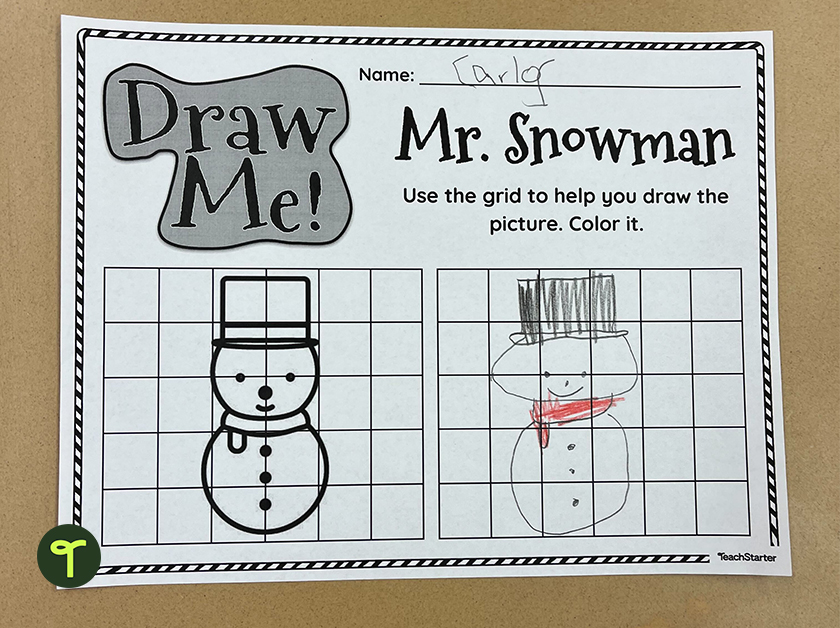 #2 – Gift Graphing Activity
If your students haven't already thought about gifts this holiday season, now's the time to start! Have them complete a Gift Graphing Activity.
Students choose five items they believe are the top gifts this holiday season. Then, they ask each classmate to choose the one they would most like to receive. Using their results, students create a tally chart using the data. Then, they put the results into a pictograph and write a word problem using the information from the graph.
#1- STEM Holiday Activities
We've saved the best until last… it's the last day before winter break! The perfect time for some Holiday STEM Challenge Cards!
You can use these cards any way you like. Either choose one activity that your class can work on for half of the day, or have a WHOLE day of STEM activities!
---