When you're done reading a children's book in your classroom, what do you do next? Move on to the next lesson? Or are you looking for children's book activities that can take your classroom read-alouds to the next level?
We all read specific books in the classroom for specific reasons — maybe you're using a book as an example of persuasive writing or illustrating a social and emotional lesson for the class. Or maybe you're looking to introduce a fun art project. If it's the latter, we've got some fun children's book activities to inform your next classroom art project — craft projects for kids that are inspired by their favorite books from Leo Lionni, Maurice Sendak, and more!
Fun Children's Book Activities
We are all so fortunate to live in a time when new, magical children's books hit the shelves daily. It's worth taking a moment to recognize that the creativity involved in the process of writing and illustrating children's books is astounding. So it makes perfect sense for us to use this source of creative genius to inspire classroom art projects.
Where the Wild Things Are by Maurice Sendak
This well-known children's book by Maurice Sendak has huge potential for classroom art projects. We had way too much fun designing and creating "wild things" masks! All you need is a paper plate, black yarn, glue sticks, construction paper, and pencils or crayons!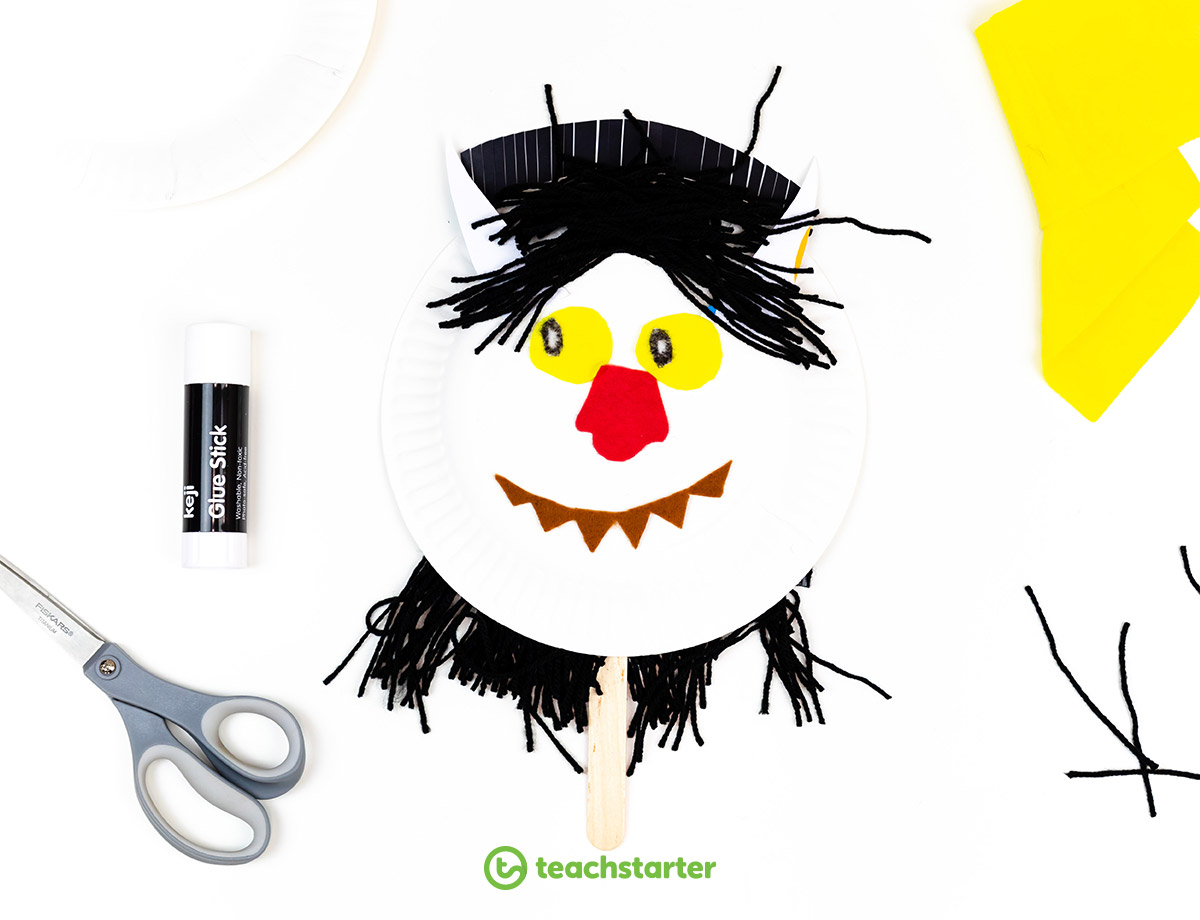 If you are looking for something a little more open-ended, why not plan an art project based on the jungle setting of this magical children's book?
Don't forget your greens! I have fallen in love with the idea of recreating the setting of a children's book by creating mini-story worlds. This example shows how to make a mini jungle with playdough and broccoli!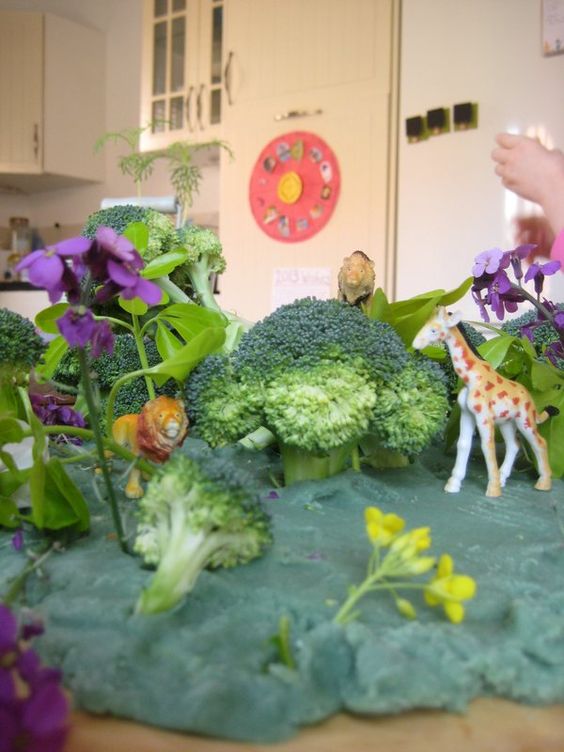 The Very Hungry Caterpillar by Eric Carle
Eric Carle's The Very Hungry Caterpillar has been translated into more than 50 languages and has sold 33 million copies worldwide. It's a classroom favorite, so it only makes sense that this book be our first children's book activity!
These printable ovals allow students to practice their scissor skills to create their own caterpillar, and they can use their own fingerprints to add antennae!
A Color of His Own by Leo Lionni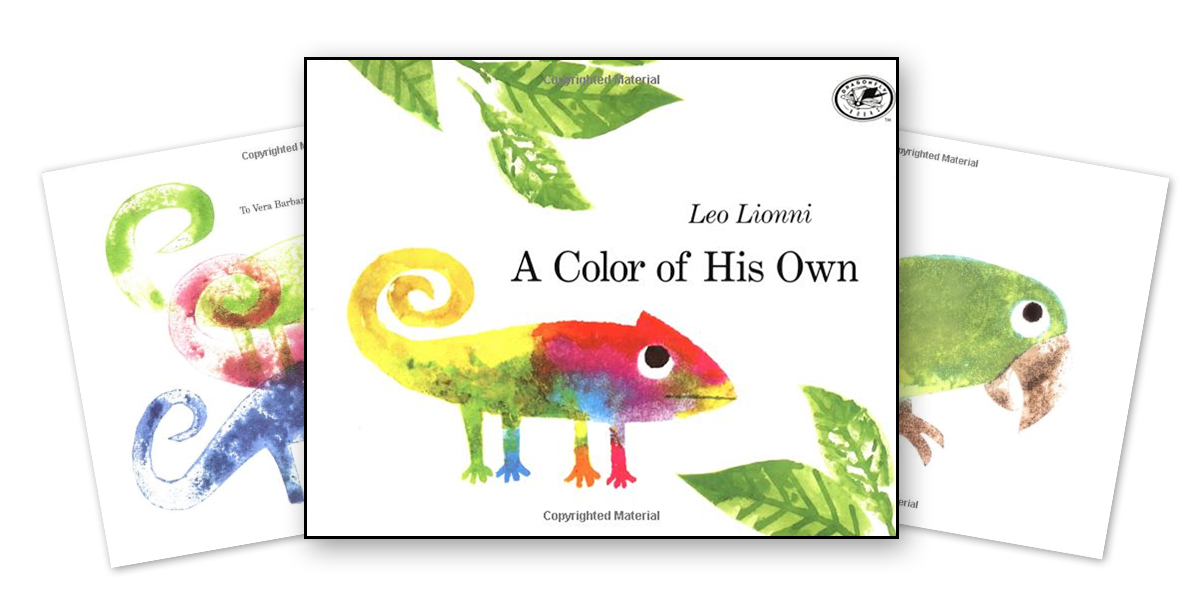 A Color of His Own is a picture book that carries a touching message about the importance of friendship as well as an explosion of color that is perfect to inspire a classroom art project. Leopard print is so yesterday. Why not use this children's book to inspire an abstract art project? Ask your class to design big and bold repeated patterns for chameleon-inspired wallpaper or wrapping paper, and encourage your students to explore color, texture, and pattern. Our Chameleon Art Activity encourages budding artists to seek artistic inspiration from the natural world. After researching the chameleon, your students are required to look closely at the different colors, textures, and patterns on a chameleon's skin and to draw and color an example.
Use our colorful Chameleon Template to create a starship of chameleons! Encourage your class to be as creative as they can be and to try a wide range of media.
We tried:
blending pastels to explore color
creating a collage effect with colored paper and even
sticking bubble wrap over color to explore texture.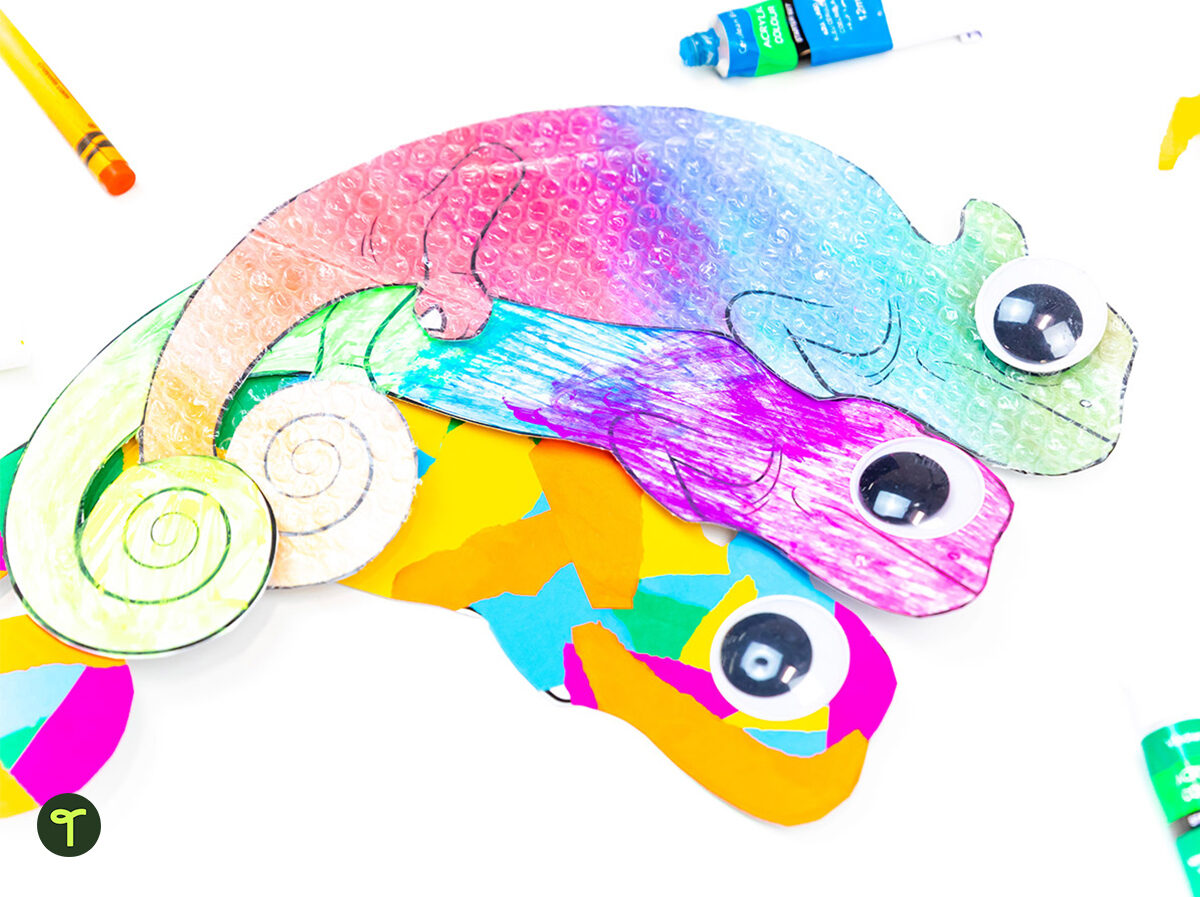 Want more chameleon fun? Try these clothespin chameleon critters!
Journey on a Cloud by Massenot Veronique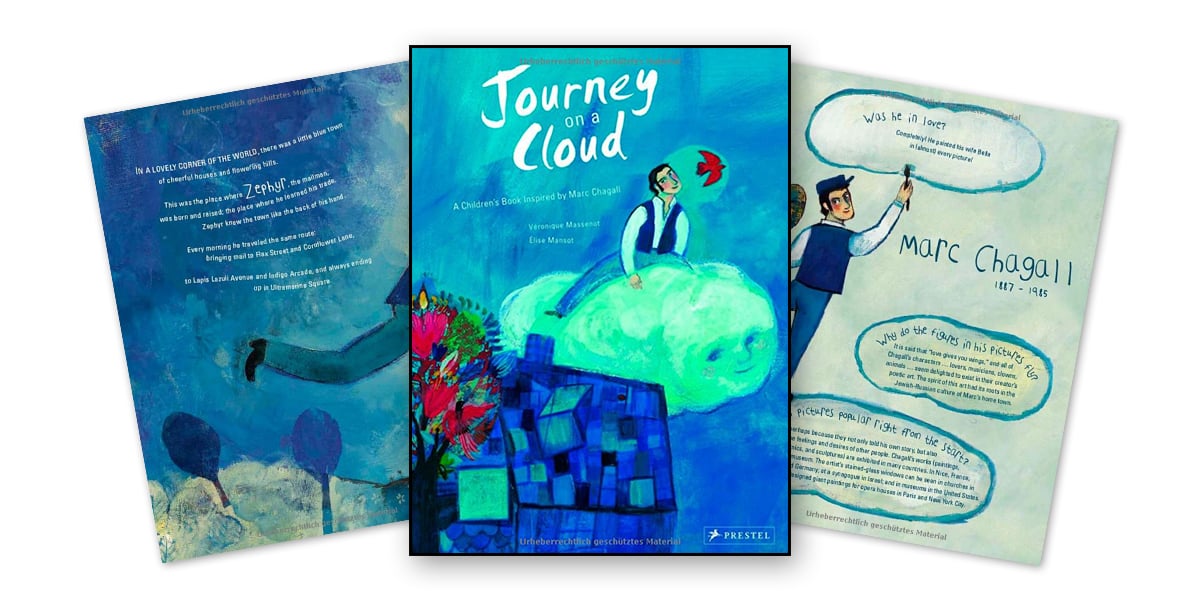 Inspired by Marc Chagall, (one of the most popular artists of the 20th century), the book Journey on a Cloud lends itself to arts and crafts ideas for kids that explore the world of color and imagination.
Why not use the illustrations of this beautiful book and begin your classroom art project with a color study? Use the Color Art Element Poster to teach and learn about primary, secondary, warm, and cold colors.
Next focus on the striking blue colors used in Journey on a Cloud. Download the Value Art Element Poster, and explore how value describes the lightness and darkness of colors and how we can add white to color to make a tint, black to a color to make a shade, or use shading to create depth in an object.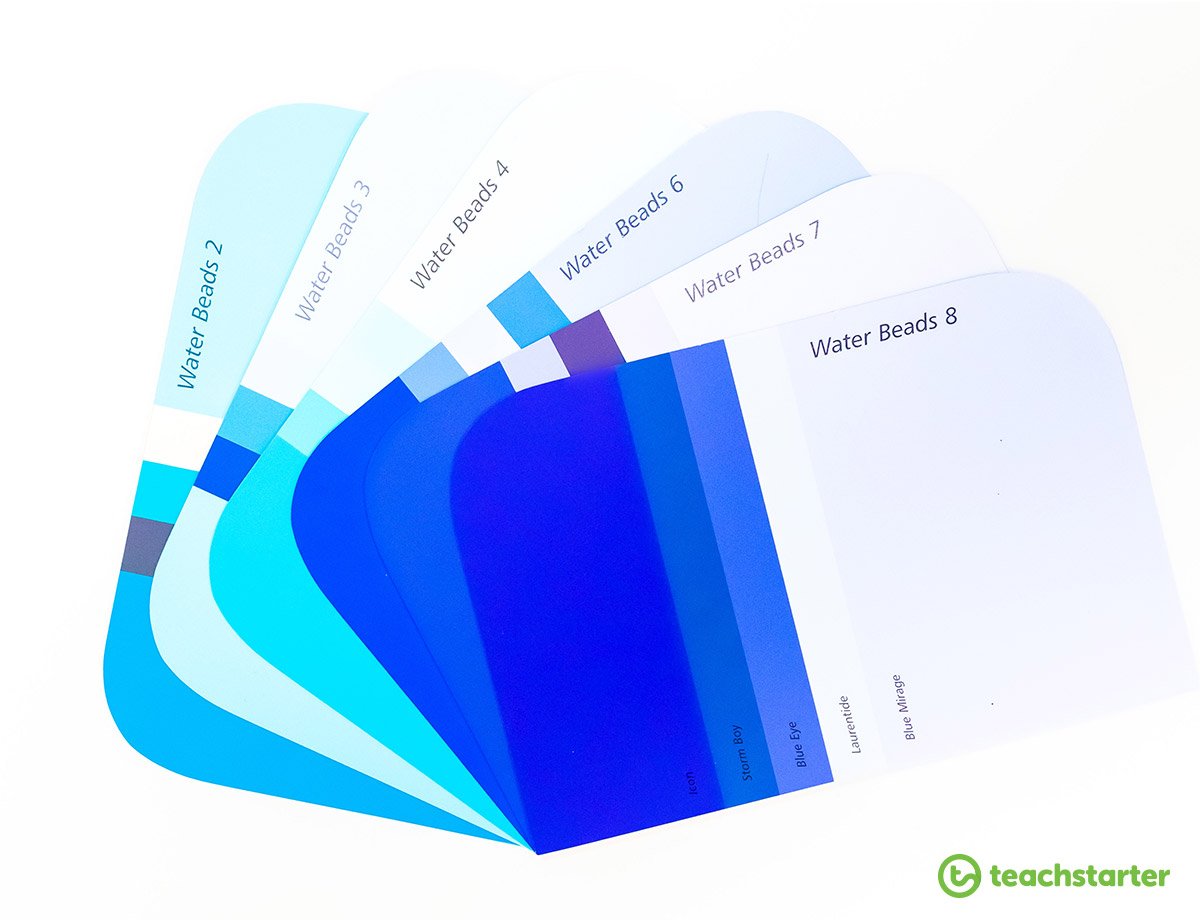 Here are some other ideas for a classroom art project inspired by Journey on a Cloud:
Ask your students to imagine what it would be like to travel on a cloud to distant and colorful lands. Use a variety of media to create a visual representation of these ideas.
Use our Visual Literacy Graphic Organizer, to explore two contrasting illustrations from Journey on a Cloud. Discuss how art makes us feel.
Ask your students to research the artist Marc Chagall, (discuss and explore the dream-like feel of the paintings, how they often include realistic and fantastical elements, and references to Nursery Rhymes).
Make links with the 20th-century avant-garde movement in art, surrealism. Ask your students to keep a dream planner and to create a visual representation of an interesting dream.
Ask your class to create their own artwork based on the fantastical world of nursery rhymes.
Camilla the Cupcake Fairy by Tim Bugbird

After reading The Cupcake Fairy to students, try creating a character bag! Students are given a small paper bag and instructed to draw a picture of their character on the outside of the bag. This is to show what the character looks like on the outside.
Then, they use bits of paper to write words that describe what their character is like on the inside. What is the character's personality like?  These words are put inside the paper bag. You could create a cute display with all the students' character bags.
The Cat in the Hat by Dr. Seuss

The Cat in the Hat isn't just a classic Dr. Seuss book. It also makes for an easy classroom art project! Provide students with a paper plate and a large popsicle or craft stick. Kids can create a cat face on the paper plate to make a puppet. This can be the end of the children's book activity, and they could use the puppets to create a puppet show in small groups.
What are your favorite art projects to do with children's books?