The third Sunday in June is coming up, which means Father's Day is right around the corner in the US. Dad's day tends to get lost in the hustle and bustle of closing out the school year, but if you've got a classroom full of kids and are fishing for ideas to keep them busy (hey, we get it), we've got Father's Day cards and Father's Day crafts at the ready!
I confess I often left it to the last minute and ended up rushing to come up with a unique or nice craft activity I could get my students to do, so I've focused on seriously simple Father's Day gifts from kids that can be managed in the classroom. These cute and classic, but purposeful Father's Day gift and card ideas are sure to make dads and other important people in their lives — be it a grandparent, foster parent, or other important figures — smile come Father's Day morning.
Easy Father's Day Cards
There's nothing like a sweet handwritten message to make Dad's day, and we've made it easy to make sure everyone in your class feels included with Father's Day cards that can be edited in Microsoft Word to be inclusive of different kinds of families — maybe your students want to tell an uncle he's "fintastic" or a neighbor he's "roarsome!" You can keep it simple and just You're Fintastic Template so your students can write a special message inside. Or maybe you want to get creative and layer string, fabric, and the colored pictures to create a one-of-a-kind card.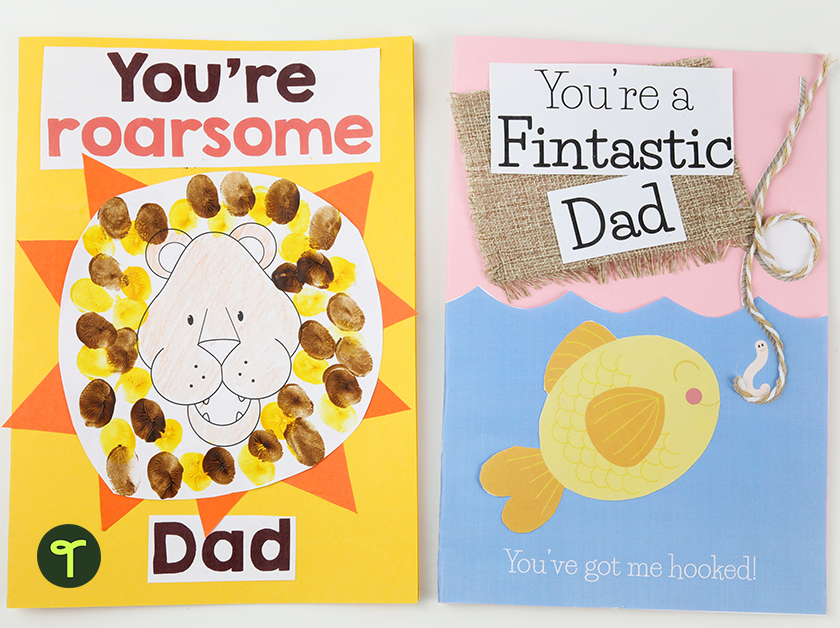 Feeling more of jungle theme? Print the You're Roarsome Editable Card Template. Then, your students use their fingers to do some fingerprint art to create the mane of the lion. They can then add orange triangles to add a bit more depth to their card. Again, you can simply stick to the template if you want to keep things quick and easy.
All About My Dad Fill in the Box Template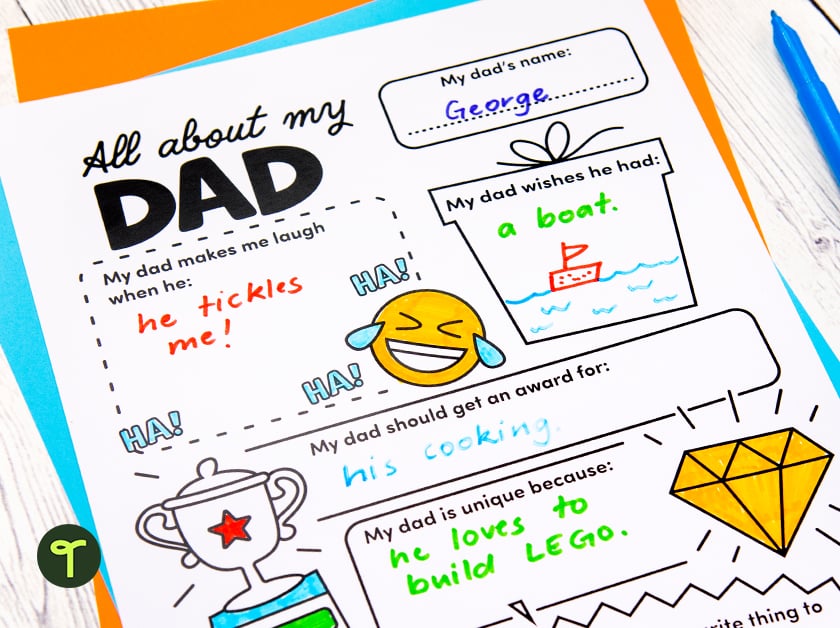 You can also keep the Father's Day card-making super simple this year. Dads love hearing what their kids really think of them, so why not set your students up with an All About My Dad template to practice their description writing and create a Father's Day gift all at once? If you've got younger students, you can fill in the template with their answers. Print on sturdy cardstock, and you've got a keepsake for the ages!
Father's Day Craft Ideas
Craft Stick Coasters
A handmade gift is the best kind of present children can give to their fathers or male figures who are important in their life.
This coaster craft is a simple but fairly useful idea where your students can let their creative juices flow and present a father figure in their life with something that can be used in the home. Show them how to create the main coaster using popsicle sticks, and let your students paint and use some templates to create something special for their dad's morning coffee.
Watch the below video for a step-by-step guide on how to build the template using just craft sticks and craft glue.
If your students want to create an old-world rustic look, use watered-down brown paint and black paint for the stencil. Otherwise, they can pick whatever colors they wish.
To complete the look, we created I Love Dad templates and stuck them on some thick cardstock. We then used a very sharp craft knife to cut out the stencils. This is something you will need to prepare before the craft session. Just create a couple of each stencil, place them at the front of the classroom and allow students to share.
Add a gift tag with some string so your students can write a special message to go with their coaster craft.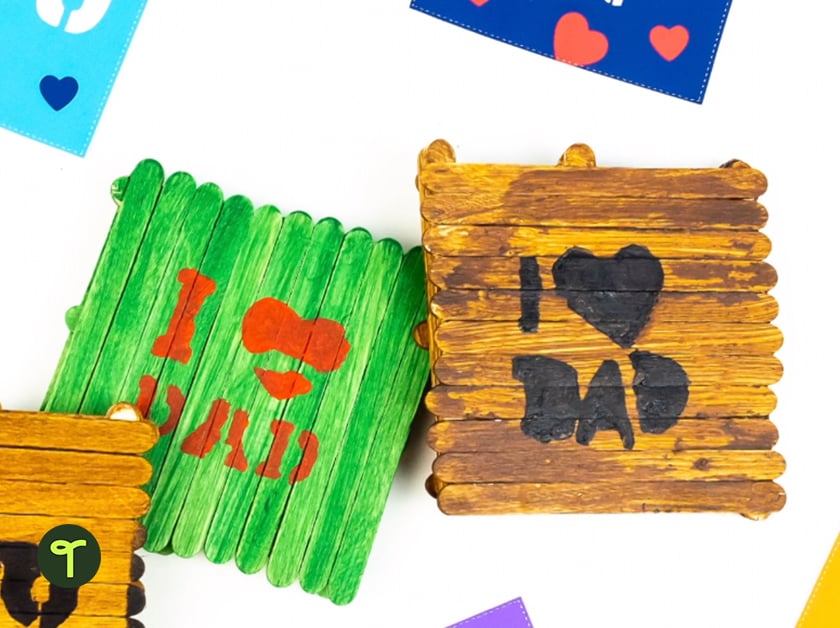 ---
Father's Day Surprise Gift Box
Our Mother's Day Exploding Gift Box was so popular that we couldn't let the dads miss out on receiving one too. Don't be scared, we have outlined a simple plan in our blog An Exploding Gift Box: The Ultimate Mother's Day Craft Idea that will explain the best way to tackle one of these amazing boxes.
Download our Father's Day Decorative Square Templates, then read our Mother's Day blog for the instructions. Too easy!
---