Collaborative group work is an important part of the learning process for students — it helps students develop their problem-solving and decision-making skills, work on becoming better communicators, and encourages active learning. But no matter how many benefits of learning in groups that we list out for you, we won't pretend that assigning group work isn't sometimes challenging for teachers.
How do you put student groups together that will get work done instead of causing disruptions for their classmates? How do you make sure group work is effective, and students really learn? And how do you make sure the groups are fair and avoid unequal participation?
Our teacher team put their heads together and put together some of their best tips for group work in the elementary classroom that ensure students are pulling their weight and reaping the benefits of learning in groups, plus fun ways to group students!
Download printable group work role cards to help students get their group organized!
What Is the Importance of Group Work?
If you've ever assigned group work in the classroom only to receive a flurry of angry emails from parents who don't think it's fair that their children are being graded on group work, well, you're hardly alone. Group projects, group grades, and collaborative group work, in general, have myriad detractors. But it can be helpful to have your ducks in a row to explain the importance of group work in your classroom when those emails arrive.
Children are not born knowing how to work collaboratively with others, and yet this is a skill that will serve them for years to come — as well as immediately. Researchers, for example, have found that students have higher rates of retention and a better understanding of material when they have positive experiences while working in small groups. What's more, there's plenty of research that shows children can really enjoy the process of working in groups in the classroom!
How to Make Group Work Work for Your Classroom
So how do you make group work a positive experience in your classroom? The researchers have some answers for that too!
Avoid group papers: When researchers at the University of Oklahoma reviewed collaborative learning, they found that assigning group papers "encourages social loafing, limits group cohesiveness…and increases student stress."
Limit your group size: The more students in a group, the easier it is for "floaters" to hide rather than contributing to the group or for shy students to feel overwhelmed and less able to participate. Limit groups to no more than four or five members for more effective learning.
Give students frequent and constructive feedback: The same Oklahoma researchers found that effective student groups feed off of "consistent, immediate, unambiguous, and meaningful feedback."
Assign group work tasks: By assigning specific tasks yourself, you can ensure there's a fair division of labor as you know how much work each task will require.
Create a group contract. Kick off group work by assigning each group the task of drafting a contract that each student will sign. This should include members' obligations and any penalties they will incur for not living up to their end(s) of the bargain.
End group work with self-evaluations completed by each student. Think of it like an exit ticket for the skills developed while doing group work! Print self-evaluation templates here.
Ideas for Assigning Group Work
Need some new ways to assign your groups to ensure students aren't always working with their best friends? These ideas for assigning group work are big hits with our Teach Starter team of teachers from around the United States, and they may work in your classroom!
Make It a Puzzle
Have you tried using puzzles to arrange your students for collaborative learning? This idea works by giving each student a piece of a puzzle and asking them to seek out classmates with puzzle pieces that join together with theirs. When a group of students has come together to construct a complete puzzle, a group is formed.
It can be tricky to find suitable puzzles with the right number of pieces to match your group size requirements. This is where we can help with our cool Number Matching Puzzles that are perfect for creating groups of five. You can choose from addition, subtraction, division, or multiplication puzzles to match your learning focus. There is a set of 12 puzzles for each mathematical operation, and each puzzle has five pieces!
Think smart and let a math warm-up activity do the organizing for you! Here's how:
Download and print the required number of puzzles (if you need five groups, print five puzzles).
Cut up the pieces.
Place one puzzle piece on each desk, making sure that they are mixed up and randomly distributed.
Explain to your students that they need to interpret their own puzzle piece and seek out classmates with puzzle pieces that join together with theirs.
Nominate the students with the number piece as the group leaders.
Random Name Picker
For the ultimate time-saver, use our Random Name Picker (it's free!) to arrange your students for group work.
Add the names of the students in your class, remembering to add commas between each name.
Choose a theme.
Select a time-lapse option.
Press go!
Add Animals
This idea for assigning group work can get a bit noisy (don't say we didn't warn you!), but it's a lot of fun for students!
You can use farm animal figures and give each student one of six animal types as they enter the classroom — encouraging students to find classmates with the matching animals to form their group. If Don't have any farm animal figures? It's OK! Download this Farm Yard Sounds Match-Up Activity, and give your sound machines a farm animal card instead. Bonus: This is perfect for a group project when learning about onomatopoeia
This group work organizer is quick and easy to set up..
Print enough farm animal cards to give each student a card as they enter the classroom.
Explain to the students that they need to form groups by finding other people with the same animal card by making farm animal noises.
Cover your ears!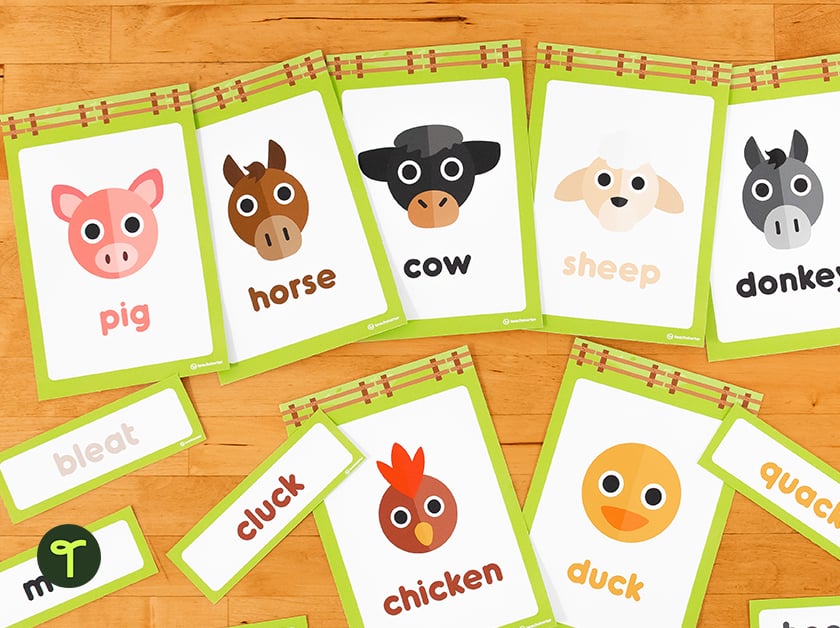 Paint Swatches for Group Work
Color groups are an old favorite, but have you thought about using paint swatches to arrange your students for group activities? Here's how to do it…
Visit your local hardware or craft store and pick up a handful of paint swatches. Select swatches with enough shades of each color to cater to the number of students in each group.
Select a different color for each group. Cut up the swatches, and mix them up.
Give each student a shade. Ask them to find their color family and to form a group. For example, all the shades of blue come together to form a group.
Button Up
Bright and beautiful buttons are a great way to arrange students for group work. It's as simple as distributing 5 or 6 different colored buttons on each student's desk. If you want to delay grouping your students until halfway through your lesson and avoid distraction, stick a button under each desk and reveal them when you are ready.
Call on "Families"
Create a sense of community in your classroom and arrange your students for group work by asking them to find their family! We used name tags from our Green Plaid Classroom Theme Pack and constructed a student group classroom display by using an old cardboard box and colored paper.
This idea is super easy to set up. Just choose a family name for each group and create a name tag for each member of each family. For example:
Ms. Lee
Grandpa Lee
Grandma Lee
Jane Lee (daughter)
Jamal Lee (son).
Choose from our collection of classroom theme packs, and download the editable name tags.
Create a name tag for each member of each family. Print, cut, and laminate the name tags.
Mix up the name tags and place one on each students' desk.
Ask the students to use their speaking and listening skills to find all other members of their family.
When all families are united, ask the students to secure their name tags to a section of the tree display (we used velcro dots).
Different groups can be created as often as you like, by taking the name tags down, mixing them up and doing it all again!

Shape Up
How do you arrange your students for group work during measurement and geometry lessons? Why not use the 3D shapes constructed during a hands-on measurement activity to arrange your students into groups.
Download these Nets of 3-D Objects and ask your students to cut them out and construct them. Be strategic, and ask your class to construct 5 lots of 6 different 3D shapes.
Arrange your students for group activities by 3D shape. Students can either keep the shape that they made, or you can collect them, mix them up, and redistribute them.
Bear Squares for Group Work
Use these cute Bear Squares to arrange your students for group work. It's as simple as giving each student one of the six Bear Squares and asking them to arrange themselves for group activities by finding classmates with the same Bear Square.
Onomatopoeia
Are you looking for a fun way to arrange your student for group activities during a poetry lesson? Use the cards in the Onomatopoeia Word Wall and give your students to make some noise and to play with language.
Choose one sound for each group. Print each sound multiple times.
Give one onomatopoeia word cards to each student. Ask them to take a look at their card without showing others and place it face down on their desk.
Ask the students to interact with the whole class, making the onomatopoeia sound, and joining up with others that have the same sound to form a group.
Print random partner cards for your next collaborative learning activity, or download a giant collaborative coloring sheet, perfect for helping students learn to work together!
Banner image via shutterstock/SeventyFour