In the blink of an eye, graduation season is already upon us! Are you on the hunt for kindergarten graduation ideas you can execute easily this spring with kid-friendly songs, quotes and maybe a few end-of-year student awards you can hand out?
We know there's a lot on your plate, so our teacher team has compiled a comprehensive guide to hosting a memorable kindergarten graduation! Read on for teacher-tested ideas, books to read, songs to sing, graduation themes and tips to plan the perfect event that families will love and students will enjoy.
Kindergarten Graduation Ideas
Graduating from kindergarten is a big milestone, and a celebration will give your students a sense of accomplishment and pride. Plus, family members will appreciate your efforts! You don't need to spend a lot of money to mark this special time in your students' lives. Do what you're comfortable with, and don't be afraid to ask for help.
Keep scrolling for ideas on hosting a classic graduation ceremony, award ideas and alternative activities if hosting a traditional award ceremony isn't your style!
Choose a Theme
If you're planning to go all out with your kindergarten graduation, you might want to start by choosing a theme. Although it's not a must, a theme can sometimes make things easier as it focuses the planning. Will your kids walk the red carpet to receive their diplomas? Cross the rainbow into first grade? Here are some fun theme ideas:
The Places You'll Go
Up and Away
Beach Blast
Cupcakes and Sweets
My Future's So Bright
Your theme can extend from the class bulletin board all the way to the door! Here's some inspiration from Massachusetts kindergarten teacher Katie. She chose the beloved Pete the Cat and the words College Starts With Kindergarten.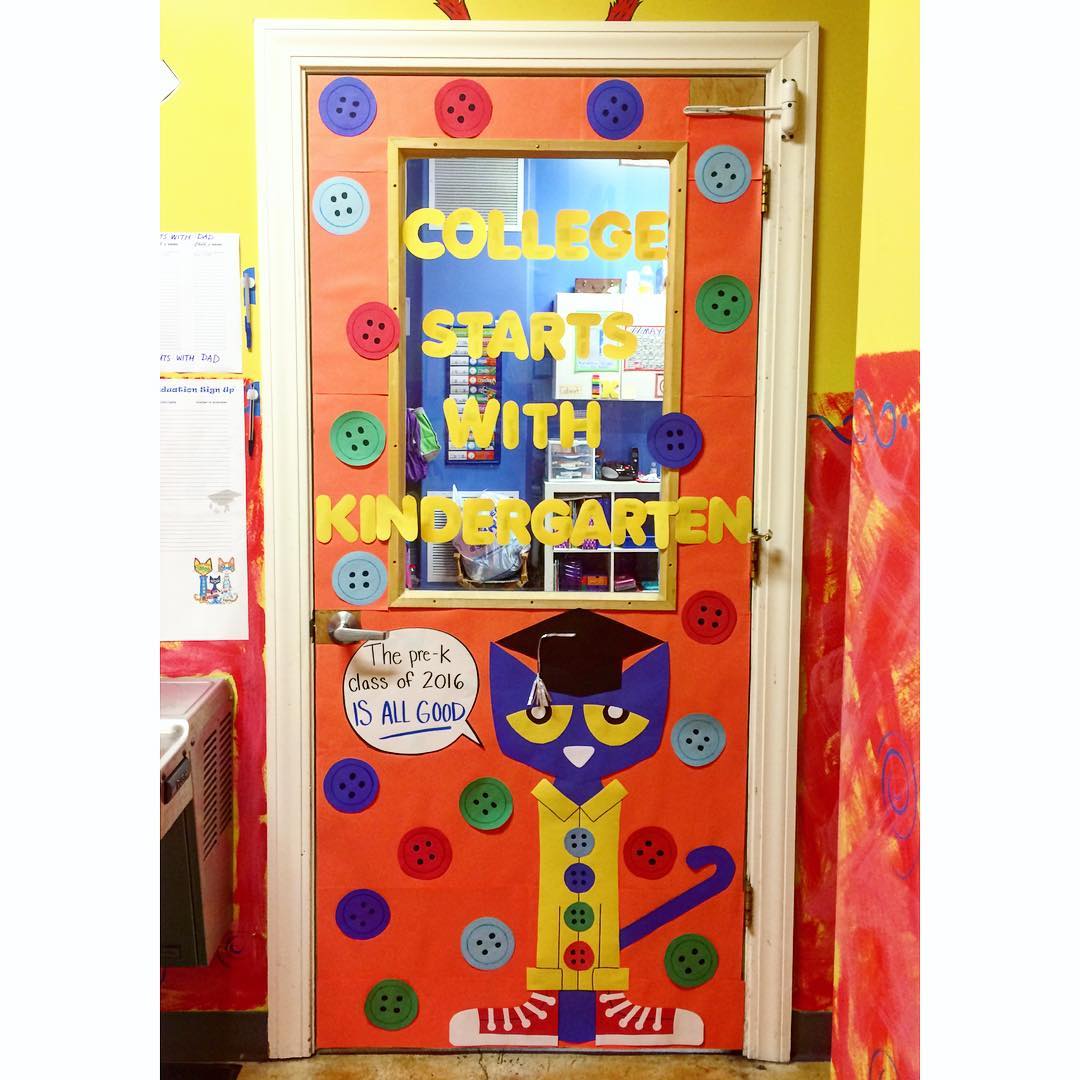 Photo courtesy of Massachussets kindergarten teacher Katie Nicole.
Looking for ways to save money on a decorative ceremony? Here are some ideas to consider:
Use just caps instead of caps and gowns. Kids can wear what they'd like and still get the graduate feel.
If you're a new teacher and want to have a formal ceremony each year, add caps and gowns to your teacher Amazon wishlist. Once you have a full class set, you can use them each year instead of having families pay for their own caps and gowns.
Have students wear graduation crowns instead of caps and gowns. There's nothing quite like a crown when you're 5 or 6! (Check out these printable last day of school crowns!)
Keep an eye out for sales at Target and similar stores for things like letterboards and photo booth props. You can also check your local dollar store.
Just like caps and gowns, save graduation decor to use each year. Laminate banners and signs for easy storage with little to no damage.
Instead of traditional caps, have your kindergartners cut, color and create their own promotion cap for gradution!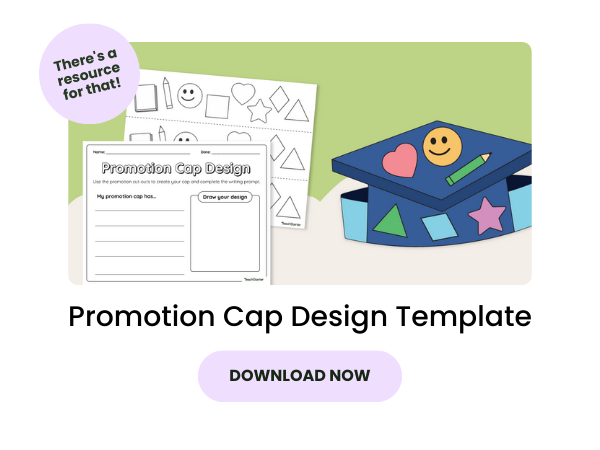 Songs for Kindergarten Graduation
Is there even a graduation ceremony without music? Dozens of songs can fulfill your needs, whether you want to create a playlist of background music, need songs for the kids to walk to as they receive their diplomas or tunes the entire class can sing in front of their families as a special send-off.
We've saved you the time it would take to comb through all the songs out there to make sure they're kid-friendly and came up with a few teacher-approved songs for the ceremony.
Here are some great songs for background music:
These tunes are great for a full-class singalong:

Graduation Ceremony
So you've chosen a theme and have a playlist of music. What's next?
Having a set plan of events will help your graduation run smoothly and efficiently. Will your graduation be held in your classroom? The gym or the library? If you need to book another location other than your classroom, make sure you plan ahead to have a date and time set up just for your class.
Regardless of where you decide to host your ceremony, running through the day's events in the week or days leading up to graduation will help your class know what to expect and feel prepared. Have they tried on their caps and gowns? Will they walk across a stage to receive their diploma? Will they shake your hand and pause for a photo op? These are all actions to consider, and a rehearsal with just the kindergartners can help prevent (or at least lessen!) chaos on graduation day.
Of course, you don't have to plan everything on your own. Do not be afraid to delegate.
If you're lucky enough to have some eager parents who are offering to help, let them! Reach out through email or your next classroom newsletter that you're looking for volunteers to help decorate or assist in graduation prep. Families can help in a number of ways from organizing food to bring in, collecting decor to make your classroom festive or even helping each child get into their cap and gown before the ceremony begins.
Here's a hypothetical list of events to get prepped for the big day:
Have chairs set up for both the students and their families. You may want to talk to the custodians about this early so they can plan, and the chairs in the front should be marked off so your students have a place to sit.
Get students dressed in their caps and gowns 30 minutes before families arrive. This gives you time to get it all done, but it's not so early that you'll have 30 5- and 6-year-olds milling around all dressed up with nowhere to go!
As families arrive, make sure there is somewhere there to let them know where to sit. You might be able to ask some pre-k parent volunteers to help out with this as they may be curious about what will happen when their children are in kindergarten!
Once everyone has arrived, welcome the group and give an overview of the past year (What did the class work on? What were some big milestones or accomplishments? Were there any memorable field trips or class visitors?).
To embellish an overview of the year, you can play a slideshow of photos while you speak or afterward with some music.
Hand out diplomas and any end-of-year awards (more on that below)! Make sure to pause with each child for photo ops before they go back to their seat.
If your students practiced a song, have everyone come to the front to perform as a final ceremonial event.
Thank everyone for coming, and invite everyone to have some food and mingle before going home.

If you plan to have a food table with snacks, desserts or a cake, ask families beforehand if there are any food allergies and label each treat accordingly. If you plan to ask families to pitch in with food items, run it by your admin beforehand.
Kindergarten Graduation Awards
Planning to award your kindergartners at the graduation ceremony? You can stick to the old standards of most improved at spelling or best student in X subject, but why not take their social and emotional learning into consideration when creating your superlative awards? This reminds our students that how we treat others is just as important as how we perform on academics.
Here are some of our teacher team's favorite end-of-year award ideas that will make your students smile bright (and their families proud!).
Ask each child what they're most proud of from the year, and create an award just for that.
Most smiley
Best sharer
Miss/Mr. Manners
Good sport
Good friend
Best problem solver
Most helpful
Silliest
Best buddy
Biggest smiler
Team Player
Mega Musician
Awesome Artist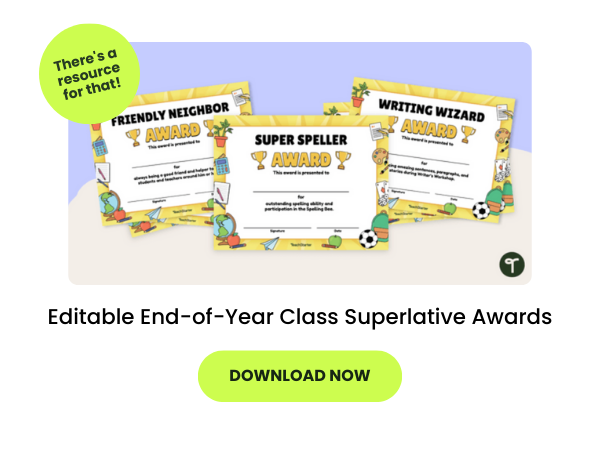 Books to Read at Your Kindergarten Graduation Ceremony
If you need another filler activity for your ceremony, reading a book is a sweet way to send your kids off to their summer before first grade. Here are some teacher favorites to consider that may or may not get the waterworks going for you and the families attending: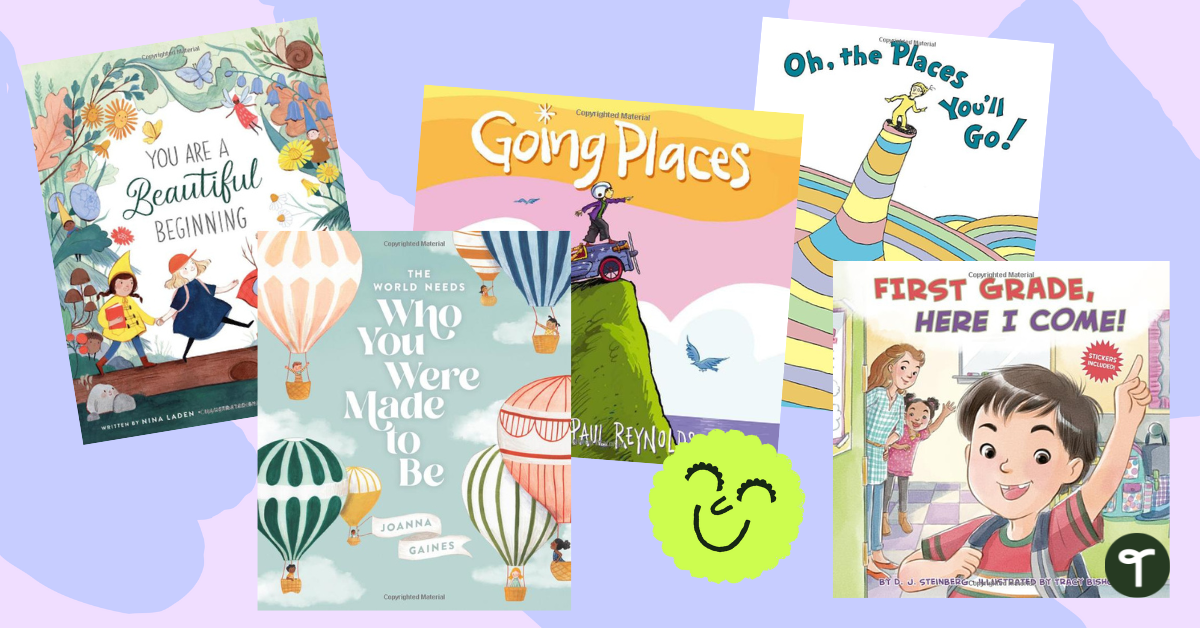 How Not to Cry at Graduation
Speaking of crying … we're going to tell you a little secret, there's no sure way to prevent it, and that's OK! Those bittersweet tears only show just how much you treasure your students, and they'll feel the love that much more. Make sure you have tissues handy for you and the rest of the tearful ones.
A cute way to remember your class is to have your students sign their names and/or decorate a white t-shirt (or bag, dress, sweatshirt, etc.). You can do this a few days before the ceremony so you have a sweet keepsake to wear on grad day.
Parents are already bound to be tearful, but you're almost guaranteed to bring on the waterworks if you have your students write out what they want to be when they grow up. Families can treasure this early goal their child has in mind. This printable template works great as a bulletin board display as well if you need some easy graduation decor!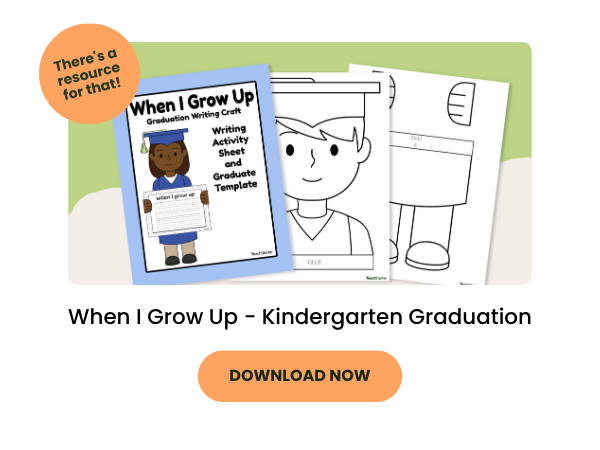 Quotes to Use for Graduation
Sometimes a few words go a long way. Take a look at some inspirational quotes that can be used as decor, included on diplomas or written in a letter to your students to take home:
"You're braver than you believe, stronger than you seem, and smarter than you think." — A.A. Milne, Winnie-the-Pooh
"The moment you doubt whether you can fly, you cease forever to be able to do it." — J.M. Barrie, Peter Pan
"It isn't where you come from. It's where you're going that counts." — Ella Fitzgerald
"Believe you can, and you're halfway there." — Theodore Roosevelt
"You must be the change you wish to see in the world." — Mahatma Gandhi
"If you can dream it, you can do it!" — Walt Disney
"Be bold, be courageous, be your best." — Gabrielle Giffords
"Never bend your head. Always hold it high. Look the world straight in the eye." — Helen Keller
"Wherever you go, go with all your heart." — Confucius
"All our dreams can come true…if we have the courage to pursue them." — Walt Disney
"You're only given a little spark of madness. You mustn't lose it." — Robin Williams
"The future belongs to those who believe in the beauty of the dreams." — Eleanor Roosevelt
Alternatives to a Graduation Ceremony
If you have limited planning time or aren't a fan of a traditional ceremony, many alternatives can be just as memorable and special! Consider these activities:
Take a class "field trip" to the first-grade classrooms around the school. This will allow students to meet their potential future teachers and get an idea of what their classroom may look like in the fall.
Host a class talent show. For more shy students who may not want to sing a song or perform, invite them to participate in a show and tell so they can talk about a special item they own, share a photo they love or present something they've drawn or created.
Create a photo booth with signs that say "I graduated from kindergarten today" or "Kindergarten graduate." Take a photo of each child so their families have a treasured keepsake from their last day.
Have a movie and popcorn day. You can even double up with a coworker for a combined celebratory viewing in the library.
Get outside with field day-type activities just for your class. There are many activities you can include, such as a water balloon toss, tug of war, potato sack race, bubble blowing station, or simply free play in the school field. Get everyone together for a class photo before students go home for the summer.
Host a picnic with your students' families. Be sure to include what items you'd like families to contribute (if they can) whether it be food items, blankets to sit on or fun games that can be played outside.
Host a breakfast at school. Like a picnic, make sure families know what they can bring and what to expect on the last day.
However you choose to organize and execute your kindergarten graduation, we hope it runs smoothly, and you enjoy your last day of school to the fullest. Pat yourself on the back; you deserve it!
Looking for more end-of-year activity ideas leading up to graduation? Take a look at our entire collection for activity booklets, mystery pictures, STEM challenges and much more.