So you've just gotten back from winter break, and now the first federal holiday of the year — Dr. Martin Luther King Jr. Day — is on the horizon. What are the Martin Luther King activities you should be doing in the classroom, and how do you impress upon your class that MLK Day is more than just a day they get to sleep in?
From MLK Day activities for in-person learning to Martin Luther King Jr. Day activities that can be done with remote students, here's what you need to know to honor the civil rights leader now and all year long.
What Is the Purpose of MLK Day?
Teaching elementary schoolers about Dr. King and his legacy of non-violent protest starts with understanding why MLK Day is considered a holiday at all. The law that gave us this federal holiday dates back to 1983 when President Ronald Reagan made official the third Monday in January as the national Martin Luther King, Jr. Holiday. While the date itself moves, it always falls right around the civil rights leader's birthday on January 15, 1929.
Legislation to honor Dr. King with his own federal holiday began four days after his assassination in 1968 but took more than a decade to become law, a point to discuss in your social studies lessons about how a bill becomes a law – regardless of the time of year. It would take until the year 2000 for all 50 states to then declare Martin Luther King Day a state holiday as well.
The holiday was the first to honor a Black American, and while the addition of Juneteenth as a federal holiday in 2021 marks the official end of slavery in America, MLK Day is still the only day to pay tribute to a singular Black American.
Dr. King's widow, Coretta Scott King, gave us a road map for honoring her husband back in 1983 when Congress officially passed its declaration of Dr. Martin Luther King Jr. Day as a federal holiday:
"The holiday must be substantive as well as symbolic. It must be more than a day of celebration . . . Let this holiday be a day of reflection, a day of teaching nonviolent philosophy and strategy, a day of getting involved in nonviolent action for social and economic progress."
What Do You Teach on MLK Day?
Teaching about Dr. King on MLK Day may start with a review of his life – after all, younger kids may not yet have learned about the Baptist minister who helped change the world.
This interactive PowerPoint, Who Is Martin Luther King Jr? is a perfect introduction for primary grade students to the life of Dr. King and an introduction to the civil rights movement. Students read along with the teacher and make logical inferences from their reading, citing specific textual evidence to support conclusions drawn from the text. Already in digital form, this is an easy MLK Day activity to adapt to remote learning.
For teachers of older kids, this "Who Was Martin Luther King, Jr.?" Worksheet includes important biographical information about Dr. King while helping build their reading comprehension. Students will read an informational text about Dr. King and answer 8 reading comprehension questions to demonstrate their understanding of the text.
Martin Luther King Activities for Preschoolers and Kindergarten
Read My Daddy, Dr. Martin Luther King, Jr.
Written by Dr. King's son, Martin Luther King III, this picture book tells the story of a father's love for his son. It's a beautiful reminder that Dr. King was more than just a hero to millions around the world. He was a special man much loved by his own family.
Make a Mini Book
Preschool and kindergarten students can then make their own mini book about MLK, tracing his name, coloring his photo, and showing their understanding of your lesson by coloring in the images of what Dr. King stood for while also practicing core skills.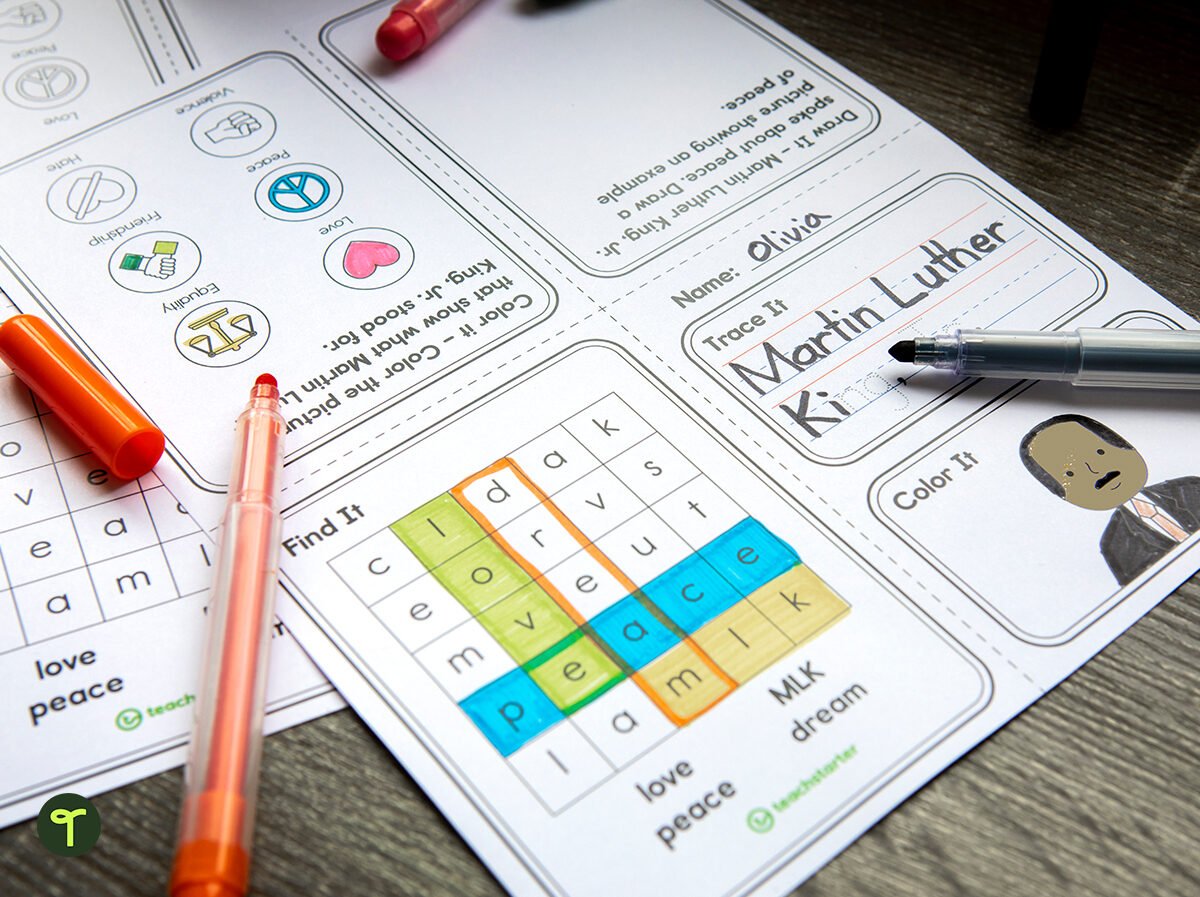 MLK Cut and Color
Another MLK Day activity perfect for the pre-school and kindergarten set is a cut and color activity about the civil rights leader. Students complete the outline of Dr. King by drawing what they think he looks like, then cut out items and pasting them to show what he fought for.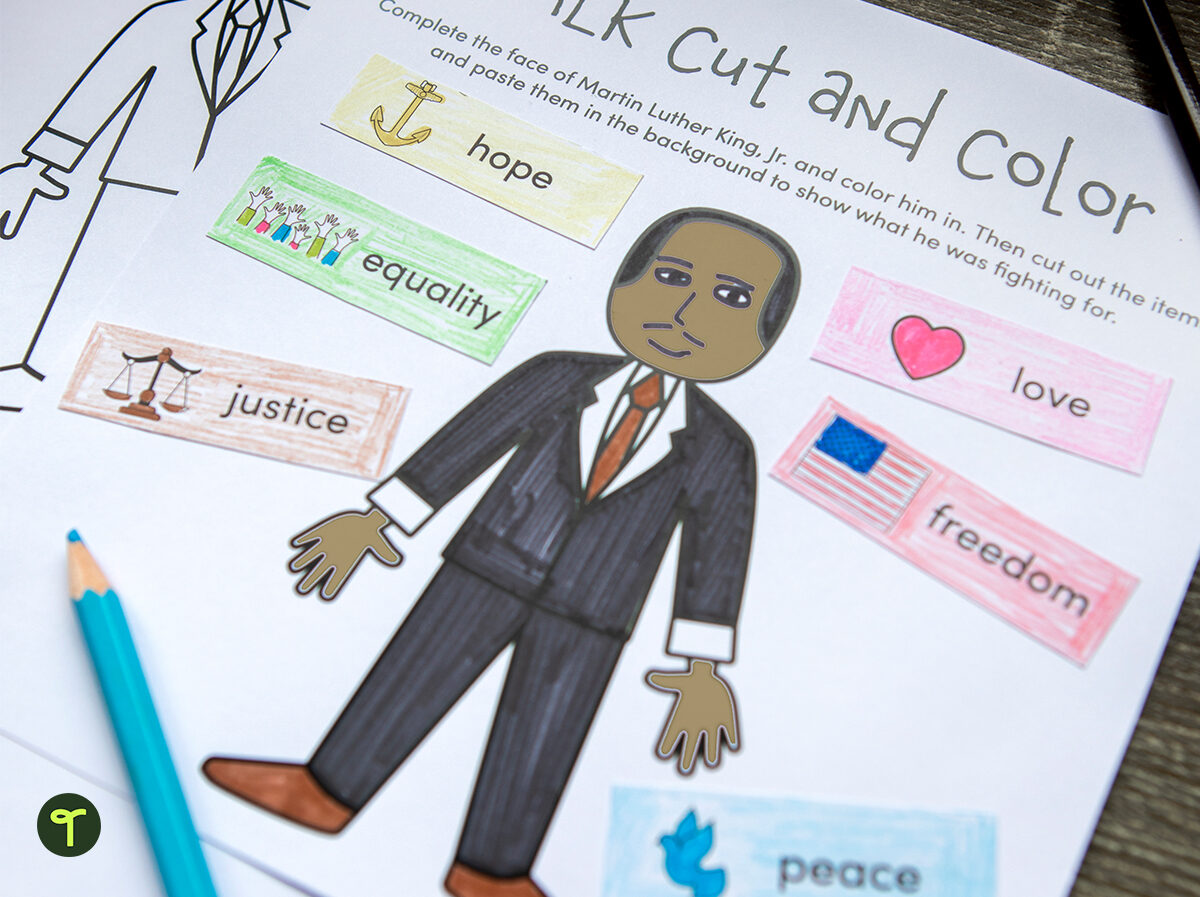 MLK Day Activities for Older Kids
As Coretta Scott King tells us, honoring MLK Day in the classroom isn't just a way to introduce younger kids to the civil rights leader and his legacy, it's also a good way to impress the concept of service on our students and talk about their role in their communities and in making change.
Take a Virtual Field Trip to the Civil Rights Museum
The Civil Rights Museum in Memphis, Tennessee was built right around the Lorraine Hotel, the site where Dr. King was assassinated. Today it tells the stories of the fighters of the civil rights movement, including Dr. King. Not in Memphis? The museum offers virtual tours perfect for elementary classes, and you can take them as a whole class, projecting on your smartboard for in-person learning or on Zoom for your virtual students.
Visit the National Center for Civil and Human Rights
Another virtual field trip worth taking with your class is an adventure to Atlanta's National Center for Civil and Human Rights, the home of the Morehouse College Martin Luther King Jr. Collection.
Acts of Service
This is a core of MLK education, so why not provide your students with our Acts of Service challenge sheet filled with items that are kid-friendly but make an impact? The sheet has 36 different service acts plus space for kids to write in the date they completed them. Challenge your students to do as many as they can by the end of January.
You may also want to visit DoSomething.org for students to find inspiration for their own acts of service. Programs on the site are all youth-led, and kids can even earn scholarships for taking part!
My Dream Future
Martin Luther King Jr's I Have a Dream speech is one of his most famous, and it opens the door for kids to think about their own communities and the changes they would like to see. You can start with a writing prompt or allow them to get creative with a drawing. (Get the I See My Dream Future template here).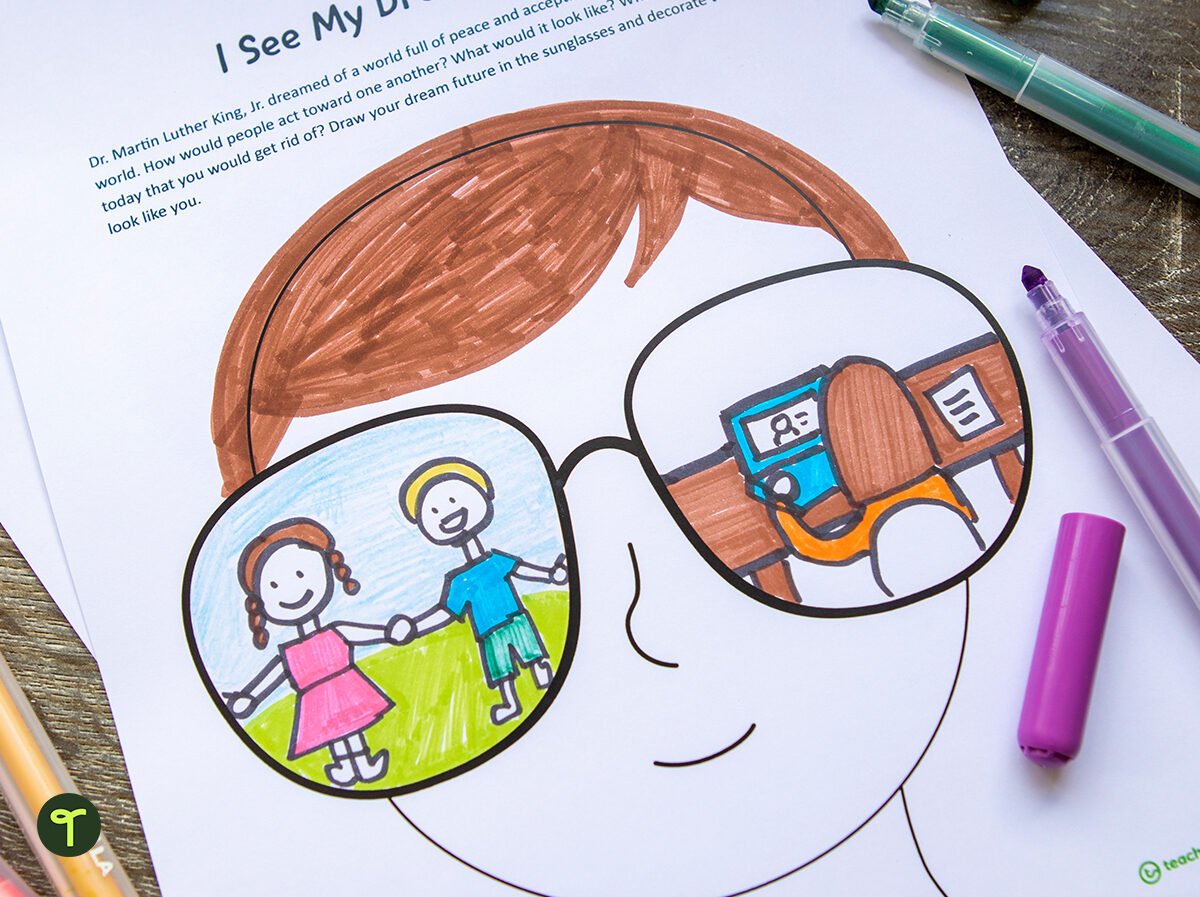 MLK Education: A Final Word
The fact that MLK Day is honored in January makes it a great time to review your own classroom and think about the months ahead. Do you have inclusive books and materials in your classroom, ensuring children of color feel represented all year-round, not just on MLK Day? Do you talk about Dr. King's legacy at other times of the year?
We know you've got a lot on your plate, so we pulled together some resources that can help you help your kids!