The school year has sure taken us for a ride, hasn't it! And, it's not even halfway through. Yet we keep showing up, day after day, ready to give our students what we can. We, teachers, are a resilient bunch, but what about the kids in our care?
You might be thinking that your students need a few extra social-emotional activities to take care of their well-being while their school-life has been shaken up.
If you're teaching in the classroom, online, or a mixture of both this can make things even more tricky! To help you out, we've added some amazing Social and Emotional activities to our resource collection that can be used anywhere your students are.
If you're teaching online 100% of the time, then as an added bonus we've got some more amazing ideas in our blog Social-Emotional Learning During Distance Learning (Social Stories Included).
Why Social-Emotional Activities are Important
For young, growing minds, emotions can be a little overwhelming. Many teachers have wiped away tears, calmed down tantrums, and mediated fights during their time in the classroom! During a time of crisis, it's no surprise that students' emotions are heightened even further. Especially when even some adults have trouble managing the overwhelming changes that are occurring.
Just as we teach them their ABC's, little ones need lessons on how to manage their big feelings. Social-Emotional activities that teach them how to build resilience, be mindful of their emotions, and come up with healthy coping techniques that are vital to developing students' emotional maturity.
As well as these kinds of activities, checking in on our students' well-being helps teachers grow stronger relationships with the children in our care.
All of the following resources and activities can be used to help your kids' emotional well-being – no matter where they are learning! Read on for some great ideas for in the classroom or learning from home.
Build Resilience
Help students have a little perspective when it comes to their issues. This goes a long way to help them cope when the going gets tough.
Our Big Problem, Little Problem Posters are great to display around the classroom or distribute to students to put up in their learning area at home. Introduce the idea of a 'big problem' and a 'little problem' by playing the Big Problem or Little Problem? – Sorting Activity. Get students to sort the issues and then come up with some big and little problems of their own!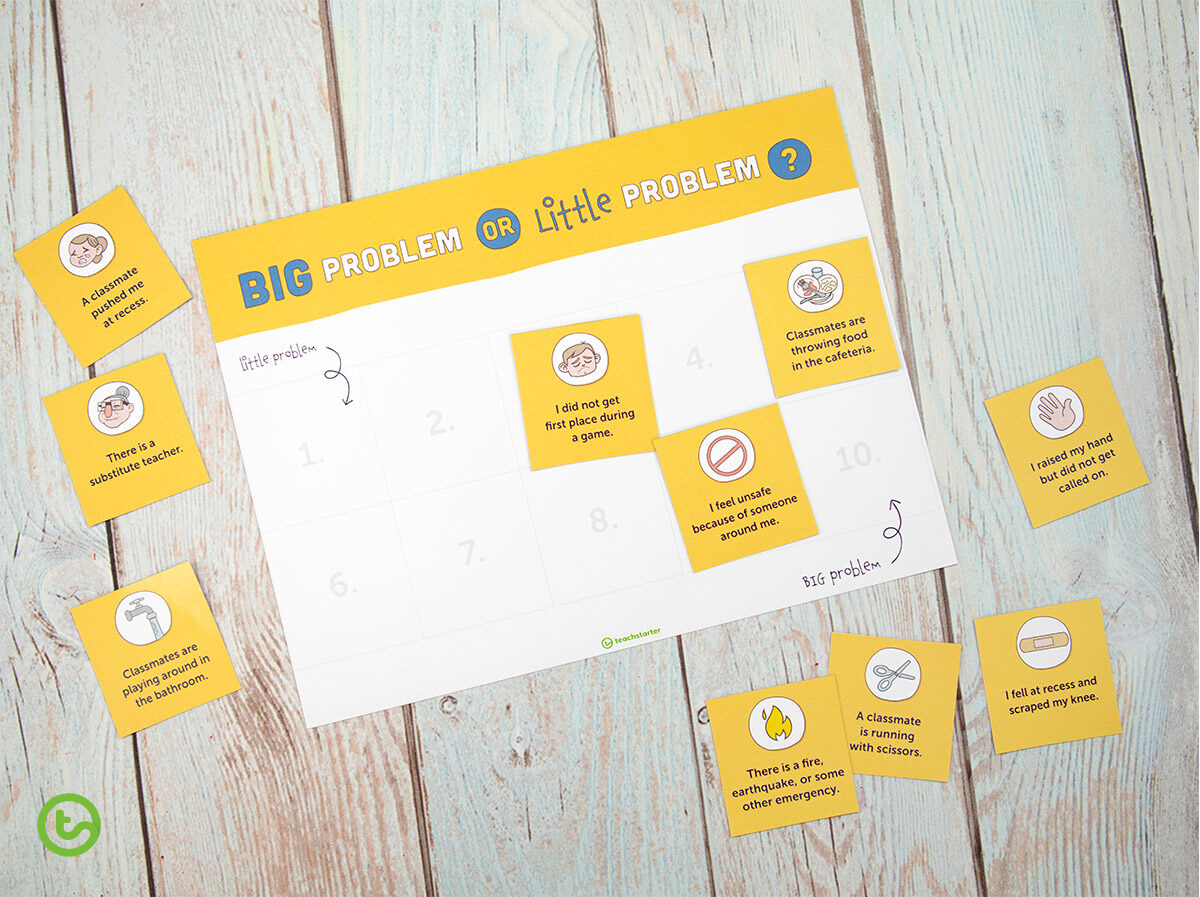 Once your students have mastered how to gauge the severity of a problem, keep a reminder up in your classroom! The Classroom Catastrophe Scale – Display is a fun visual reminder of how students can gain perspective on some everyday problems that they might come across. If you have students at home who don't have a classroom bulletin board at their disposal, give them the project to create a Classroom Catastrophe Scale display of their own, using issues and problems they might face at home or with distance learning.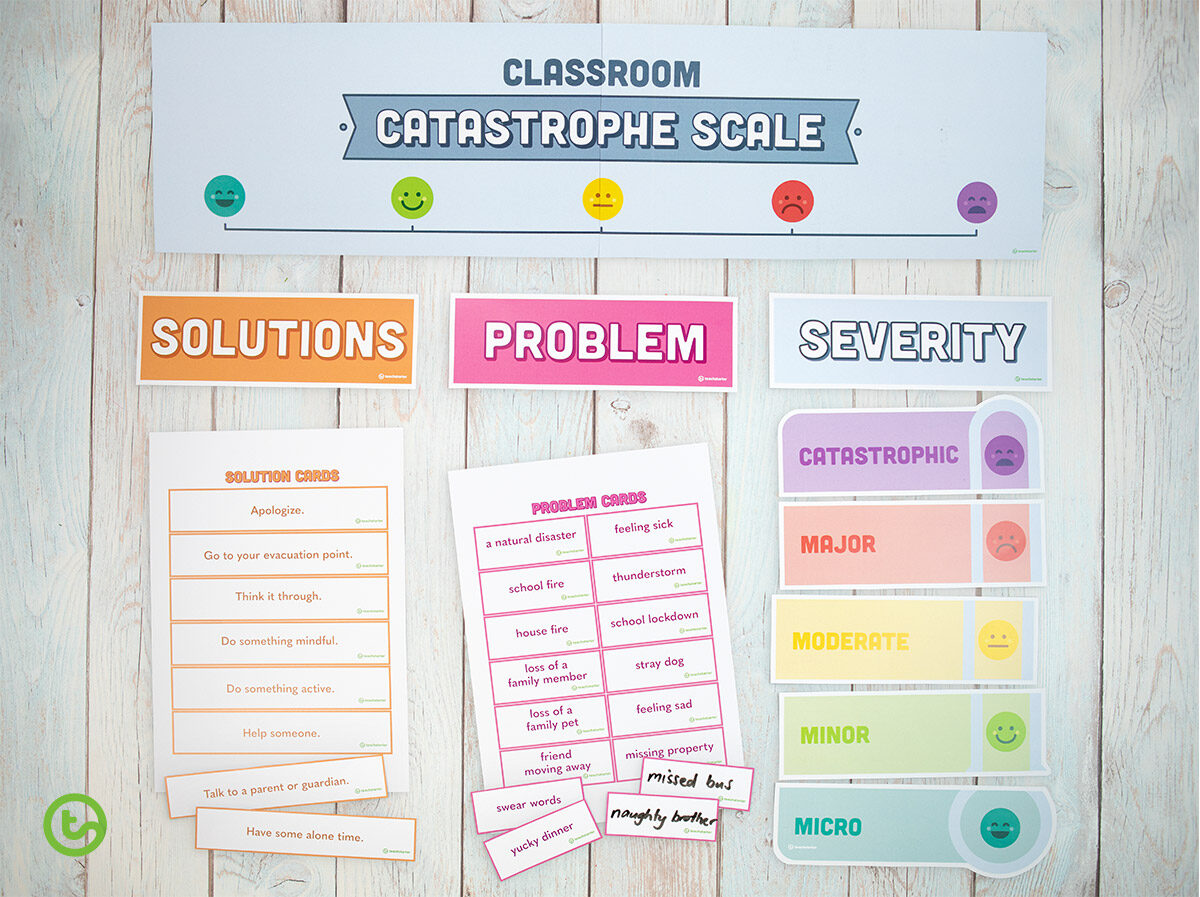 If you have students learning remotely, why not make a large version of the Big Problem or Little Problem? – Sorting Activity to complete as a demonstration activity on your whiteboard?
Emotion Coping Strategies
There are a few tools you can give your students to help them feel more capable of handling their emotions.
To introduce the idea of a 'positive' and a 'negative' reaction to a problem, have a little fun with our Reaction Charades! In this fun game, students act out an emotional 'reaction' while another student guesses what they are doing. They must then tell the class whether that reaction was 'positive' or 'negative'.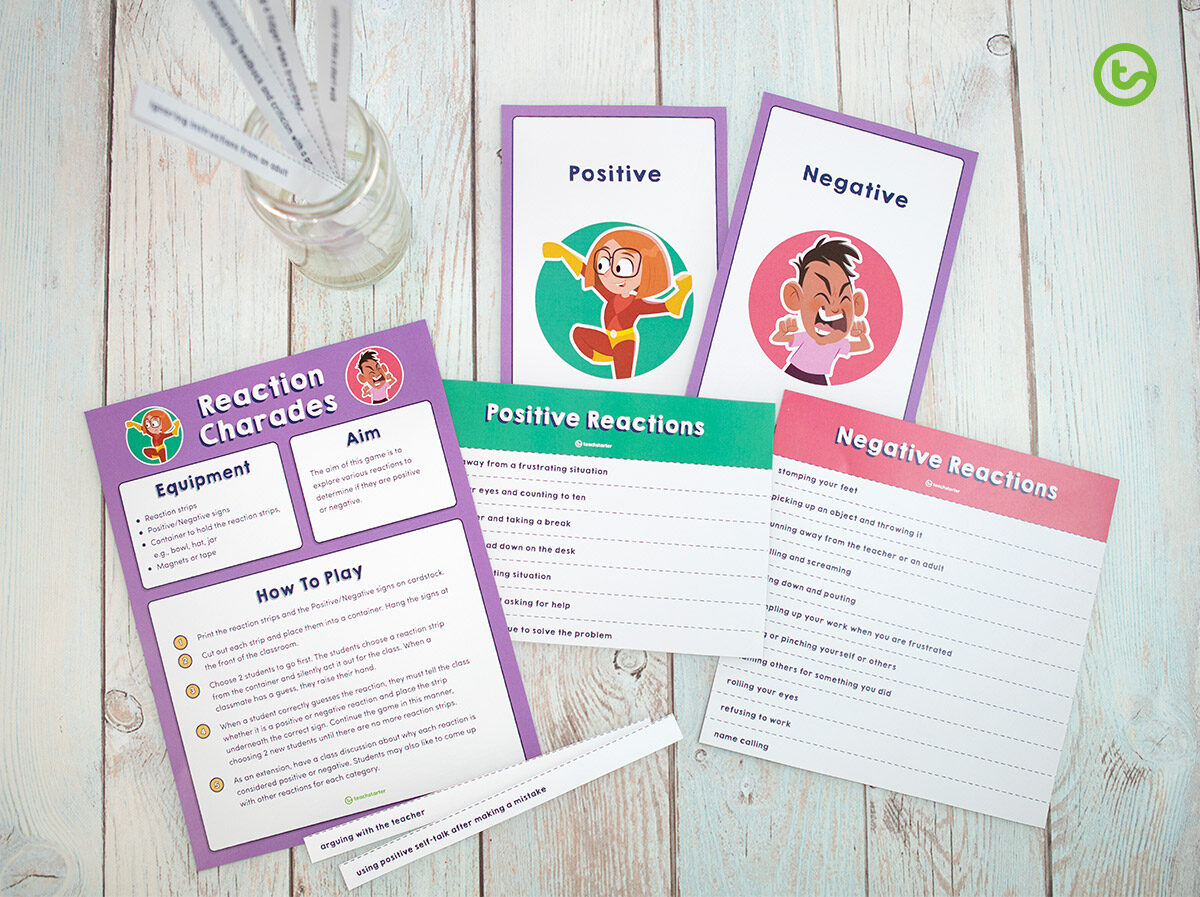 For students who need a little more help, we suggest providing them with their own copy of the Emotion Strategies Wheel. This resource is a great reminder for students who feel overwhelmed or upset. They simply turn the emotional strategies wheel, and are presented with several options as to how to cope with their emotions.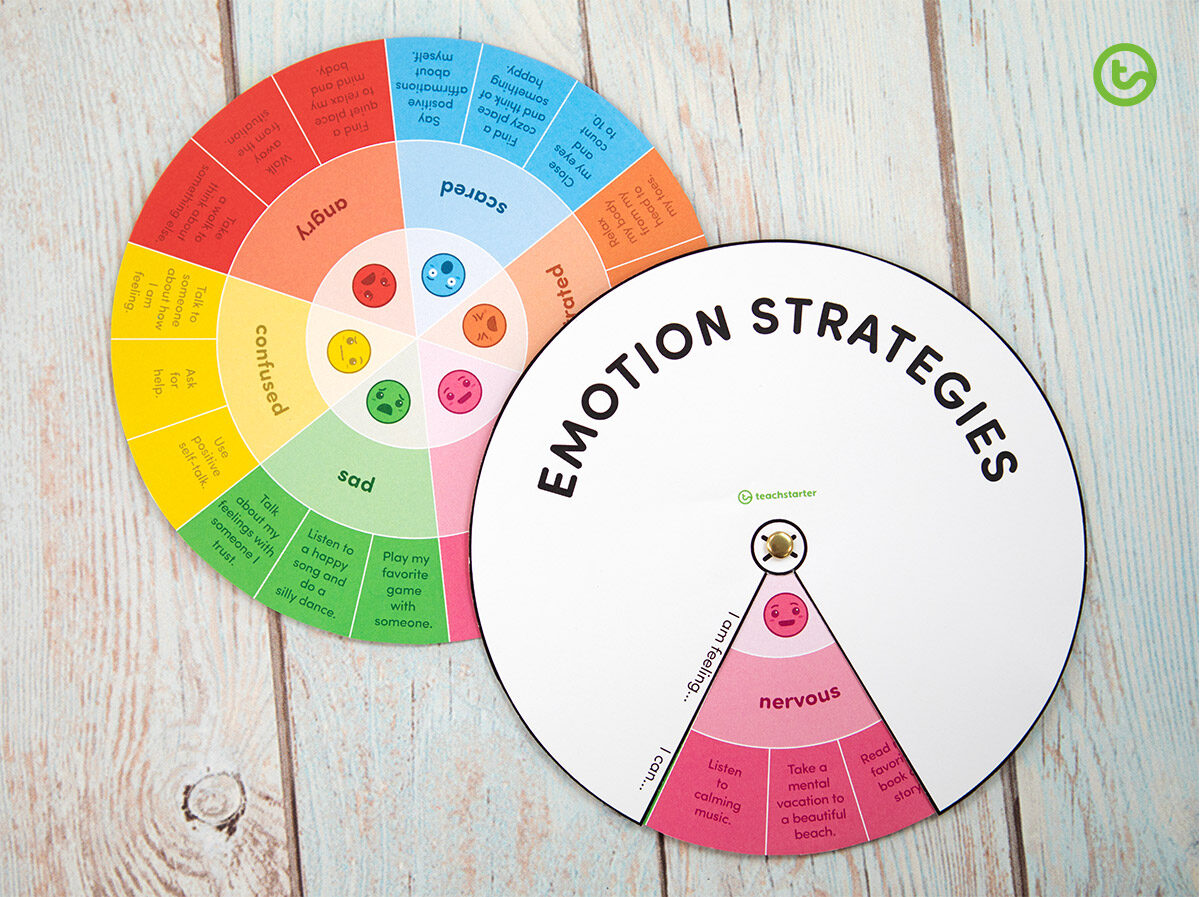 Another fun alternative is to give students the Reboot Remote! Help them press pause and think, slow down, or rewind with their own personal self-management tool.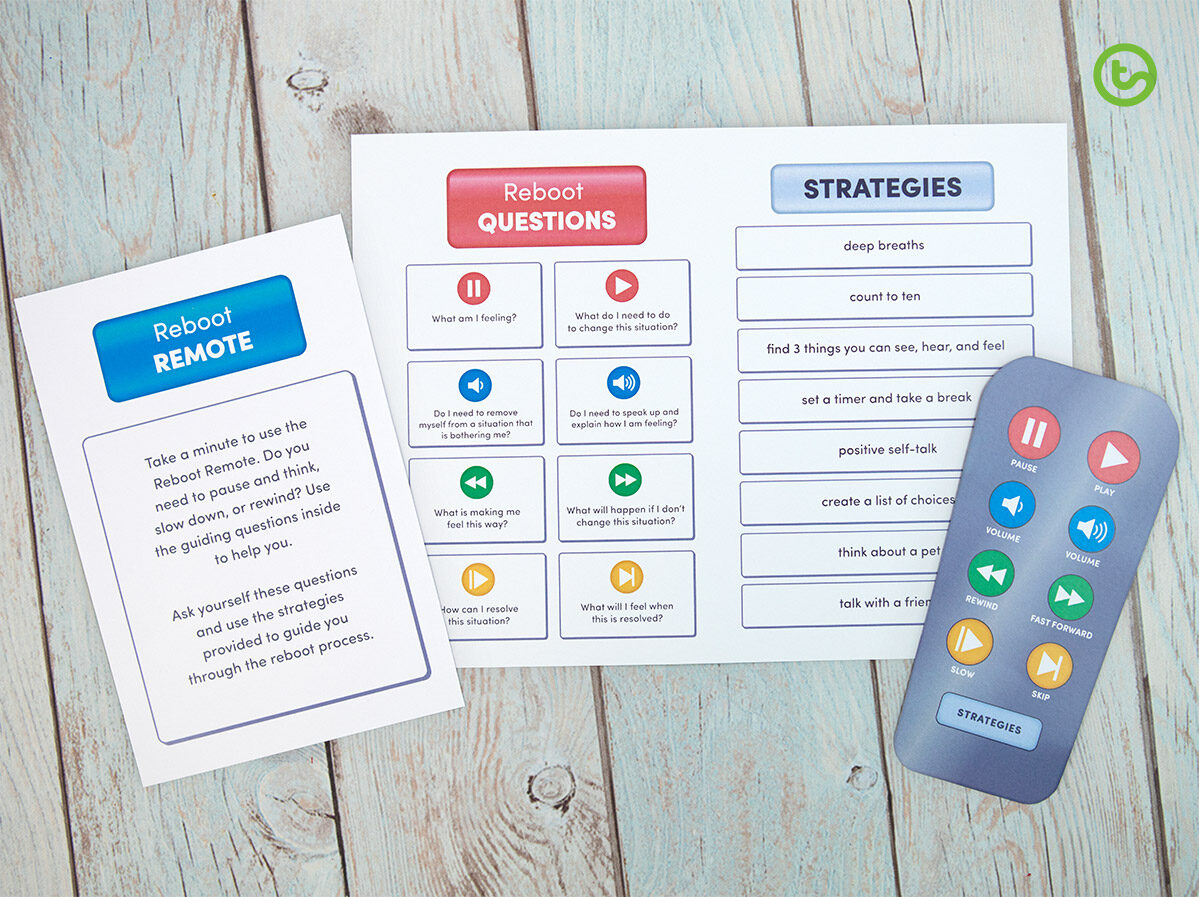 This fun resource comes with questions and strategies to help guide students through the reboot process.
Lastly, if your students are just needing a bit of a pick-me-up, the Positive Self-Talk Bookmark is just the small reminder they need to remember how incredible they are when things get tough.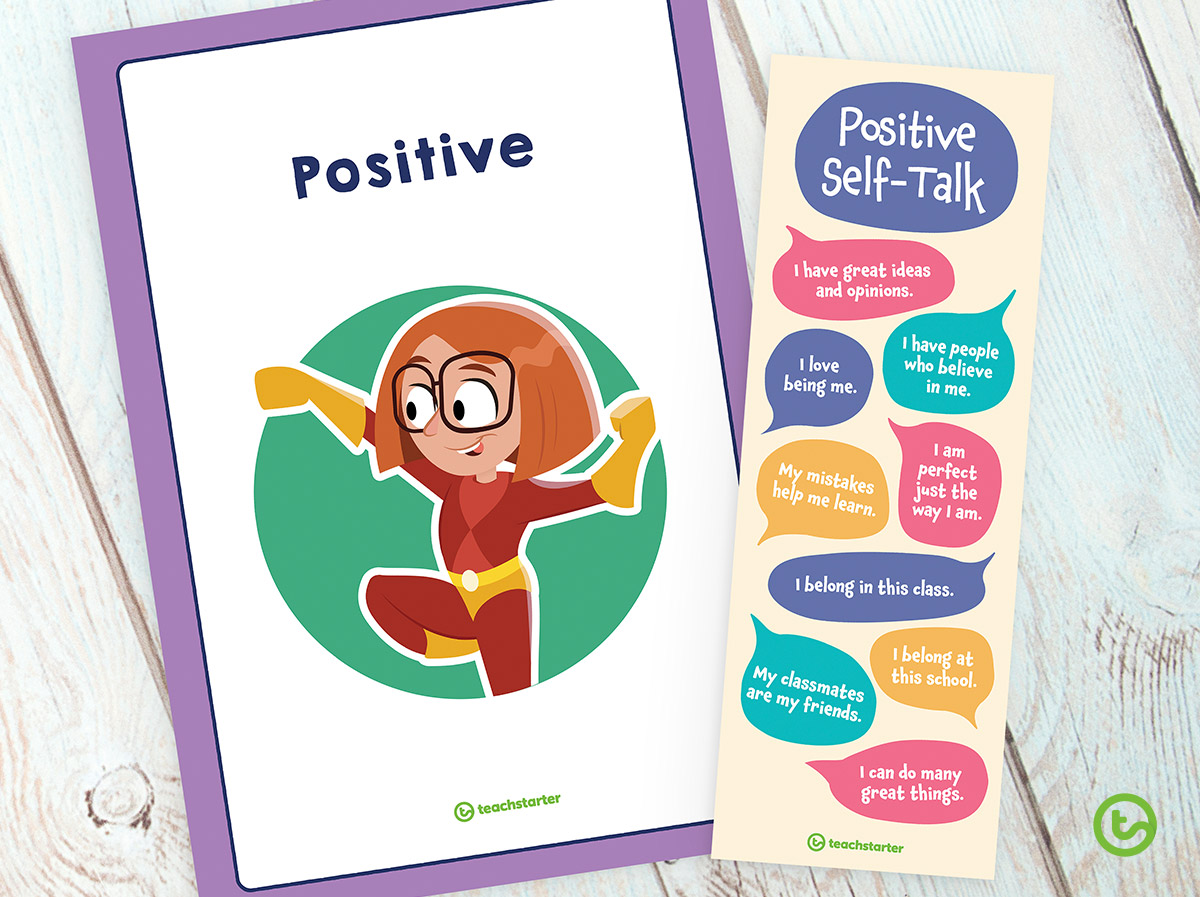 Do a Daily Check-in
Helping students cope with their social-emotional wellbeing means helping them feel in control. There are some quick things you can do on a daily basis to help them feel capable of taking on the school day.
Give them a little support with their day-to-day tasks with these easy-to-use bookmarks! The Task Initiation Bookmark – My Morning Checklist and Task Initiation Bookmark – End of Day print-outs are great little reminders that help take a little bit of the mental load off your kids, freeing their minds up for other things! They also might like to use the  Task Initiation Bookmark – Classroom Assignments and Tasks to have a handy pocket-sized reminder of what to do when they get stuck. This is perfect for students attempting to learn independently.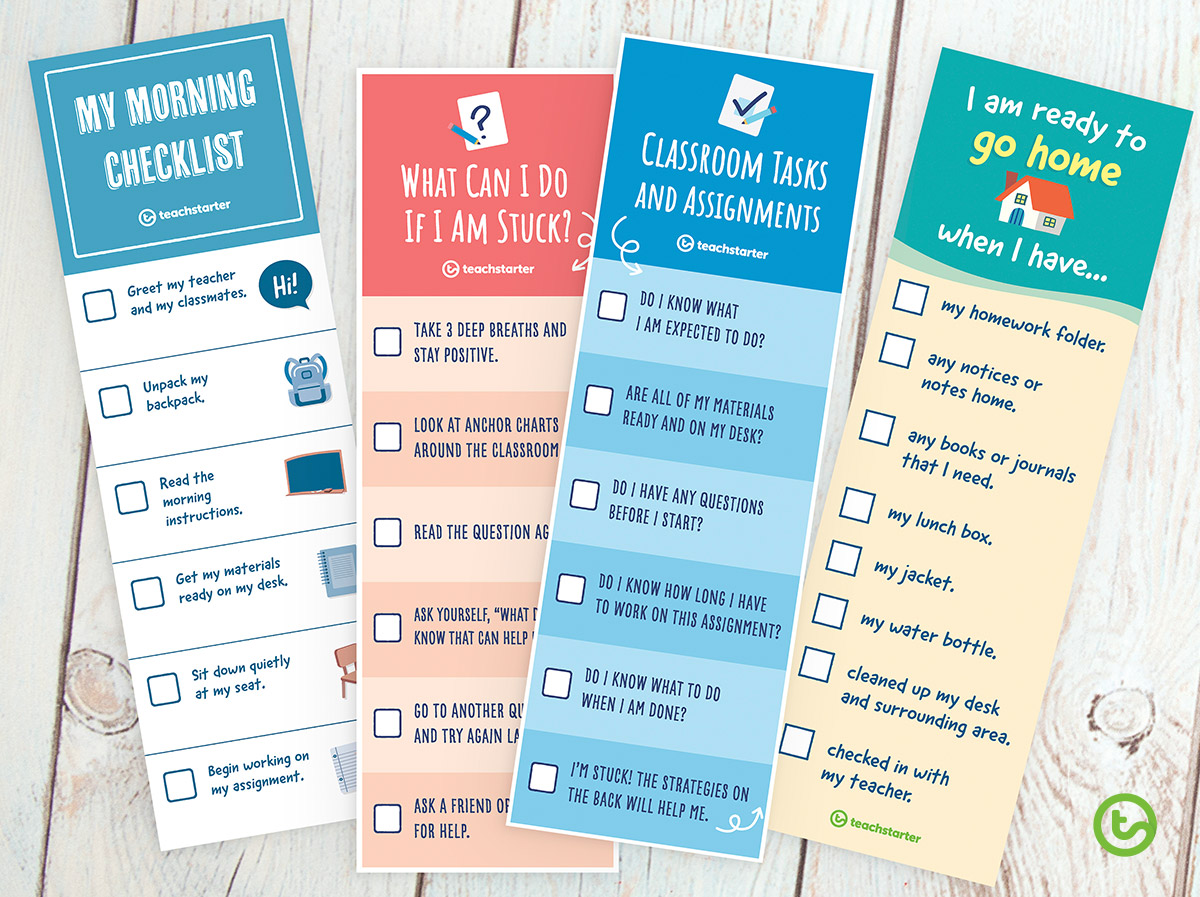 Finally, there is one thing that can't be replaced by an activity or resource – and that is connecting with your students face-to-face (or screen-to-screen!).
Make sure to check in with your students who look like they're having a little trouble managing things. Simply asking how they are each morning can go a long way. Encourage them to speak honestly, and share your feelings with them as well. This will help normalize their feelings and let them know that it's ok to not be having a great day!
---
Your students' wellbeing will be taken care of with these social-emotional activities!