When historians look back on 2022, chances are Wordle will dominate at least a piece of the conversation. Everywhere you turn, the word game with its now iconic green and yellow squares is there, and that includes inside the classroom! Teachers across the US are putting their own twists on Wordle to teach phonics, vocabulary, and a whole lot more. Wondering "how do you use Wordle in the classroom?"
We asked teachers to share some of their clever Wordle ideas for teaching!
What Is Wordle?
Maybe you've managed to escape the hottest craze since the popping fidget toy? Wordle is, in short, a viral word game in which players are given six chances to guess a five-letter word. Guess the wrong word but have a few of the letters correct?
If the letter is in the correct spot, the box containing the letter will turn green — letting players know to reuse that letter right in that spot.
If the letter is in the final word but not in the correct spot, the box will turn yellow, letting them know they can try again.
If the letter is just plain incorrect, the box will turn grey, so players know not to use it again.
The word game was created by Josh Wardle (hence the name), a Welsh software engineer who introduced it to the world in late 2021. By early 2022, Wardle's game became so massively popular in such a short amount of time that it was scooped up by the New York Times, which now runs its own version.
Kids have started playing the game on their own, and teachers have too. So it was only a matter of time before they took it and made it their own!
How Teachers Use Wordle in the Classroom
Whiteboard Wordle
It was a student's question that prompted Emily Halbig to create a Wordle-type board on her classroom whiteboard. The sixth-grade ELA and social studies teacher from Watsonville, California was asked by a student if she played the popular game, prompting other kids in the class to pipe up with questions.
"I did one with them and they were hooked," she told Teach Starter. "I remember one of the first days they got it on the last line and the cheers were so loud it was like they'd won the Super Bowl!"
At first, Halbig was using Chrome to play the real thing with her classes, but soon students were arriving in her classroom having already figured out the answer on their own devices.
"I figured I needed a way to come up with my own words and saw another teacher had done it on chart paper. So I thought why not make a reusable whiteboard version?" Halbig said.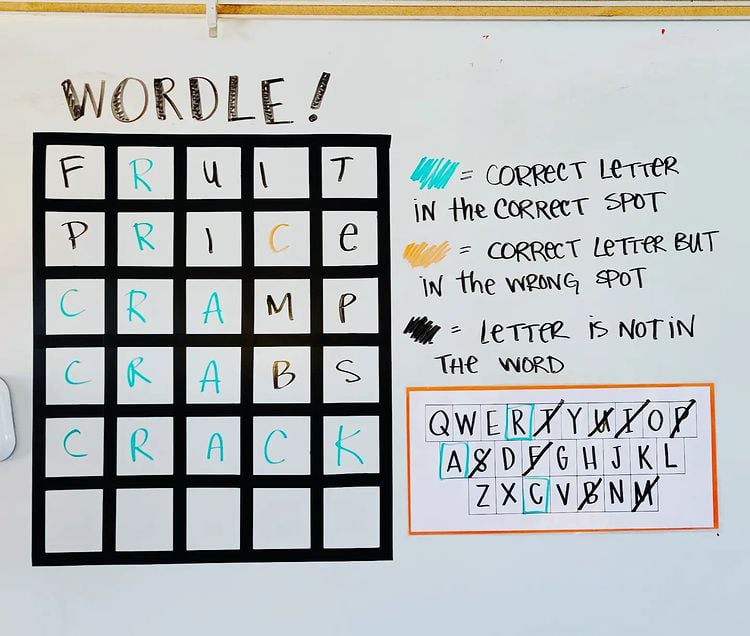 As for where she gets the words from — this exercise is all about the students. Each student wrote five-letter words on index cards, and Halbig pulls at random from the stack to determine the daily word. To keep the kids on her toes, she mixes things up so period one students get words from period three and vice versa.
CVC Word Fun
The original game may be all about five-letter words, but no one said you can't drop the box count down to three to practice CVC words with your younger learners! Draw out six lines each of three boxes for young students to write in their words, and you can use green and yellow markers to mark yellow and green.
Want to make word mapping more fun?
If you have bright-colored magnetic tiles in your classroom — the type kids use for building small structures at playtime — grab the green and yellow tiles, and you've got the perfect thing for some on-on-one CVC fun Wordle style! Bonus: The tiles will even stick to your whiteboard!
Draw on Unit Vocabulary
New Jersey school librarian Beth Thomas saw an opportunity to build on unit vocabulary when she noticed kids were playing Wordle on the Chromebooks in the library. With a group of seventh graders researching Lewis and Clark's expedition in her middle school library, Thomas told Teach Starter she opted to start using five-letter words related to the topic at hand — river, canoe, and so on.
"The kids got really excited about trying to solve the puzzle and had all different strategies (many use adieu as their first guess because of all the vowels)," she said. "I kept telling them they had to use what they were learning about the Expedition to help them make good guesses."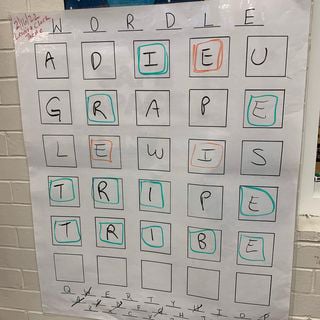 Thomas is already fielding suggestions from students that incorporate the subjects at hand, and she's planning to keep it going.
"A student who comes in frequently during lunchtime had an idea for the one on the day we returned back from President's Weekend: penny because Lincoln is on it," Thomas said. "I will definitely be asking more students to pick the daily Wordle to see if they can stump their friends, and I am already planning on how to incorporate it into other research projects: ecosystems, Ancient India, social justice topics, etc."
You can check out Thomas' series of Lewis and Clark Wordle charts on the school library's Instagram.
Dry Erase Wordle Charts
Don't want to take up space on your whiteboard with your Wordle-type game? Fourth grade teacher Drew Kelley created a dry-erase version for his classroom with standard anchor chart paper! Kelley laminated the paper, and it's the perfect activity for students to work on together while he's working with students during intervention time.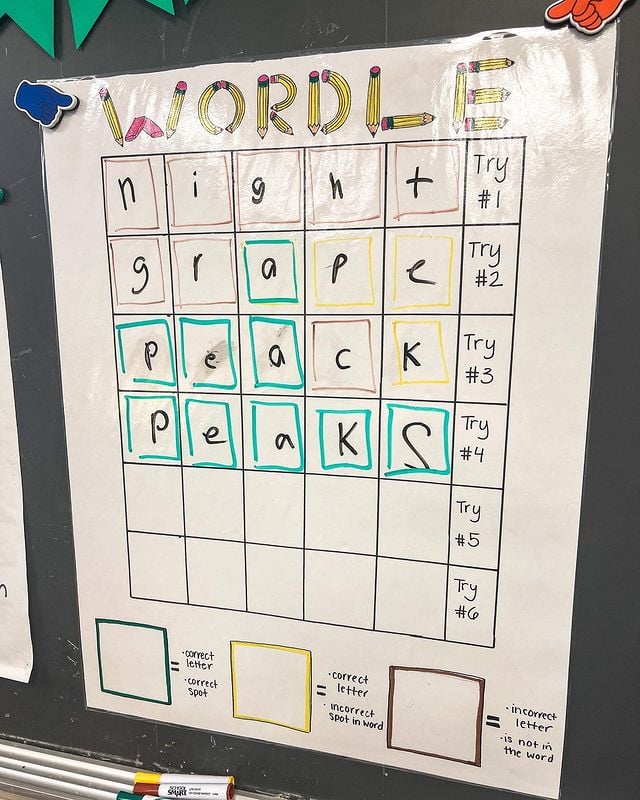 "They use dry erase markers so I can erase it every day after they are done," he explained.
Kelley chooses the words himself, tying them directly into topics he's covering in class.
Dig Into the Archive
New to Wordle, and want to give the original a try? There's just one new World released per day, but you can play old games in the Wordle Archive for free. This makes a great bell-ringer activity for kids on your classroom tablet!
Other Wordle-Like Games
Looking for more fun twists on Wordle for you — or for adapting in the classroom? Give these free games a try!
For Words: Dordle (like Wordle, but it asks for two words!)
Looking for more word fun for the classroom? Give our Toggle game a try, and let your students create as many words as they can find!