Create a monster with a fun-filled monster craft template.
Create a Monster for Halloween Hijinks!
Spooky season is finally here! It's getting close to time to start all of your fun Halloween crafts for kids in the classroom. Give them a little free time and watch them have a blast as they color, cut, and assemble a classroom full of fun Halloween monsters.
These printable crafts are a great way to bring a bit of spooky (but not scary) Halloween spirit into the classroom and develop fine motor skills, concentration, and creativity. This download comes packed with all the paper bits and pieces your little artist needs to create their very own spooktacular Halloween monster. Watch them mix and match an assortment of colorful paper cutouts – from wacky eyes to wonderful wings, and even whimsical horns. With this open-ended craft project, your students will be delighted to design a one-of-a-kind creature that's equal parts spooky and silly.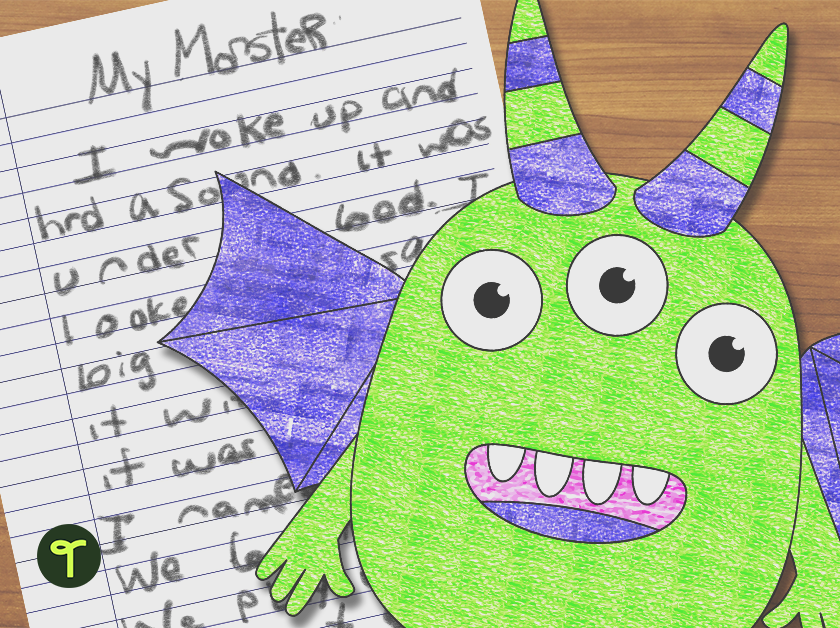 How to Make a Monster Craft
Use this teaching resource in the classroom to make some crazy creatures.
Download and print the cut-out templates (students can share one between the two).
Choose the body shape and other parts needed to make a crazy creature.
Cut out the template pieces and assemble the creature on the paper body or a 3D object like an empty tissue box.
Students can decorate their crazy creatures any way they would like to!
Grab the Perfect Halloween Writing Prompts Too!
This resource works great as a writing center activity during the weeks leading up to Halloween. Have your students make their monster and then write exciting stories, descriptive paragraphs, and informational texts all about their spooky friend. Need some ideas? Here are a few fun writing prompts for Halloween!
Write a story about a day in the life of your monster, Munchie. What hilarious or unexpected situations does your monster find themselves in?
Imagine your monster going to school for the first time. How do they navigate the challenges of making friends and fitting in with their unique qualities?
Tell the story of your monster's journey to prove their bravery. What challenges do they face, and how do they discover their courage within?
Convince your readers why your monster would make the most extraordinary and unique pet. Highlight its qualities, companionship, and why it's better than regular pets.
Write a persuasive piece in which your monster encourages people to be kinder to one another. Share stories about how it interacts with humans.
Download and Make Your Halloween Crafts Today!
Ready to get your lesson plans under wraps? Your new resources are ready and waiting. Give that Download button a click to grab your printable PDF resource file.