Help students understand when to apply the right plural spellings based on the ending of any word.
Use Our Plural Nouns Poster As A Handy Reference
We designed this learning tool as a guide for changing singular nouns in their correctly spelled plural form. Specifically, students will learn to identify regular and irregular nouns, as well as words that end in:
Vowel + y (boy to boy

s

)

Consonant + y (party to parti

es

)

– ch (peach to peach

es

)

-s (bus to bus

es

)

-sh (dish to dish

es

)

-ss (kiss to kiss

es

)

-z (quiz to quizz

es

)

-x (box to box

es

)

-o (tomato to tomato

es

)

-f (leaf to lea

ves

)

-fe (knife to knives)
Easily Prepare This Resource for Your Students
There are multiple uses for this plural nouns poster:
Project the poster on the screen at the front of the room and use it as part of your lesson on plurals.

Print the poster and display it in your classroom for students to reference when doing independent work.

Print the poster on letter-size cardstock paper, slip it into a clear sleeve, and use it in your

guided writing groups

. 

Print on letter-sized cardstock, slip it into a reusable sleeve and place it on a binder ring. Hang on a hook in your

writing center

. 
Print a copy of the poster for each student in your classroom and have them store it in their writing folder for future reference.
Check out more posters and other displays here!  
---
Don't stop there! We've got more plural noun practice resources we know your students will love: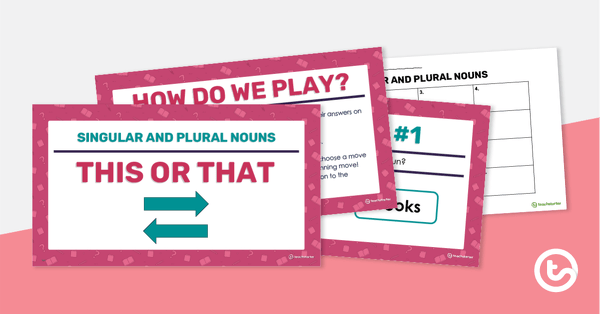 teaching resource
An active PowerPoint game to practice working with singular and plural nouns.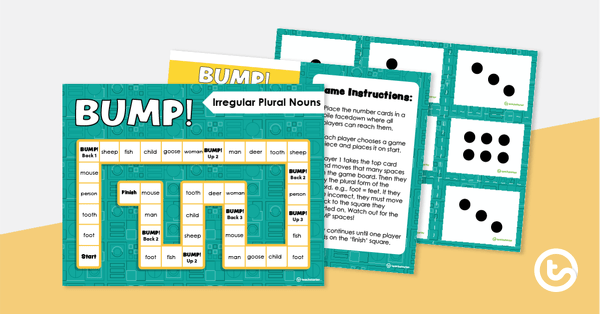 teaching resource
A board game to practice forming irregular plural nouns.
teaching resource
A worksheet to practice identifying singular and plural nouns.