Practice identifying possessive nouns with this fall-themed worksheet.
Pick a Pumpkin – Fall Possessive Nouns Worksheet
Students identify possessive nouns in this simple worksheet. This is a great resource to reinforce understanding of the use of apostrophes to indicate possession. The worksheet is designed for individual practice. Distinguishing between possessive and plural nouns can be tricky to grasp, but let this resource do the work for you!
To begin, students must color each pumpkin to show whether it is a possessive noun. A cloze exercise follows where students select words from the pumpkins to complete the sentences. An answer key is included with your download to make grading fast and easy!  
Scaffolding & Extension Tips 
In addition to individual student work time, use this worksheet as a:
Easily Download & Print
Use the dropdown icon on the Download button to choose between the PDF or Google Slides version of this resource. 
Turn this teaching resource into a sustainable activity by printing on cardstock and slipping it into a dry-erase sleeve. Students can record their answers with a dry-erase marker, then erase and reuse them. 
Get more handy worksheets here!
Are you after a game to help teach about possessives? Try this one!  
Don't stop there! We've got even more resources to add to your lesson plans!
teaching resource
A 23-slide editable PowerPoint template that introduces simple, compound, and complex sentences.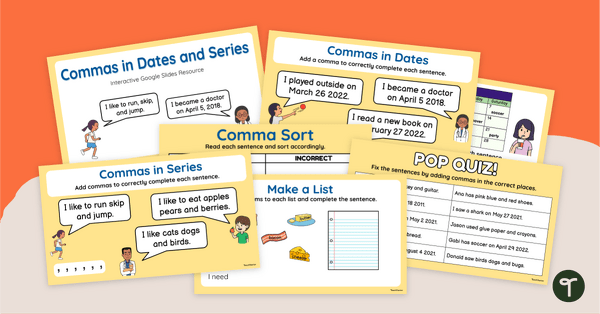 teaching resource
Practice correct comma placement in dates and series with a Google Interactive Activity.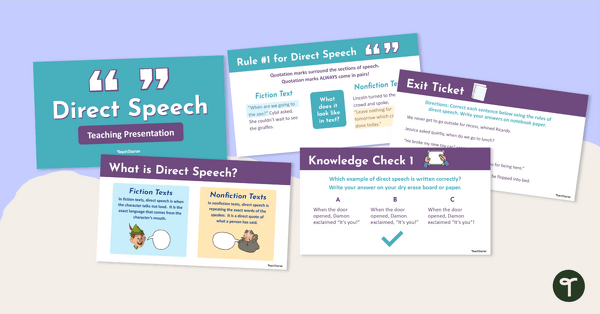 teaching resource
Teach the rules of punctuating direct speech in texts with an interactive teaching presentation