Explore the different elements of the water cycle with this activity mini book.
We also have The Water Cycle Mini-Book (In Depth) version if you are looking for a similar resource with more information.
Water Cycle Mini Activity Book 
Help your students deepen their knowledge of the water cycle with this fun and engaging mini-book.
The mini book works through the stages of the water cycle and has students fill in missing vocabulary associated with the water cycle. 
An answer key is included with your download to make grading fast and easy!  
What is the Water Cycle?
The water cycle is the continuous process by which water circulates and moves between the Earth's surface, the atmosphere, and back. It is a vital natural process that ensures water availability for various ecosystems and human activities. The four main stages and vocabulary that students will be exposed to when learning about the water cycle are:
Evaporation

Condensation

Precipitation

Collection
Learn about The Water Cycle Now
Use the dropdown icon on the Download button to choose between the PDF or Google Slides version of this resource. 
Because this resource includes an answer sheet, we recommend you print one copy of the entire file. Then, make photocopies of the blank worksheet for students to complete. 
Additionally, project the worksheet onto a screen and work through it as a class by having students record their answers in their notebooks.
---
This resource was created by Lindsey Phillips, a teacher in Michigan and a Teach Starter collaborator.
Don't stop there! We've got more activities to shorten your lesson planning time: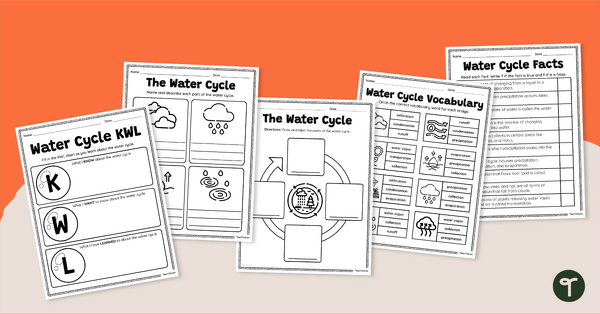 teaching resource
Discover everything there is to know and learn about the water cycle with this collection of worksheets suitable for elementary school students.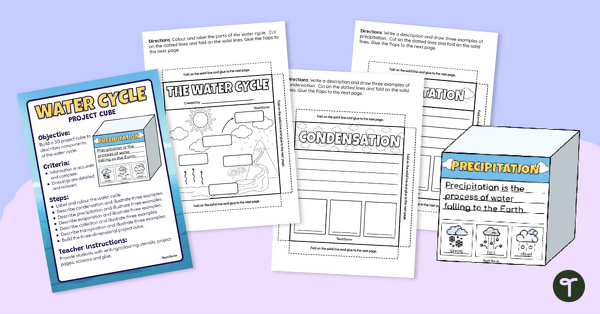 teaching resource
Learn about the water cycle with this fun cube activity project and template.
teaching resource
Test knowledge about the water cycle with these fun and engaging task cards.