Cut, paste, and read about what plants need to survive with a pair of printable plant worksheets.
What do Plants Need to Survive?
Plants are like people. They all have basic needs that need to be met to survive! These needs include air, water, nutrients/food, sunlight, and a place to live and grow. With this pair of printable worksheets, students will learn how plants need soil, water, and sunlight to grow and survive. 
Plant Worksheets for Primary Grades
This pair of printable worksheets are perfect for your primary-grade students. This resource download includes the following
Cut and Paste Worksheet – Students will cut, sort, and paste images of things that plants need/do not need to live.

Reading Comprehension – Students will read a short passage about plant needs and 

Answer five comprehension questions about what they read.
Download and Print Your Plant Worksheets with Ease!
You're just a click away from getting your new resources! Use the dropdown arrow on the Download button to select the Editable Google Slides resource file or the quick-print PDF version.
---
Paired with the right resources, this resource will provide a definite boost to your students' vocabularies. Grab these while you're here!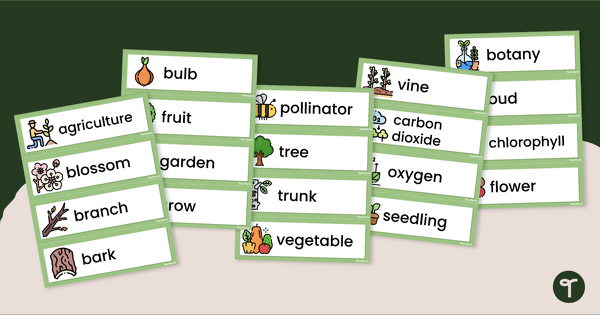 teaching resource
Discover the world of plant-related vocabulary with an illustrated plant word wall display.