Sort 32 picture cards by whether they are living or nonliving things.
Breathe Life into Your Science Lessons with Our Living & Non-Living Things Activity
It's ALIVE! 
Or maybe it's not. 🤔
Take your organisms and environments lesson off the screen by encouraging your students to think about the characteristics of living things in their environment. 
To play our sorting game, students will place image cards under the headings that designate them as living animals or nonliving objects.
Through this activity, students will show they can classify living and nonliving things based on whether they have basic needs and produce offspring. 
Scaffolding + Extension Tips 
Take this activity further by asking the student to sort the living things by animals, insects, and plants. 
Use this activity in a small group setting for students who need support grouping pictures as living or nonliving things. Encourage students to take turns identifying the images on the cards and talking about their distinctive qualities. Does it breathe and eat? Does it grow? Does it have babies?
Additionally, turn this into a literacy game by sorting pictures that start with the same letter of the alphabet and then putting the cards in alphabetical order. 
Get our 10 Best Scaffolding Strategies here! 
More Ways to Play This Living & Non-Living Things Activity
A team of dedicated, experienced educators created this resource as an independent practice activity. However, we also suggest using it to reinforce your guided group and full-class science lessons in the following ways: 
➕ Same But Different
Challenge students to access their critical thinking skills. As a whole class or in small groups, look at one completed category at a time and ask students to compare the pictures to each other, listing out specific differences and similarities. For example:
How is a bee different from a snake?

How is a computer similar to a camera?

Where does each living thing live? What do they eat?

Which objects do you use every day?

Which things are bigger than you? Smaller than you?
🏃 Category Sorting Relay Race
Split the class into two teams and have them line up in their groups on one side of the room. Lay the Living/Nonliving Things headings in a central location between teams, shuffle the cards, and split them into two sets placed face-down on the floor at the front of each line. When you say, "Go," the first player in each line will grab the top card, run to the other side of the room, and place the card face-up under its appropriate heading. Then they'll run back to their group and tag the next person in line. That player will grab the top card, run to the other side of the room, and place their card where it belongs. Play will continue until each group has played all of their cards. The team that has their cards played in the correct order first wins.
🎭 Charades
Ditch the headings and use the cards as charade prompts. Divide your class or small group into two teams. Teams will take turns sending up one student to act out the pictures for their team while you keep score. If their team guesses the word and identifies it as a living or nonliving thing, they get one point. 
Easily Prepare This Resource for Your Students
Use the dropdown icon on the Download button to choose which version works best for you and your students. They include: 
PDF version 

Editable Google Slides Version
Print on cardstock for added durability and longevity. Place all pieces in a folder or large envelope for easy access. 
---
Why stop there? Add these engaging activities and teaching resources to your living and nonliving  lessons: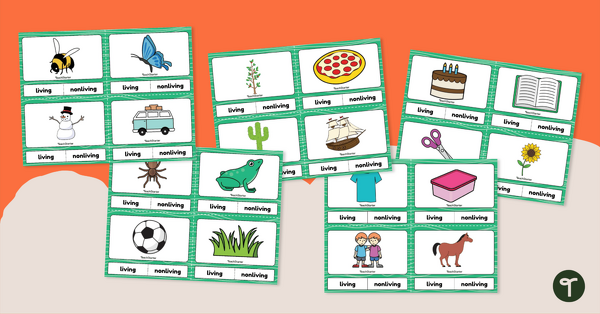 teaching resource
Differentiate between living and nonliving things with this set of 24 clip cards.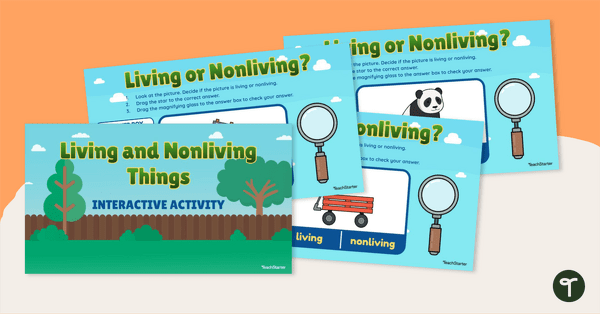 teaching resource
Identify living and nonliving things with this self-checking interactive activity.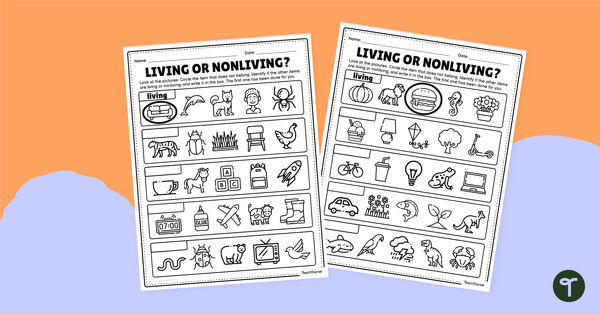 teaching resource
A worksheet that explores living and nonliving things.