You've organised the classroom, set up your desk name plates, sorted your login strips. Now, what? If you're looking for some amazing classroom display ideas that will have real impact, welcome!
The teachers at Teach Starter love to create classroom displays that add to the classroom environment and work in tandem with your teaching. After all, classroom displays shouldn't just be pretty; they should serve a real purpose in the classroom.
Why Are Displays Important in the Classroom?
Maybe you love creating classroom displays, or maybe you would prefer we bin the whole idea. Either way, it's worth sitting down to really think through the 'why' of classroom displays before setting them up this school year.
In a nutshell, classroom displays create a welcoming atmosphere and a better work environment for students to thrive. Classroom displays are often composed of student work, but can also simply be decorative. Whatever you choose to display, showcasing student work can benefit kids in a number of ways including:
Creating a sense of pride to display their work
Solidifying information — great for visual learners
Providing teamwork opportunities and practise
Varying subjects and topics can drive your decisions on what to display throughout the year, keeping things fresh and engaging. Ready for the next step? Let's dive in on how to get your display started.
Ready for the ideas? See all our printable classroom displays to save you set-up time!
How Do You Make a Classroom Display?
There are many ways to create a fun and engaging classroom display. Once you know why you're creating the display, you can start to collect the resources and information you need.
Here are some things our teacher team considers before getting started on a classroom display:
What is the purpose of your display? Is it to support student learning in a specific unit? Display student work? Or to encourage positivity, self-regulation, and a growth mindset?
Do you have ready-to-use decor or will you need to make a trip to a cheap shop?
Lay it out on the floor to decide on the best layout and methods of display.
Whatever you decide to display, remember that there's no one way to accomplish this part of your classroom. Keep in mind that keeping things simple is often best, and it's okay to adopt ideas from those who have been in the same position.
Simple Classroom Display Ideas
Here are some classroom display ideas you can refer to throughout the year to keep your students engaged, curious, and proud of their hard work!
Set Up Word Walls
Word walls are great for long-lasting and meaningful classroom displays. They help students with new vocabulary and spelling skills while also creating a colorful corner of the classroom! Teacher Bec of Adelaide uses her word walls to encourage students to use their words when writing. For example, Bec set up the heat energy word wall (seen below), and encouraged students to replace 'the stuff' or 'it' in their writing with scientific terms.
Explore our complete collection of word walls, ready to print for your classroom!

Photo courtesy of former teacher Bec of Adelaide
Display Drafts
Hanging up students' completed work is a common classroom display idea, but you don't have to wait until the work is done.  If you have ongoing projects such as a piece of writing, displaying each draft the student completes makes them aware of their progress.
Set Goals
Will you be starting off the school year or a new term with some goal-setting? Turn it into a classroom display.
Displaying student goals in the classroom is a wonderful way for kids to feel inspired by their own goals as well as those of their peers. Year 6 teacher Ms. Jordyrai used our Iceberg Goal Setting template to create this beautiful classroom wall display after setting up SMART goals with her class.
Check out our teacher team's favourite new goal-setting ideas for 2023 here.

Photo courtesy of primary teacher Ms. Jordyrai
Use Small Pockets
This is such a simple idea that can help with your classroom organisation. Hang small folders, envelopes, or packets to make photocopies of information, checklists, writing prompts, or task cards easily available to your students. This is a great way to make use of your walls to store additional things in the classroom and is especially helpful for making items accessible to students.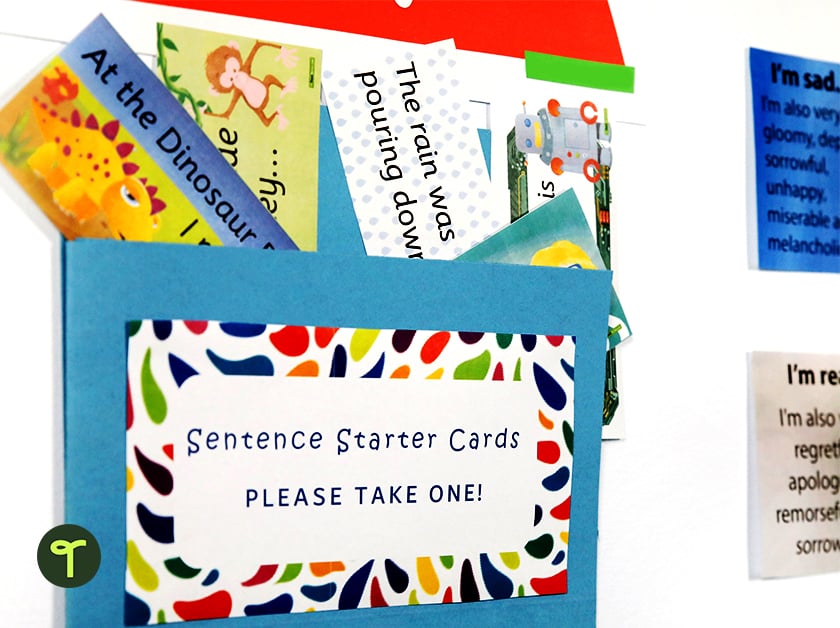 Pegs, Peglines and Clipboards
Another simple and affordable classroom display idea that has a great visual impact is to display information or student work using pegs or on a peg line.
Clipboards can also be used as a means to visually separate some of the more important information in a display. For older students who have the fine motor skills to manage it, you can also use clipboards to store checklists or photocopies that students need to access.
Teach Starter Teacher Tip: Planning a display board at the beginning of the year before students arrive? Print these 'student work coming' posters to let students know this space is just for them!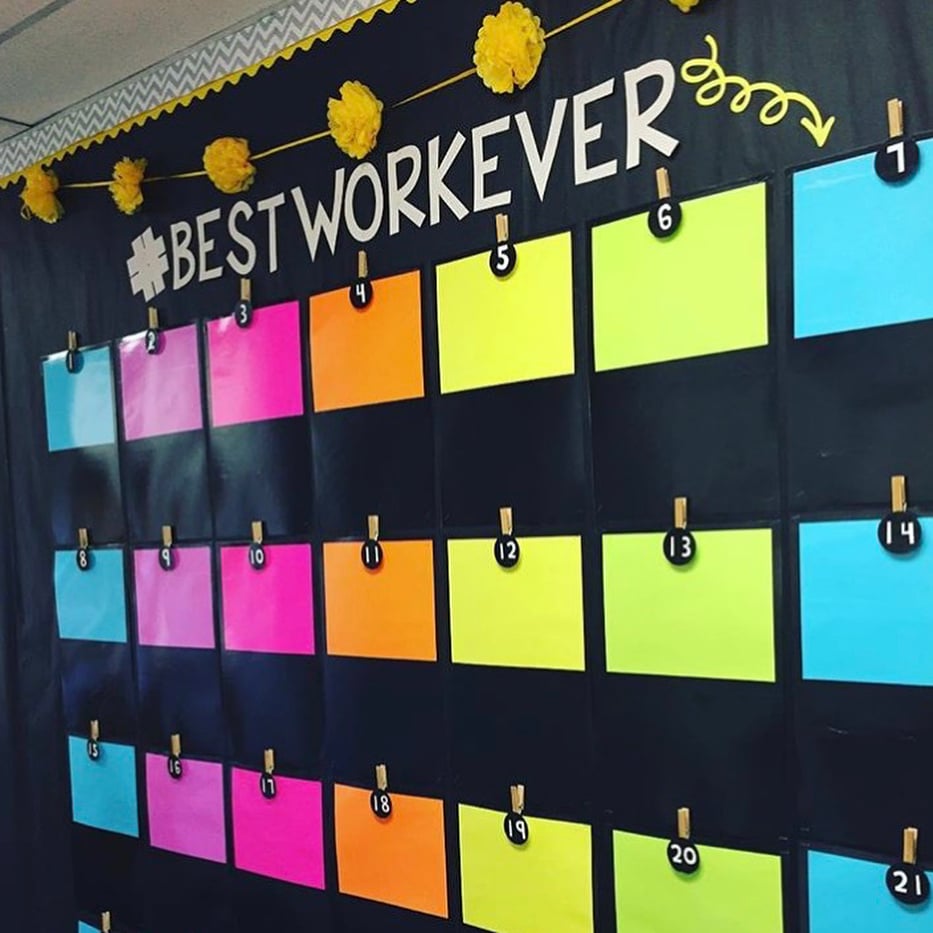 Photo courtesy of 3rd grade teacher, Amy
Pull Out the Wrapping Paper
Do you have wrapping paper left over from your holidays? You may want to pop it in your car to take to school. This is a cheap and effective way to create a background for your classroom display!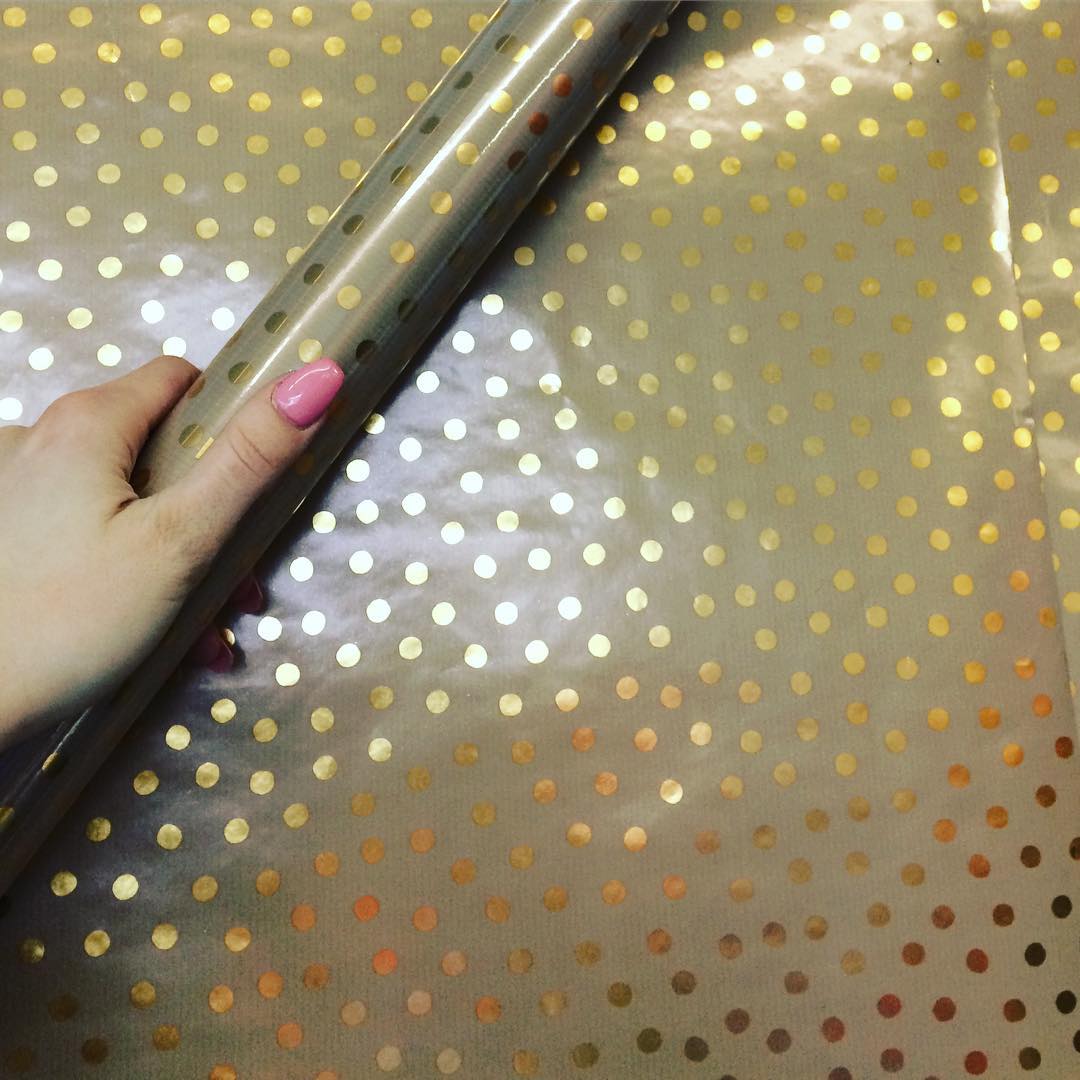 Photo courtesy of assistant headteacher Stephanie McG of London
Shoebox Dioramas
This is a really fun display idea and one that you can get your students involved in. If it suits the purpose of your display, use shoeboxes attached with picture hanging strips to present information and ideas in 3D.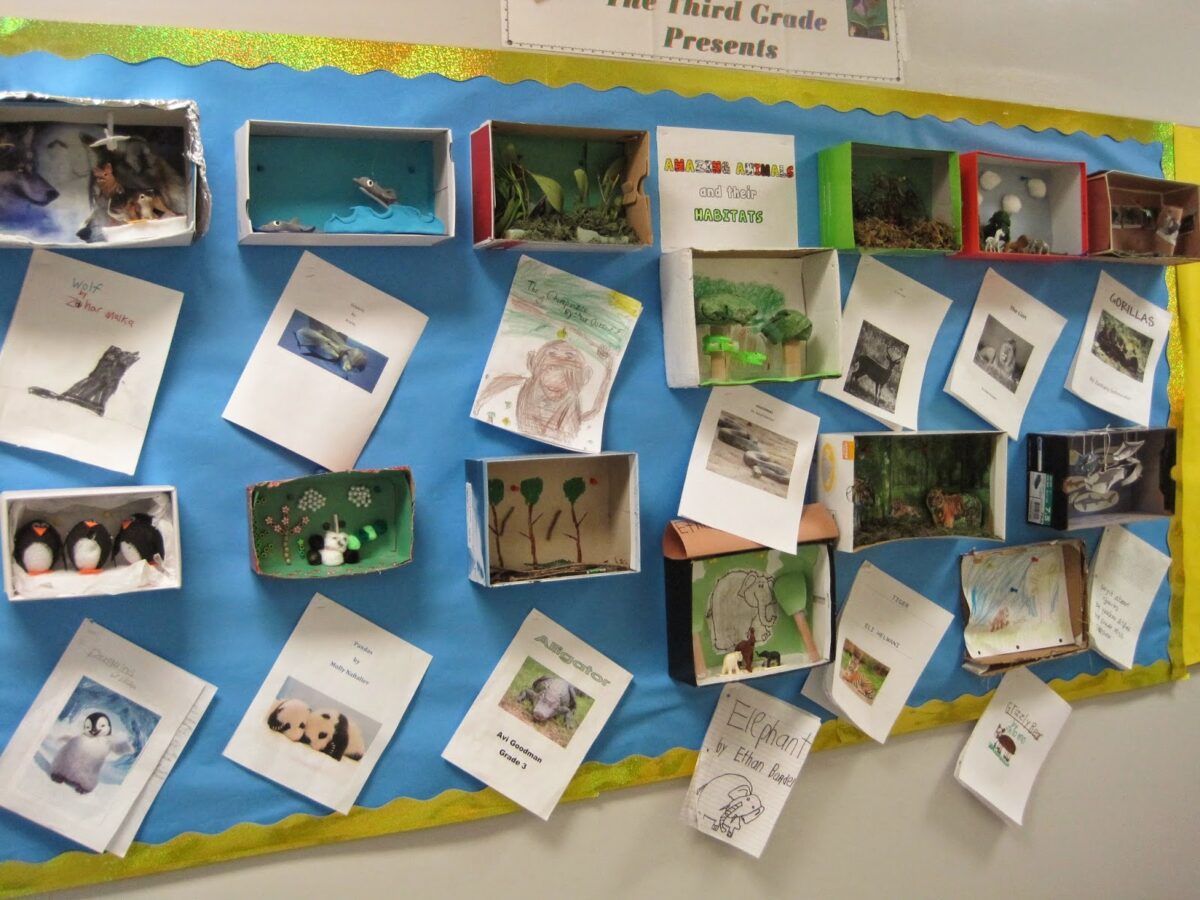 Photo courtesy of 3rd grade teacher, Renée Glashow
Displays For a Difference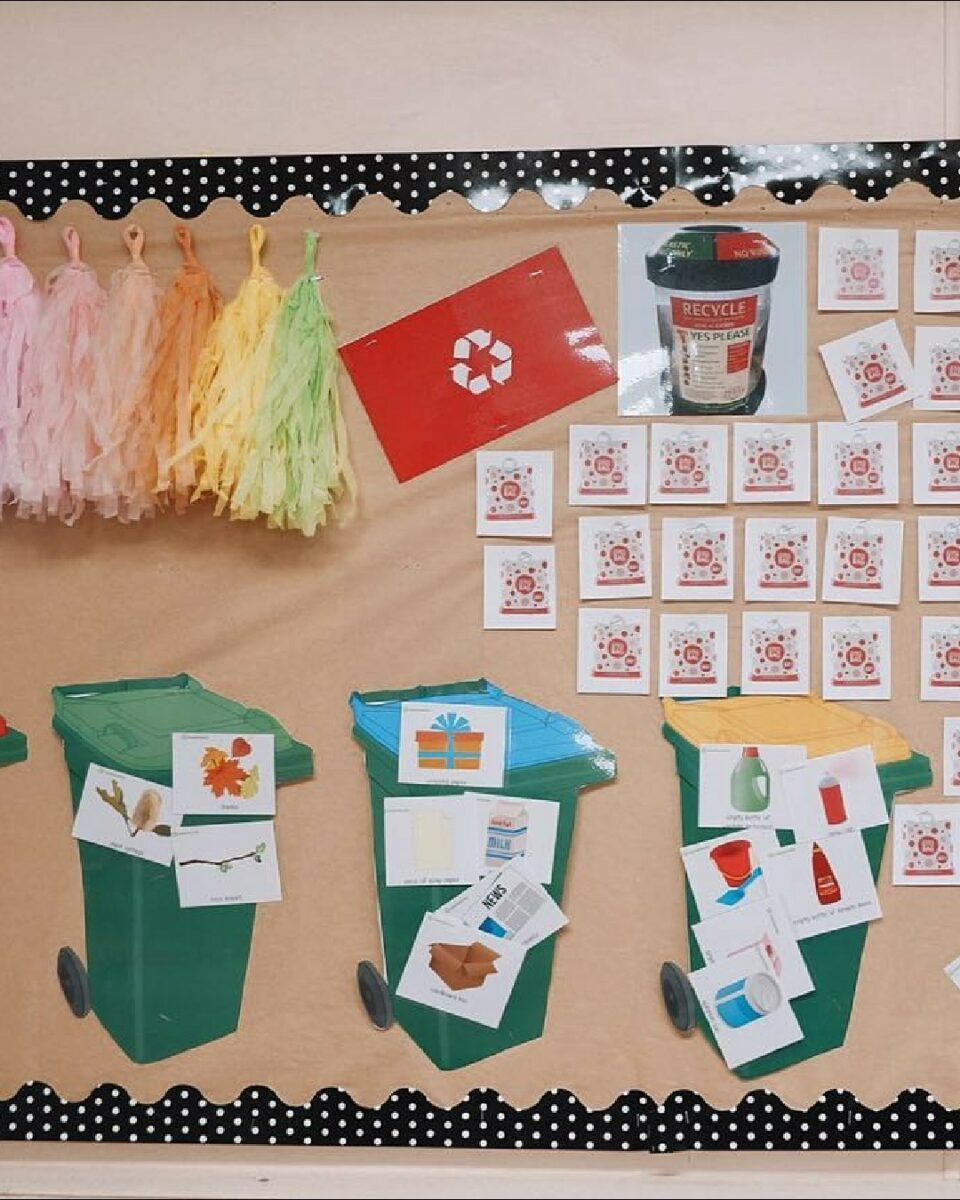 Photo courtesy of Year 3 teacher Nina
Combine community service with an inspirational display that will make a difference and encourage sustainability! Year 3 teacher Nina used our Rubbish Bin Sorting Activity elements to create a recycling-themed classroom display to spark some student engagement.
Nina had her students collect soft plastics that could be recycled at local supermarkets and says "I am so proud of their efforts and for taking pride in something that means so much to our environment and its future!"
Hang Postcards
Revive the art of postcard writing by hanging cards from different locations on your classroom display to fit in with a topic.
Sticky Notes
Sticky notes can be used in so many ways! Classroom displays with sticky notes can include ones where students write on the notes and stick them up (such as a fun brainstorming display activity), or they can be used to cover information, ideas, or classroom rewards that are revealed by pulling the sticky notes off.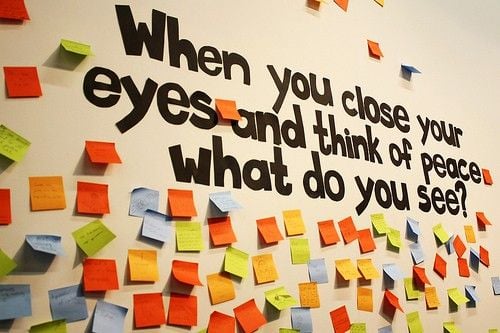 Photo courtesy of thegirlwhokeepsdreaming.tumblr.com and bulletinboardideas.org
Create Sticky Punctuation
Speaking of sticky, here's a fun idea for a classroom display for punctuation: Make some commas, full stops, etc. from black card with a piece of sticky putty on each one. Write a sentence with no punctuation marks on a wall display and invite pupils to place the marks in the correct place. This works best as an ongoing display with a new sentence each week.
Use Wool, String or Ribbon to Make Connections
Use wool, string or ribbon, and thumbtacks to connect ideas in a classroom display. This is great for when you have a topic that is comprised of a few different elements or sections and is great for visual learners.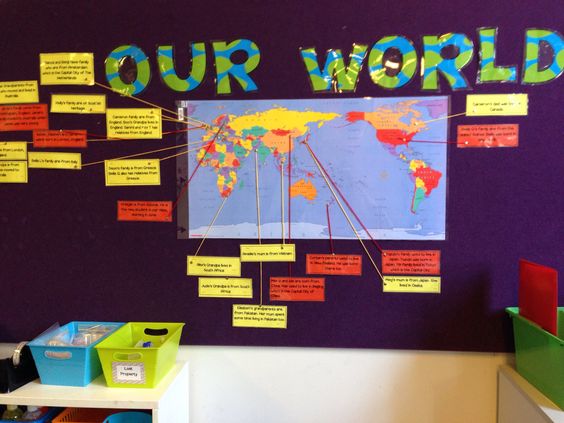 Photo courtesy of Rachael Craig via Pinterest
Print Your Display Banners
Save time on cutting out all the letters for your classroom display by printing a display banner (and a border). Classroom display banners aren't just for looks! They help to group information and direct attention, so students can find what they need a little more easily.
Print pre-made display banners here to save time!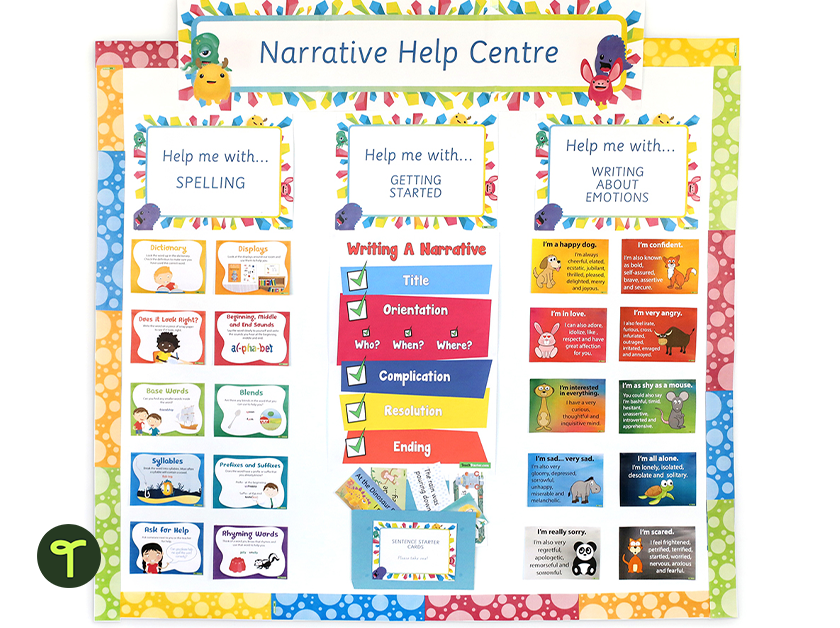 Fill Gift Bags
This is another great way to reuse items from your holidays. Recycle gift bags you've been given or use small gift bags to fill with challenge work, puzzles, treats, rewards…whatever you like! Staple to a wallboard, and give your display a 3-D effect.
Use Your Windows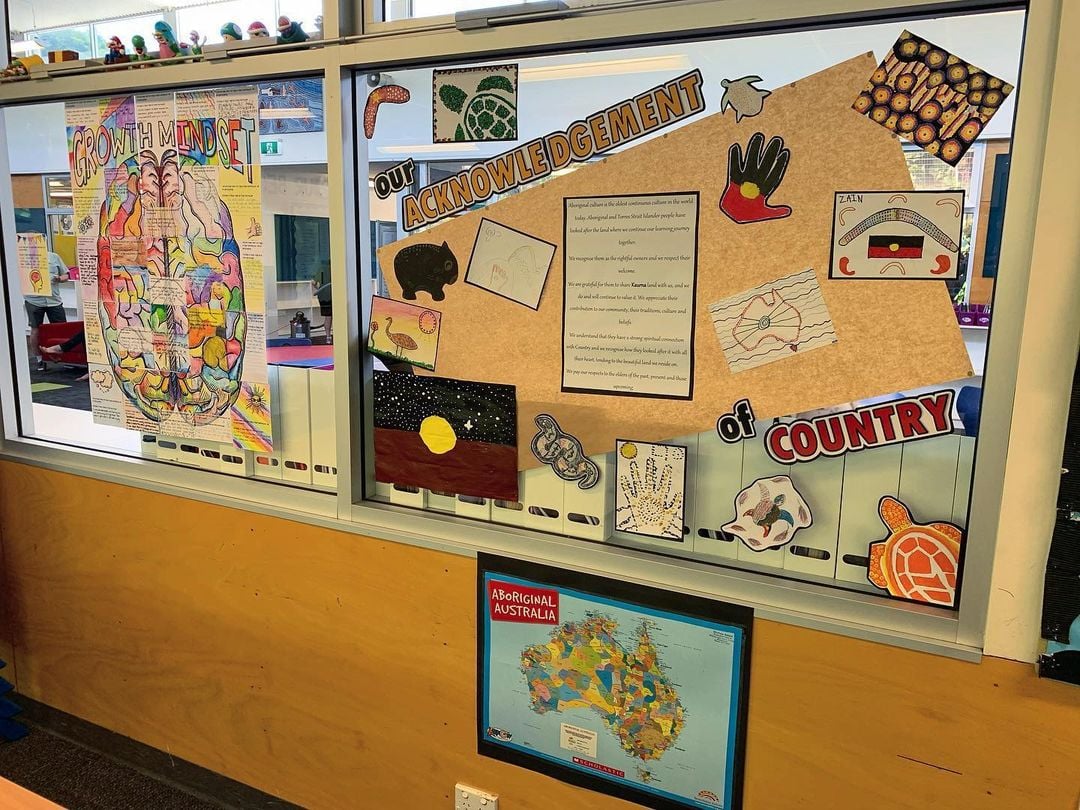 Classroom displays don't have to live exclusively on walls! If you have a window like Year 6 teacher Mr. Ebert, take advantage of its possibilities and space.
For this classroom display, Mr. Ebert had his class write acknowledgements of country after teaching about the difference between a Welcome and Acknowledgement of Country. He comments, "I'm hugely impressed with their maturity, understanding and empathy. One student even apologised for what was happened to them in the past."
Explore our Australian history collection or print an Acknowledgement of Country classroom display to get started!
Picture Frames
Lightweight picture frames are another fantastic way to highlight important information, pictures and ideas on a classroom wall. You can easily stick these up using picture-hanging strips that won't damage the walls.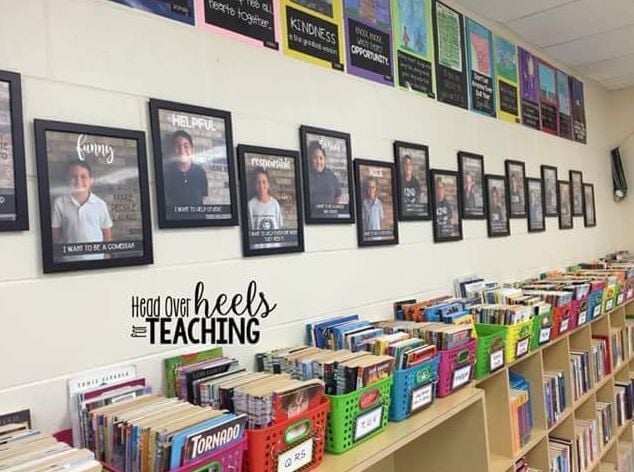 Photo courtesy of Head Over Heels for Teaching via Pinterest
Make It Interactive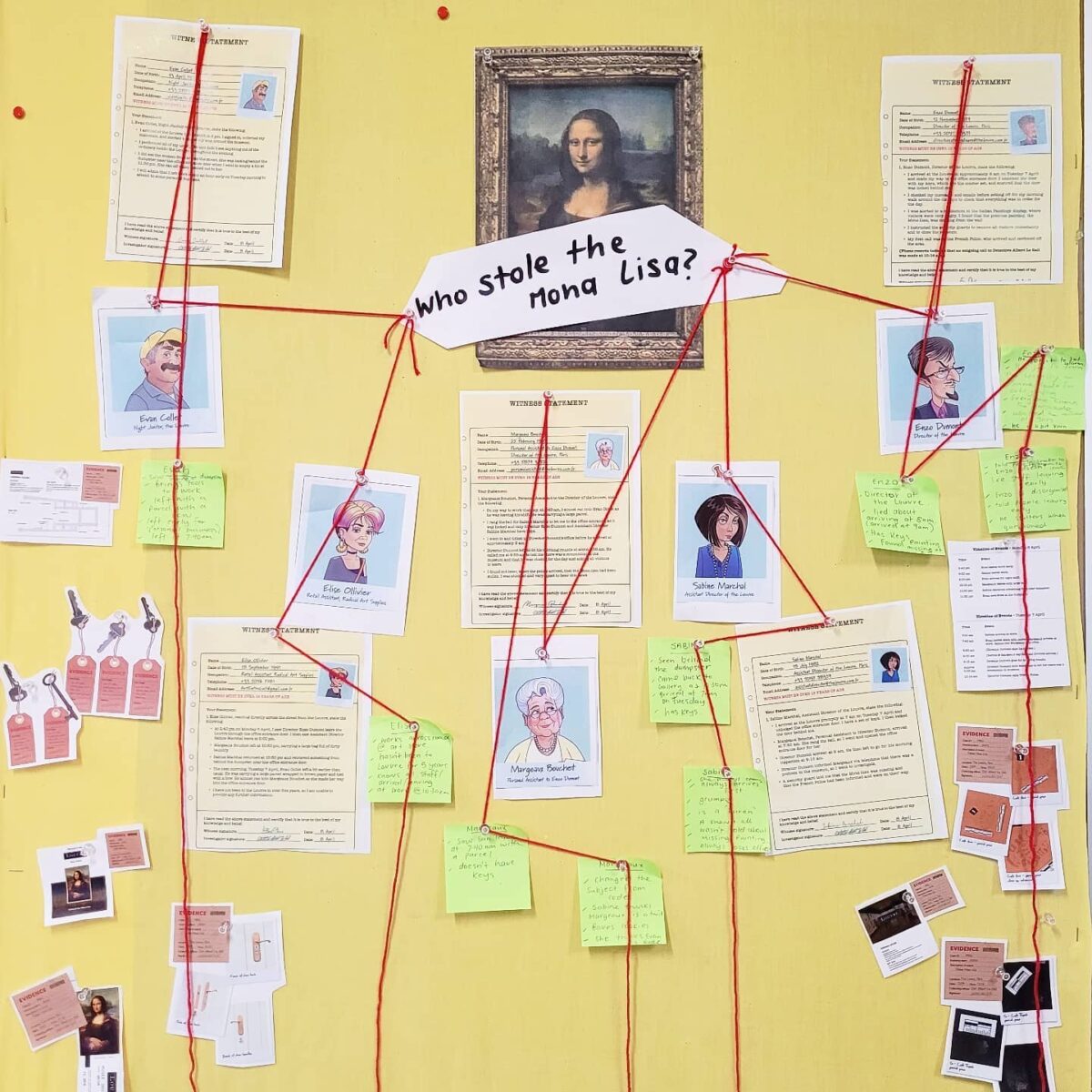 Photo courtesy of graduate teacher Mrs. E
Interactive classroom displays pull students in, and make the entire display a chance to explore!
Not sure where to begin? Our teacher team developed an entire display that will transform your class into a team of detectives! Our Who Stole the Mona Lisa activity is an immersive tale of lies and intrigue, taking students on an adventure to the Louvre in Paris, France. Graduate teacher Mrs. E used our activity to create this fun mystery into a classroom display (that's her photo above).
This Missing Mona Lisa activity consists of 9 chapters, approximately 60 minutes each designed for Year 5 and 6 students. Students will investigate, research, and justify their suspicions as the story takes many twists and turns.
'All About Me' Classroom Display Ideas
Most kids love to talk about themselves and starting school with an all-about-me activity is a good way to get to know your students as you begin to build relationships. But have you thought to set up classroom displays using the result of the project? By setting them up on the classroom walls, students can get to know their new classmates over the course of the first few weeks of school, and parents will love to spot their child on the wall.
Here are a few of our teacher team's favourite activities to post on the wall!
All About Me Bunting Template
In this All About Me Bunting Template, students complete their very own piece of bunting. Once each student has completed their flag, hang the bunting around the classroom. This is a simple-yet-effective classroom decoration that the students have created themselves.
All About Me Concertina Template
This fun All About Me Concertina Template is perfect to print and use for the first week of school. This activity will help you assess your students' ability to write their own names and numbers 0-10. Choose from a range of school fonts and designs to suit the children in your class.
We Fit Together!
K-6 teacher Kristen of Sydney created this 'all about me' classroom display with her students. Each student completed a keyboard button describing themselves along with some of their favourite things. As she said, "The kids love creating it and it brings a splash of colour to our classroom!"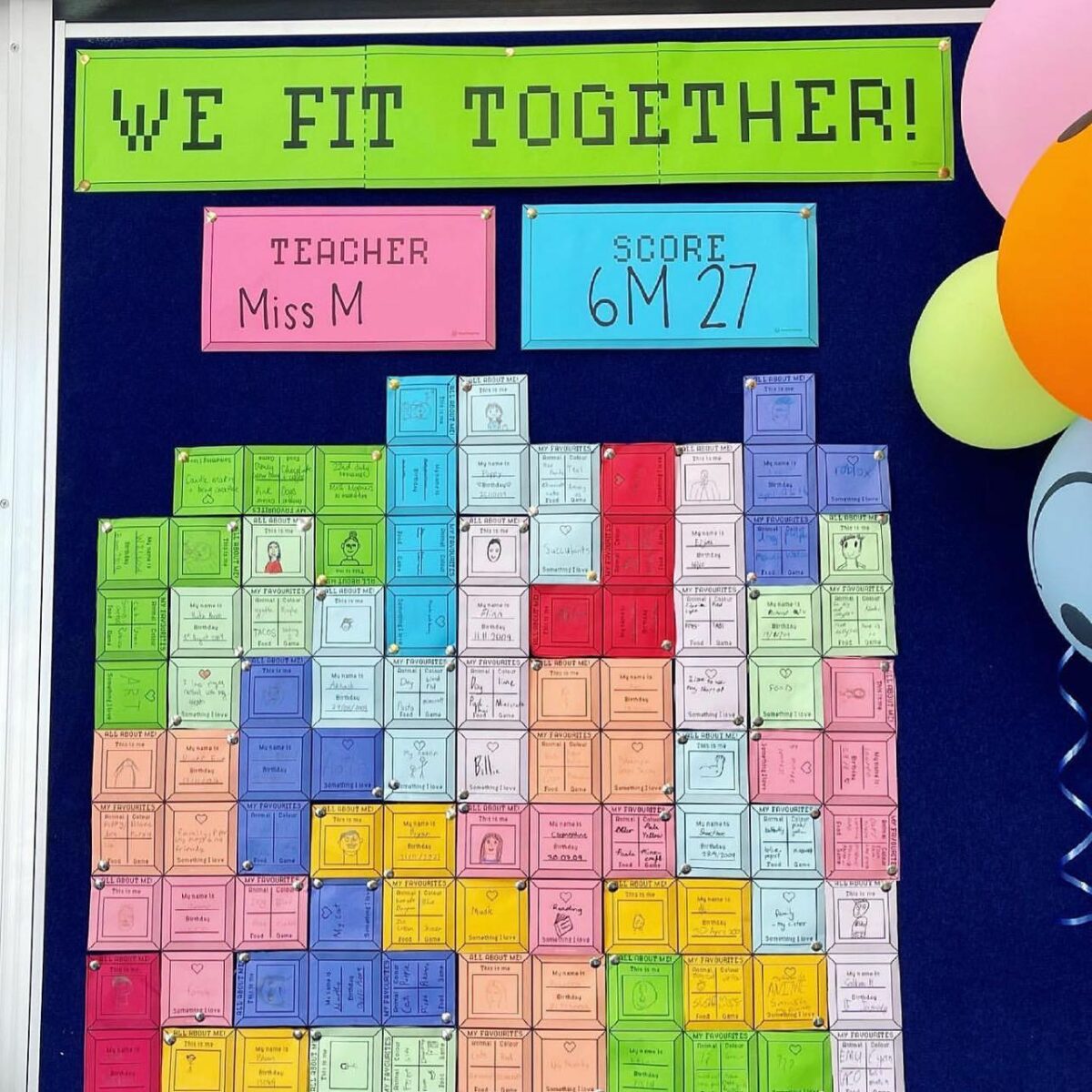 Photo courtesy of K-6 teacher Kristen of Sydney
All About Me Egyptian Pyramid Display
To create this All About Me Egyptian Pyramid Display, students complete their very own piece of the Egyptian pyramid. Once each student has completed their segment, put them together to create one larger pyramid!
This display can also be a segway into a history unit on Ancient Egypt or ancient history in general.
All About Me Bee Hive Display
Students complete their very own piece of the beehive to help create a happy All About Me Bee Hive Display. Once students have completed their hexagons, stick them all together as a class to create a buzzing hive. Sweet as honey!
This is a perfect classroom display if you have a bee, garden, insect, or nature-themed classroom.
Getting-to-Know-You T-Shirt
Use this Getting-t0-Know-You-T-Shirt activity at the beginning of the year to have your students get to know each other. Provide each student with a copy of the blank t-shirt and display the example for the class to see. Use your Morning Meeting to have the students introduce themselves to the class using their unique t-shirt design. Hang the t-shirts on some string after everyone has introduced themselves for a gorgeous first week of school display.