Watch out! Teaching and learning sight words has never been so easy! Our new printable Sight Word Little Books are the new essential teaching resource for lower years.
These must-have Sight Word Little Books have been created as part of our Little Learners Month (a month we're dedicating to amazing teachers who are champions of their K-3 classrooms).
---
Sight Word Printables for Little Learners
As we know, students need to be exposed to a range of activities to learn sight words. What's more, repetition is key! So, each Sight Word Little Book includes 7 different activities that provide the opportunity for little learners to learn these tricky little blighters!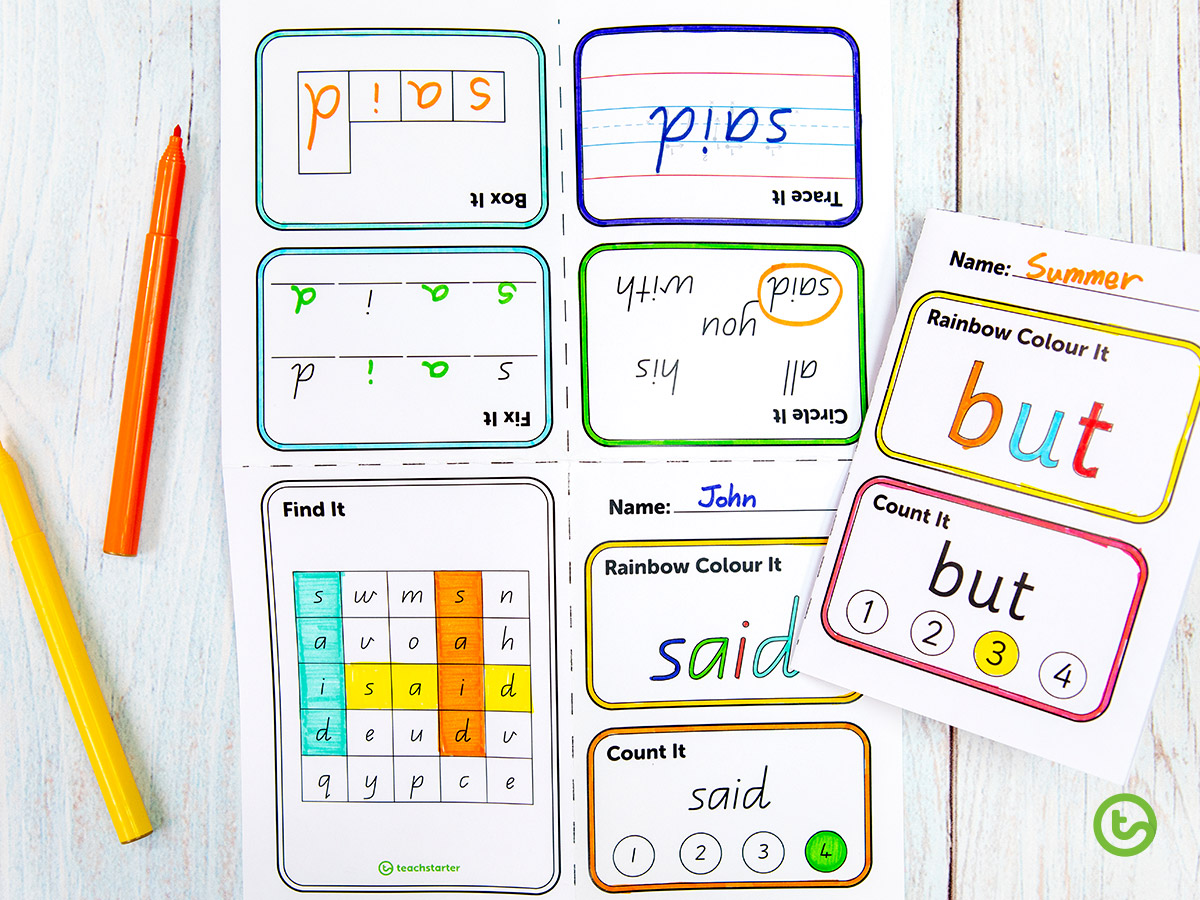 By the time your students have completed a Sight Word Little book, it will be hard not to remember the sight word! These handy Little Books are quick and easy to fold. And you can select from 12 different school fonts!
Stay with me to find out more…
---
The Genius Behind Sight Word Little Books
The pages of our printable Sight Word Little Books give little learners a chance to practise identify, read, analyse and write high-frequency words.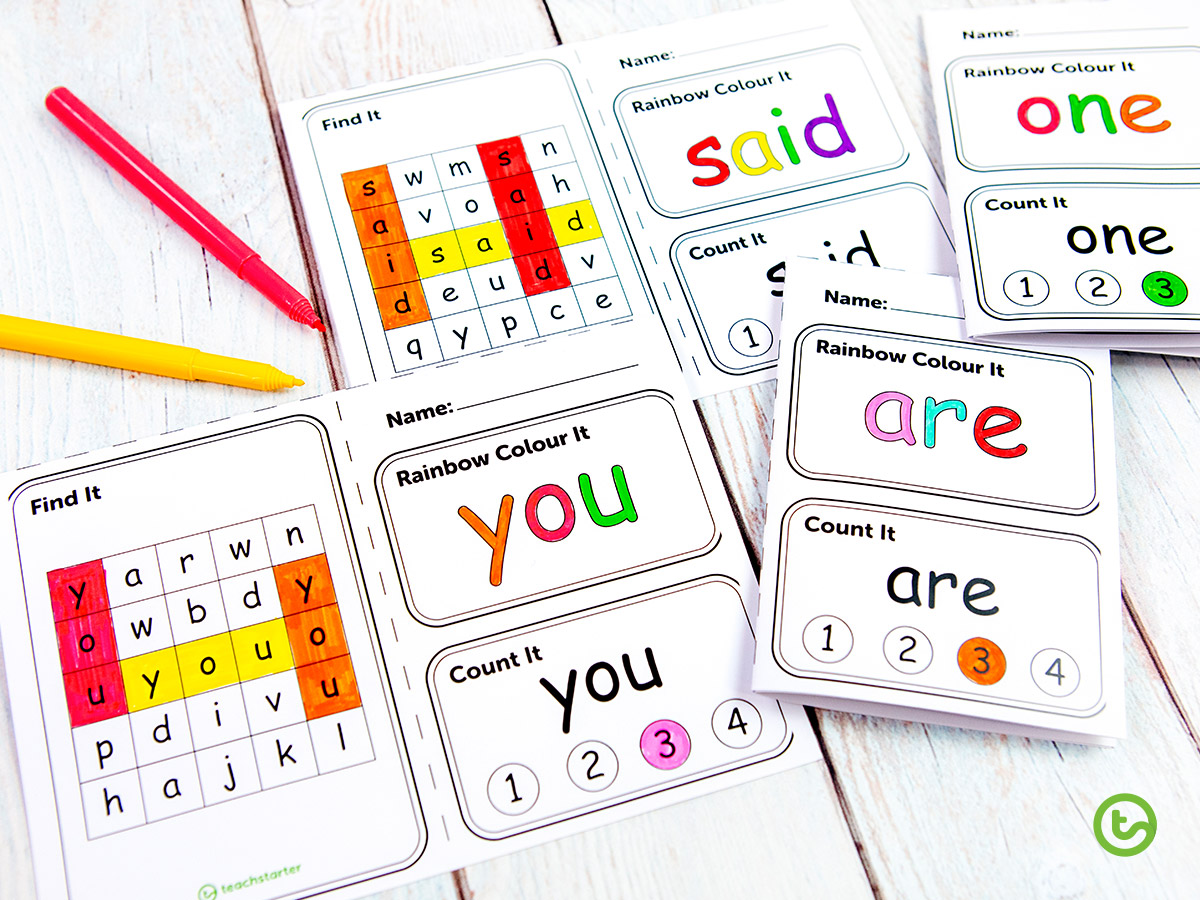 The best news is that these books have been created with independence in mind. So they are ideal to use as a:
task students complete independently
lesson warm-up
homework task
fast finisher task.
How will you use Sight Word Little Books in your classroom?
---
Repetition and Visual Memory
These little gems are in no way time fillers! On the contrary, each activity in these foldable little books facilities repetition and encourages your students' visual memory to kick in.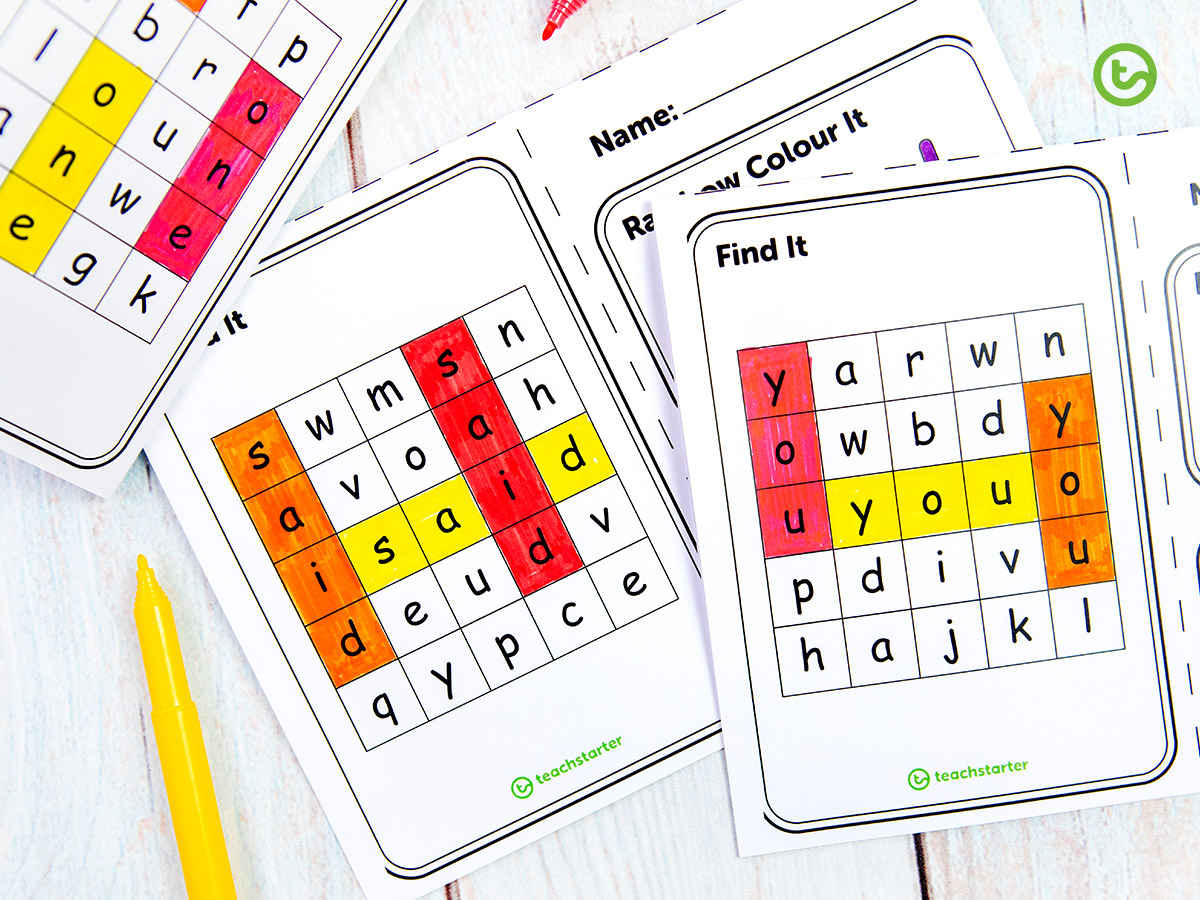 The activities in the Sight Word Little Books include:
Rainbow Colour It – encourages sustained focus on a word.
Count It – encourages students to look at individual letters and supports visual memory.
Trace It – provides a scaffold for writing sight words.
Circle It – encourages students to identify the word.
Fix It – give students to chance to use visual memory.
Box It – encourages the use of visual memory to remember the shape of the word.
Find It – challenges students to find the word horizontally and vertically.
---
Pick Your School Font!
Our new sight word printable Little Books are available in 12 different fonts! So, simply select your preferred font from the drop-down menu.
Don't forget that for students with dyslexia, recognising sight words and spelling them is a huge hurdle. Also, words turning and letters mirroring and swapping makes it very hard to read and identify words on a page. So, be sure to select dyslexia front to prevent these letter movements.
Top tip: If you have students with dyslexia in your class try a multi-sensory approach to support visual memory.
For more brilliant ideas for teaching sight words, read Holly's blog 13 Fun Sight Word Activities for Home and School.
---
Editable Sight Word Little Book
Can't find the sight word that you are looking for? Simply head to Editable Sight Word Little Book and create exactly what you need!
Please note that these teaching and learning strategies are recommended for sight words only. For other spelling words, it is considered more effective to learn to spell words by using knowledge and understanding of the sounds in words and by understanding spelling patterns.
---
As you can see, these little books offer a seriously big result!
The bottom line is that sight words are tricky because they are not spelled the way they sound. So students need all the help they can get! We are excited to offer these Sight Word Little Books as a solution for you and your students.
For more is sight word resources head to our Sight Words Learning Area or check out Holly's excellent blog on 13 fun sight word activities for home and school.