If you've caught even one news story about the environment lately, you know just how important environmental activities for students can be. The saying "children are our future" is used so often that it can begin to sound cliched, but let's face it: Truer words are rarely spoken.
The students learning about nature, climate change, and sustainability in your classroom today will be the stewards of the environment in 10 or 20 years. The future of our planet will soon be in their hands. As a teacher, you're making an important impact on our future too.
Sustainability — and helping teachers — are jointly entwined in our core mission, and we are here to lend a hand. The teachers who create the teaching resources on the Teach Starter website hail from all around the US, and they've put together some of the best environmental activities for students plus ways to help the environment right in your classroom. Add these ideas to your teacher toolkit!
Download a free "Why Plant a Tree" poster for your classroom!
Environmental Education Activities for Elementary School
1. Plant … Anything
Let's face it, one of the most obvious environmental education activities you can do with your students is one that's pretty simple and tied directly to science standards: Planting physical plants.
Whether you're growing bean sprouts in snack bags with wet paper towels or setting up a full-fledged school garden, there are myriad benefits for students that come from incorporating the physical act of planting seeds into your lessons. In addition to the chance to connect with the environment and teaching students sustainable agriculture practices, studies show gardening with students helps improve their achievement in science classes, and kids involved in school gardening projects have been found to have an increased preference for fruits and veggies when it comes to snacking.
Print a free plant growth chart to help students track their seedlings!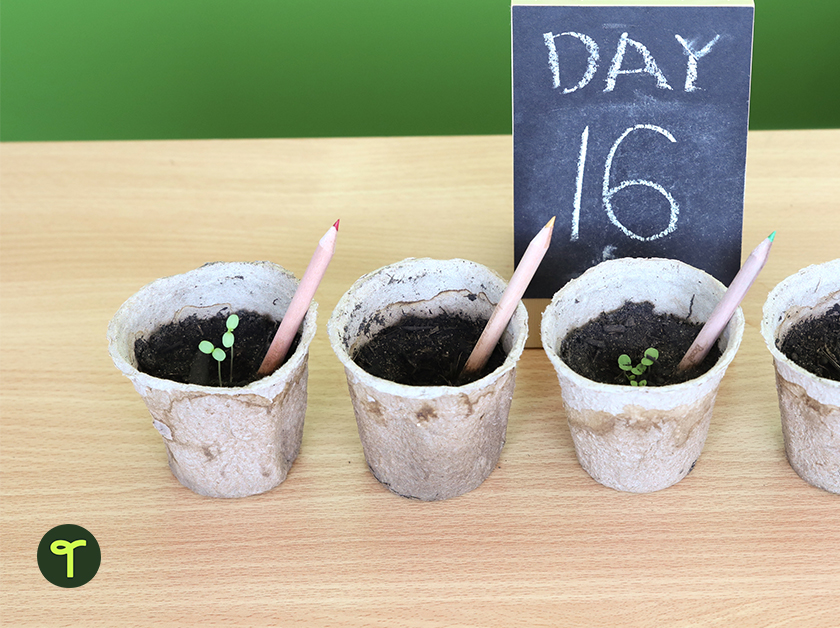 2. Join the North American Butterfly Census as a Class
The teachers on the Teach Starter team are big fans of citizen science, encouraging students to take part in collecting data from the natural world to help real world scientists with their jobs. Not only do these environmental activities complement the science (and often math) curriculum, but they remind students that even small scale acts for good can have big impact.
If you're studying the butterfly life cycle or looking for an environmental education activity that students can use to practice their data analysis skills, the North American Butterfly Association could use your help! Each year, the non-profit turns to students, teachers, and other citizen scientists to take part in its butterfly counts, contributing to a census of butterflies.
Because butterflies are indicators of a healthy environment, joining a count with your class helps students learn to protect butterfly habitats and the value that these invertebrates add to our ecosystem.
See more butterfly activities for elementary schoolers!
3. Collect Weather Data
Studies have found that kids who feel "connected" to nature act in more sustainable ways because of it. What better way to connect students to nature than by connecting to the weather going on outside every day? Another environmental activity for kids that helps the wide world of science, collecting weather data for the Community Collaborative Rain, Hail, and Snow Network draws on those data and analysis skills again, while helping students to make predictions and see real-world connections to the work they're doing in math class.
See our favorite weather resources created by teachers for your classroom!
4. Go on a Nature Scavenger Hunt
We know that children learn through play, and learning to be more sustainable and caring for the environment follows that same trend. Print off a free nature scavenger hunt grid, and turn recess into an adventure in connecting with the environment.
5. Determine Your Carbon Footprint
Students can use a carbon footprint calculator (this calculator from the EPA and this calculator from 8 Billion Trees are free but each does require some pretty specific details parents would have to supply, while ) to determine approximately how much carbon their lifestyle emits in a year. The calculators provide some small lifestyle changes they could make in order to reduce their carbon footprint.
Your class can record, collate and compare the numerical data that their quiz responses generate.
Students can plot individual, small group, or class data in a graph or table.
Establish what the average carbon footprint is for your entire class and set a goal to reduce it to a certain amount by the end of the school year. Have students examine the lifestyle changes suggested to them in their own results and identify which change they will embrace to help lower the class carbon footprint.
6. Tally Trips
Ask students to record their travels for a few days or a week, including trips to and from school, to the grocery store, or any other place they visit.
The type of data they capture for each trip may include:
Mode of transport — did they walk? Ride a bus? Ride in a car?
Approximate the distance of the trip
Number of passengers
Possible alternative modes of transport (could they have carpooled with other classmates?).
Students can then collate, examine and compare their own, small group, and whole-class data. After presenting their findings in visual representations such as tables, column graphs or picture graphs, discuss what the results might mean in terms of knowledge of, and attitudes toward sustainability.
7. Write Found Object Short Stories
Students choose a found object or item to use as the inspiration for a short story in this environmental education activity. It may be something they collected during the nature walk, a food product examined in a lunchbox audit (see more below!), or a commercial item that they already own.
This creative writing exercise will put these items that might have gone unnoticed or been discarded in the focal point, encouraging students to think about them in an entirely different way.
8. Access the Wisdom of Local Community
Connecting with a local organization is a fantastic way to find out more about the issues that are most relevant to your community.  This also helps your students to gain even more of a real-world perspective on the sustainability topics you have been exploring in class.
Send an email or Facebook message to an environmental organization in your local area. Or, even better, pick up the phone and give them a call!
Invite someone from the local community to come and speak to your class about the sustainability work that they do.
Check the Green Stewards list of non-profits with a sustainability focus for ideas!
What Are 5 Ways to Help the Environment at School?
1. Create a Classroom Compost Center
Helping the environment at school doesn't have to mean leaving the classroom. It can start with dumping the grounds from your classroom coffee pot and student lunch leftovers into a class compost bin. Learn how to set up your own classroom compost center.
2. Enforce (and Role Model) Recycling
This is another easy environmental activity that will help the environment right from your classroom! Make recycling mandatory — you can add it to a classroom contract — and practice it yourself, so students see you regularly pitching your paper into the recycling bin or adding your leftover cardboard boxes to the pile for the janitors to tote to the recycling center. The more it becomes a habit when they're young, the more likely they are to continue this sustainable practice into the future.
Learn creative ways to encourage students to recycle.
3. Weigh in on Water Conversation
Do you have a sink in the classroom? Talk about water waste early in the school year, and add visual reminders to ensure students tighten the faucets went they're done washing their hands. Talk to the janitorial team about posting similar reminders in the school bathrooms so everyone can do their part to help the environment at school.
4. Hold an Energy-Free (or Energy-Light) Day
Challenge your students (and yourself!) to go without power for a school day, or maybe just a half day if they'll be headed out to specials and a whole day won't work.
This environmental education activity will quickly draw your students' attention to the plethora of items they use at school that require energy. Lights, calculators, computers, iPads, interactive whiteboards, and air conditioners are all out for the day!
In the days leading up to your energy-free time, poll students to contribute ideas about how they can complete each of their regular lessons without the consumption of energy.
5. Dig Into the Lunchbox
Do you have a class full of students who bring their lunch? Or maybe you bring your lunch. Running a lunchbox audit with your class can once again help students connect their real-world actions with the environmental impact they have as individuals!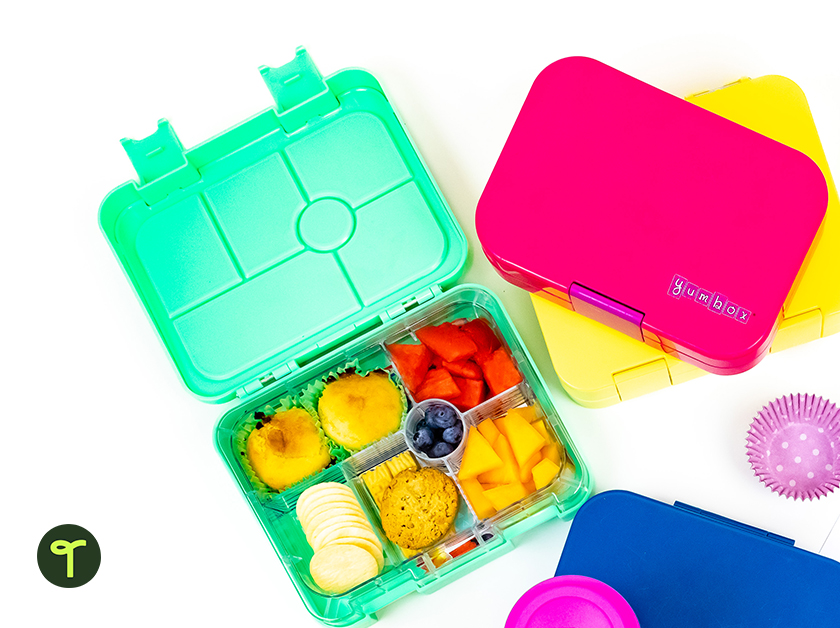 This kind of exploration goes a long way towards encouraging children to think about their own consumption with a more global and sustainable perspective. This activity could be extended for older students as a STEM task. Students can explore the production, packaging, and disposal stages of a food item's life, as well as develop and present a proposal for more sustainable design options for production, packaging, or sale.
Banner image via shutterstock/Dmytro Zinkevych