Whether you celebrate winter holidays in your classroom or not, the new year is coming at us fast. And that means you're probably looking for a few New Year's ideas to add to your lesson planning so students can help you say goodbye to 2022 and hello to 2023. Or maybe you're just looking for a few good New Year's resolutions for students?
Either way, the teachers on the Teach Starter team have carved out a little time in our busy resource production schedule to get you New Year's Eve ready. So adjust those 2023 glasses, grab some party blowers, and let's get ready to plan!
Celebrating New Year's at School
Suffice it to say, we know this is not a holiday you're going to be spending with your students — New Year's Eve and New Year's Day are typically spent at home with family, and schools won't re-open until January 3, at the earliest (when US teachers and students go back to school in January is all over the map, depending on where you live!).
But an acknowledgment of the New Year when your students return from the long vacation can be a great way to re-set your classroom expectations, help students get back into the school groove and make plans for the year that's to come.
The winter break is much-needed for many students — and teachers — but children's routines and consistency are often thrown off by a long break. Jumping back into classroom routines can be met with relief as they retain that sense of familiarity. Then again, some students return to the classroom feeling overwhelmed by the hustle and bustle of holiday travel, time with family, and disruption to their every day.
The new year is an important time to let students share the things they want to talk about and to be as patient and receptive as you can be to their needs and feelings. This is a time when social and emotional well-being comes to the forefront. In many ways, it's not unlike the first few days of school when the curriculum is put on hold as you work to familiarize students with classroom rules and routines. Only this time it's revisiting the things they learned the year before.
You may want to use that first day or two back as a work/catch-up day. Or maybe you want to use a chunk of that time doing some New Year's activities that set students up with a "new year, new me" mindset?
After all, the school year is about halfway over, and the new year is a good time to revisit any goals and objectives set earlier. Do they still fit? Should students be setting new ones, or are there adjustments they can make to better meet the goals they set in August or September? Reframing these as "resolutions" for the new year can help students connect to the concept.
See our entire New Year's Collection for worksheets, activities, and much more!
New Year's Ideas for Kids
New Year's Activity Sheet — Teacher Freebie
What's better than one New Year's activity? How about four fun ways to celebrate the end of a year and the beginning of a new one, all packed onto one sheet? With a maze, coloring activity, word search, and more, this free printable is perfect to send home with the kids to keep their minds engaged over the winter break or for your fast finishers to complete in the first week back to class.
New Year's Party Hat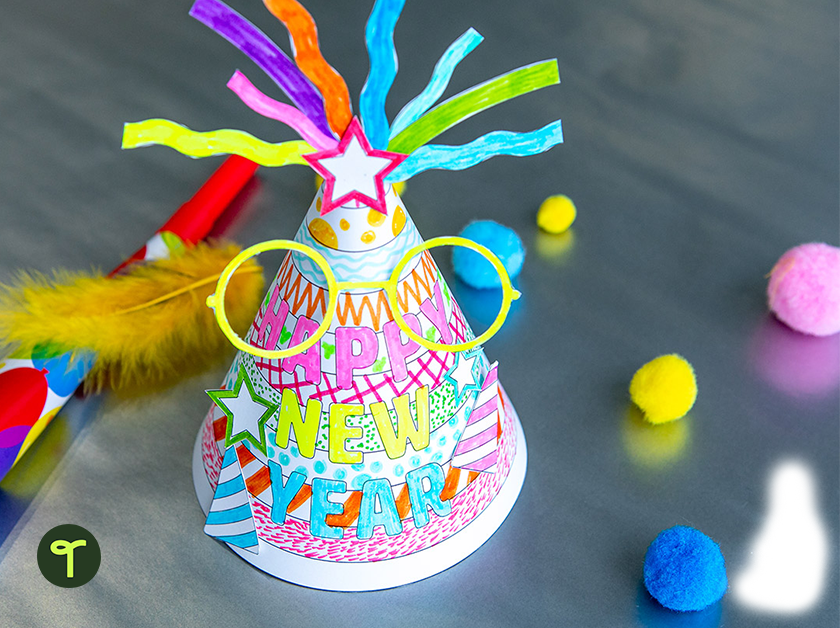 It's not a party without a party hat, and this funky New Year's party hat template can be printed before winter break and sent home with students as a fun project (parents will love you if you give their kids something to do that you don't plan to grade). Or you can print these off for students to decorate on the first day back as they slowly readjust to the structure of being in a school building.
Designed like our popular Funky Bunny, Funky Pumpkin, and Funky Reindeer that teachers love around the various holidays, the hat allows students to practice their Zentangle patterns — which requires concentration and focus.
After students decorate, the "hat" template can be folded into a cone, you punch holes in the sides, and you can use string to attach them to your students' heads. Don't forget the set of fun glasses to complete the look, and do a quick countdown before wishing one another a happy new year.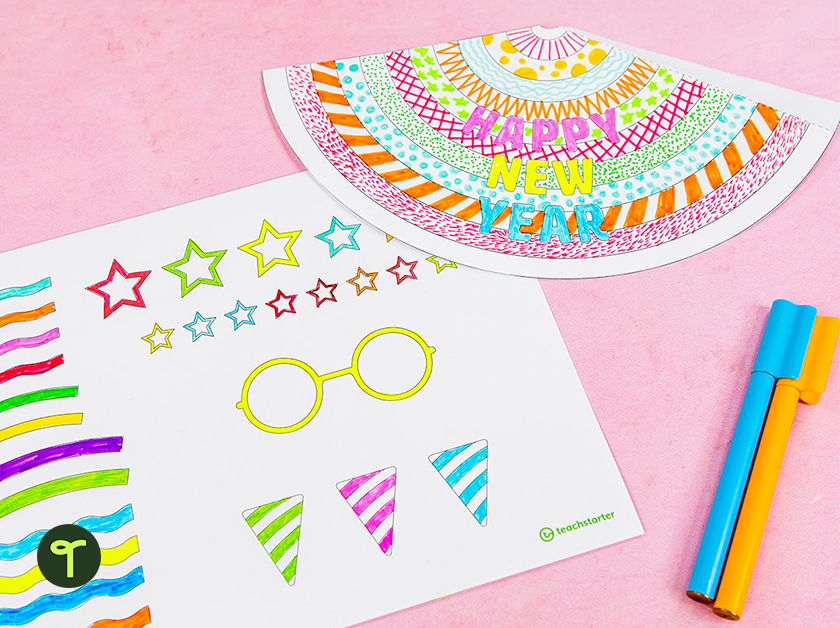 New Year's Photo Booth
Set up your classroom to celebrate the new year with fun New Year's Photo Booth Props. The teachers in the Teach Starter office had WAY too much fun testing these out; we guarantee your student will love them too! Create a bulletin board display out of these fun print-outs that can stay up for parents to peek at during winter parent-teacher conferences, or send home a few photos with your classroom newsletter.
New Year's Charades
Shake the cobwebs out of those "still on winter break mode" brains with a game of New Year charades! This list of suggestions for kids to act out also works as a great brain break for those first few days back from the winter vacation as your students are working back into the groove.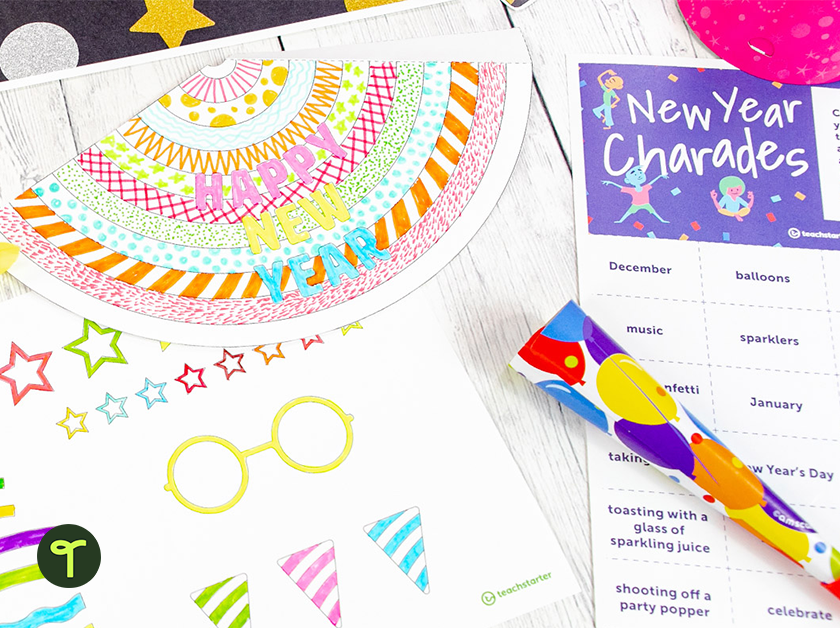 New Year's Pop-Up Card Activity
Another great way to spread the New Year cheer is by asking your students to send a New Year's Pop-Up Card to a friend or family member. Or why not have them choose a special staff member at the school to send it to?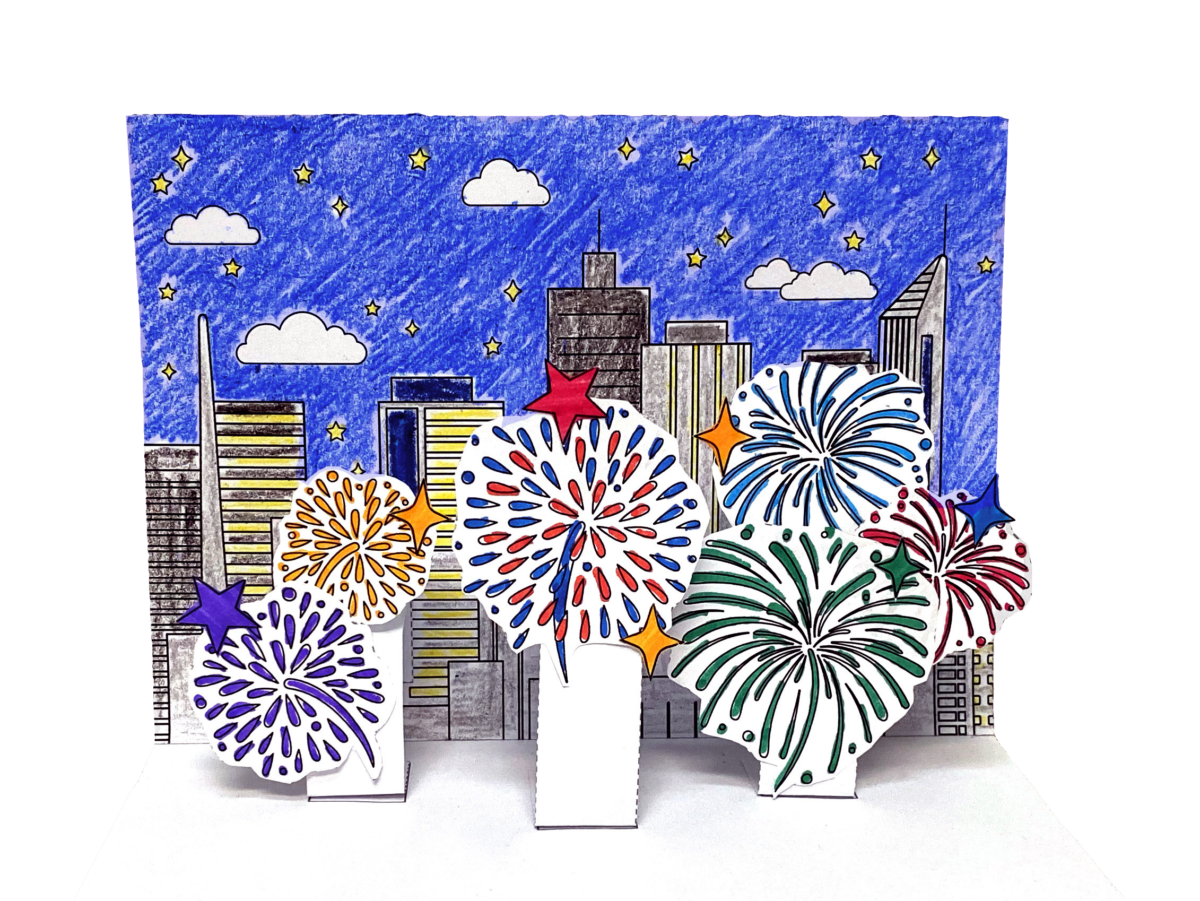 New Year's Flipbook
The new year isn't all about enjoying the fun of celebrations. The act of reflecting is also an important part of social and emotional development, and the new year gives kids a chance to dream about goals and resolutions for the coming year!
Help your kids dive into the meaning behind the message of 'Happy New Year' with our New Year's Flip Book. Combine it with the New Year's Goals Template to really draw out your students' hopes and dreams for the new year.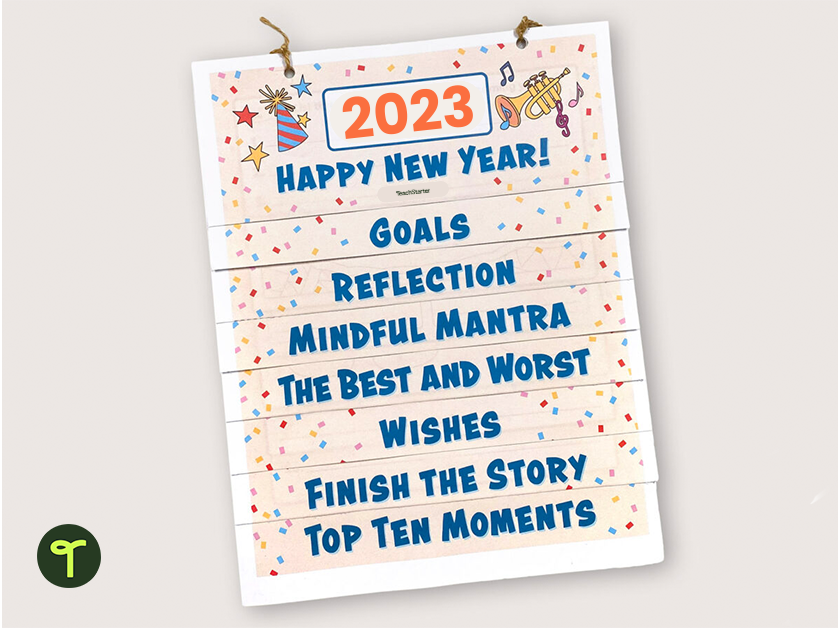 My Hopes and Wishes Jar Template
Younger students may like to visualize their dreams for the year ahead with the My Hopes and Wishes Jar Template. These jars would look so cute as a bulletin board display along with the Our Hopes and Wishes Display Banner and would provide students with visual reminders of their new plans for the whole new year. Students could even write their new year's resolutions in their jars.
New Year Character Analysis
Want to explore the themes behind the new year in even more depth? Or how about getting your students to empathize with how others might view the new year? Then you will definitely want to take a look at our Character Analysis: New Year's Activity — it does both.
In this thought-provoking activity booklet, your students will analyze a character from a narrative text and infer how they would celebrate the new year. It's a fun way for students to get extra practice with this important metacognitive skill.
Setting New Year's Resolutions With Students
One more popular idea for the New Year in the classroom is to set New Year's resolutions with your students. The data out there shows that most adults don't manage to keep our New Year's resolutions — as much as 91 percent fail — but that's because we tend to create goals for the year that aren't very SMART.
If you're working on new goals — or resolutions — with students, keep in mind that they should be actionable and achievable, and students should have ways to measure their achievement. Saying "I'll do better in class," for example, is not measurable. "I will improve my math grade from a C to a B" is.
Resolutions should be student-led, and they're bound to vary widely depending on students' needs and interests. But you may want to share some examples to get students started. Head over to our goals and feedback section for some tips from our teacher team on creating SMART goals with students!
Start the New Year off on the right foot with all our New Year's worksheets, goal-setting templates, and activities!