There are a huge number of benefits to learning how to draw for both children and adults. From helping kids with their motor skills to helping them develop hand-eye coordination to even teaching children creative problem solving, there's plenty to be said for sitting kids down with some how-to-draw videos and letting them go to town!
Good thing we have some seriously fun how-to draw videos that are simple enough for kids to follow and develop their skills drawing everything from bears to aliens to little boys and girls just like them.
Follow the steps, line by line, and see how you and your students can create drawings that are sure to impress while improving their dexterity and concentration as well as practicing their listening and instruction-following skills. Most importantly, you can pause and replay the drawing videos as many times as you need.
How to Draw Videos for Kids
Stay with me to learn about the benefits of learning how to draw. What's more, meet the other characters in our brand new How to Draw Video Series…
---
How to Draw a Monster
Let's kick off the fun with some monstrously fun drawing — instructions your students need to learn how to draw a monster!
Share this video with your students on an interactive whiteboard. Remember, take it slowly!  Pause, and replay the video as much as you need to.
You can also print out How to Draw a Monster task cards for students to keep at their desks or take home with them to practice drawing in their own bedrooms. There's even a template they can trace to help get a handle on the process.
---
How to Draw a Ninja Video
Ninjas were mercenaries in feudal Japan who were highly trained in martial arts and stealth (ninjutsu). Although there are no longer ninjas wandering around practicing their martial arts on people (that we know of), they're always a hit with kids. You're bound to see at least a few little ones dressed up as ninjas every Halloween.
This how-to-draw video walks kids through a number of steps, helping them practice focus and concentration while they learn to draw both a ninja boy and a ninja girl.
Grab the task cards for each: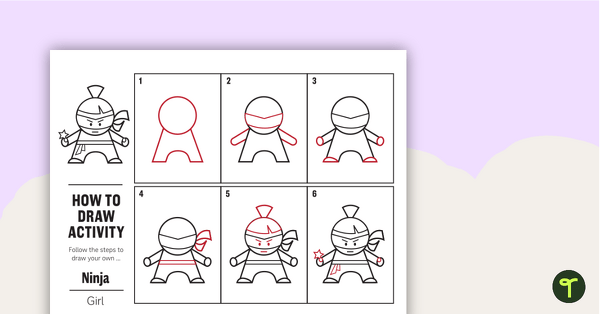 teaching resource
A task card that helps students draw an illustration of a ninja girl!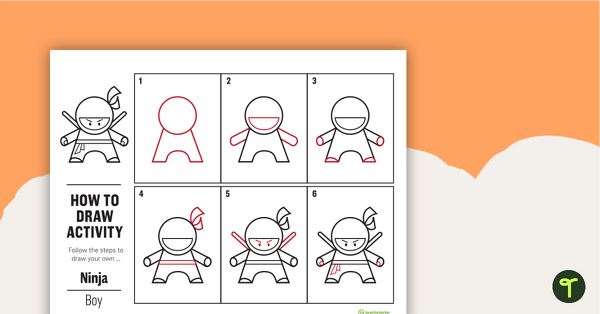 teaching resource
A task card that helps students draw an illustration of a ninja boy!
Ninja Boy and Ninja Girl require the greatest attention span of our how-to-draw videos, so you might want to kick off with How to a Draw Boy and work up to these more complex drawings.
Teach Starter Teacher Tip: When your class has become pros some or all of the How to Draw video series, they are ideal to use as a warm-up activity for any lesson. The drawing exercises are ideal to use before Writing lessons and of course Visual Art lessons. Your students will be instantly engaged and ready for learning.
---
How to Draw a Teddy Bear Instructions
Did you know the teddy bear is the one toy named for a United States president? Theodore "Teddy" Roosevelt earned this honor back in the early 1900s when he went on a bear hunt … and didn't shoot a single bear.
Share this fun US history fact with your students, and work on drawing the popular toy! This easy-to-use video will support you and your students, line by line, to draw a teddy bear!
---
How to Draw a Boy and a Girl
Kids draw before they write. So, it makes perfect sense to use drawing as an effective communication tool. For students who find verbal communication a challenge,  expressing themselves through drawing can be hugely empowering. Teach your students how to draw a boy and a girl so that they can begin to represent themselves and others in different settings.
By teaching your students to draw young people, you are enabling them to tell social stories through visual representation.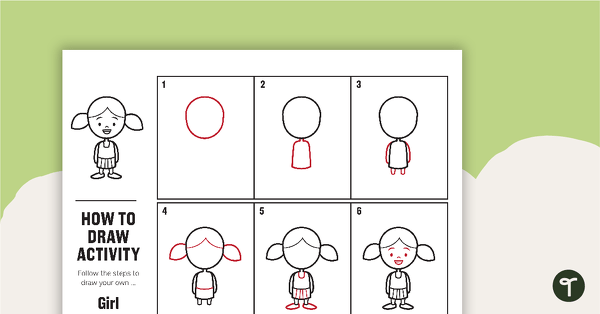 teaching resource
A task card that helps students draw an illustration of a girl.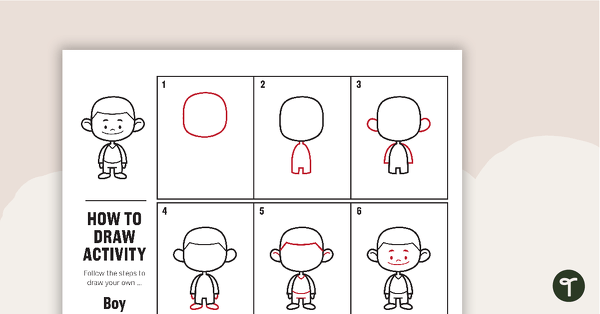 teaching resource
A task card that helps students draw an illustration of a boy.
Check out our collection of Social Stories for more teaching resources to develop strategies and skills for a range of social situations at school.
---
How to Draw an Alien
Just as there is an undeniable dependency between reading and writing, there is a significant connection between drawing and writing. Some of the most famous fictional characters have been brought to life through drawing! Why not take your class narratives to outer space and learn to draw an alien?
By teaching your students how to draw characters, you are also improving their creative writing skills. For more confident students, why not extend their learning by encouraging them to create a comic strip that narrates an alien adventure! Don't miss our simple and super useful Blank Comic Strip Template that can be used in conjunction with our How to Draw Videos.
---
How to Draw Holiday Characters
For more drawing fun, give these holiday character drawing videos for kids a try!
Frankenstein
A Mummy
A Pumpkin
Celebrate and share your drawing wins on Instagram #teachstarterus