If you're looking for a quick and easy Valentine's Day craft activity to do with your students on Valentine's Day… look no further. Teach Starter has you covered!
All you need is love…
Before we get into the fun activities, here are some interesting facts you may or may not wish to share with your students:
The day is named after Saint Valentine from Rome.
The oldest known Valentine's card is on display at the British Museum in London. It dates back to the 1400s.
Over 1 billion Valentine's Day cards are sent worldwide every year!
Teachers receive the most Valentine's cards! (My favorite fact!)
Ok, enough about that. Here are three quick, easy, and effective Valentine's Day craft activities for the classroom!
---
I Love You to Pieces Card
This is an oldie but a goodie! A fantastic hands-on, fine motor Valentine's craft activity that is creative and fun.
Print out the I Love You to Pieces Card template and decide if you are just going to use the white background or have the students cut out the heart and 'i love you' words to stick on a colored piece of paper.
Then, cut out squares from different colored tissue paper for the 'pieces' of the heart. Depending on the age of your students, you may like to have these pre-cut or let them just tear small pieces on their own!
Students will glue the tissue paper squares on the inside of the heart in any arrangement that they choose.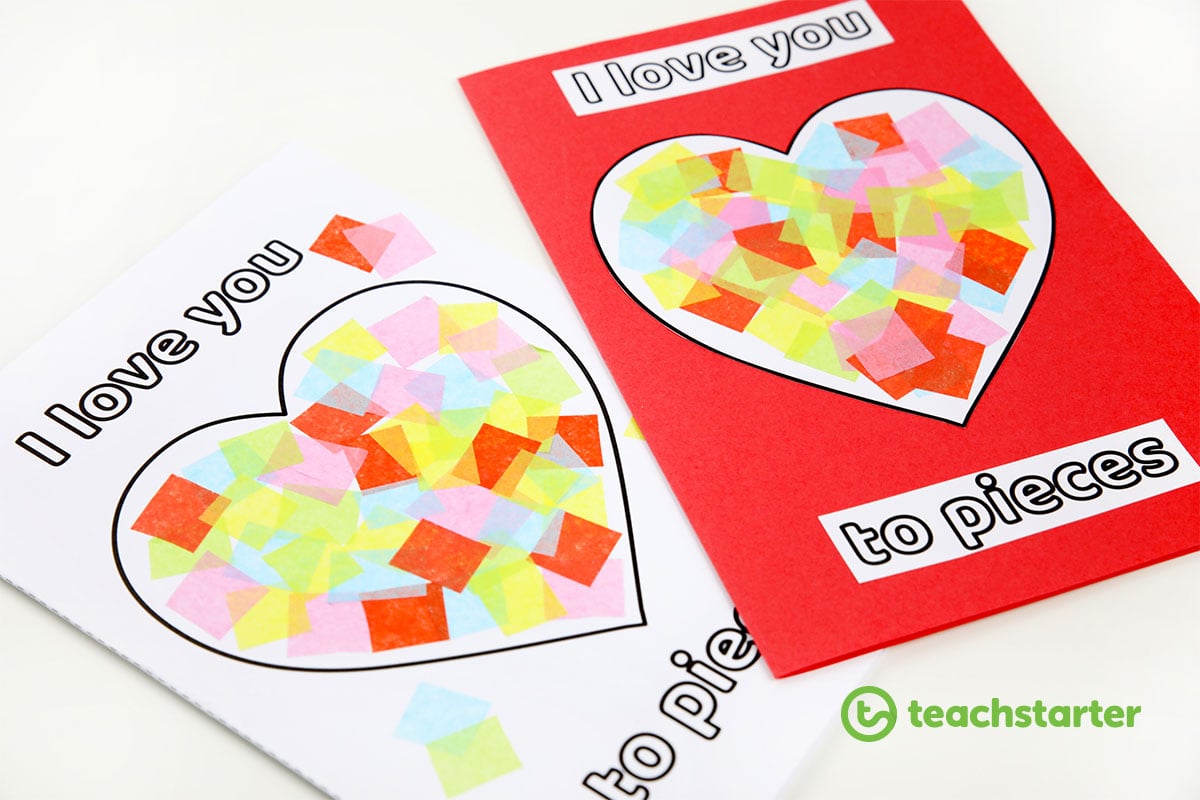 ---
Love Heart Waterfall Card
This interactive Love Heart Waterfall Card template is perfect for your students to give to someone special in their lives!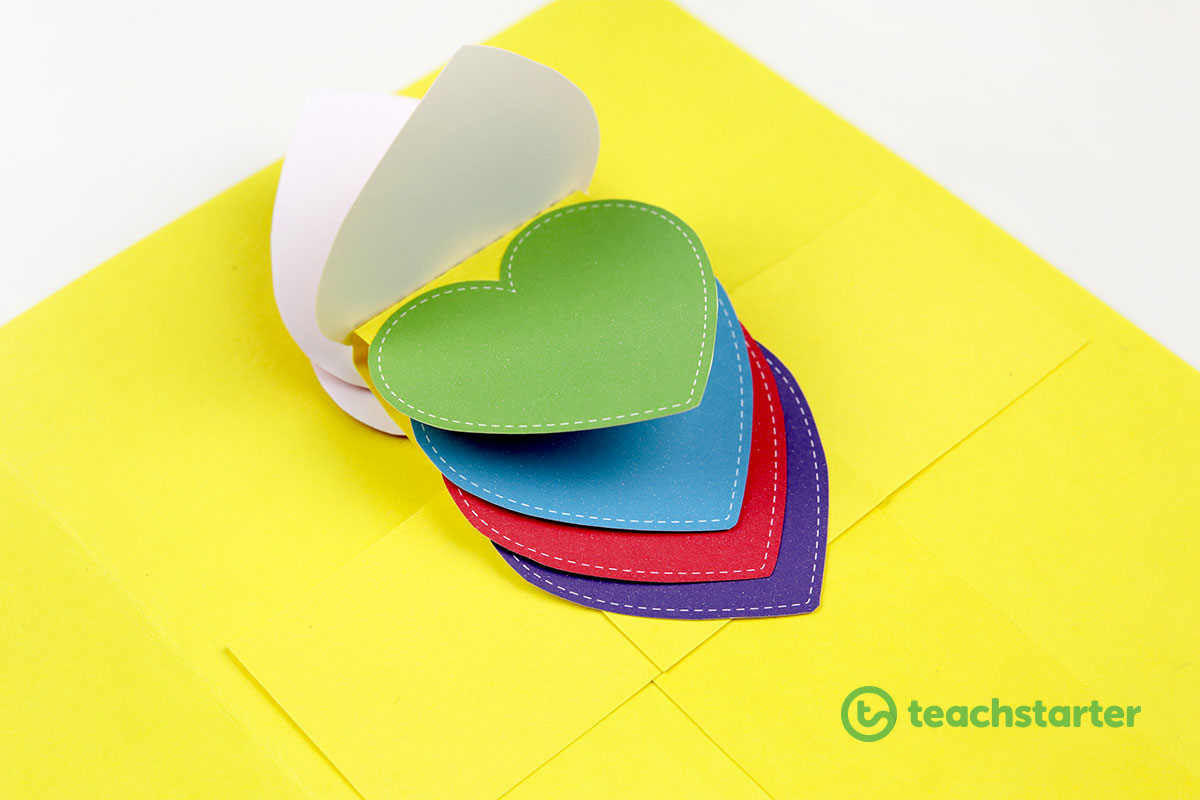 Here's a video to show how to make this card using our template download:
---
Colorful Heart Booklet
We are in love with these heart booklets and they are quite easy to create! Check out the video at the end of this blog to see just how easy it is, especially when you use our FREE Heart Template!
Instead of creating these heart booklets for someone special, students could create one for themselves. I like the idea of the students writing their names on the heart booklet and then passing it around the classroom and having their classmates write nice compliments inside. A nice keepsake the students can keep and look back on!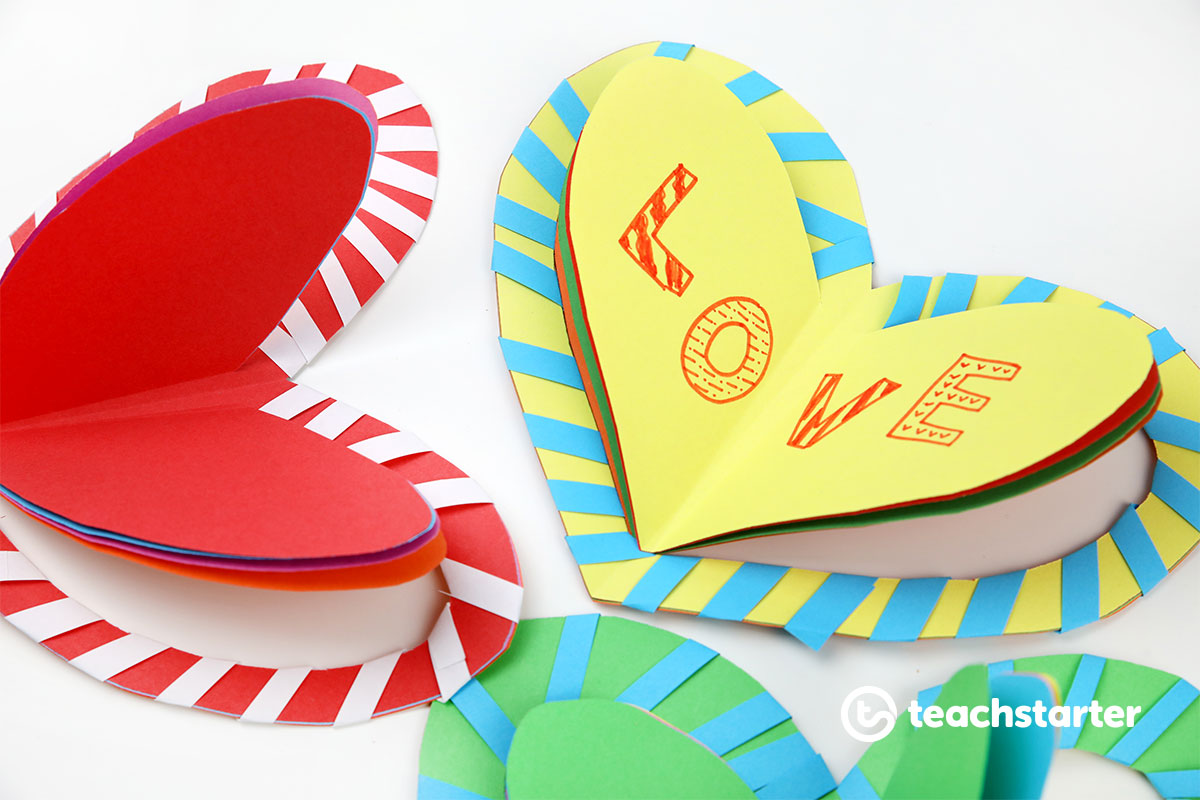 Here is a quick video explaining how to create all three!
For more activities, check out our blog, 13 Valentine's Craft Ideas and Decorations for the Classroom.
More Valentine's Activities for the Classroom
teaching resource
Write a LOVE acrostic poem for Valentine's Day with this handy template. 
teaching resource
Expand your students' language skills through Valentine's Day vocabulary.
teaching resource
Turn this set of 18 conversation heart templates into a variety of teaching resources leading up to Valentine's Day.
teaching resource
Help your students say thank you to someone special by crafting a beautiful bouquet of colorful paper flowers.