Categorize examples of deposition, weathering, and erosion with this 24-card sorting activity.
Slow Changes to Earth's Surface 
What are some of the ways that Earth's landscape changes over time? Your students may have been learning about how coastlines can gradually wear away, sand dunes build up over time, or rocks crack apart due to extreme temperatures. If you are looking for an activity to help your students understand the difference between weathering, erosion, and deposition, look no further!
Teach Starter has created a 24-card sorting activity to help your young learners recognize different examples of how the Earth's surface can change over time. This downloadable resource includes high-quality photographs to give students an idea of how these processes look in our world.
To complete this activity, simply lay out the header cards on the table or working area. Students then will read each card and determine if it shows an example of weathering, erosion, or deposition. Students can then record their answers on the provided recording sheet.
Tips for Differentiation + Scaffolding 
A team of dedicated, experienced educators created this resource to support your science lessons. 
In addition to individual student work time, use this sorting activity to enhance learning through small groups or whole class lessons
If you have a mixture of above and below-level learners, check out these suggestions for keeping students on track with the concepts: 
🆘 Support Struggling Students
If there are students that need additional support, invite them to reference posters or anchor charts showing the differences between weathering, erosion, and deposition. Additionally, teachers could also choose to limit the number of cards have students only sort between two categories.
➕ Challenge Fast Finishers
For students in need of a challenge, encourage them to create their own list of additional examples for weathering, erosion, or deposition.
Easily Prepare This Resource for Your Students
Use the dropdown icon on the Download button to choose between the PDF or Google Slides version of this resource. A recording sheet and answer key are also included with this download.
Print on cardstock for added durability and longevity. Place all pieces in a folder or large envelope for easy access. 
Sustainability Tip: Print a few recording sheets on cardstock and slip them into dry-erase sleeves. Students can record their answers with a whiteboard marker, then erase and reuse them. 
---
This resource was created by Brittany Kellogg, a teacher in Ohio and a Teach Starter Collaborator. 
Don't stop there! We've got more activities and resources that cut down on lesson planning time: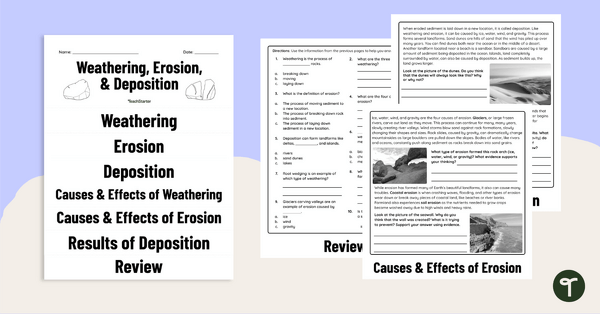 teaching resource
Learn about the causes and effects of weathering, erosion, and deposition with a printable flipbook.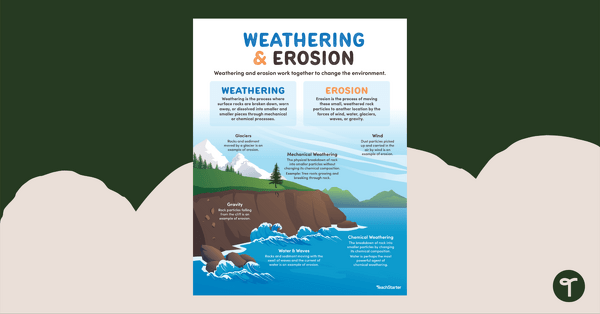 teaching resource
Learn how weathering and erosion can cause slow changes to Earth's surface with this printable poster.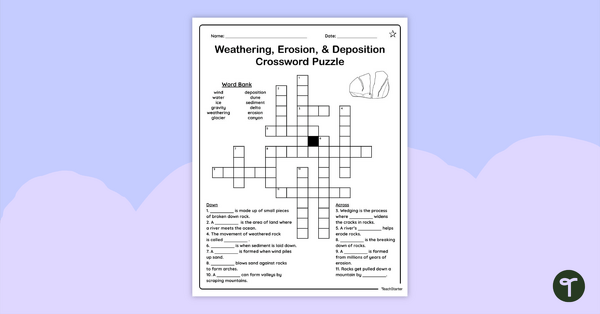 teaching resource
Review science vocabulary terms associated with weathering, erosion, and deposition with a crossword puzzle.