Classroom organization. Ask any veteran teacher why it's important, and you're bound to get an earful — both about how it helps and how it can be a challenge! But when you're facing an open classroom and wondering how to whip things into shape, what you really need are solid classroom organization ideas.
That's where our teacher team comes in!
Not only do we have some of the best organization ideas to start your school year off on the right step, but we've also taken a look at how to organize a classroom in ways that will bolster learning. Read on for tips from our teachers that they have used in their own classrooms, plus photos of some of their organizational systems.
How Does Classroom Organization Affect Learning?
As Teach Starter resource creator (and 13-year teaching veteran) Brittany Collins puts it: Classroom organization isn't just for you, the teacher. It's also for your students, to help them find what they need, when they need it. They don't need to waste valuable lesson time wandering around, looking for their clipboards or headphones, because they're in the same place every time. Plus when you've got a solid organization system in your classroom, students also know where and how to put things away, which helps keep the learning space neat and more conducive to learning.
Ever heard the old saying about a messy desk (or room) and a messy mind? That's not just an old wives' tale. Research shows that a well-organized classroom makes students feel safe and creates structure, which in turn can improve academic outcomes.
Classroom Organization Ideas
So you need to manage the copious amount of paperwork that will most likely start hitting your desk within hours of starting the school year, consider these classroom organization ideas and hacks to make all that … STUFF … easier to keep track of! From organizing your teacher desk to student stuff, let's dive in, shall we?
Prep Students' Desks for the First Day of School
This is a must, says long-time Georgia teacher and Teach Starter Senior Resource Producer Randi Smith. In her classroom, students enter on the very first day of school to find their desks already have yellow folders on them that contain ALL back to school forms for parents.
"Interactive notebooks are prepped and labeled ahead of time," Smith says. "I also wrote the subject on the ends of their notebooks so they could see which notebook was which when crammed in a desk."
Create a Binder for Each Month's Handouts
File a copy of each handout in the appropriate month's binder. This will make it easy to retrieve and make copies of any handouts students need, especially for make-up work!
Use Crates for Multiple Classes
Smith offers this organization tip for teachers who teach multiple classes: Use a crate system!
"Each period of students has a crate. Each crate has a folder for that student," Smith explains. "In that folder students keep their interactive math notebook, a pencil and any handouts we use/need. That way as classes change, they can walk by, grab their folder and have everything right there."

Assign Classroom Jobs
Want to get students involved in classroom organization from the first day of school? Classroom jobs go a long way toward fostering organizational skills in students and ensuring they have buy-in to make their classroom an organized and welcoming space!
Make filling out a classroom job application their day one homework assignment to start the year off right!
Create a Turn-In Bin
Teaching your students to be organized is a skill that will serve them for the rest of their lives, and this trick will do just that … while also helping with your classroom organization. Southern California teacher Paige has a "turn-in bin" in her classroom with file folders marked for each student. That way students know that when it's time to turn in their work, they shouldn't just drop it somewhere on her desk, where it runs the risk of being lost or creating a chaotic working environment.
Instead, students know to go to their classroom turn-in bin, find the folder marked with their name, and add their work. In turn, Paige already has everything sorted by the students! Genius!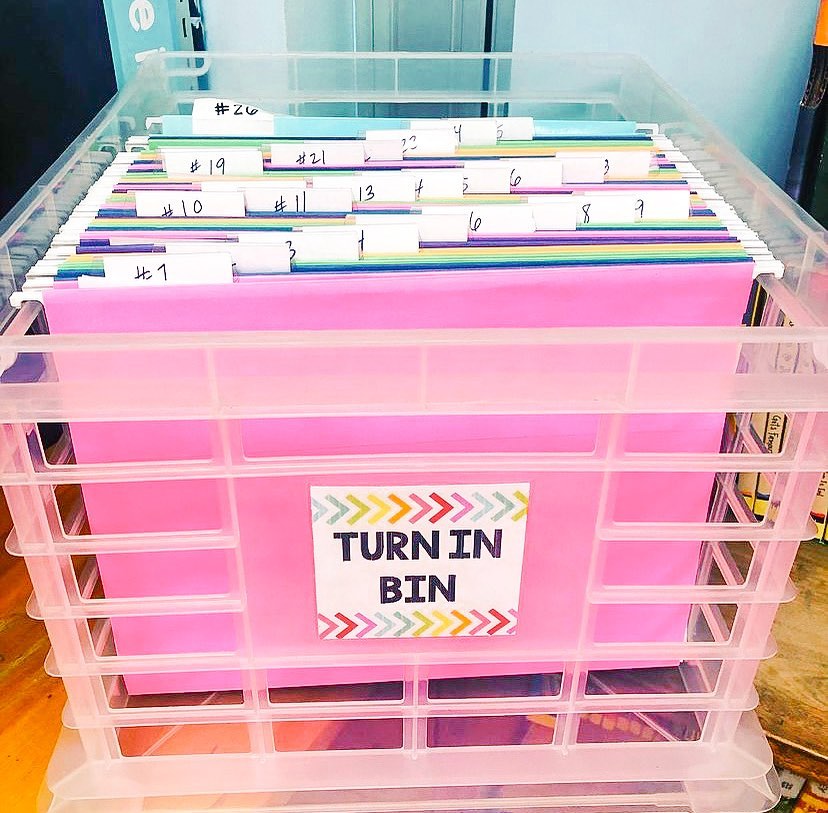 Make "Sharpened" and "Unsharpened" Containers
Make it easier to grab a sharpened pencil with containers labeled with "sharpened" and "unsharpened." This lets students — and let's face it, you — know where to drop unsharpened pencils so they can get right back to work … and leave the sharpening for the class sharpener to take care of during downtime.
Sort Your Drawers By Day of the Week
To create the drawer set up below, use a set of five desk drawers (we purchased this one from Target). Use some washi tape to decorate each drawer (who doesn't love a bit of washi tape?). Finally, you can use any of our customizable tray labels to create the days of the week.
Once downloaded, we printed these tray labels two to a page to get the correct size for the drawers. Now you've got an organized system for your week of lesson plans and everything you need day by day! 
Print an editable weekly lesson plan template  for easy weekly planning!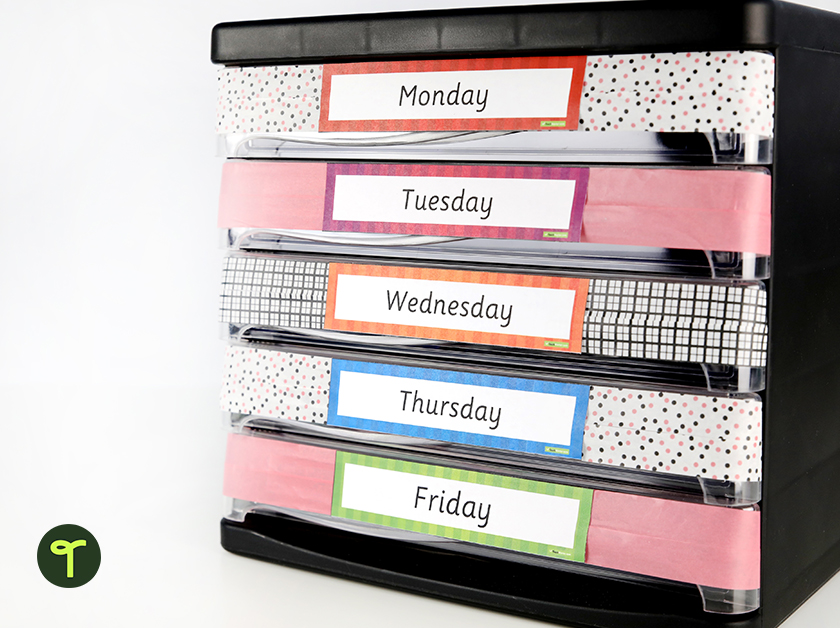 Dish Rack = Student Work Filing System
Have you tried using a dish rack in the classroom? Hear us out! You can put students' work samples in there, making them easily accessible for meetings that you may have for that particular student. The front compartments of the dish drying rack could be used for pencils or name tags — whatever you may need handy on your desk during the day.
Grab an inexpensive rack at the dollar store and use one of these customizable name tags to label each folder (we used the 16 name tags to a page option).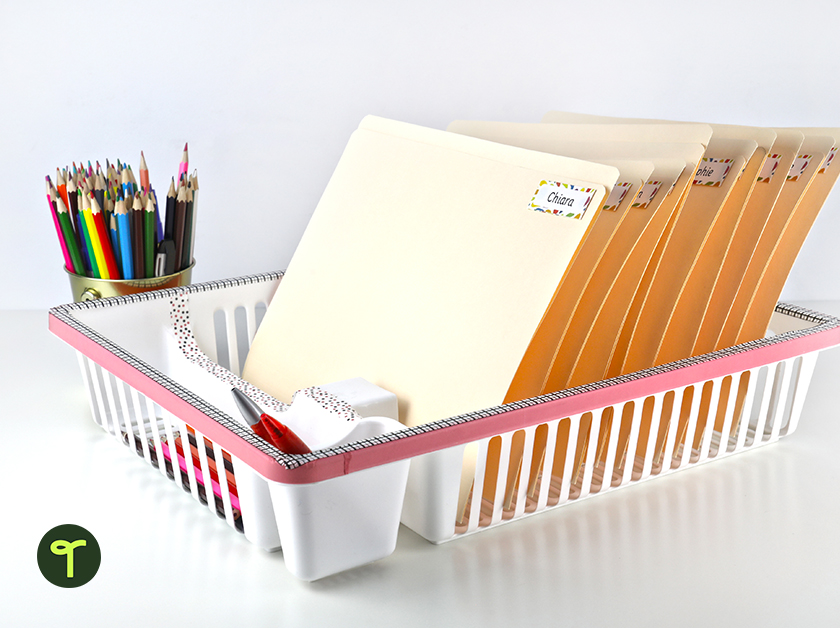 Organize It All With Binder Clips
We all know the feeling. Your desk is clean at the beginning of the day, then during the craziness that is a school day, your desk is suddenly covered in the paperwork that then gets put into every growing Mount Paper on your desk. That's where these printable binder clip label templates become surprisingly helpful as a classroom organization idea.
Fill Up a Sub Tub
Sometimes you know when you're going to have a sub … and then sometimes you get walloped by a case of strep throat that kicks in on a Saturday, and you've got to worry about what's going to happen on Monday morning. 
Grab a milk crate, a laundry basket, or really any container that will fit the supplies you need for your substitute to get the job done, and set it up in one spot in the classroom where you can easily direct your sub. 
How does this keep you organized? Let's put it this way: Have you ever come back to chaos when you had to be out unexpectedly? Exactly. The more you can prepare your sub, the more organized things will remain!
Don't forget these must-haves for your sub tub: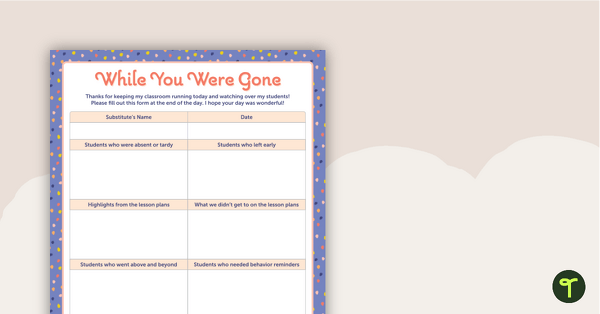 teaching resource
Print this "while the teacher was gone" template for your sub to fill out when you are away.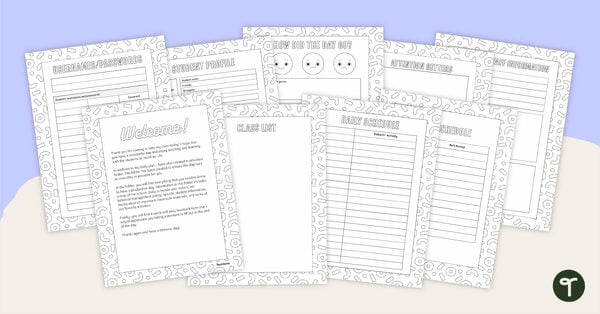 teaching resource
Use this selection of templates to provide information to substitute teachers that come into your classroom.
Organize by Color
Is there anything we teachers won't color code? Quick answer: NO! And for good reason too — color coding is proven to help students organize their thinking and make connections. But it doesn't just help our students. Color coding can make classroom organization a snap too. 
Take this fun classroom organization idea from kindergarten teacher Mackenzie Lee Fuggett who bought plastic candy jars from the dollar store and loaded each one with individually colored markers. It makes it easy for students to know where to return each marker, and it's pretty to boot!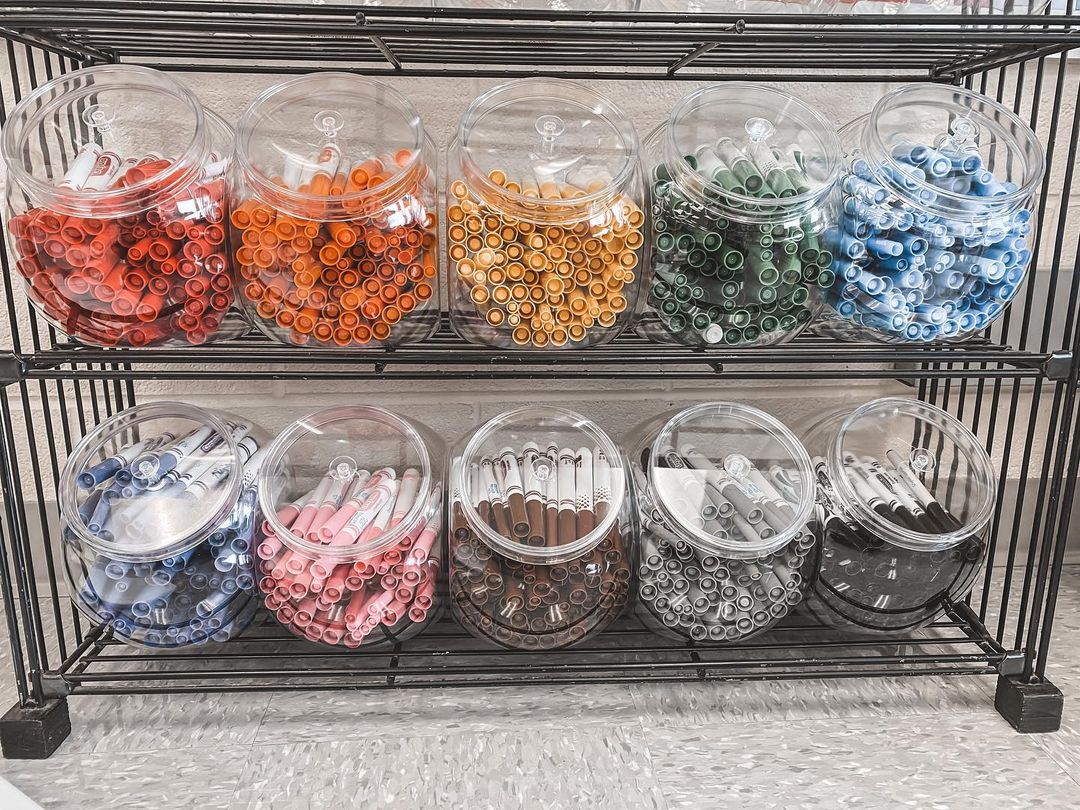 Office Supply Organization
You can't do classroom organization hacks without featuring the ever-famous office supply drawers! These drawers and the different ways to decorate them have been all over social media! I purchased these drawers from our local hardware store and used washi tape (again, I may be addicted) to decorate each drawer.
Then, use our customizable desk name tags to label each drawer with whatever you want! This organization hack prevents your drawers in your desk from getting full of all of those bits and bobs that you seem to collect as a teacher.
Classroom Closet Organization
Storing all of those amazing resources that you have spent hours and hours printing and laminating is always a big question we get asked! Of course, you can store them in colored baskets, but sometimes, those amazing resources get forgotten about.
Using coat hangers and a tie hanger is just perfect! It's another simple, yet effective, solution to ensure you get your use out of those teaching resources you have spent so much of your life creating!
Student-Centered Work Bins
Much like the turn-in bin, creating bins that let students know where to find the work they need puts the kids in the driver's seat when it comes to classroom organization! Set up milk crates with extra work, make-up work, extra supplies … really anything kids might need where they can help themselves.
Not only does it help with your classroom management, but it can help keep YOU organized as you have a specific place to put each thing!
Don't forget to print labels for each bin!
Tabletop Organization
Do you organize your classroom seating in groups or pods? You're going to need this trick from teacher April of @inseasonspaces. Buy inexpensive plastic plates and containers, and hot glue the containers to the plate for easily organized supplies that you can put on each table for your students!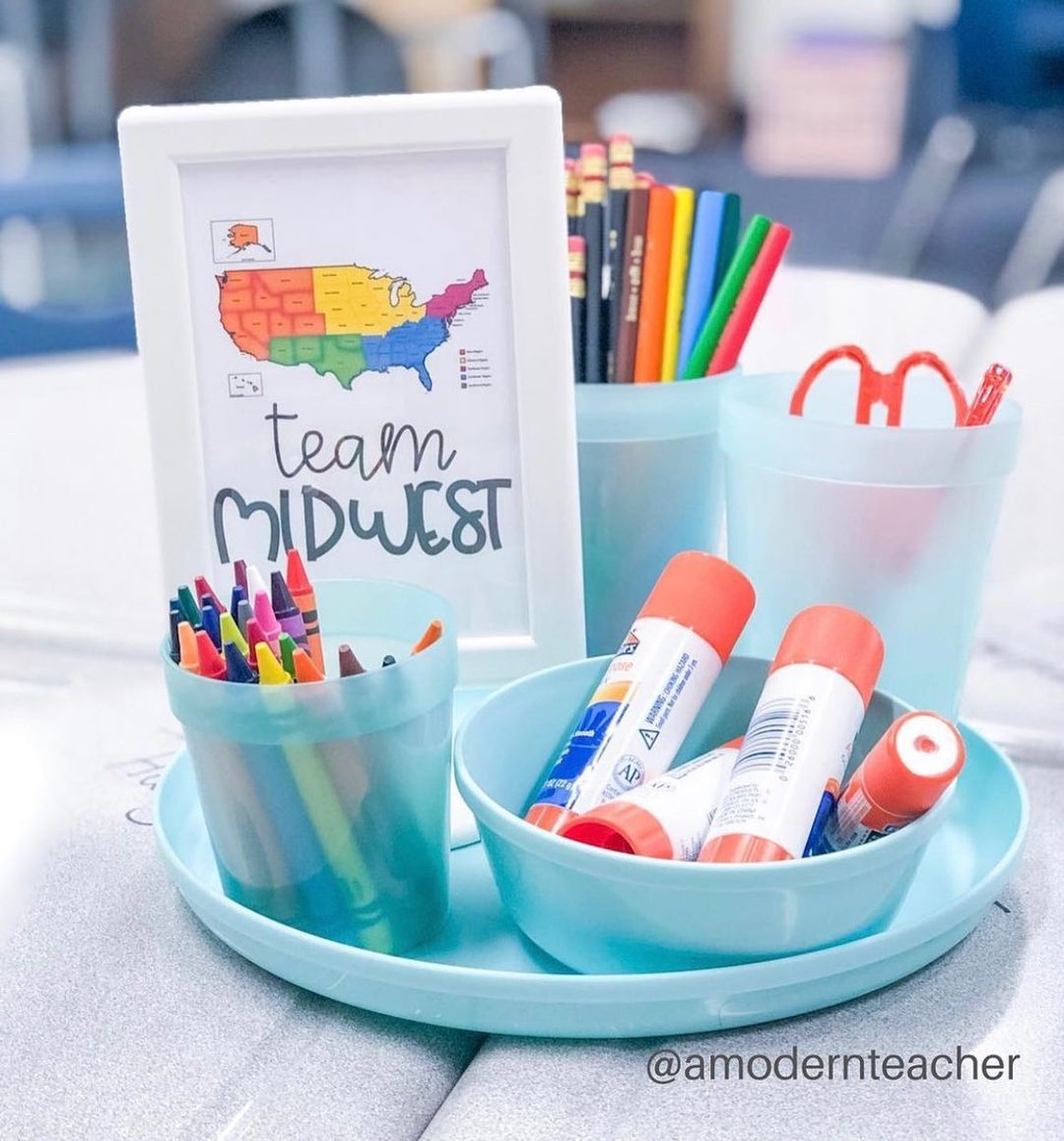 It may take some time to set up some of these organization hacks, but we promise it will relieve some of the disorganized haze teachers often find themselves in when they look down at their messy desk or work area!
Need more classroom organization tips? Check out tons of resources for organizing that you can print in no time!