The end of the school year is upon us, and you know what that means? For some of us, this will mean handing our kids over to other lucky teachers within our school. For others, it will mean saying goodbye as our students head off to another building next year. Scratching your head for goodbye gifts for students from teachers that won't break the bank?
The end of the school year is a perfect time to give our students a parting gift; but what can we give that is meaningful, inexpensive, and easy to create?
From bookmarks to coloring pages and a whole lot more, here are some inexpensive end-of-year gifts for your students that can be personalized for that final farewell before the summer kicks off.
Gifts for Bookworms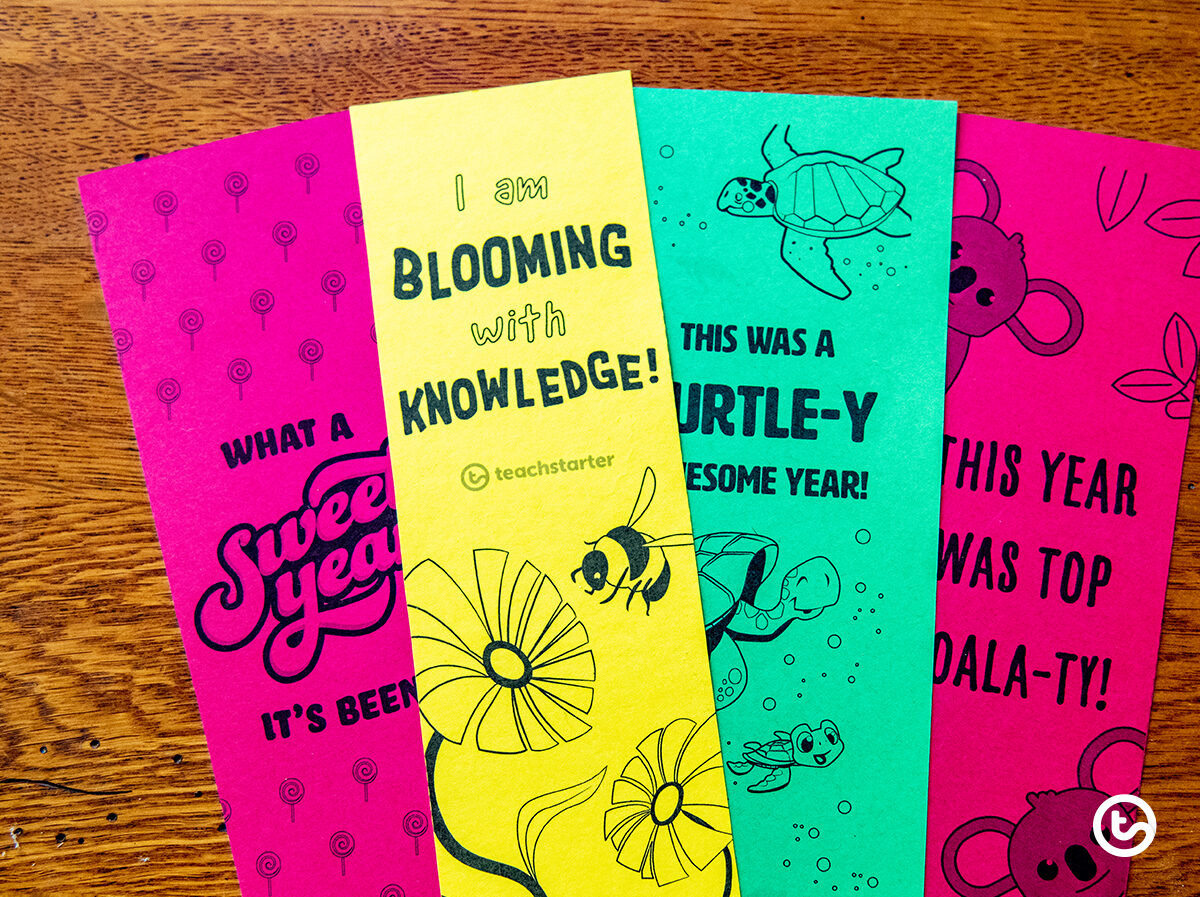 The long summer break is such a great time for kids to read, and what do you need if you're going to be toting a book around everywhere you go? A bookmark, of course!
A bookmark is a great gift for students who will plow through books over their break (and a gentle reminder to less enthusiastic readers to pick up a book or two!). You can even personalize each bookmark with a handwritten message. Try our bookmarks made specifically for the end of the school year to be given out as student gifts — they are "turtely awesome." Or you can mix things up with a different page marker for every child in your classroom. We've got a little something for everyone.
These are our top picks of gifts for students from our huge collection of bookmarks:
---
Younger Student Gifts: Play dough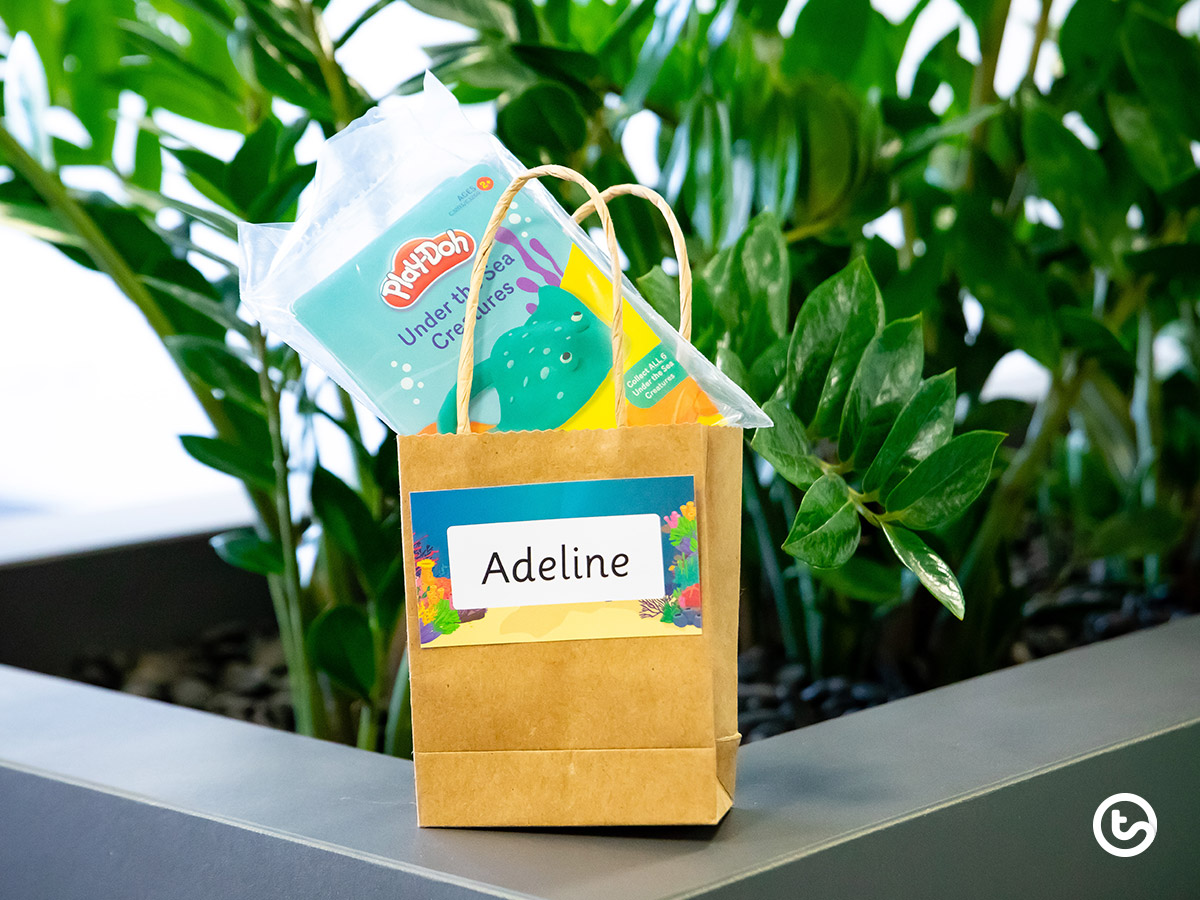 There's no doubt about it: Small children love play dough! If you've got the time or the inclination, you could make each of your students a little bag of play dough as a goodbye gift for the end of the year. You could even pop one of our great play dough mats together with it. If you're pressed for time, you can purchase pre-made themed kits or multi-bags of small Play-Doh tubs. Check out Target's dollar spot or your local dollar store.
---
Gifts for kids who keep things clean
Let's face it — no teacher had fun wiping down all those desks this year, but the kids who were careful to stow their stuff before the end of the day made that chore just a little bit easier. So show them a little thanks with some acknowledgment from the desk fairy for doing their part to keep your classroom clean! You can make it extra special by attaching a fun pencil or eraser or maybe even their own desk pet (are you using them in your classroom?)! Download the certificates for free here!
---
School Graduation Gift
If you're teaching elementary school students who are graduating and heading off to middle school or junior high, and you're planning a special farewell for your graduates, here's a lovely gift full of meaning: an Elementary School Graduation Gift.
For each pack, you'll need to include…
A ruler (to keep them on a straight track).
A pencil (to help them be life-long learners).
A pencil sharpener (to keep their minds sharp).
An eraser (to help them repair their mistakes).
A rubber band (to help them snap back when life gets them down).
A chocolate (to remind them that life is sweet).
---
Inspiration Posters for Students
These beautiful posters are part of our Positivity Resource Collection! I chose to print these two-to-a-page and mounted them on black cardstock for effect. A lovely touch would be to handwrite a note on the reverse side. These would make great gifts for students in the upper grades.
---
Crafty Gifts for Students
Trying to pull together something your students can do during the summer? How about this fun idea from a teacher: Their own dry erase boards to write notes at home! She grabbed inexpensive frames from the dollar store and added backgrounds using PowerPoint, but you can use our nifty Studio Wizard tool to make some truly personalized gifts your students will always remember!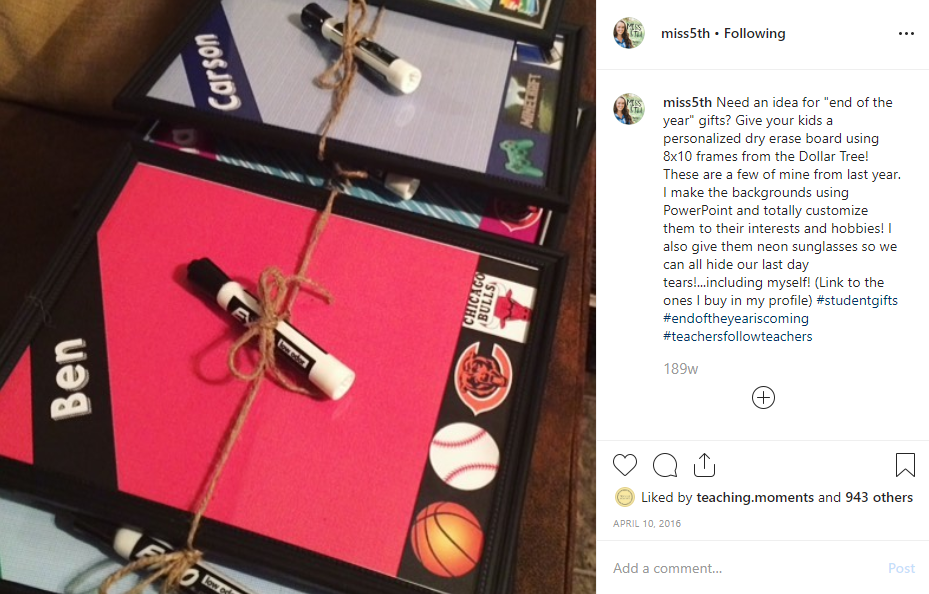 ---
Personalized Pencils
Is there really anything the pencil can't do? It's mightier than the sword (OK, OK, we know that's the pen, but it's the same idea!), and it makes for a cheap gift that can be packed with personalization. Pair it with this fun ice cream sundae template, and send kids home with a project they can present to their family giving them the full scoop on what they did during the year!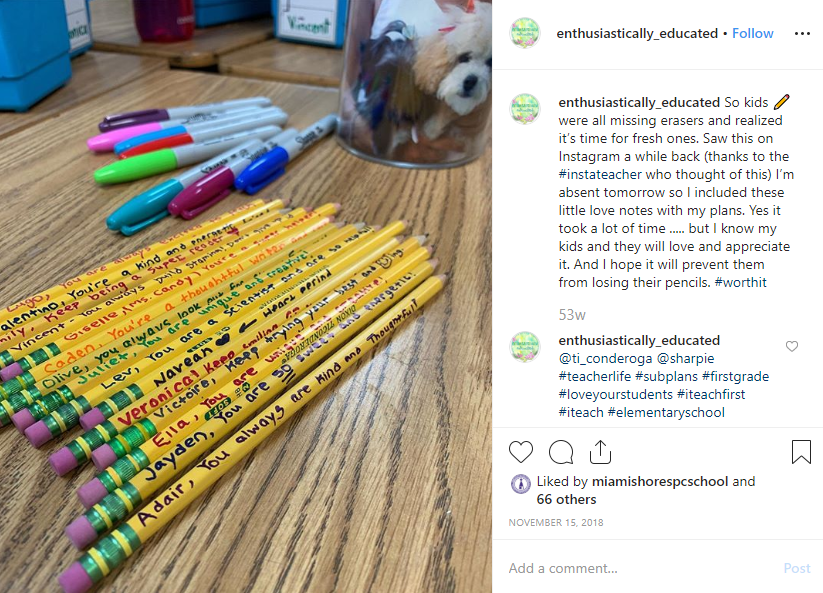 ---
Student Gift Tags

Any gift you give needs to be addressed, right? Buy a few small balls, and you've got the perfect name tag in our We Had a Ball Tag. Or maybe you'd like to attach this gorgeous gift tag – You Blew Me Away This Year to some bubbles for a fun present your students can enjoy on the last day of school? Or check out some of these fun gift tags that can be paired with sunglasses, owls, and more:
We hope you have a relaxing and rejuvenating summer break, with plenty of time to reflect on all of the wonderful work you've done with your students this school year!