Spring has sprung, and there's plenty to do in the classroom to celebrate the end of winter. From learning about life cycles just as plants begin to bloom to buzzing about butterflies, let's take a look at some spring activities for pre-school, kindergarten, and on up through the elementary school grades!
Spring Activities for Kids
Help NASA Monitor Clouds
What's the difference between a cumulus cloud and a nimbostratus cloud? If you're teaching about cloud characteristics, types, and more cloud science to celebrate spring, turn your junior scientists into NASA volunteers by getting involved in their Cloud Observation Reporting project! Download their free Globe Observer app, and use the app's Clouds tool to share observations made by your class. NASA scientists will use the data to confirm similar measurements made by satellites orbiting Earth.
Earthworms Writing Exercise
Is the pavement outside school absolutely covered in earthworms that have wriggled their way out of the rain-soaked ground? These simple organisms play an important role in helping organic matter break down and keeping soil healthy, and they're excellent inspiration for young writers too.
Read Shel Silverstein's classic poem, Early Bird, or play this video of Silverstein reading it aloud.
Use Silverstein's poem as a writing prompt: Why should worms sleep late?
Or check out these fun ways to incorporate earthworms into your spring activities in the classroom:
Terracotta Pot Craft
Terracotta pots tend to crop up at the dollar store during spring, and they're perfect for a number of classroom spring activities from planting seeds to celebrating some of our favorite animals of spring! Make rabbits, chicks, and sweet little bluebirds with this spring craft that can double as a Mother's Day gift.
Supplies:
Acrylic paint
Terracotta pots
Goggly eyes
Colored paper (pink, white, and orange)
Large pompoms (white and yellow)
Feathers
Hot glue gun
Paint each pot with acrylic paints (we used blue for bunnies, yellow for chicks, and blue for birds).  Add googly eyes and some feathers, paper, or pipe cleaners to create these cute little spring animals.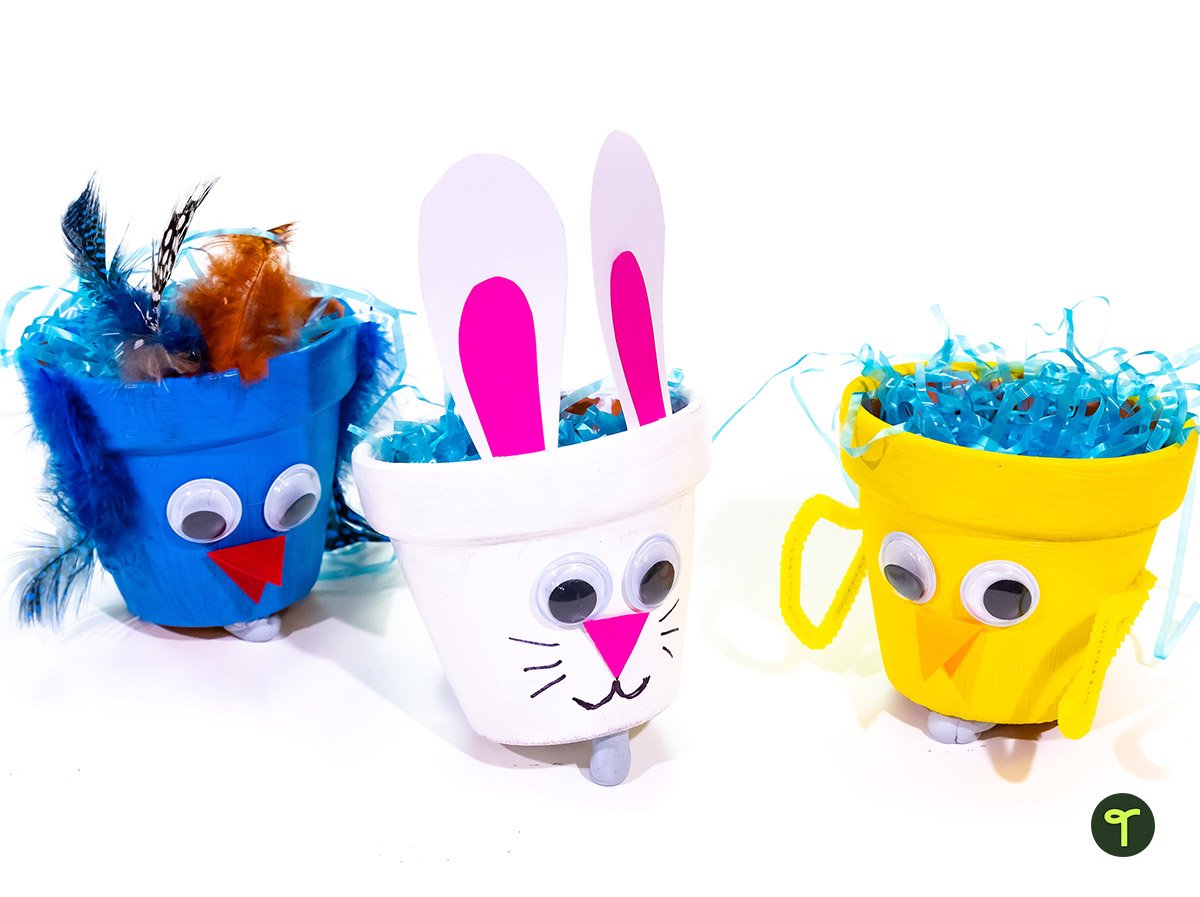 Make Friendship Flowers
Has your class hit that time of year when students are starting to get a bit too familiar with one another and squabble like the overly familiar tend to do? Friendship flowers are the perfect spring activity for exactly this reason!
Focus your next social-emotional lesson on what it means to be a good friend to one another, and print out this free flower template for an individual activity. Students should write out the characteristics of a good friend on the petals of their flowers, and you can post your garden of flowers on the classroom bulletin board as a reminder of the sorts of behaviors that make us good friends to our classmates.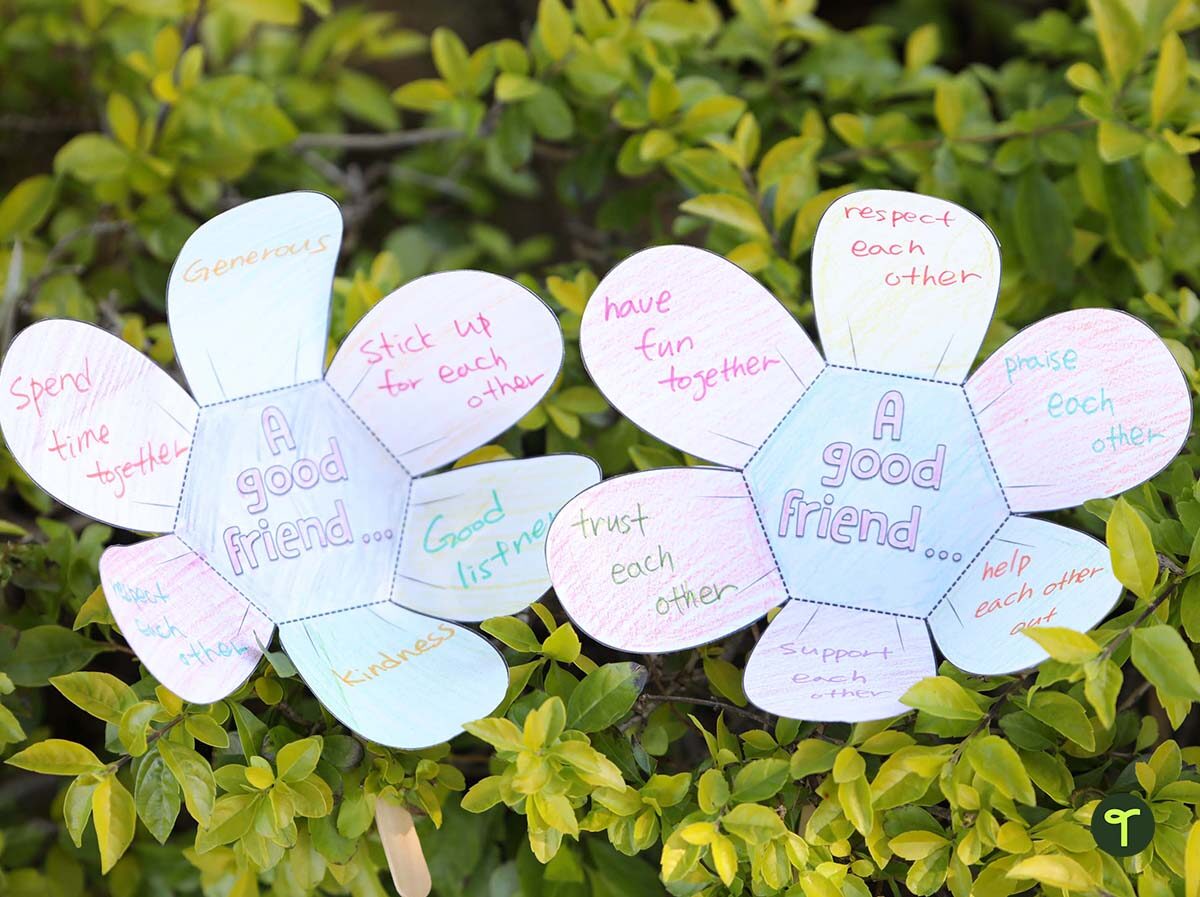 Grow Their Own Beans
From the tadpoles wriggling around the local creek to the buds bursting from the school garden, springtime is ripe with examples of the cycle of life for kids. Is it any wonder many teachers use this season to introduce their students to the series of stages that living things will progress through during their lives?
Make the most of your life cycle lessons by planting seeds that students can watch develop from tiny seeds through the early bud stage and all the way to producing a flower or a yummy vegetable like a pinto bean or butter bean that can grow quickly in a compact place like the corner of the classroom.
Extend the spring activity by assigning groups of students to work together to design an experiment to see if they can grow the biggest plant in a set amount of time by planning out how much sunlight, water, and fertilizer to use on their bean plant. Make sure they check on their plants daily and record their observations along the way.
Choose from dozens of life cycle teaching resources, including grasshoppers, plants, butterflies, and more! 
Test School Water Quality for EarthEcho International
Upper elementary students who are learning about water quality have a chance to try their hand as citizen scientists for EarthEcho International, a non-profit founded by legendary scientist Jacques-Yves Cousteau's grandchildren to build a global youth movement to protect and restore our ocean planet. Students are challenged to test their local water quality and enter their data on the EarthEcho site.
Aside from learning about Earth's water quality and the distribution of water on Earth, the chance to enter data into a worldwide database helps to drive home the importance that their hometown plays on a global scale.
Color by Sight Words
Spring into sight word work with the fun of coloring … coloring by sight word, that is. Although this practice for younger readers can be done any time of the year, the chance to reveal some of their favorite springtime creatures adds a seasonal flair to the activity, including: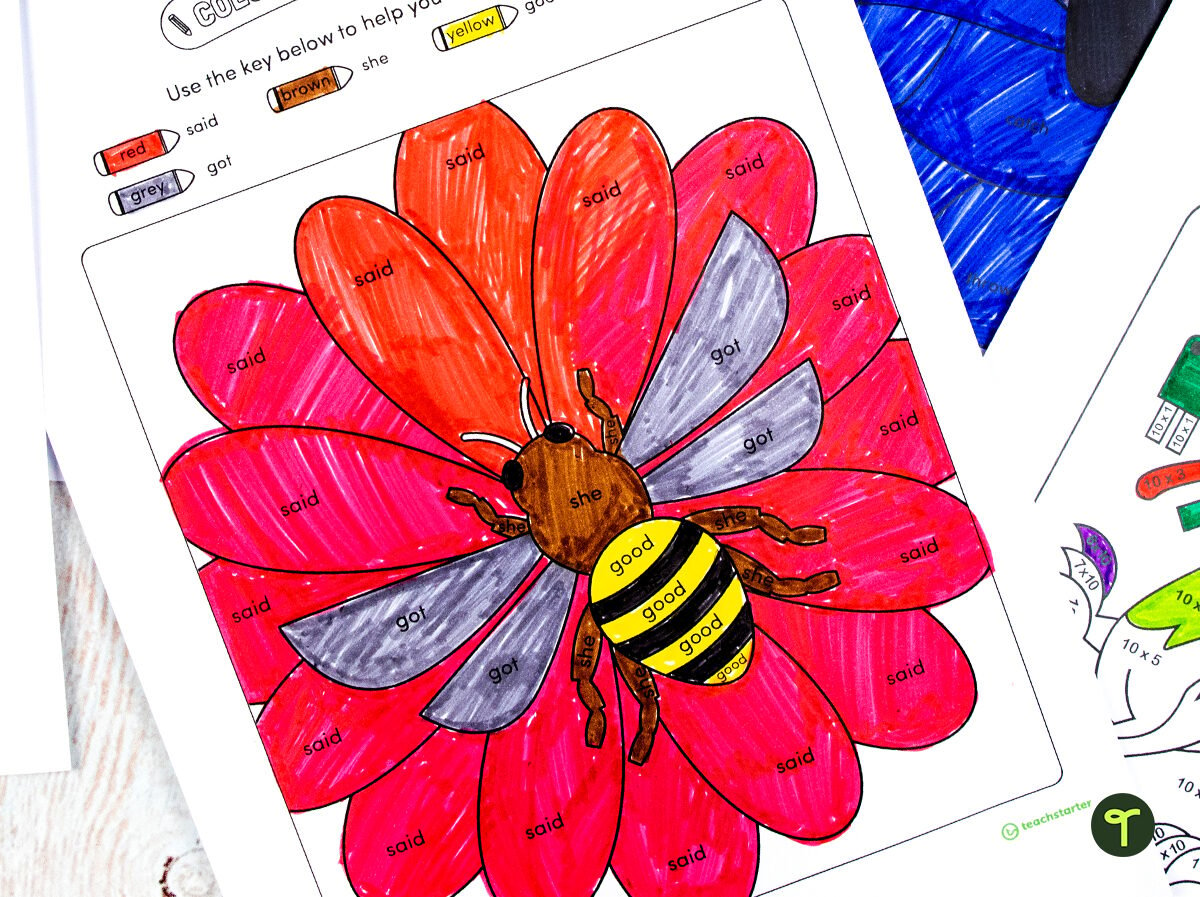 Check out an array of color by number activities.
Make Walking Rainbows
April showers don't just bring May flowers — they bring rainbows too. And this STEM activity packs a whole lot of learning about capillary action and the means by which water will travel through a porous surface like a paper towel or a pair of jeans.
Supplies:
7 small glasses
Water
Liquid food coloring
Paper towels
Instructions:
Line 7 glasses of water up beside one another, each about 2 inches apart.
Fill the 1st, 3rd, 5th, and 7th glasses halfway with water (make sure each water level is equal)
Add five drops of red food coloring to the 1st and 7th glasses, and mix well.
Add five drops of yellow food coloring to the 3rd glass, and mix well.
Add five drops of blue food coloring to the 5th glass, and mix well.
Rip 6 sections of paper towel off your roll, and fold each until they're about 1 to 2 inches wide.
Starting all the way on the left, dip one end of the paper towel into the water, and fold the towel over the lip of the glass into the empty glass beside it.
Continue this process with your paper towels so that each is half in one glass and half in the other.
Allow the towels to sit for an hour, and observe the way the water travels from one glass to the next and the primary colors mix to form secondary colors.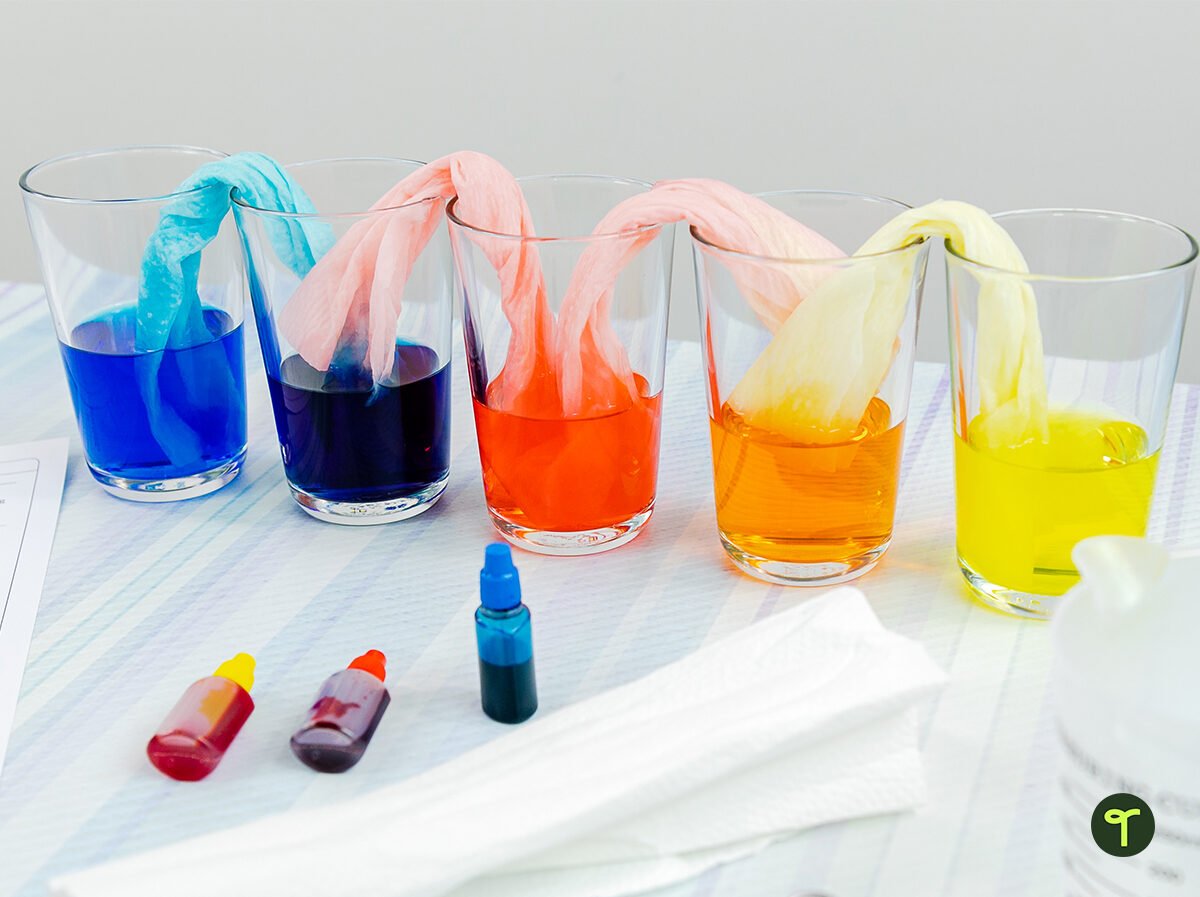 For more colorful STEM fun this spring, try a refracting light rainbow activity or make rainbow foam.
Make Origami Frogs
Frogs making their way out of hibernation to spawn are a common sign of spring, and if you're not already teaching about them in science class, working them into a mindfulness activity could be the perfect way to bring spring hopping into the classroom. Try making origami frogs, and take advantage of all the ways the paper folding art form helps students improve 3D perception and logical thinking skills.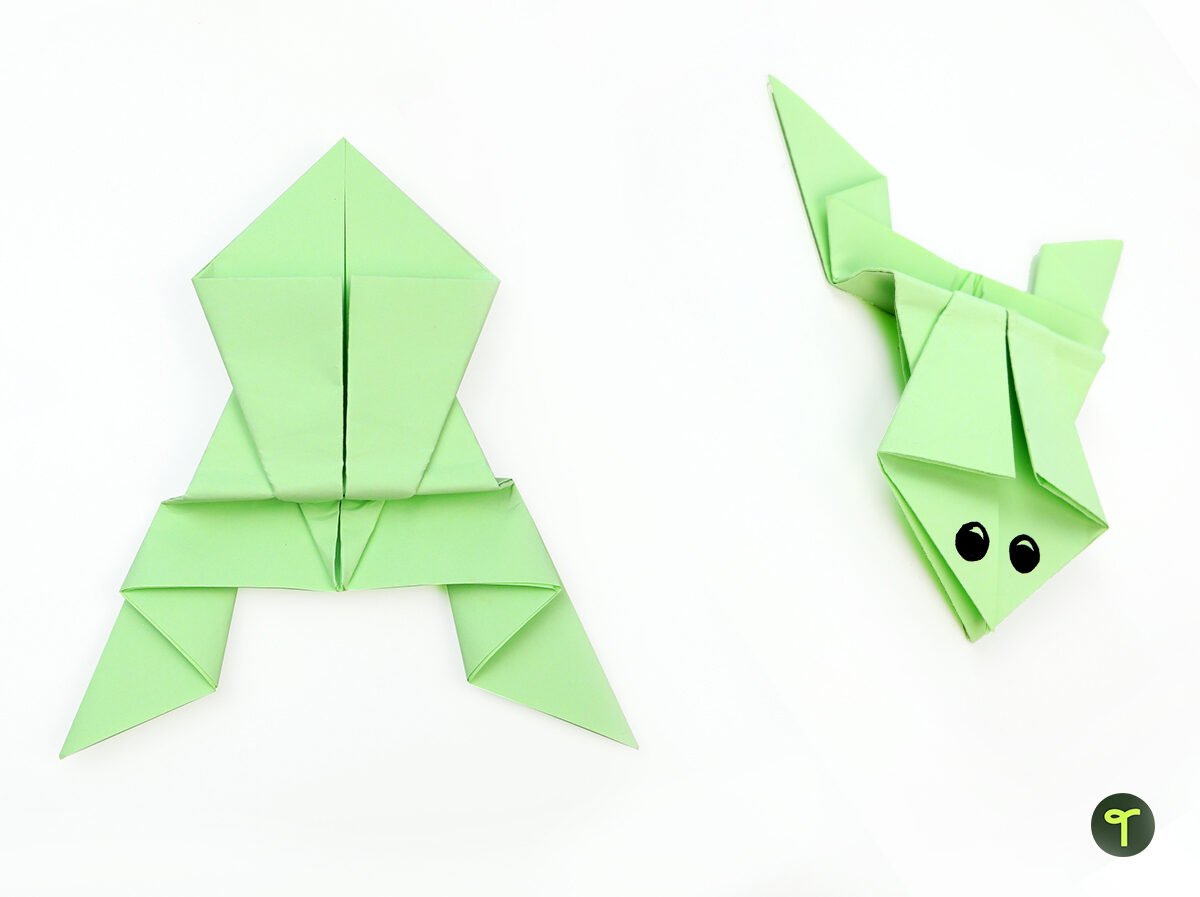 Need more spring activity ideas for the classroom? Take flight with these butterfly ideas for kids, designed by the Teach Starter teacher team!
Banner image via shutterstock/Olga_V_Ignatova