Take a stand against bullying by celebrating friendships!
Teachers find many creative ways to teach our students about anti-bullying and resilience. We all want to create a safer school environment for our students! But it goes without saying, lessons on acceptance and kindness are always an essential part of the anti-bullying message.
As part of this, focusing on teaching students how to participate in positive social interactions is an integral part of how teachers foster an inclusive classroom.
Anti-bullying activities can sometimes focus on the negative behavior associated with bullying. Why not focus on building up the positive behavior to create a classroom community to be proud of!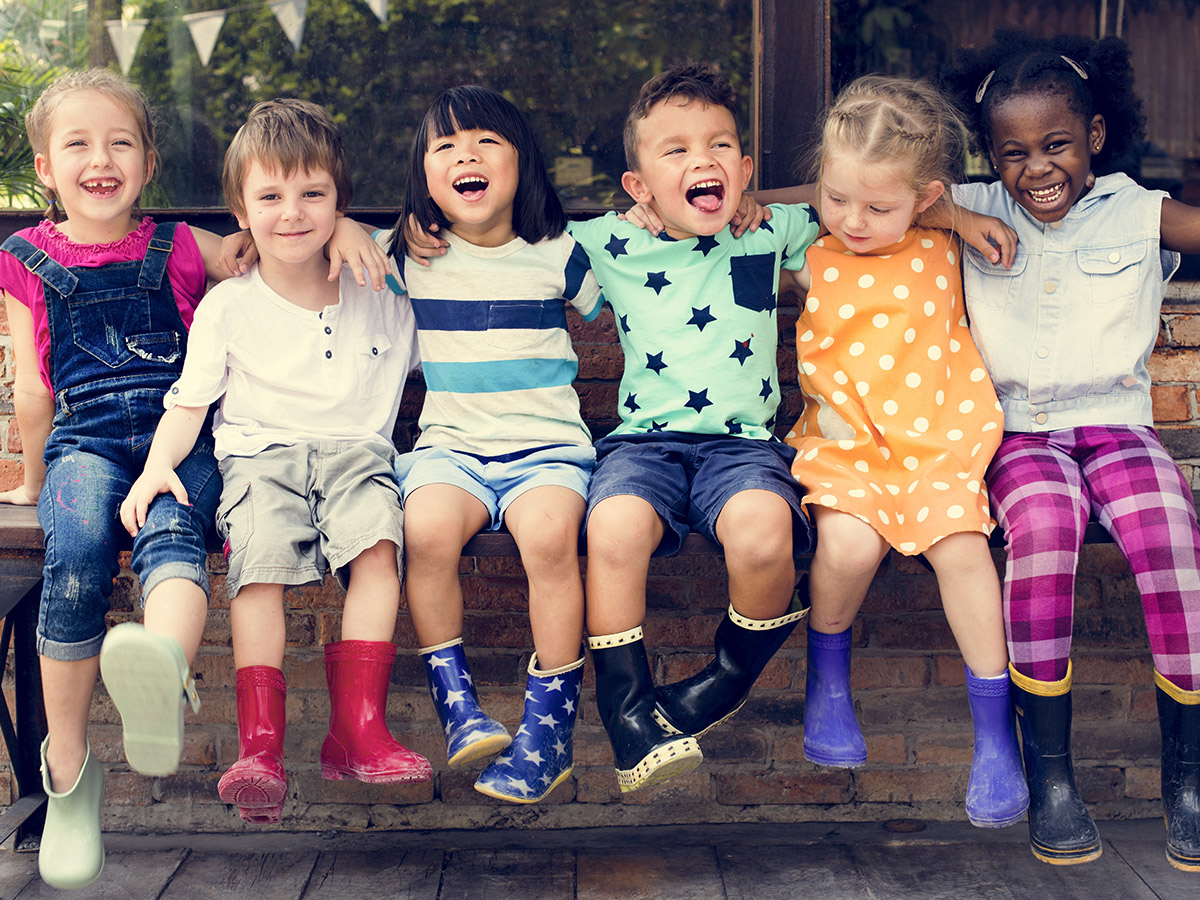 ---
Banish Bullying
Help take another step closer to banishing bullying in schools. We have a bucketload of wonderful ideas to celebrate friendship and encourage acceptance. These activities can be used all year around! Promote an inclusive school environment, and build the community in your classroom.
Explore Friendship
Teaching students what makes a good friend helps to lay the foundations for healthy relationships based on inclusion and empathy.
What Makes a Good Friend?
Start off with a Y-Chart on how to be a good friend to see what your students already know! Go over friendship vocabulary with your class and get their ideas about what makes a good friend.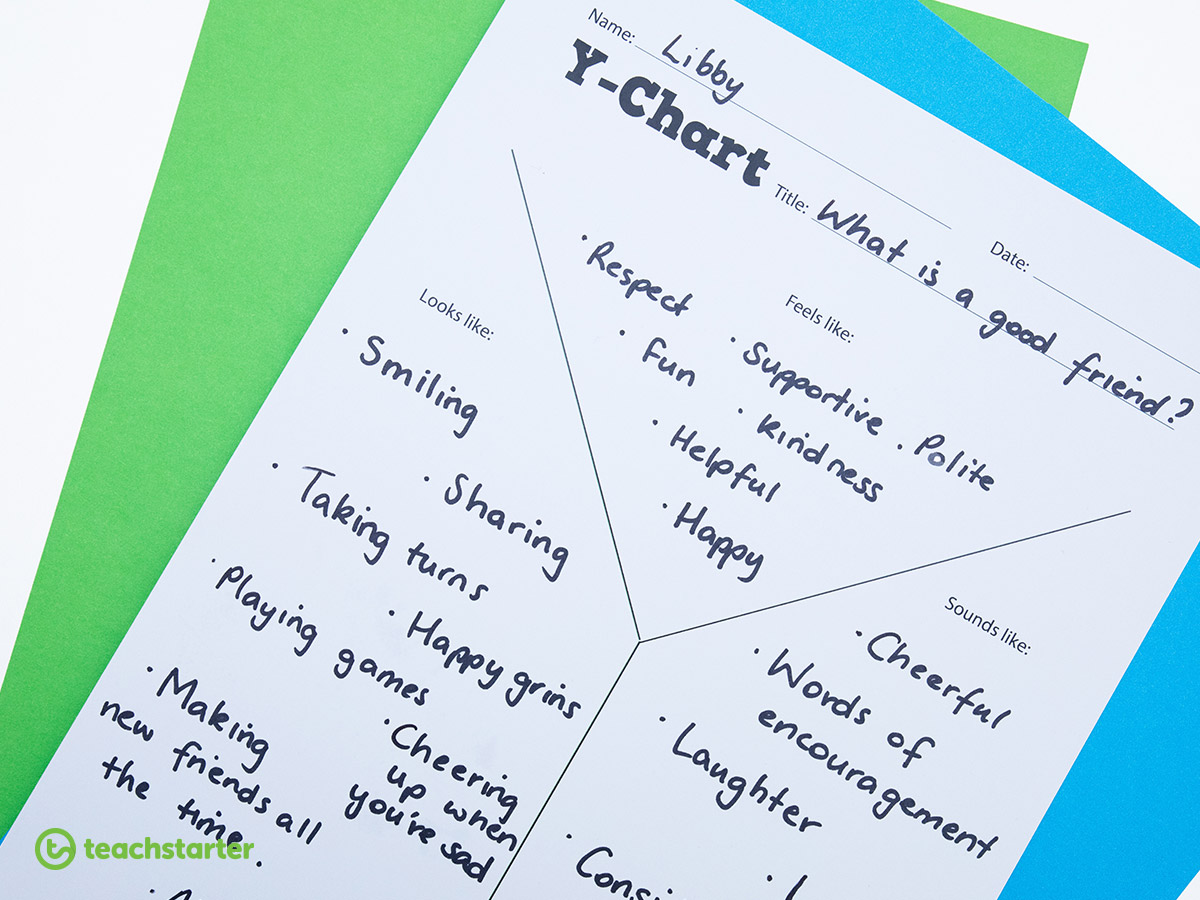 Follow this activity by exploring our What Makes Me A Good Friend? Teaching Resource Pack.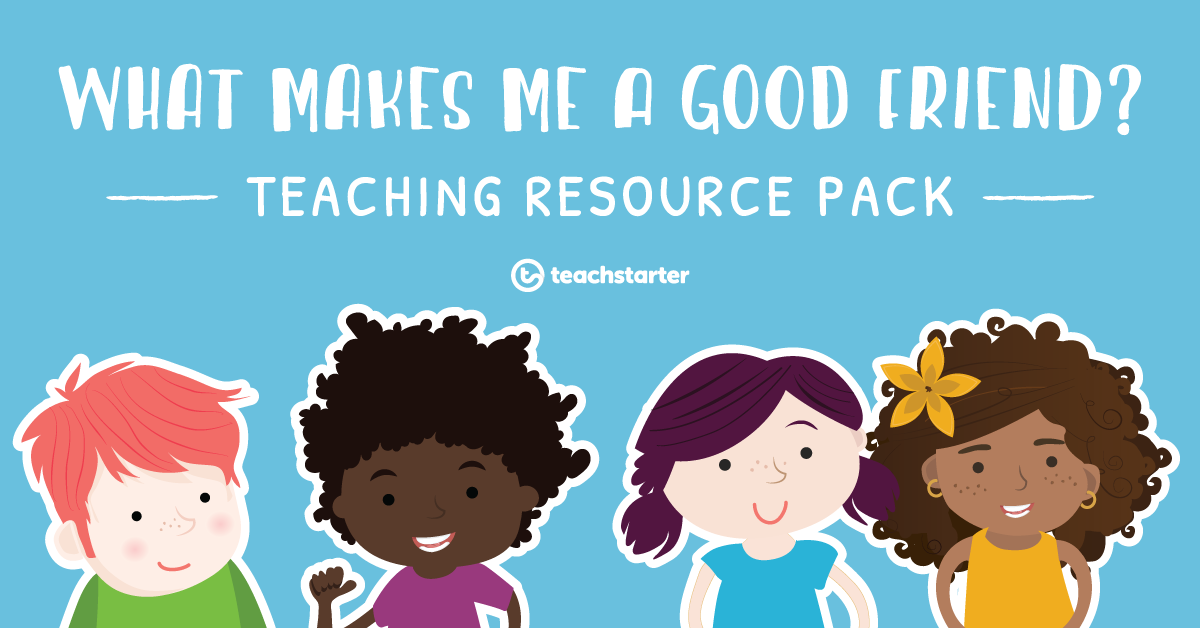 Friendship Wall Display
Create a wall display to celebrate friendship! Focus on the positives to encourage your students to build their friendship skills.
The What Makes A Good Friend Word Wall Vocabulary goes along very nicely with our Rainbow Spots Bunting (Cream) – Letter, Number And Punctuation Sets (which you can customise)!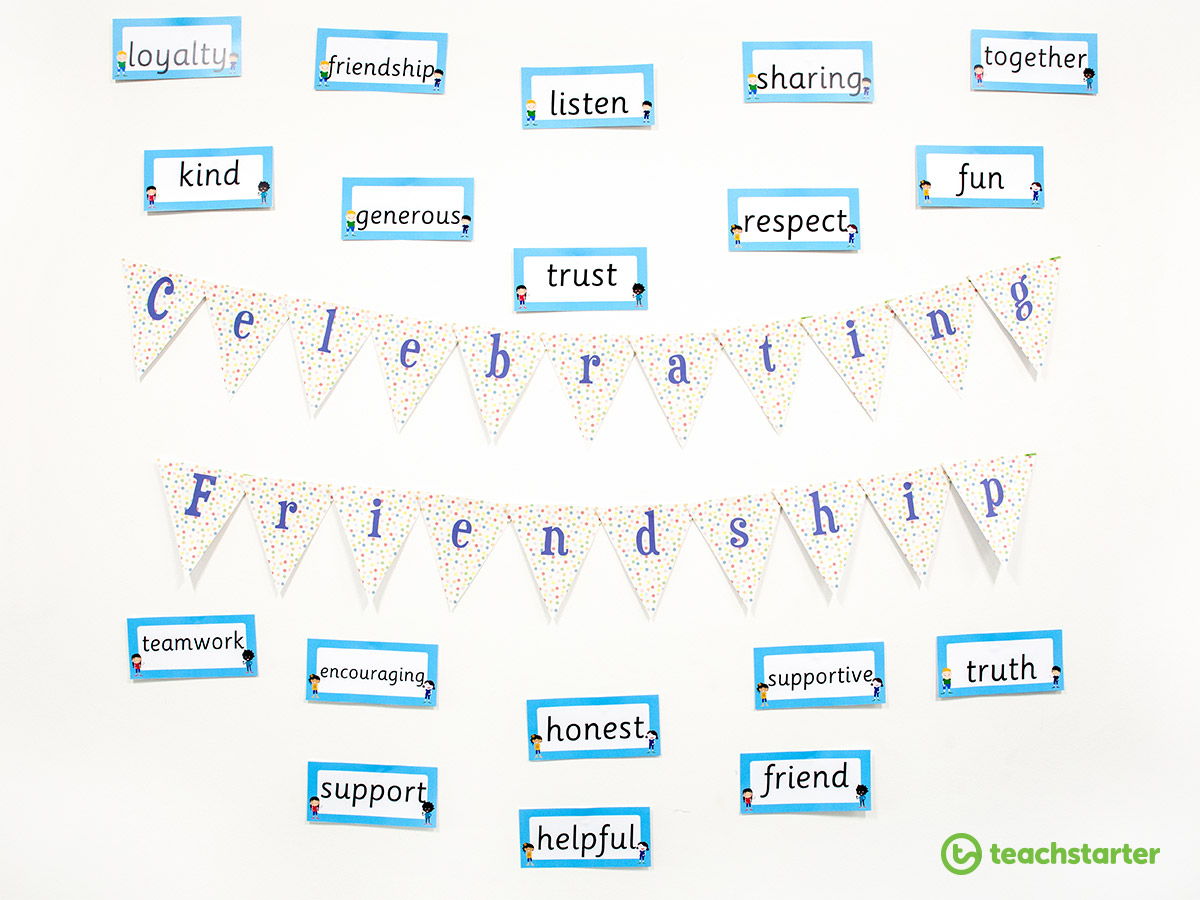 Lessons on inclusion and acceptance help students see that they can be friends with anyone. The Inclusion Poster has a beautiful message about opening your mind and being a good friend!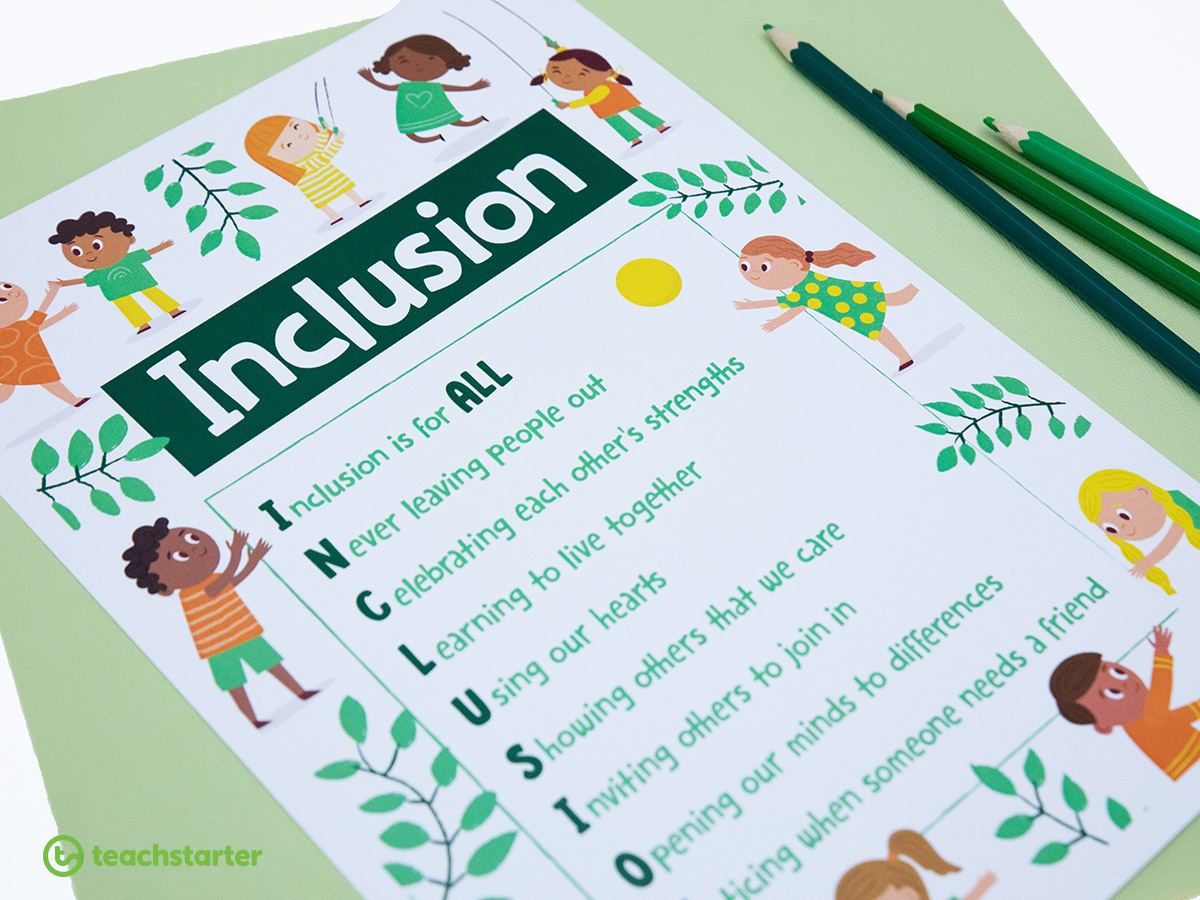 Remind your students all year around about how to be a good friend with the wonderful Friendship is a Million Little Things – Positivity Poster – even adults need these sweet, simple reminders now and then!
Fantastic Acts of Friendship
Finally, put together a Fantastic Acts of Friendship box in your classroom.
Each day, students can add a little note about how someone has been a good friend to them. At the end of the week, go through the box together as a class. I've used our Good Friends – Tray Labels to create a box label, and printed our Good Friends – Landscape Page Borders to make little cards for students to write on.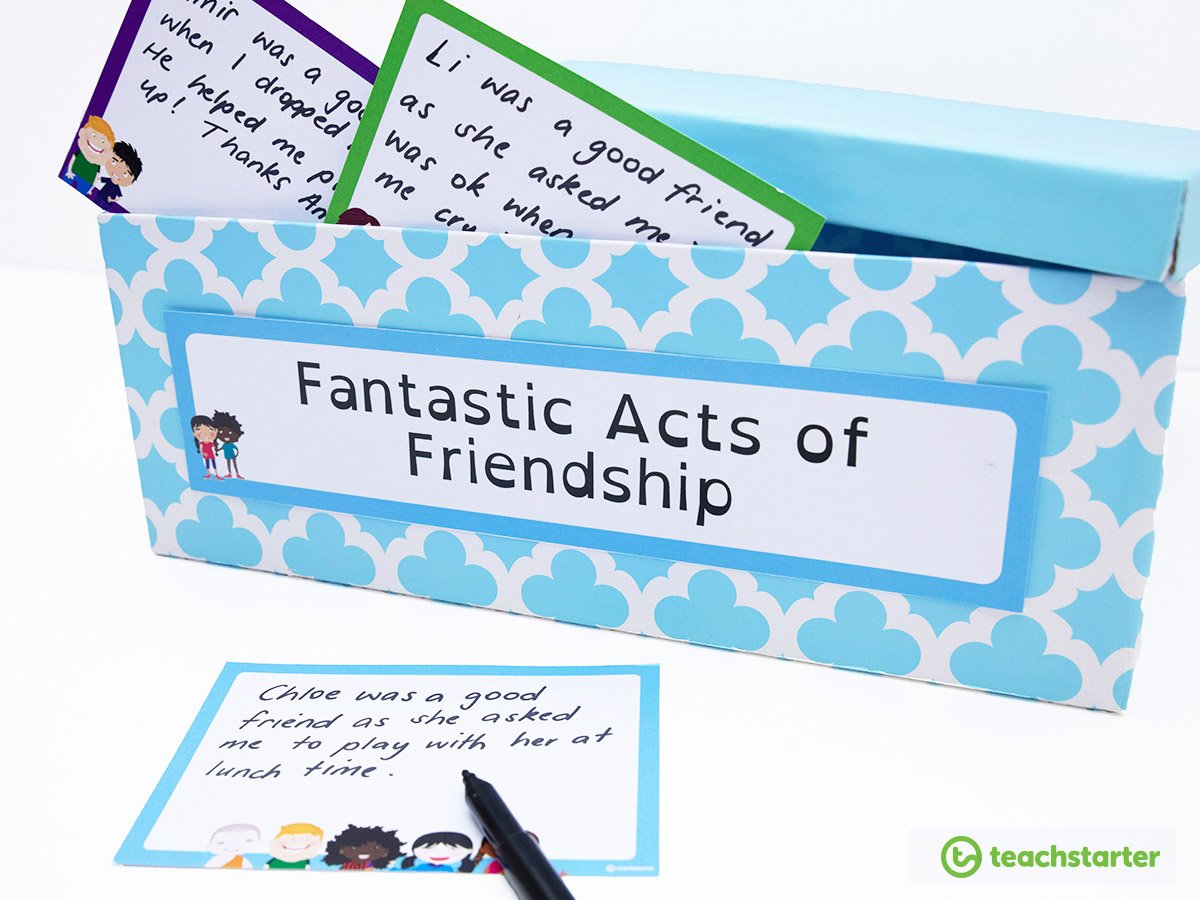 If you want to make a celebration of it, draw one note out of the box and award that person a Good Friends – Award! The Respecting Others Award and Kindness Award Certificate also make great rewards for students who have demonstrated what it means to be a good friend.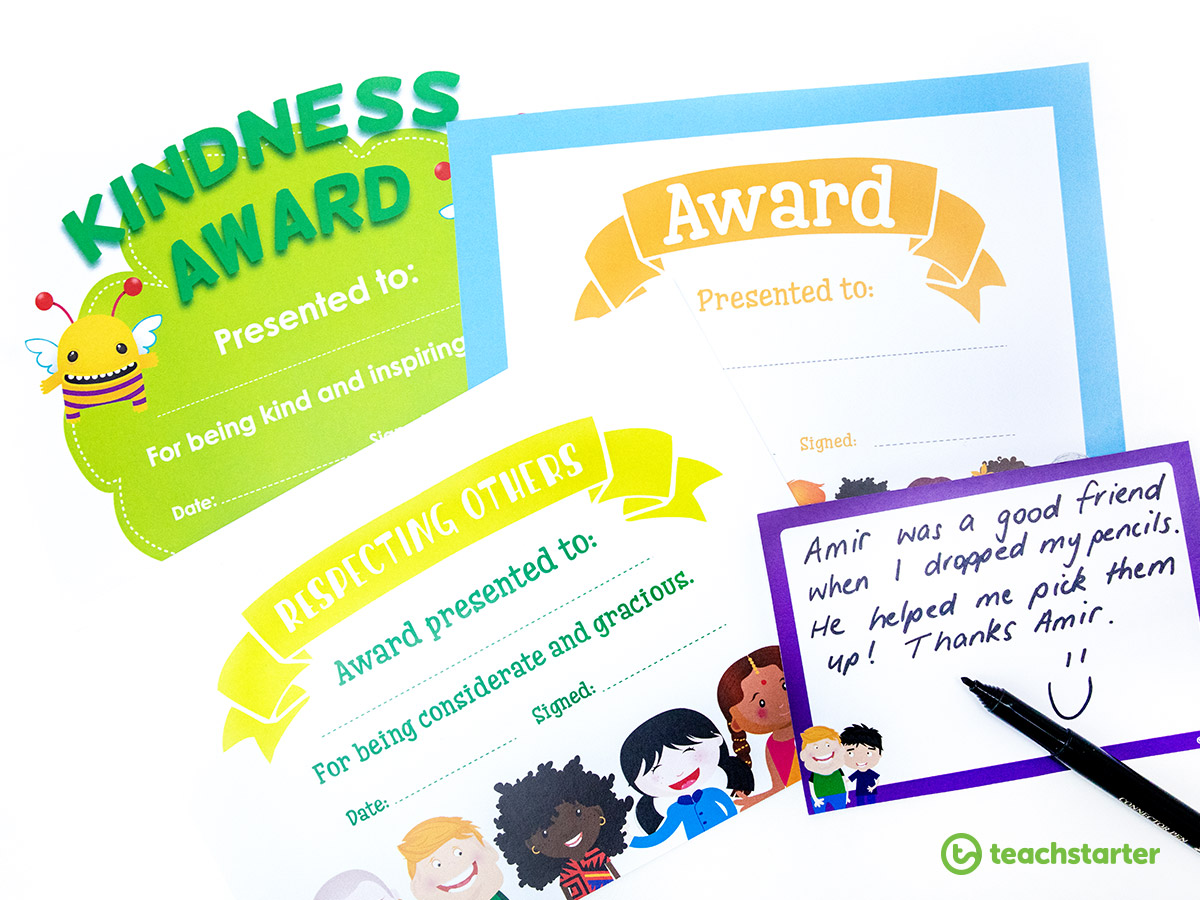 Our Good Friends – Desk Name Tags also make great for slips for the Fantastic Acts of Friendship box!
If you want to expand even more on friendship activities, Cassie's blog International Day of Friendship Activities is bursting with even more ideas and activities for your little buddies.
---
Make a New Buddy
Making friends with your classmates is a great first step to establishing a positive school community. But to really cement lessons of friendship, why stop there?!
Buddies All Around the School
Encourage your students to make friends with students from other classes and grades.
We're all familiar with young students and older students having great buddy relationships, but that doesn't mean that the kids in the middle have to miss out!
We have a whole area with Buddy Activities Resources which includes hands-on activities, getting to know you games, art and craft activities and open-ended challenges that are suitable for any age. Organize with another class to have your students have a buddy lesson once a week, or even once a fortnight, to give them an opportunity to make friends from other grades.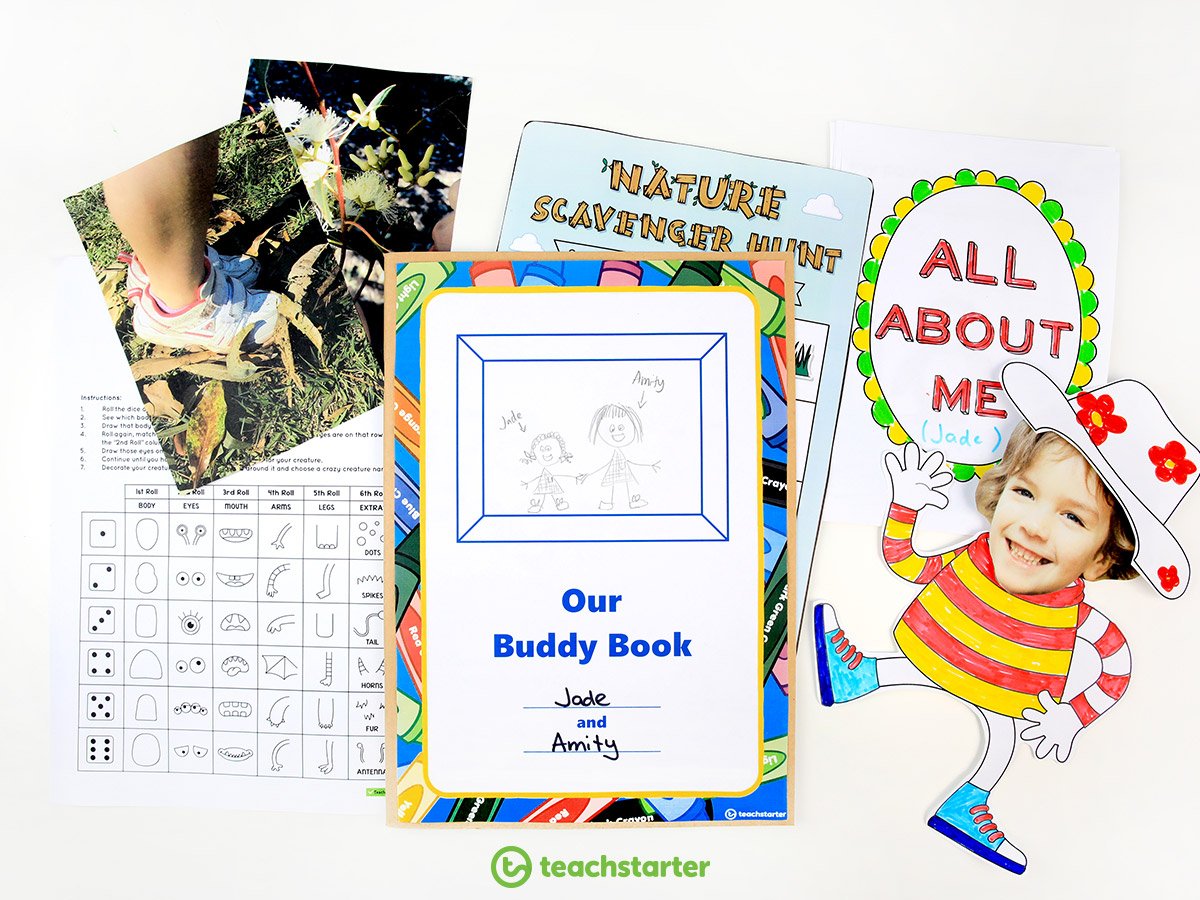 10 Awesome Buddy Program Activity Ideas is a fantastic blog by Cassie which gives hints and tips for younger and older student buddy relationships, but you can extend these ideas to suit any grade level.
Start with our Buddy Book Editable Book Cover and have your students fill it as they make new friends!
Put in a Buddy Bench
Another great initiative to help your students always have a buddy is to install a buddy bench in your playground.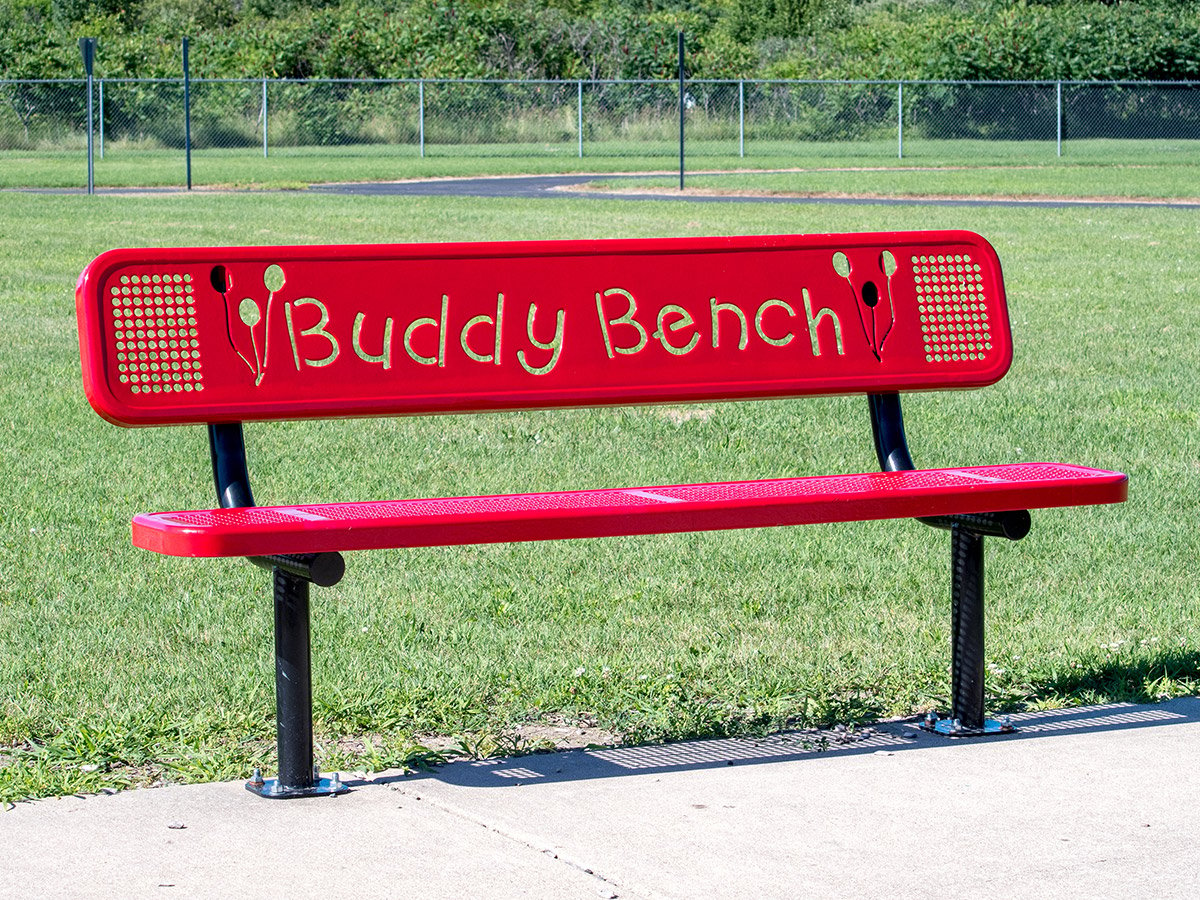 If ever your students don't have a friend to play with, they can sit on the buddy bench! That way, others will know they are open to a new buddy playing with them. Making buddies throughout the school will ensure the buddy bench doesn't stay full for long!
---
Educate About Bullying
Of course, sometimes no matter how hard you try, bullying behavior can slip through the cracks.
Whether your students are excellent at being friends or not, its a teachers job to educate them about what behavior constitutes bullying. Lessons on how to stop bullies in their tracks, and how to not let negative behavior damage self-esteem are also essential to any anti-bullying school program.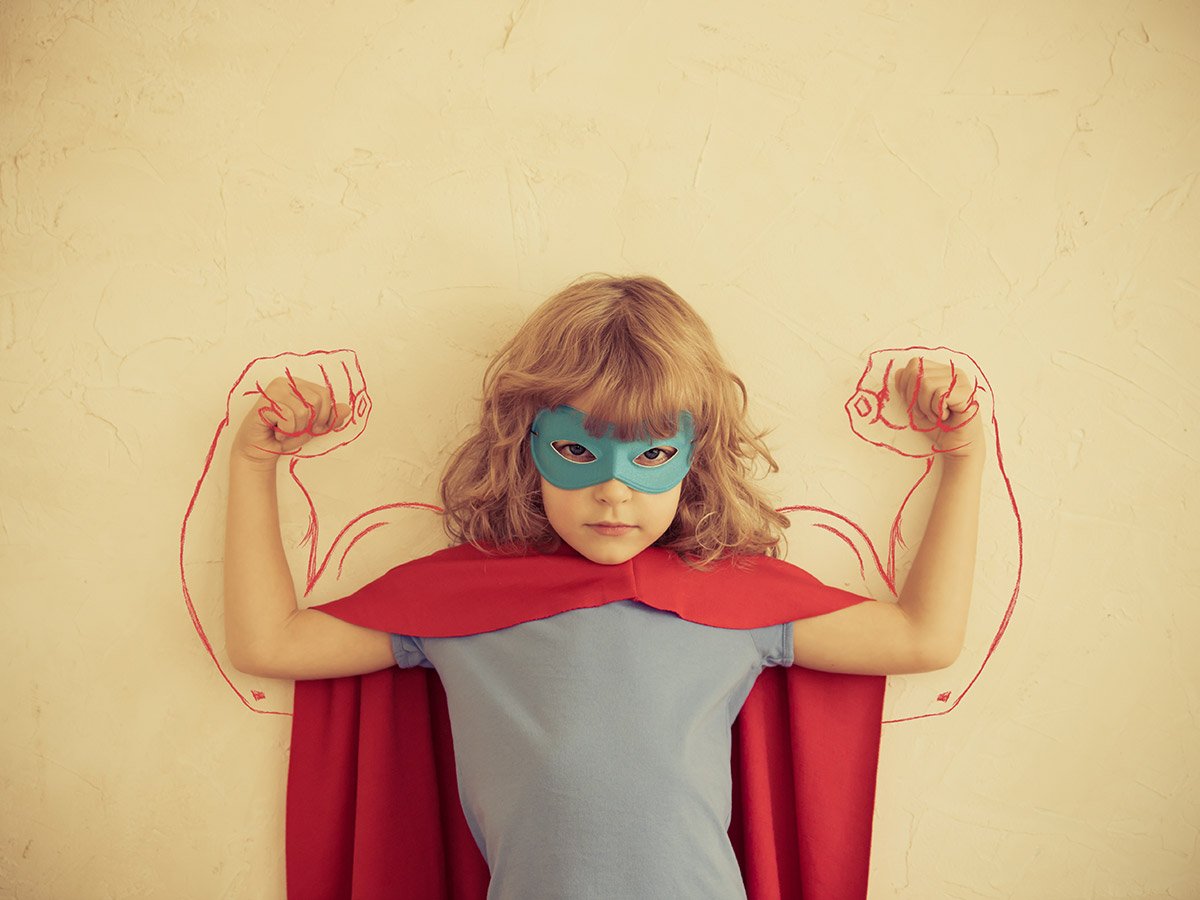 Our Bullying and Resilience unit plan is designed to help students deal positively and effectively with school-yard bullying. It covers key elements of social-emotional development such as recognizing bullying, cyberbullying, recognizing and understanding emotions, and emotional resilience.
Activities such as the Resilience Board Game help students recognize positive strategies to cope with bullying, in a relatable fun way.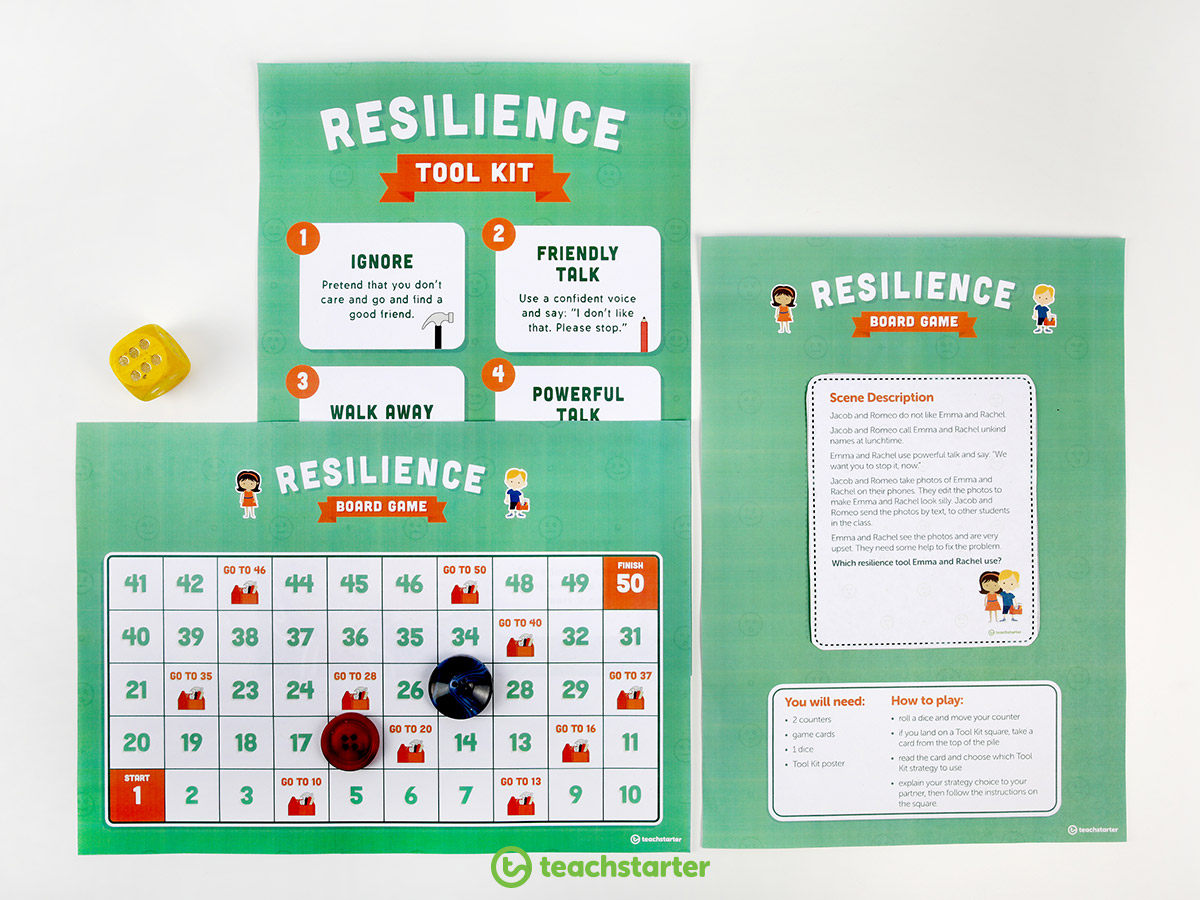 Activities such as Bullying Role Play Cards also help students recognize bullying behavior in the school environment and formulate respectful and mature ways to deal with it.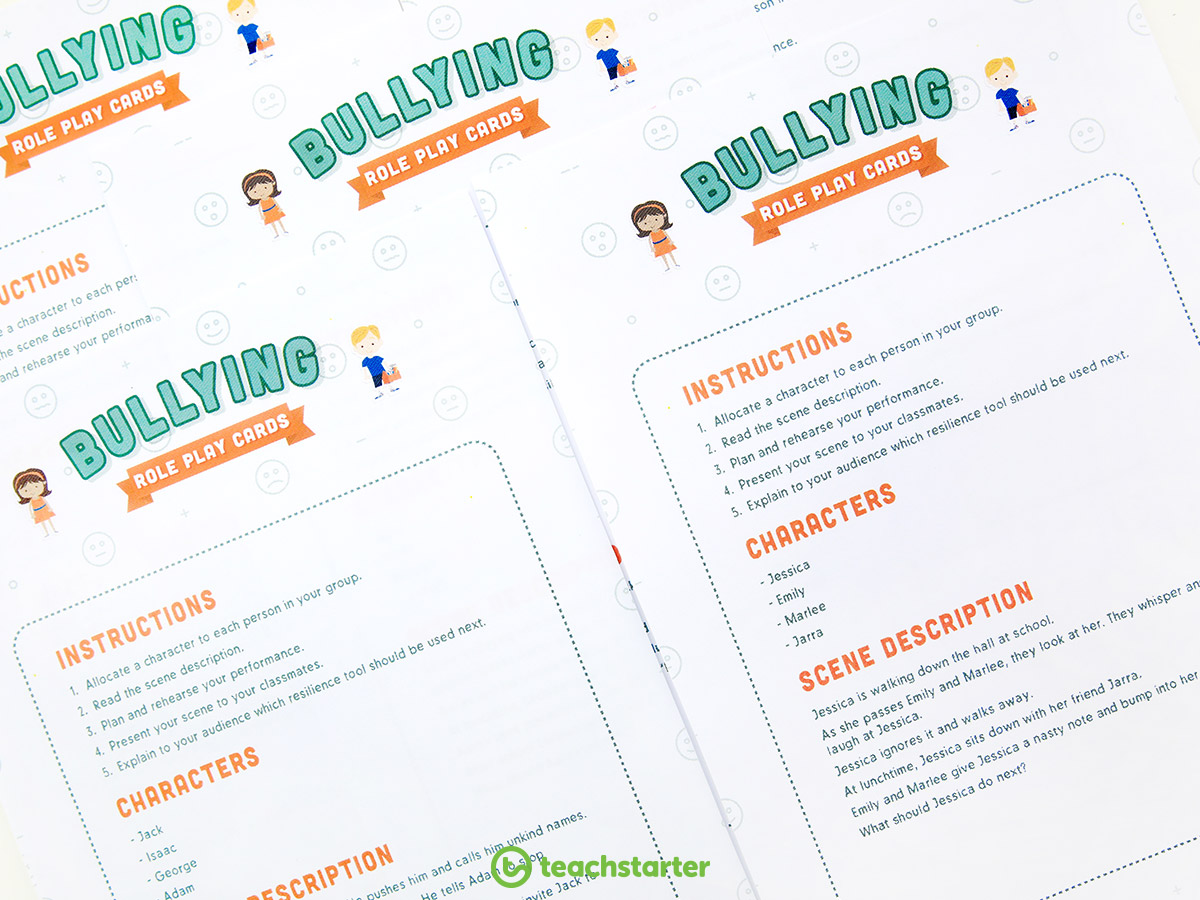 Putting students in uncomfortable situations as part of a role-play activity will equip them with the skills they need to deal with it if and when they come up against it in real life!
---
Bullying is no joke. If we can help our students see the benefits of inclusion, empathy, and friendship, then we will be that much closer to banishing bullying for good!
What are your favorite anti-bullying teaching strategies?