Celebrating 100 days of school has turned into a big event in classrooms across the world! And… why not? The day provides a great way to for primary school teachers to celebrate a variety of mathematical concepts using the number 100 and celebrate a huge achievement with their students. Any excuse to have a class party…
When you celebrate the 100th day of school may vary from school to school, depending on when your school year started and if there have been student free days etc.
Activities and Ideas for Celebrating 100 Days of School
We have a great selection of fun downloadable resources, printable templates and activity ideas to help you and your class celebrate 100 days of school.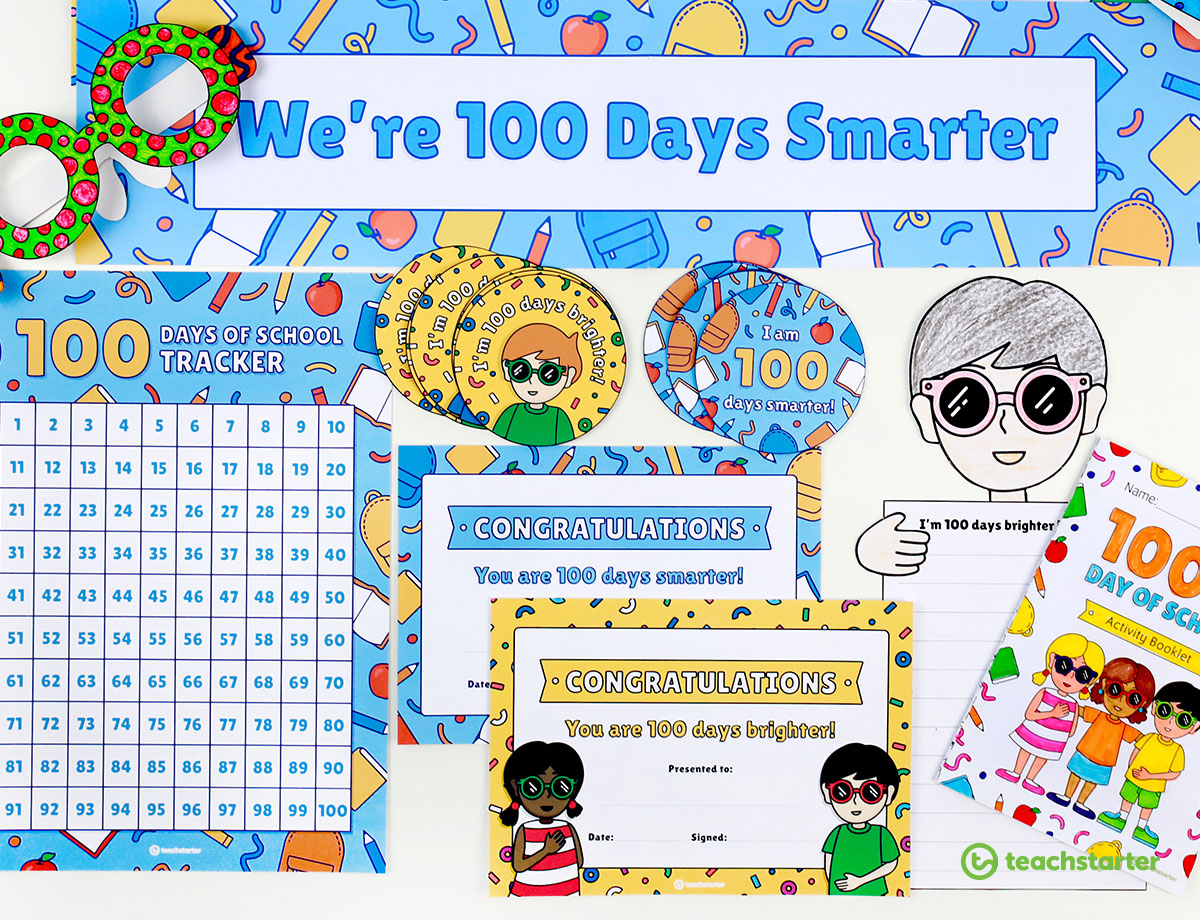 ---
100 Days of School Tracker Classroom Poster
Begin keeping track of the number of days your students have been in school in anticipation of the 100th day of school. Use pop sticks to keep track of the days and teach students about bundling the sticks once they get to ten. This is a fantastic way to introduce the concept of place value to your students.
Download our printable 100 Days of School Tracker poster and include it in your morning routine.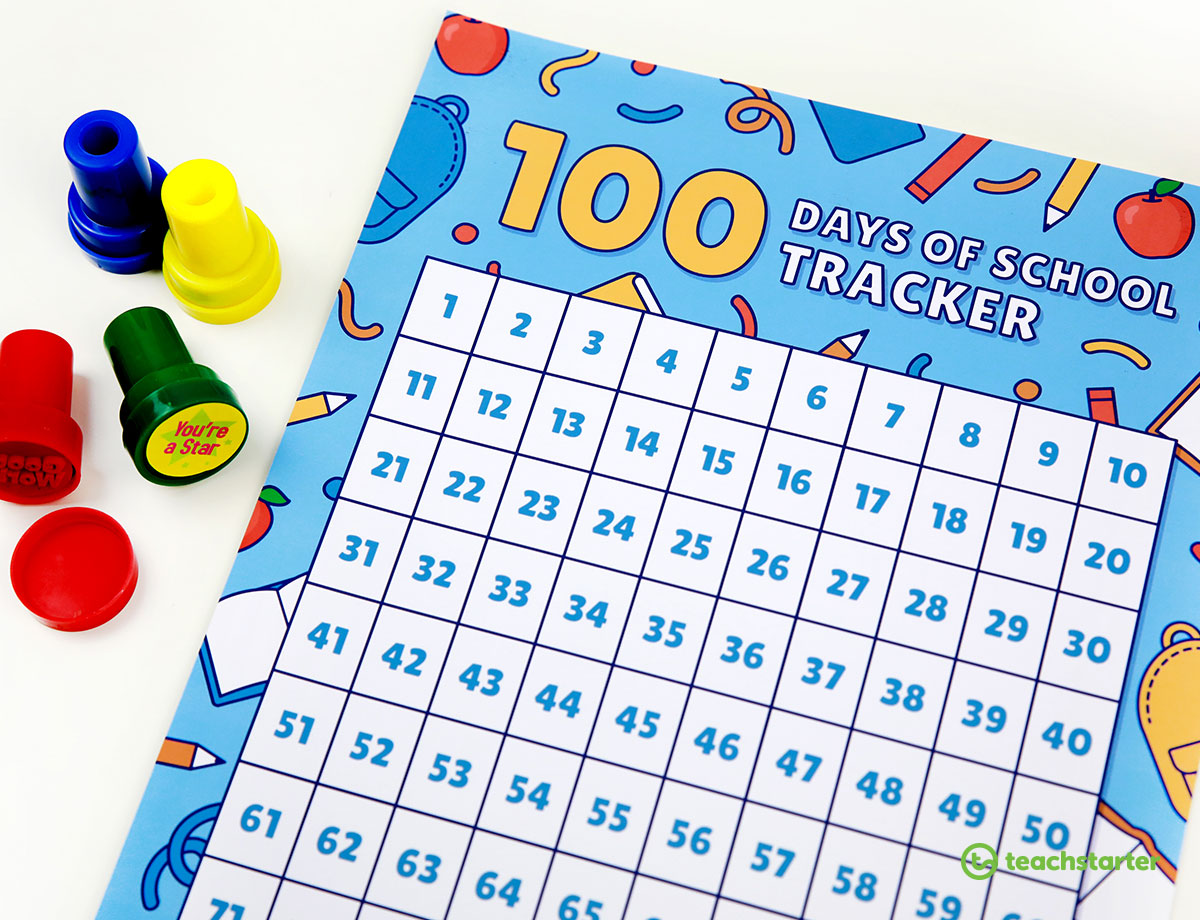 ---
Dress Up as a 100-Year-Old
This idea became popular last year! Have your students dress like they are 100 years old. Some schools even get their teachers and school Principal to dress as if they were 100 years old!
This is the cutest idea…
---
Decorate your Classroom
Create a fun oasis for your students on their 100th day of school! This will make them feel so special! Take a picture of your students with our 100 Days of School glasses template or 100 Days Smarter Hat Template and stick their photo underneath one of these 100 Days of School display banners.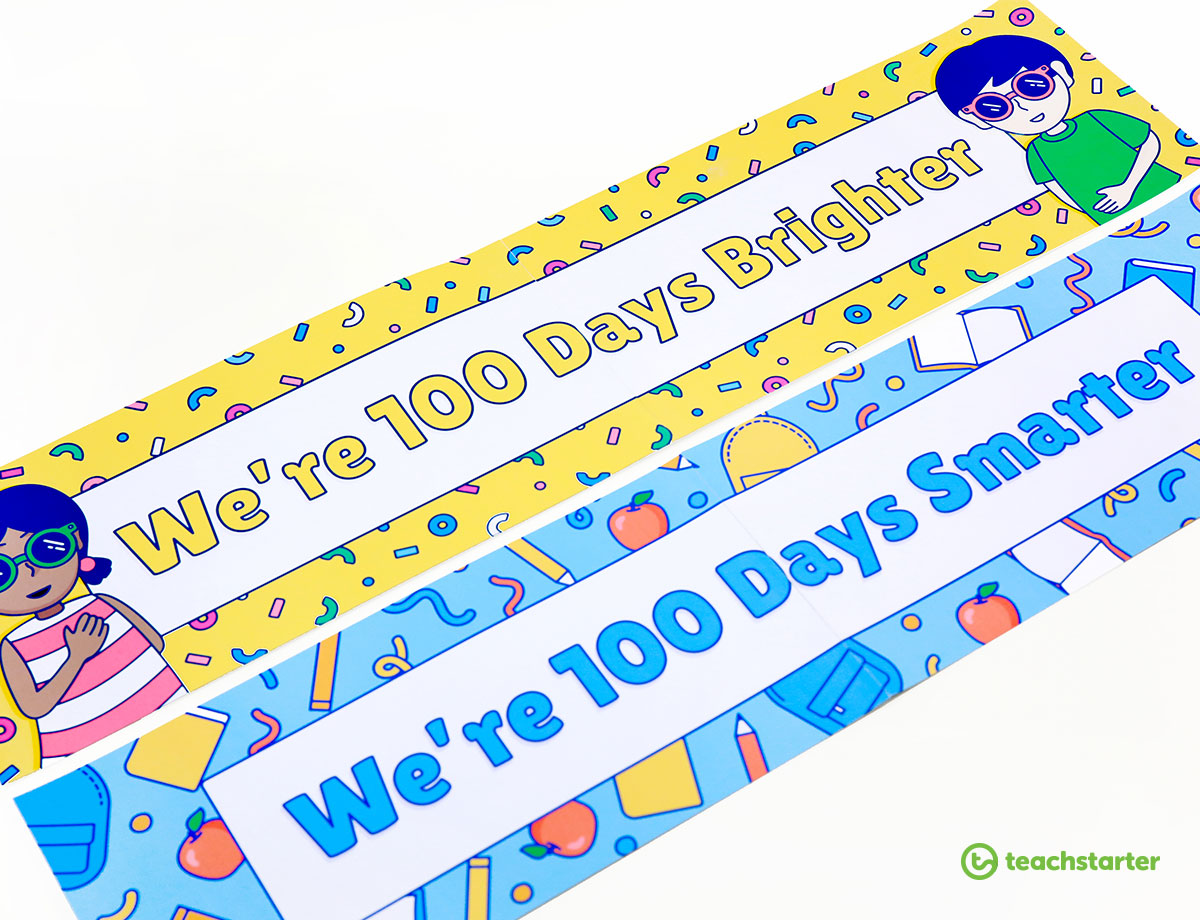 ---
100th Day of School Certificates
Provide your students with a 100 days of school certificate that they can keep as a memento of their 100th day of school. It might even be cute for these to be given out at the whole school assembly. Make your students feel even more special as they go up on stage with their 100 Days of School hats to receive their very own certificate.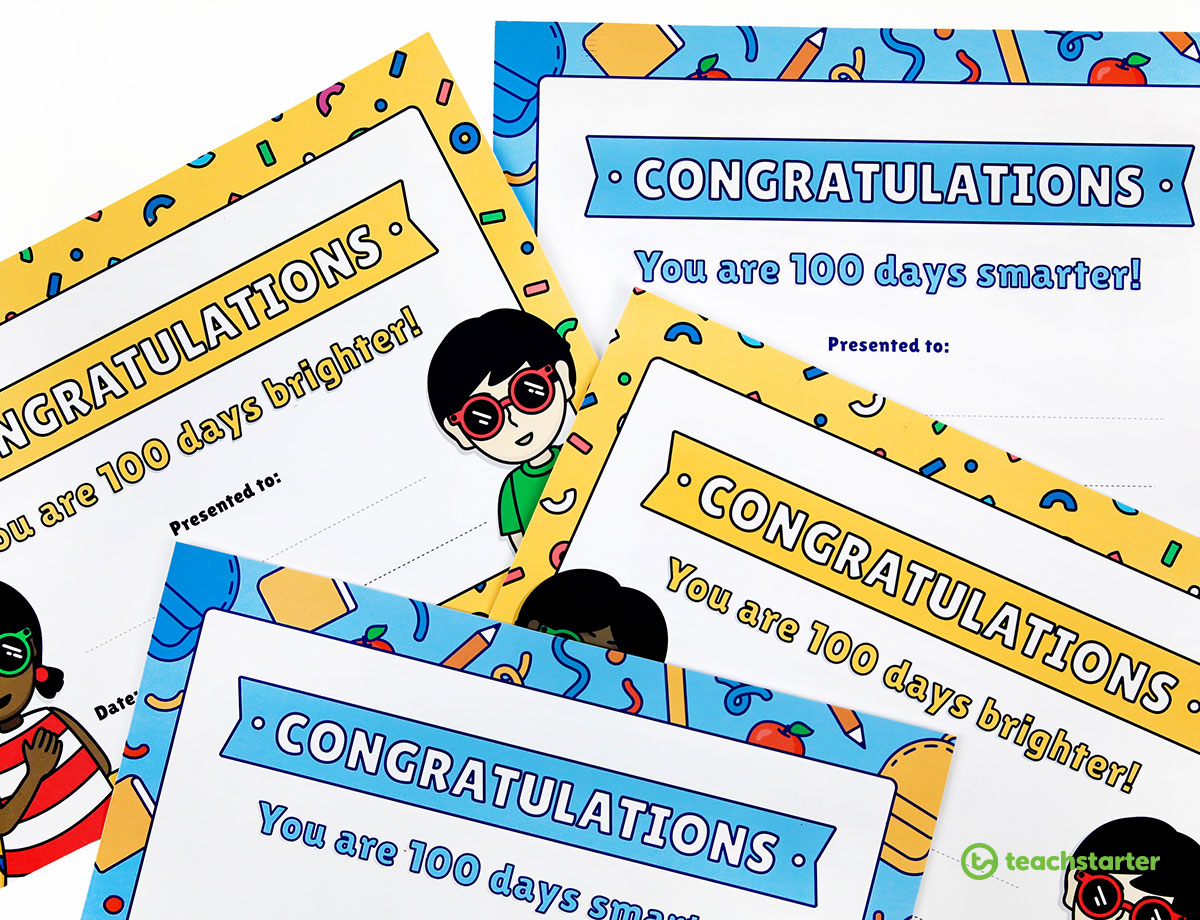 ---
100 Days of School Student Badge
As your students walk into the classroom on their 100th day of school, use a safety pin to attach one of this set of two gorgeously illustrated 100th day of school badges to each of your students' school shirts or dresses.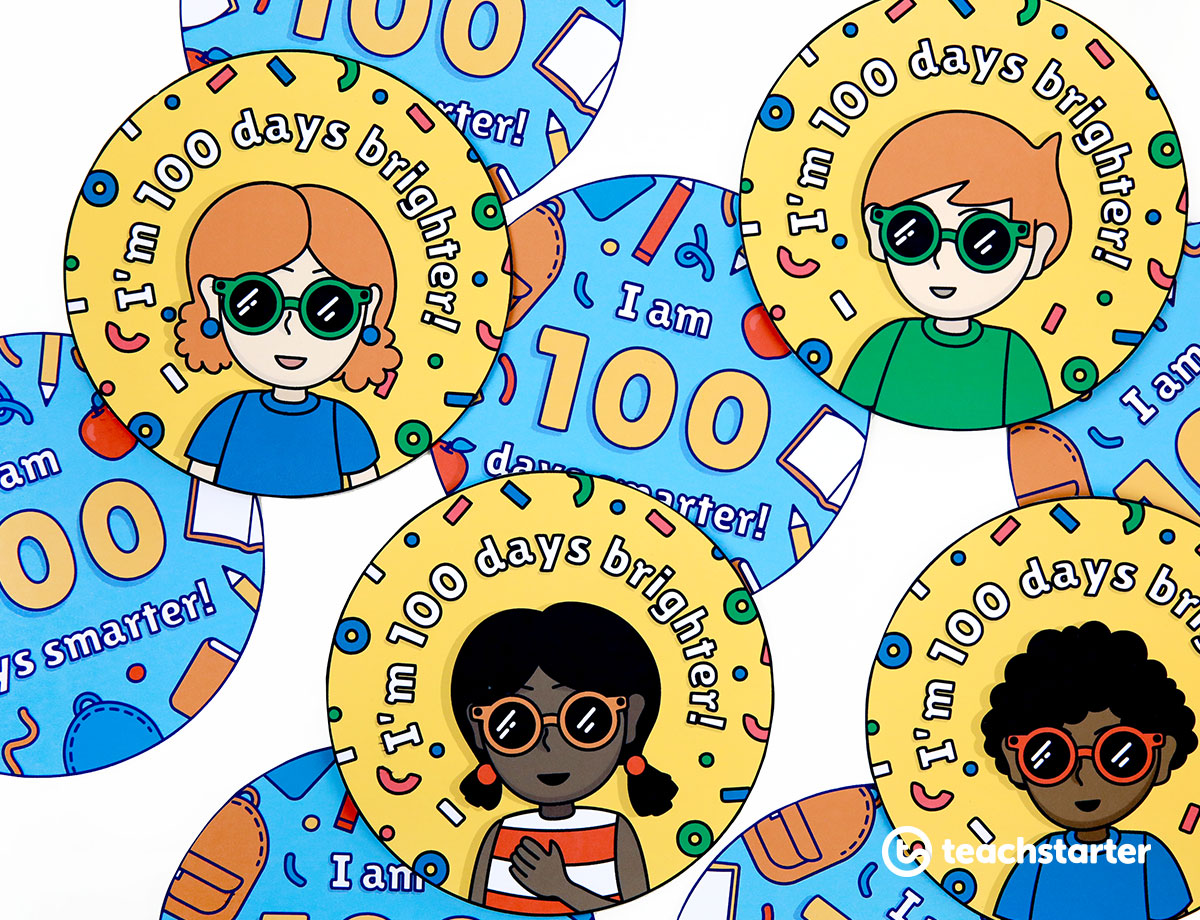 ---
100 Days of School Hat and Glasses Template
Use these cute craft templates to create a fun hat and glasses for your students to wear on their 100th day of school. Creating these and taking a photo of each student to put up in your classroom is a super cute display idea!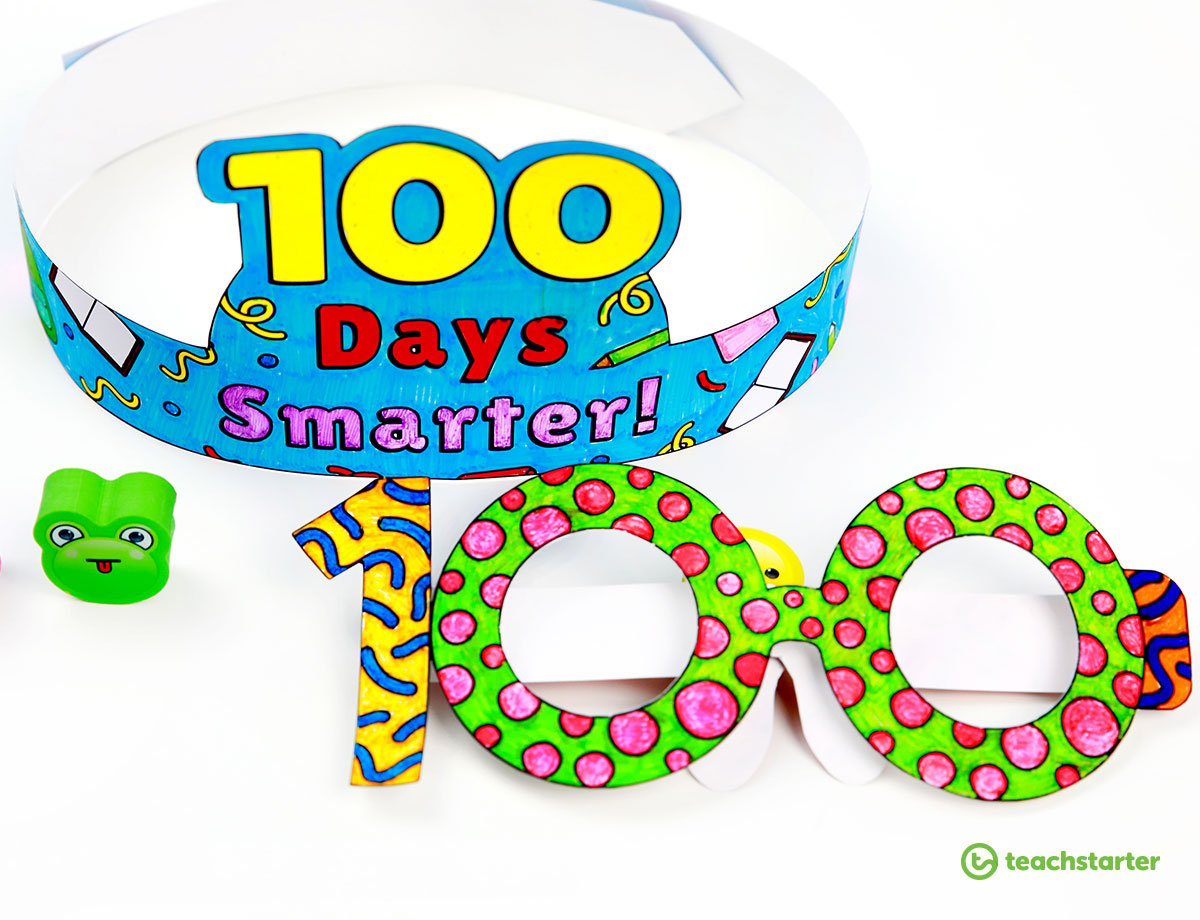 ---
The 100 Days of School Mini Activity Book template makes a fun booklet of activities for students to complete on their 100th day of school.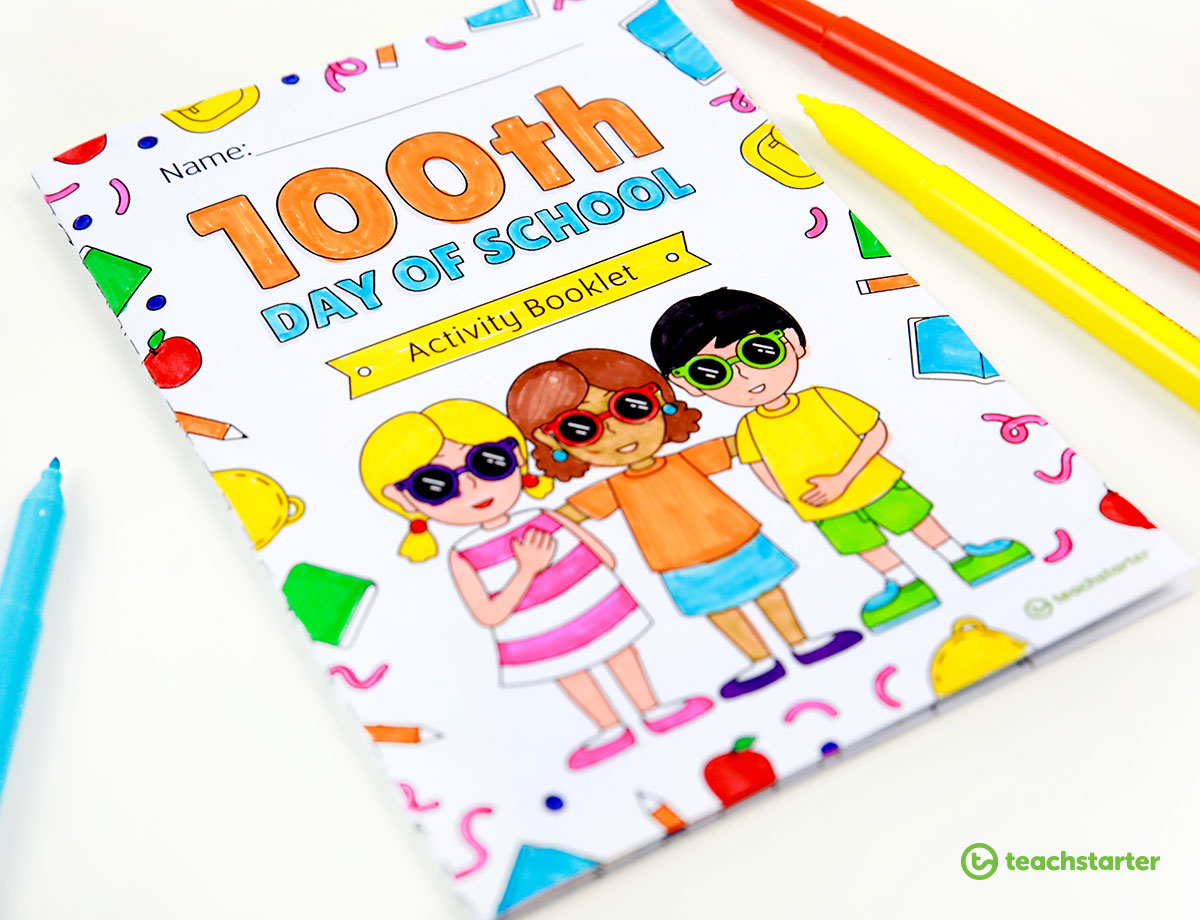 Activities in the booklet include:
Students finding the number 100 in a group of numbers.
Students creating their very own crazy creature.
Students completing 100 different workouts.
Students completing the following sentence: 'If I had 100 legs, I would…'
Students colouring 100 gumballs.
Students drawing a picture of what they would look like at 100 years of age.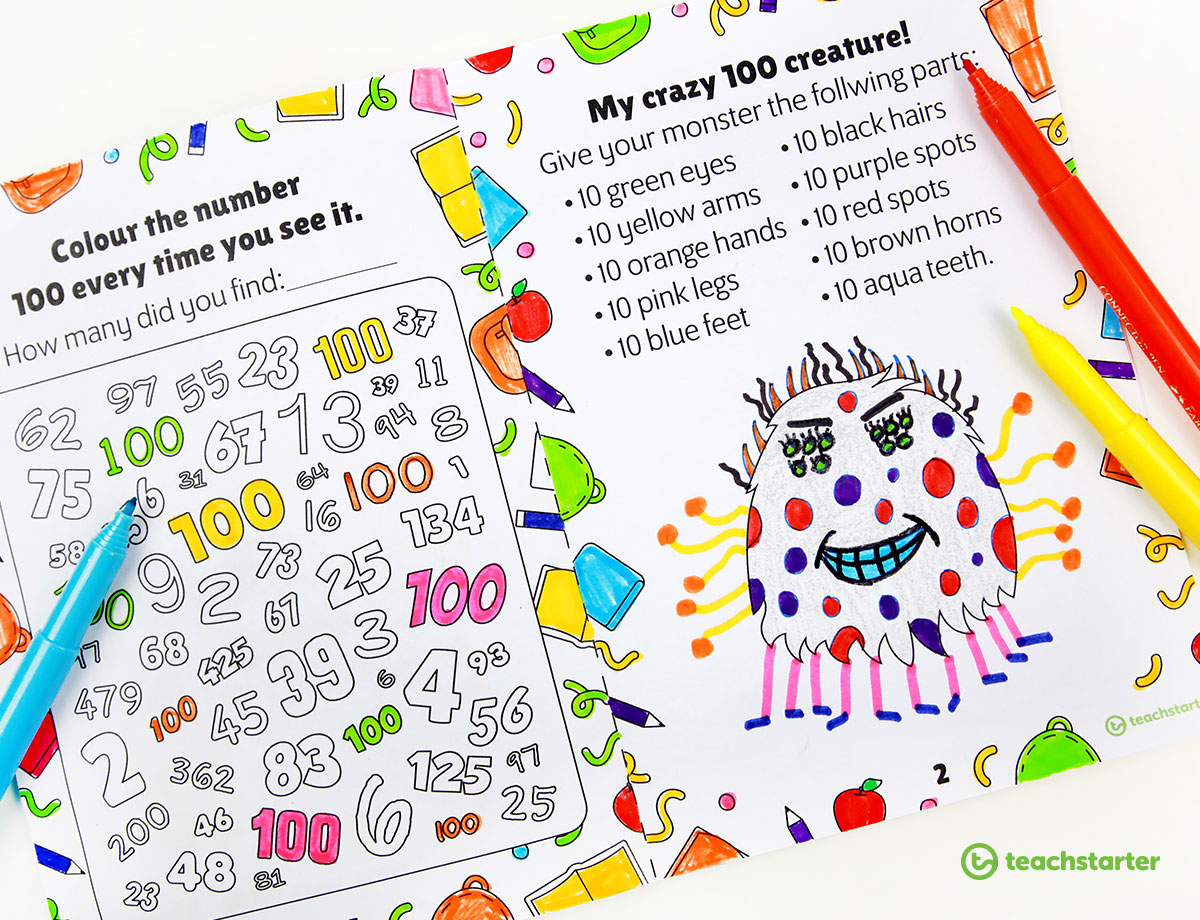 ---
Use this cute writing template and show off how much students have progressed in their first 100 days of school.
Students complete the sentence 'I'm 100 days brighter because…'
They can then decorate the boy or girl's head and hands and attach them to the writing template to be displayed in the classroom.
---
Check out our 100th Day of School Resource Pack for our full collection of templates, activities and classroom displays to help you celebrate the 100th day of school with your students.