Celebrating 100 days of school has turned into a big event in classrooms across the world! And… why not? Marking the 100th Day of School provides a great way for elementary teachers to celebrate a variety of mathematical concepts using the number 100 and to add a bit more fun to what can be a rather dreary part of the year in many parts of the country.
Wondering about the origins of the 100th Day of School and looking for some new 100th day activities? We can't tell you the exact date of the 100th day of school — it may vary from school to school depending on when your school year started, how long your school breaks have been, and if you have had any snow days — but we can tell you a little bit about the history and share some creative ideas from our teacher team!
Where Did the 100th Day of School Come From?
First up, a little history lesson. Although there are disagreements about the exact origins of the 100th Day of School, there are two leading theories about where it came from:
One popular theory is that a teacher named Lynn Taylor introduced the celebration for kindergarten in the 1981-82 Newsletter of the Center for Innovation in Education. Taylor is said to have been inspired by Sesame Street, in particular a magic trick performed by Count Von Count, who turned 100 pennies into a dollar as part of a magic trick.
The 100th Day of School may also have originated with Mary Baratta-Lorton, a California teacher whose books about teaching primary-grade math had a major impact on how kids learned mathematics in the 1970s and '80s.
How Do You Celebrate the 100th Day of School?
How you celebrate the 100th Day of School is all about the level of creativity you have — and let's face it, the time you have to commit to the experience. Hit by a ton of snow days in January? You may not be able to spend too much of your instruction time on 100th Day activities. Then again, if you're teaching remotely, allowing your kiddos to dress up as 100-year-olds to show up on Zoom may just be the sort of morale booster your class needs!
We came up with a variety of 100th Day of School activities that can work for big 100th day celebrations, plus some smaller ways to mark this momentous day in the school calendar.
100th Day of School Activities
100th Day Snap Cube Challenge
We love having kids make 10 with snap cubes and plenty more, so why not pull these manipulatives for a 100th Day challenge? Provide students with 100 cubes, and challenge them to see what they can build?
Take 100 Steps Around the Classroom
Need a mid-morning or mid-afternoon brain break? If it's the 100th Day of School, that definitely means taking 100 steps around the classroom, and seeing where each child ends up, doesn't it? Before breaking, students can make predictions about how far from their desk or chair they might get with 100 steps!
Snack Attack
Grab our free 100th Day of School Snack Ten Frames, and have your students practice counting by 2's or 5's with some tasty treats like popcorn.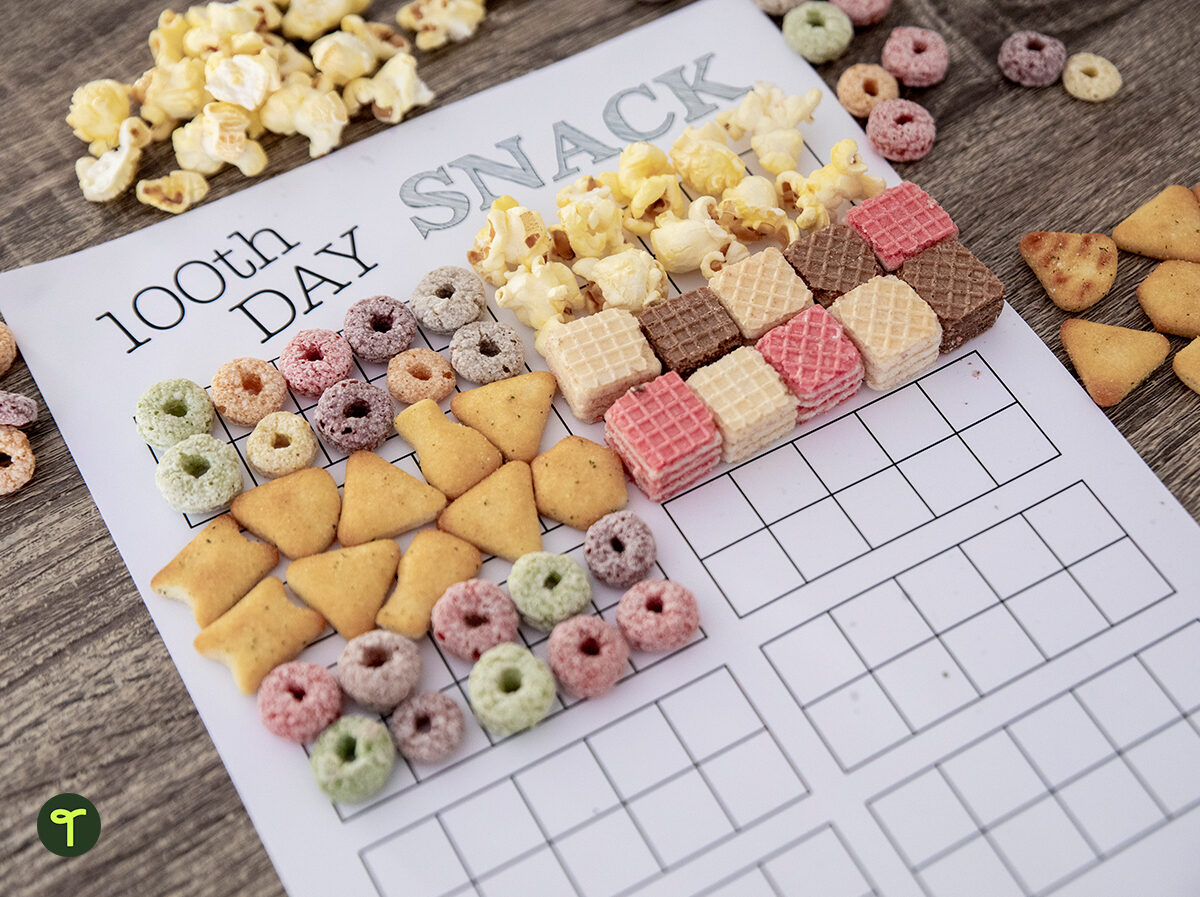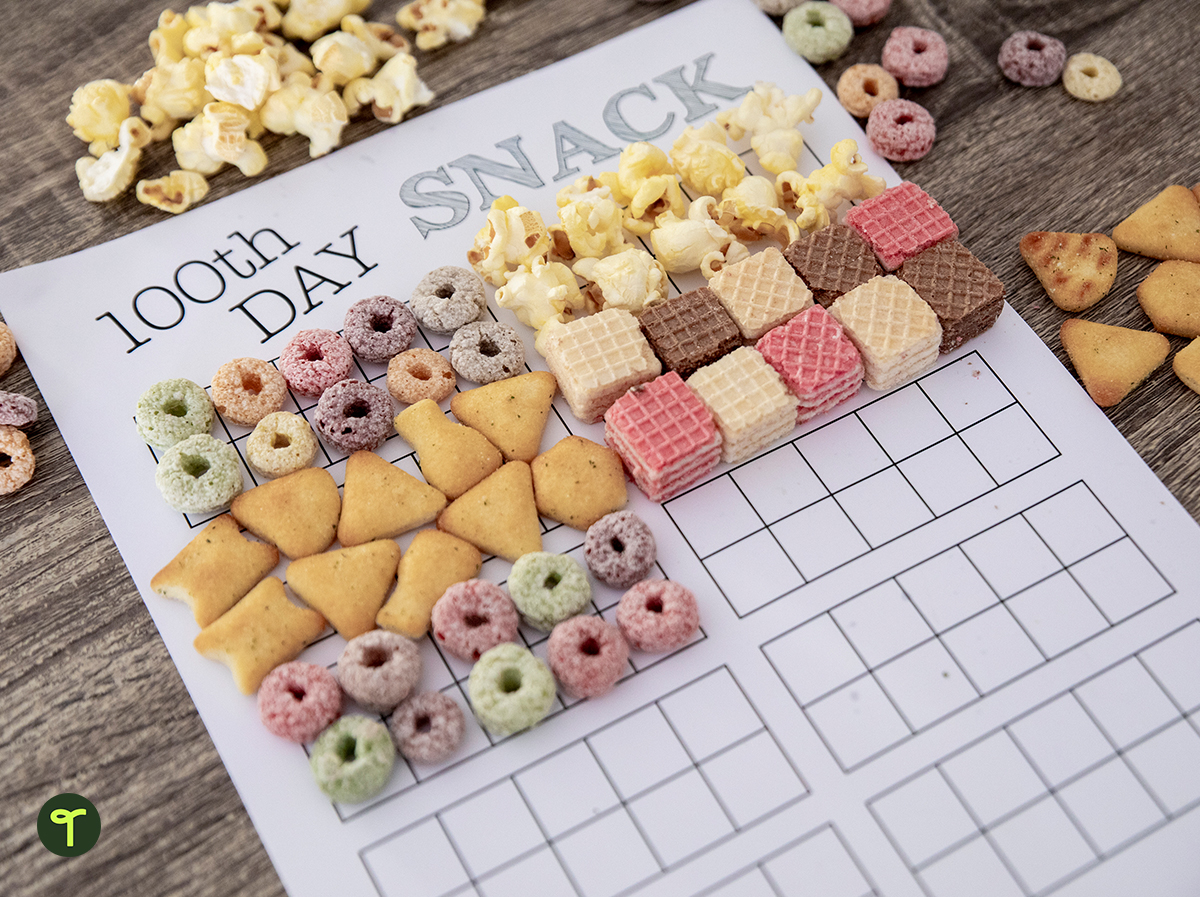 Create a "100 Of" Anchor Chart
What would your students want 100 of? Cats? Footballs? Create an anchor chart with your students listing all the things they'd like to have in serious bulk! Alternately, you can create an anchor chart with your class showing off 100 words they now know how to spell!
Skip Count to 100 on a 100s Chart
Honor the origins of the 100th Day of School with a skip-counting activity on a hundreds chart! We had a little too much fun making 100 balls of playdough for our playdough-themed 100s chart, but you can also have your students count out 100 pieces of candy on a 100s chart like this fun candy-themed chart.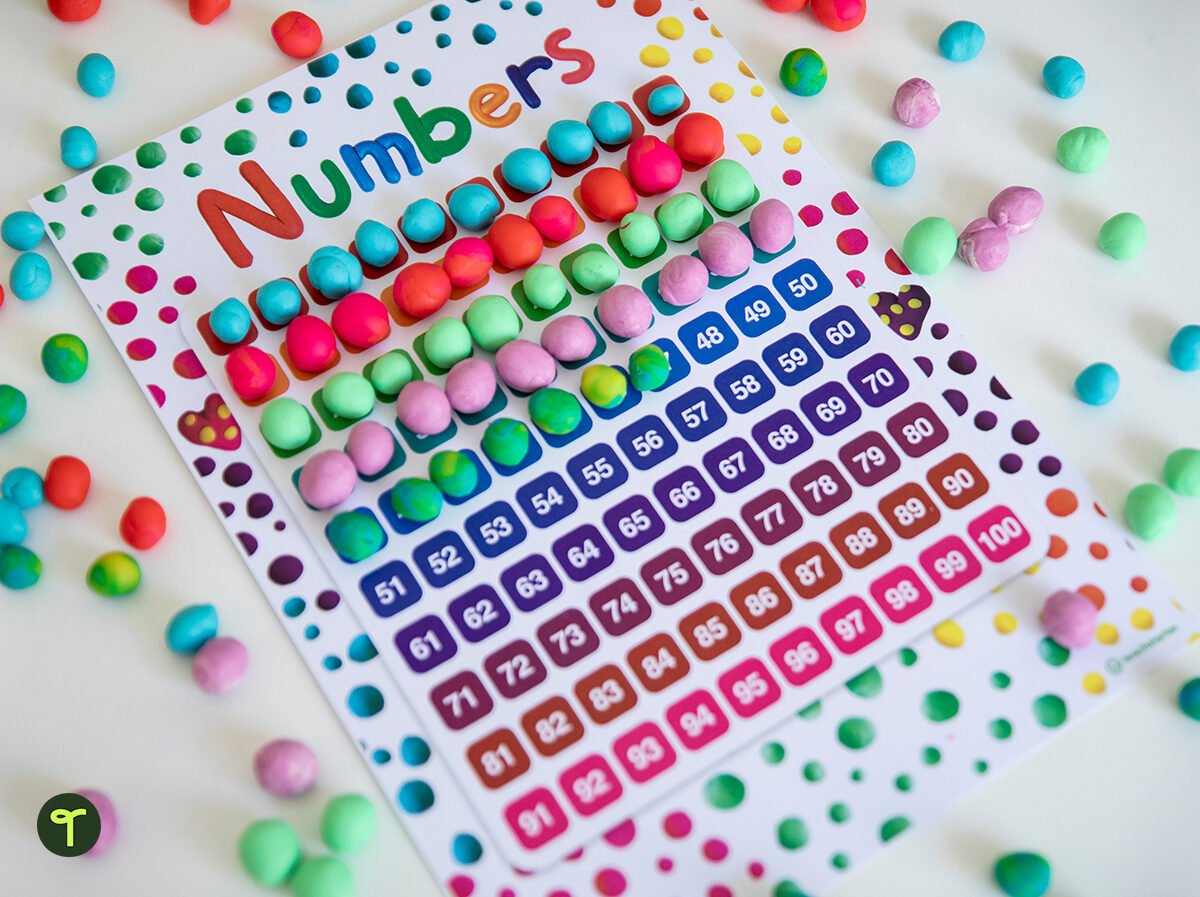 100 Days of School Tracker Classroom Poster
When you're nearing the 100th Day of School on the calendar, a quick activity that will take almost no time out of the school day is tracking the number of days that have passed and calculating how many days are left until you hit 100.
You can download our printable 100 Days of School Tracker poster and include it in your morning routine, or use popsicle sticks to keep track of the days and teach students about bundling the sticks together once they get to ten. This is a fantastic way to introduce the concept of place value to your students.
100th Day of School Certificates or Badges
Providing your students with a 100 days of school certificate can offer each child a sense of accomplishment, and it gives them a "prize" to take home to show off to a parent or guardian. Teaching remotely? That's OK — these certificates can be sent digitally to each student!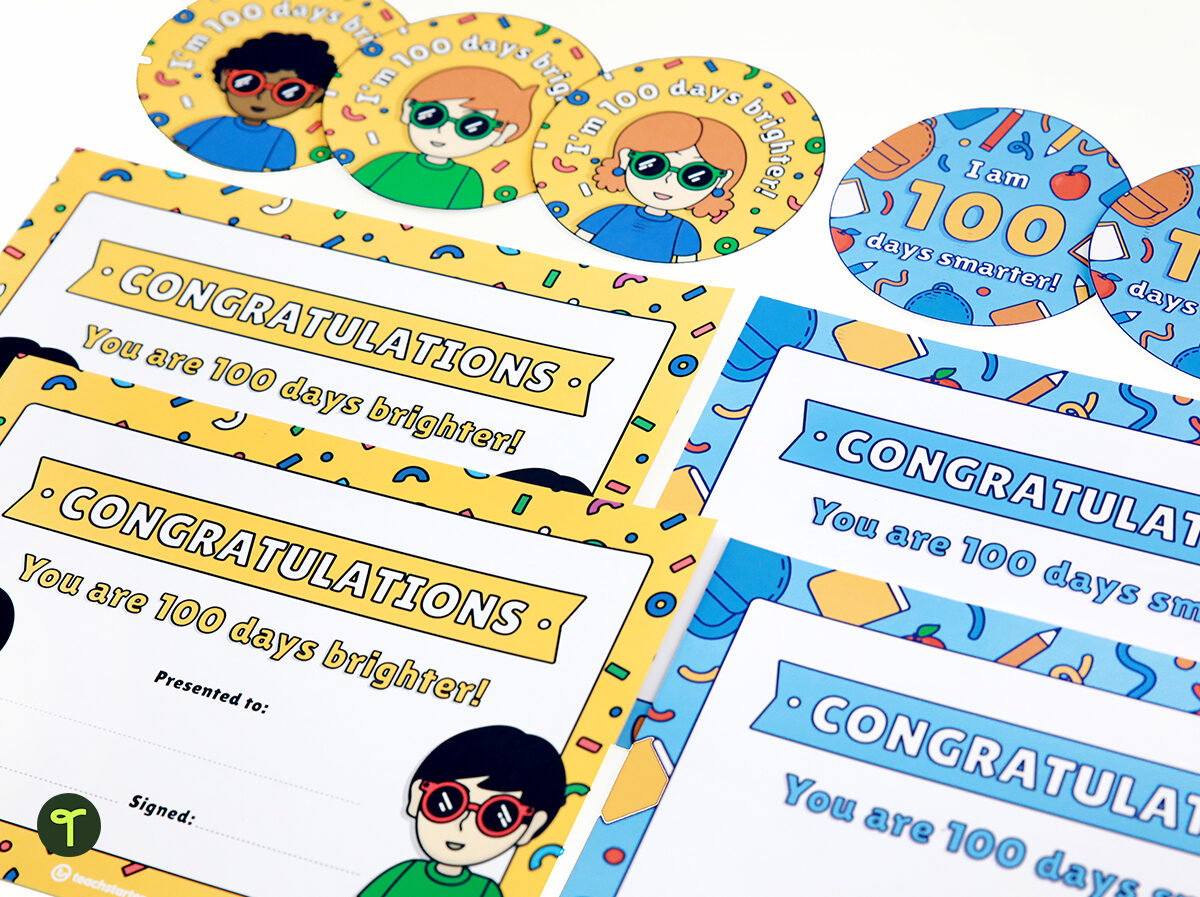 Alternatively, you can provide a 100th day of school badge to each of your students. Use a safety pin or, better yet, copy these templates on sticker paper so that no safety pins are needed! Stick one to each child's shirt.
Dress Up as a 100-Year-Old
This is idea may have been around for a while now, but it never gets old for the kids who get to have a little fun dressing up the way they imagine a 100-year-old would. You can also ask the principal if they'll dress up like a geriatric person to make a visit that will leave your kiddos giggling all day long.
Snap a Photo
Take a picture of your students with a pair of 100 Days of School glasses and 100 Days Smarter Hat, and stick their photo underneath one of these 100 Days of School display banners.
100 Days of School Mini Activity Booklet
The 100 Days of School Mini Activity Book template makes a fun booklet of activities for students to complete on their 100th day of school.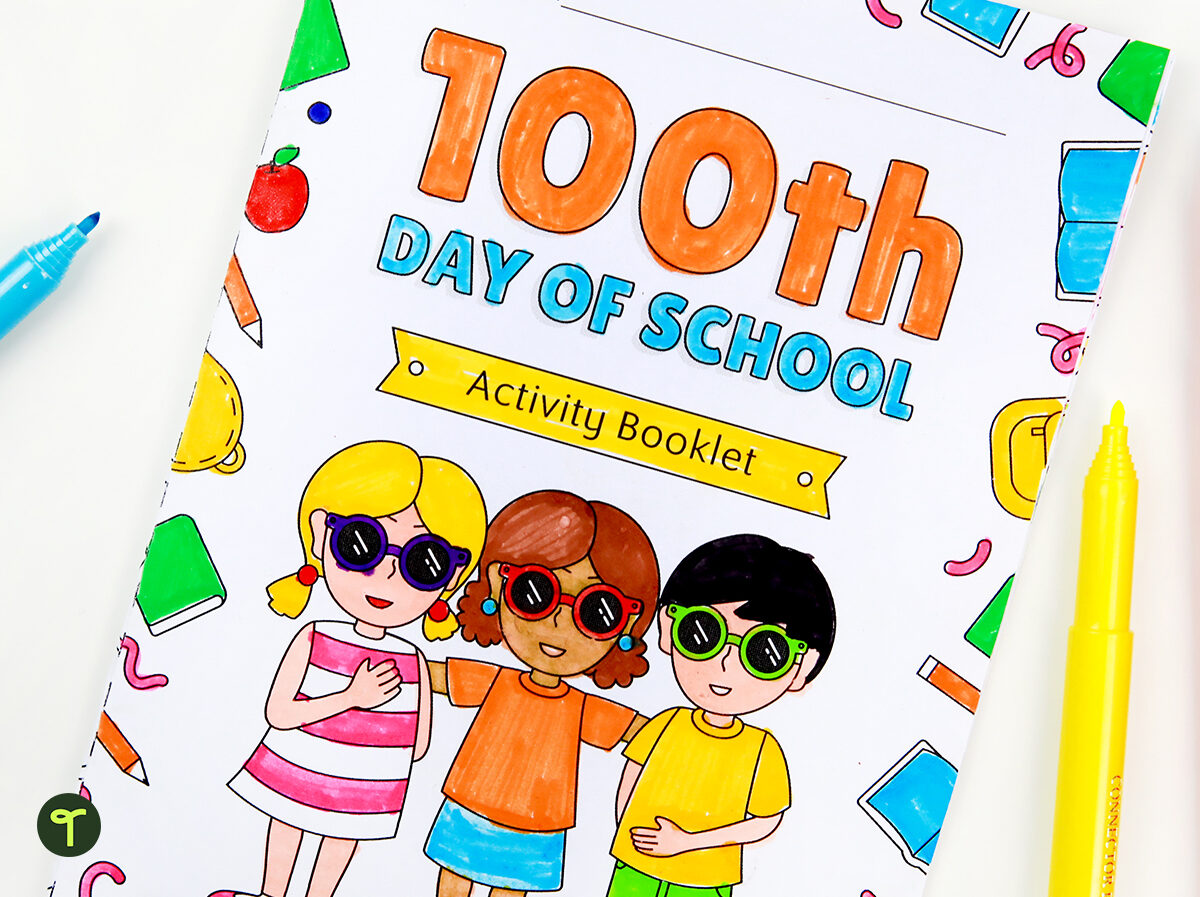 Activities in the booklet include:
Students finding the number 100 in a group of numbers.
Students creating their very own crazy creature.
Students completing 100 different workouts.
Students completing the sentence: 'If I had 100 legs I would…'
Students coloring 100 gumballs.
Students drawing a picture of what they would look like at 100 years of age.
100 Days of School Writing Activity
Incorporate the 100th Day of School into a writing activity  — offering a prompt to show off how much students have progressed in their first 100 days of school.
With the 100 Days writing template, students complete the sentence 'I'm 100 days brighter because…' They can then decorate the child's head and hands and attach them to the writing template to be displayed in the classroom.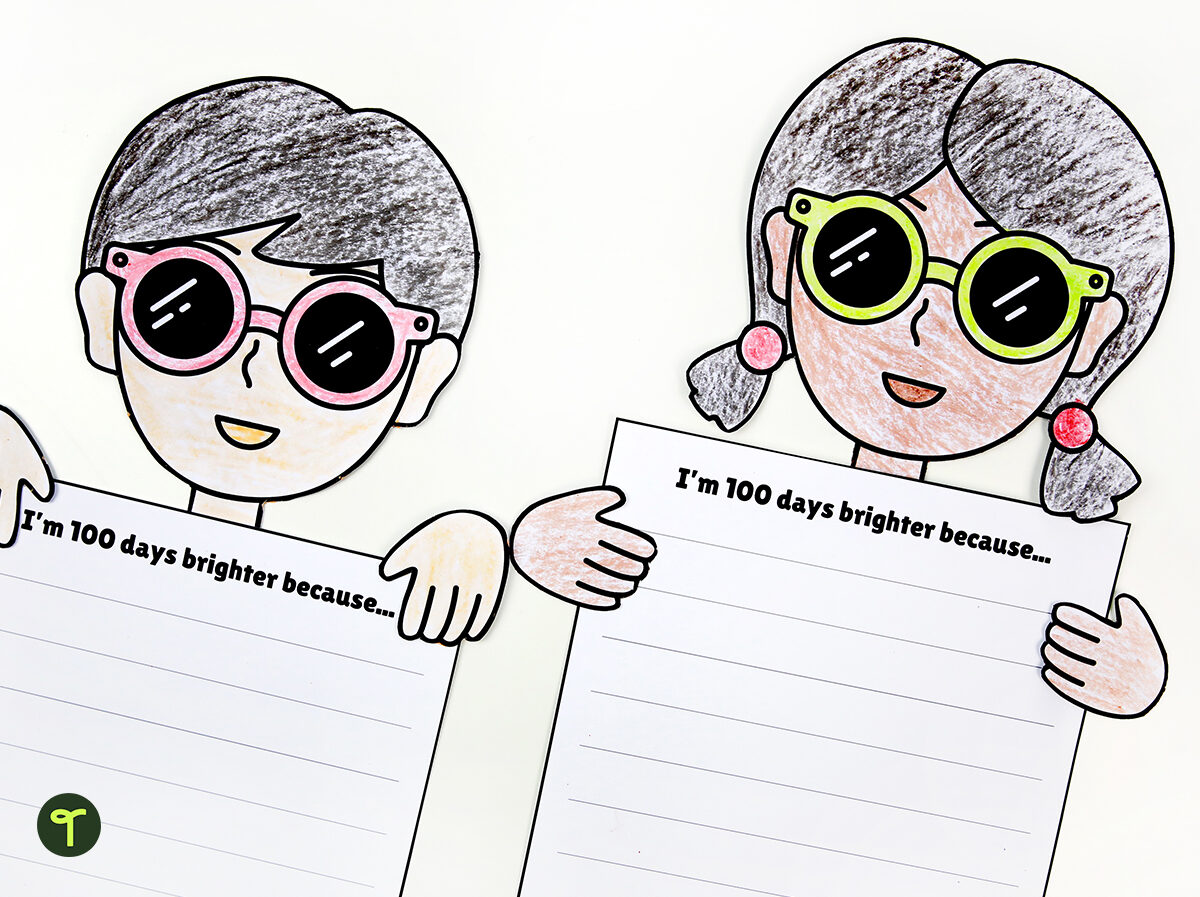 100 Days of School Project Ideas
Thinking of assigning a project based around 100 days of school? Here are some ideas that might be just right — depending on the age of your students!
Look up how to say "hello" in 100 languages.
Write 100 reasons they would want to be 100 (or would not want to be 100).
Work as a class to collect 100 cans of food to donate to the local food pantry.
---
Check out our 100th Day of School Resource Pack for our full collection of templates, activities, and more to celebrate the 100th day of school with your students.