Planning those first day of school activities can really set the tone for the rest of the year. The goal of these activities is for you to connect with your students and build those all-important relationships! The best way to do this is plan some fun activities that help you all get to know each other, the school, routines, and have your students buzzing about coming back the next day! So, when your students leave saying they "can't wait to come back tomorrow," you know the activities have worked!
---
First Day of School Activities for Teachers
Here are some first-day-of-school printables and first-day-of-school activities that are easy to plan and execute but also make for a memorable return to the classroom. 
How to Greet Students on the First Day of School
Classroom morning greetings are so important when it comes to setting the tone for the day, and greeting students on the first day of school with the start to your morning routines is a must. Set up signs with various morning greetings that your kiddos can choose from for a fun experience every morning. From elbow bumps to air high fives, everything can be non-contact too just in case!
---
Write a Meet the Teacher Letter
Take the time to write a simple Meet the Teacher Letter to introduce yourself to your students — and their parents — on the first day of school.
While it would be wonderful to write a handwritten letter for each of your students, this is probably not the most time-efficient way to communicate with your class. Instead, download a time-saving Meet The Teacher Letter printable template (it's editable). Set yourself up for the first day of school by following these simple steps:
Customize the content of your letter and add a photo.

Print off multiple copies (1 for every student).

Seal the letters in individual envelopes for each student.

Place the letters on student desks on the first day of school.
Make sure you remind your students to take the letter home in their folders for their adults at home! Alternatively, print one large copy and display it on a classroom notice board or on the classroom door.
---
Take a First Day Selfie
For a quick and easy way to connect with your students on the first day of school, take a selfie with your new class. Your new students will love to know that you don't take yourself too seriously and that you too can take selfies!
Take a fun selfie of yourself with your new class behind you.

Print off an enlarged copy or work with a digital image.

Choose from our

Editable Page Borders Teaching Resources

and give your photo a border.

Display on your classroom door so the rest of the school can see!
---
Create a First Day of School Time Capsule
Sure it's the first day of school, but that doesn't mean you can't think about the end of the school year already! Plan ahead by creating time capsules with your kiddos that can be opened on the last day of school to show how much growth your students have achieved. Bonus: These make a great end-of-school year gift to take home to their parents/guardians. 
Print a Time Capsule Template for students to fill out, and stow them away in small plastic or glass jars (baby food jars work well!) to open at the end of the year.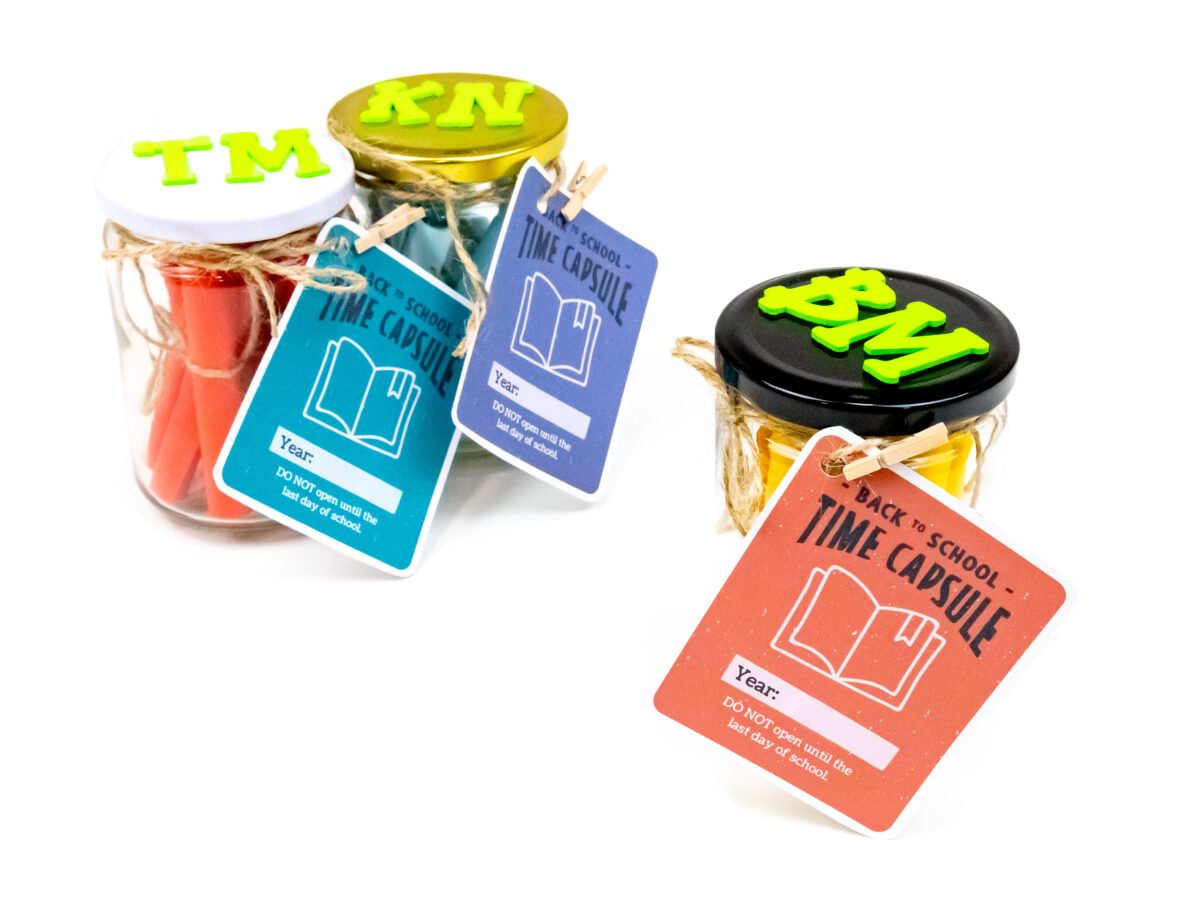 ---
Plan a Scavenger Hunt Around the School
You may need to do a tour of the school, especially if you have new students in your classroom. This can be done as a whole class by using the QR Code School to Library Scavenger Hunt.
This is a fun activity that allows new students to see their new school and for older students to reacquaint themselves with the school grounds and where their new classroom is located.
In this scavenger hunt, they will end up in the library, so why not organize to have a back-to-school story picked out to read to them while they are there?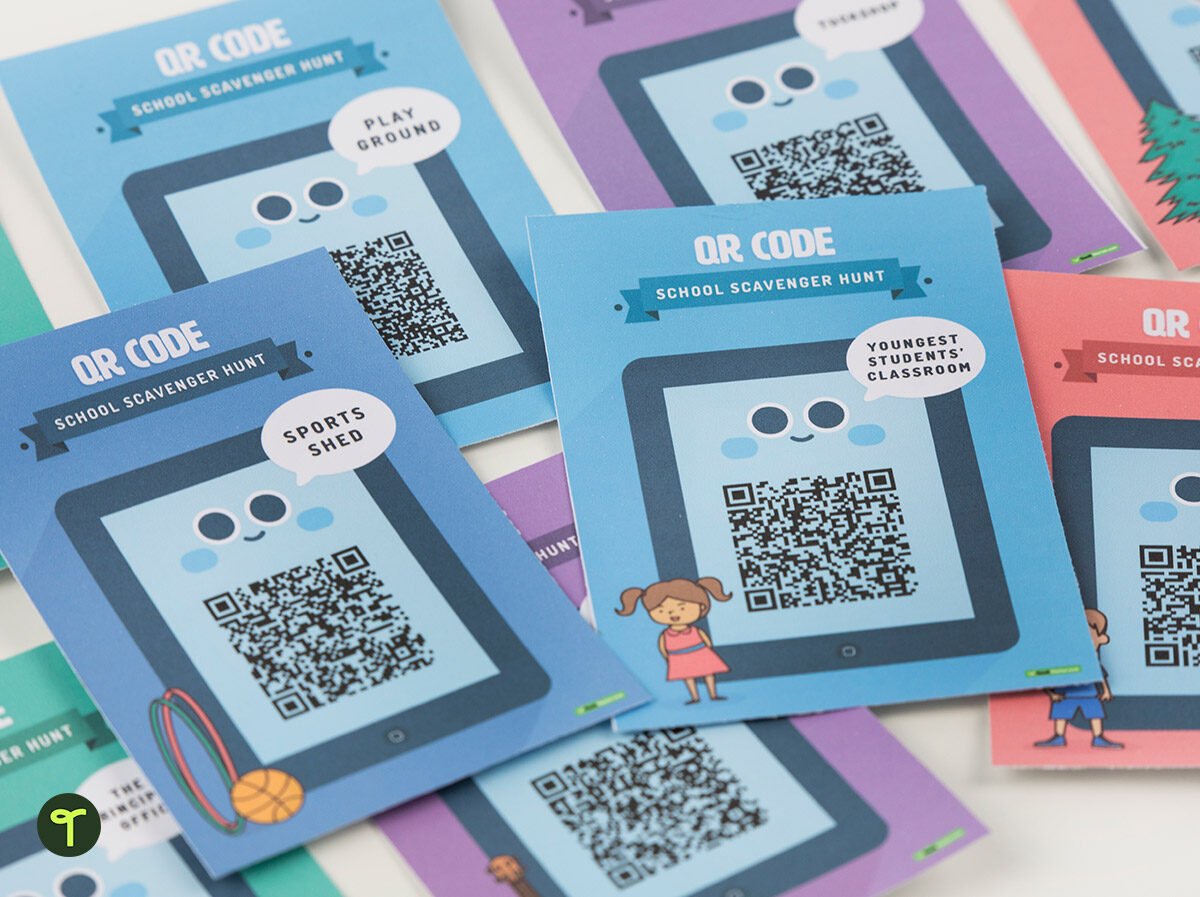 ---
Read a First Day of School Book
Speaking of back-to-school stories, reading a book is a great way to set expectations for the school year to come.
Not sure which one to pick? We've got 7 recommended by teachers just like you!
---
Open Classroom Job Applications
From line leader to technology monitor, there is a lot of responsibility your kiddos can take on in your classroom to empower them and help them learn about being part of a community. Start it all off with the job application process — print and post an application template so your students get a choice of their classroom job and have buy-in on the process.
---
Procedures, Routines, and Expectations
Establishing these has to be done. But don't sit your students down and speak for hours on end about this. Incorporate it throughout the day. For example, before they go out for lunch, explain the packing up routine and lunch procedure. There is no point bombarding them with all of this in the first hour of the day!
For me, practicing how to get your students' attention in the classroom and developing whole class rules are musts on the first day! Make it an enjoyable positive experience for them. These cute attention-grabbing cards are printable, and they're a fun way to get your students' attention easily! Kids love them too, which is a bonus! 
---
Choose an Active Game
Adjusting to the constraints of the classroom setting can be a challenge after a long vacation. Make the first day of school easier on them — and you — break up the first day with a brain break (or two!).
---
Pick an 'All About Me Activity'
Perhaps this is a bit predictable, but All About Me Activities deserve a mention. These activities give your students a voice and an opportunity to share information about the things that they love, their interests, and information about their families. Here are a couple of smart picks for younger students that double up as awesome classroom displays for meet the teacher night:
All About Me Number Accordion
The All About Me Numbers Accordion is perfect for younger students as it encourages students to introduce themselves while thinking about numbers. It can be used as a formative assessment to reveal your students' ability to write their own names and numbers 0-10.
Use this template to create an accordion by following these simple steps:
Read aloud each incomplete sentence. Explain how to complete each sentence.
Ask your students to shade the face of the template to look like themselves.
Cut along the dotted line.
Fold along the bold lines to create an accordion.
Display in the classroom by hanging with pegs along a length of a string.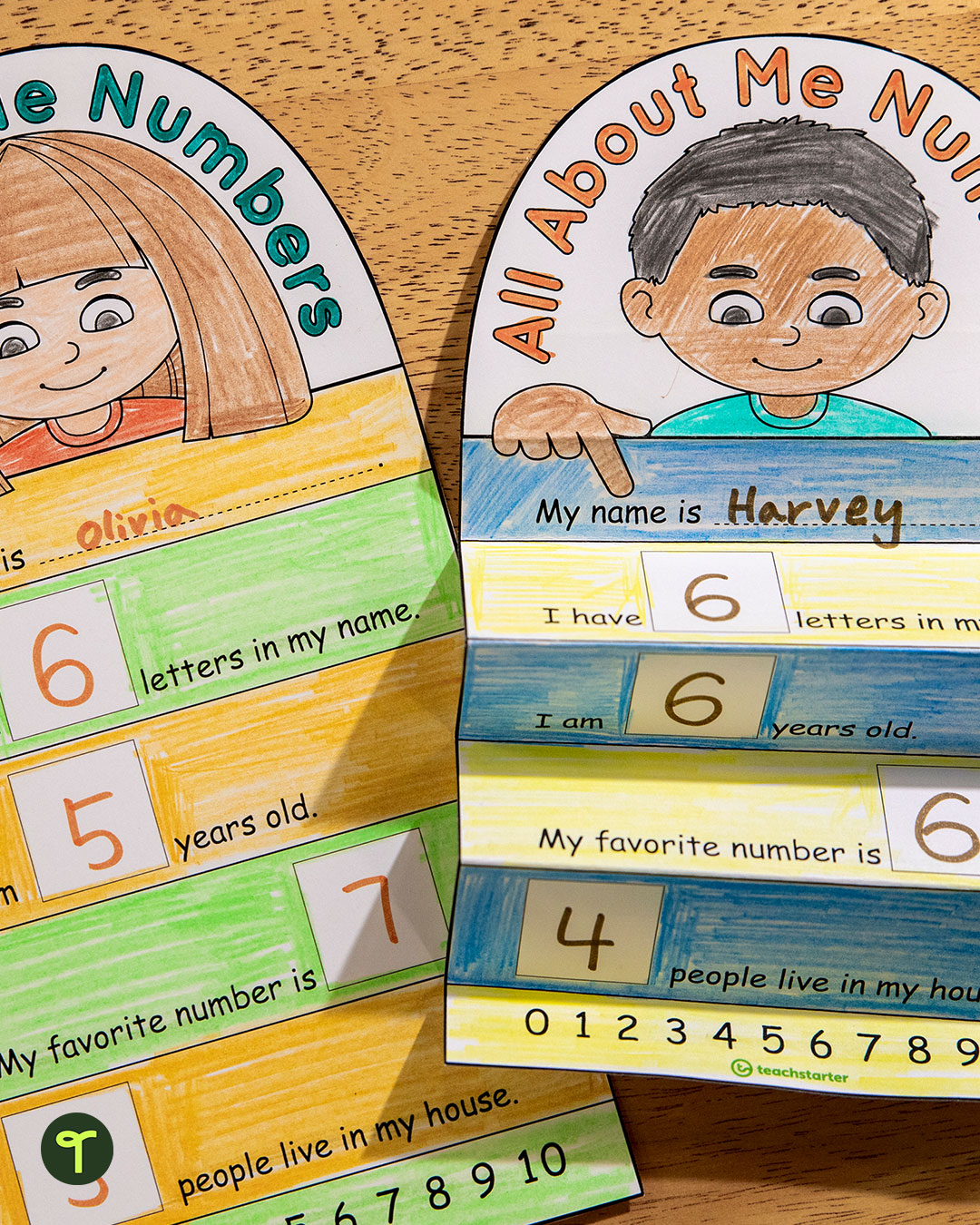 All About Me Pennant
Direct each student to create an All About Me Pennant. Make your first homework assignment fun and easy by asking your students to bring a small photograph of themselves from home.
All About Me Lantern
Use this All About Me Lantern template as a fun 'getting to know you' display that helps students identify common interests among their peers. It is a great first week of school activity.
Hang the lanterns around the classroom or place them on students' desks.
Visual Story of Me
In this A Visual Story of ME Timeline Project, students apply their knowledge of timelines while sharing and celebrating their own life journeys!
You might like to have students include an object that is important to their personal timeline that they can bring in to present with their peers.
---
Do a Class Name Word Search
Word searches are always fun for kids — and they don't realize they're learning. In this case, use our Create Your Own Wordsearch Widget to create a word search of your students' names so your kiddos can start learning each other's names! 
It's an independent desk activity that requires minimal teacher instruction, and it will give you a chance to catch your breath on the busy first day of school.
---
Take-Home Activity
Be smart and choose an activity that is easy for your students to complete independently and without much teacher instruction. With primary students in mind, we have created a Starting School Paper Fortune Teller. This fun template is ideal to use during the first week of school and encourages students to:
learn how to spell their teacher's name
get their clothes ready the night before school
pack their backpack the night before school
learn the names of two people in their new class
read to an adult at home
introduce themselves to a classmate
draw a map of their classroom
show an adult how to hold their pencil.
Banner image via shutterstock/ESB Professional